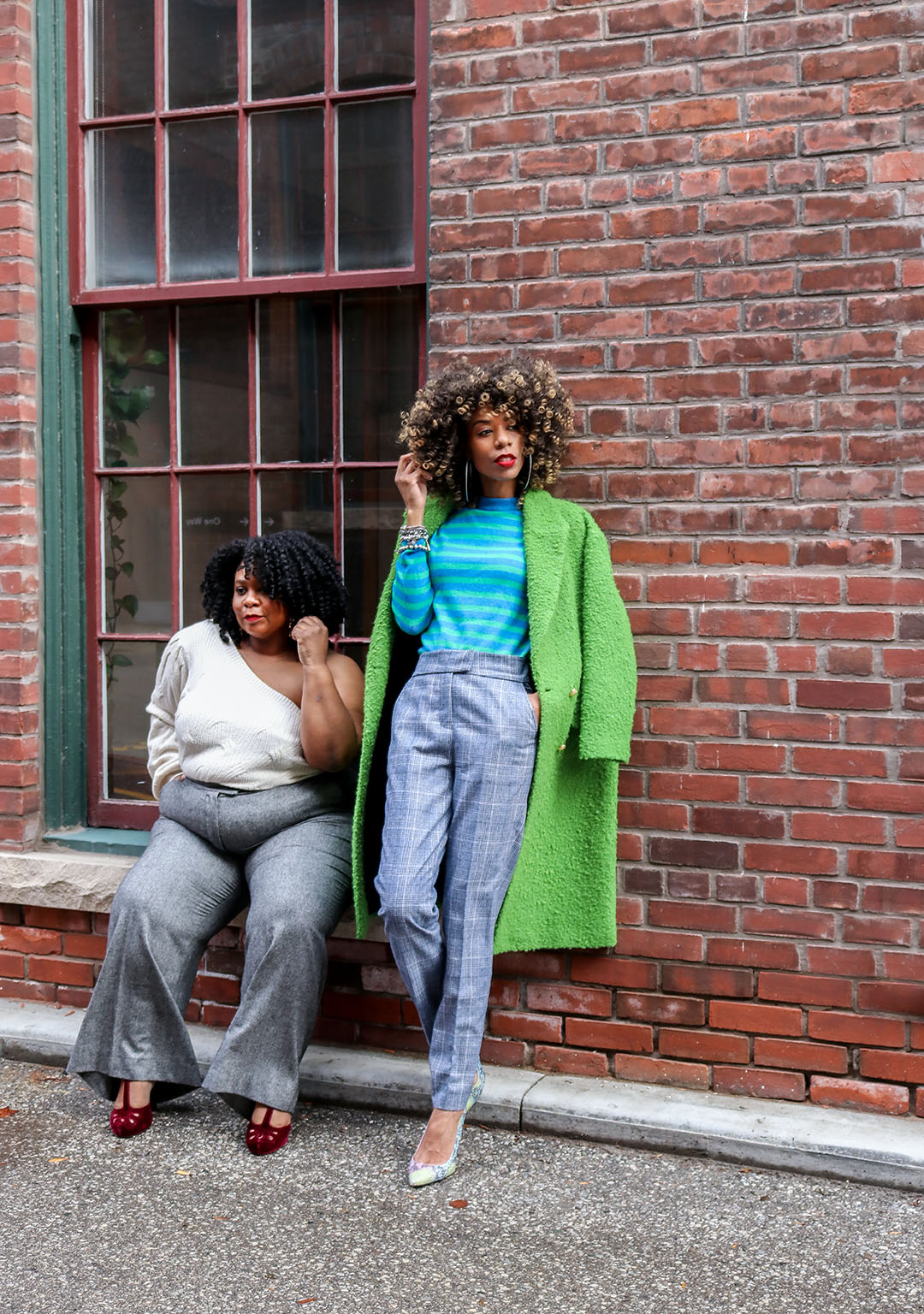 We told you we weren't done with our Sumissura suits! We are all about that remix! We want to stretch the longevity of that suit and find as many new ways to rock it as possible. Here is how we revamped our suit pants in this sweet suit makeover!
Gail' Suit Remix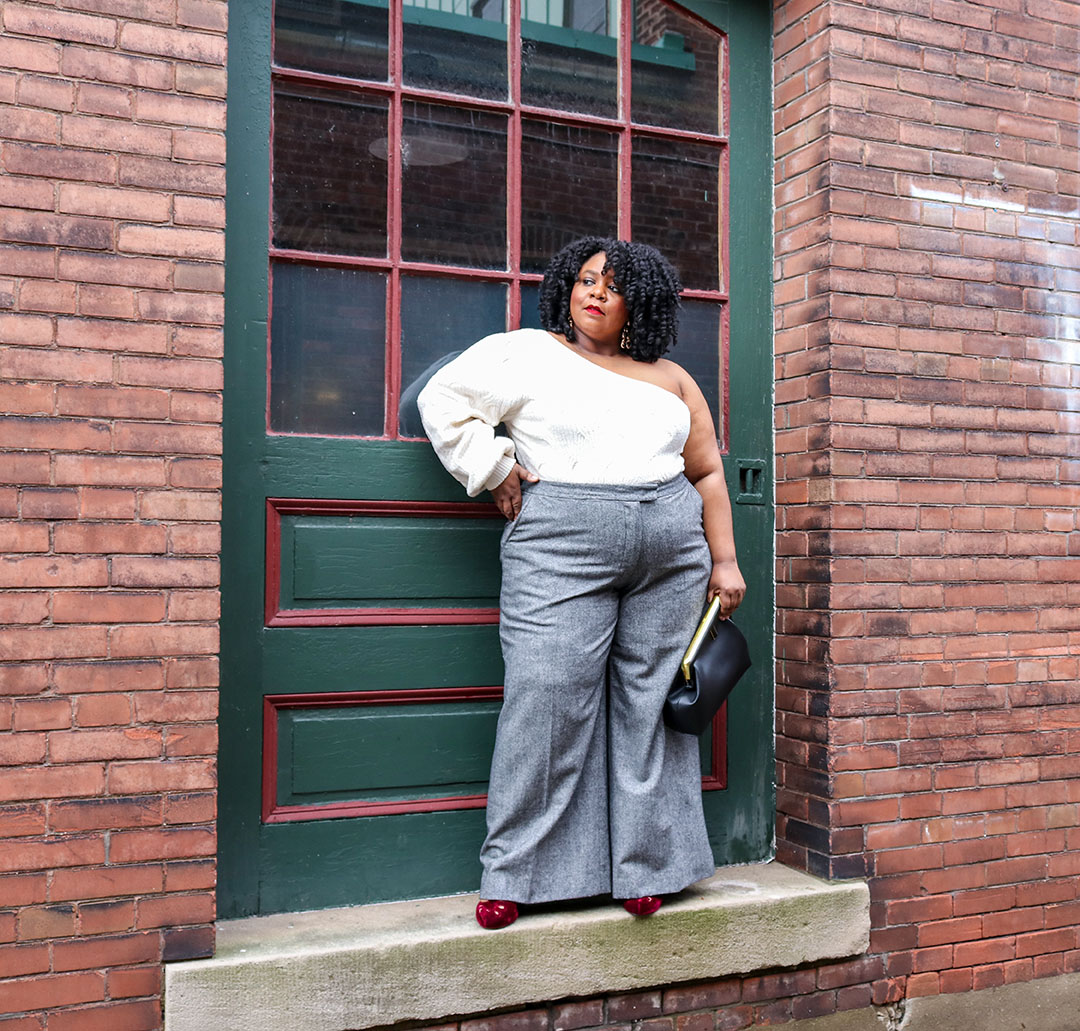 Sweater: Reitmans // Pants: Sumissura ( in Quinton fabric) // Shoes: Modcloth
For my straight size sisters here is a sweater option for you: Sweater
Remix, it's a remix! I'm back with another look for this awesome suit from Sumissura.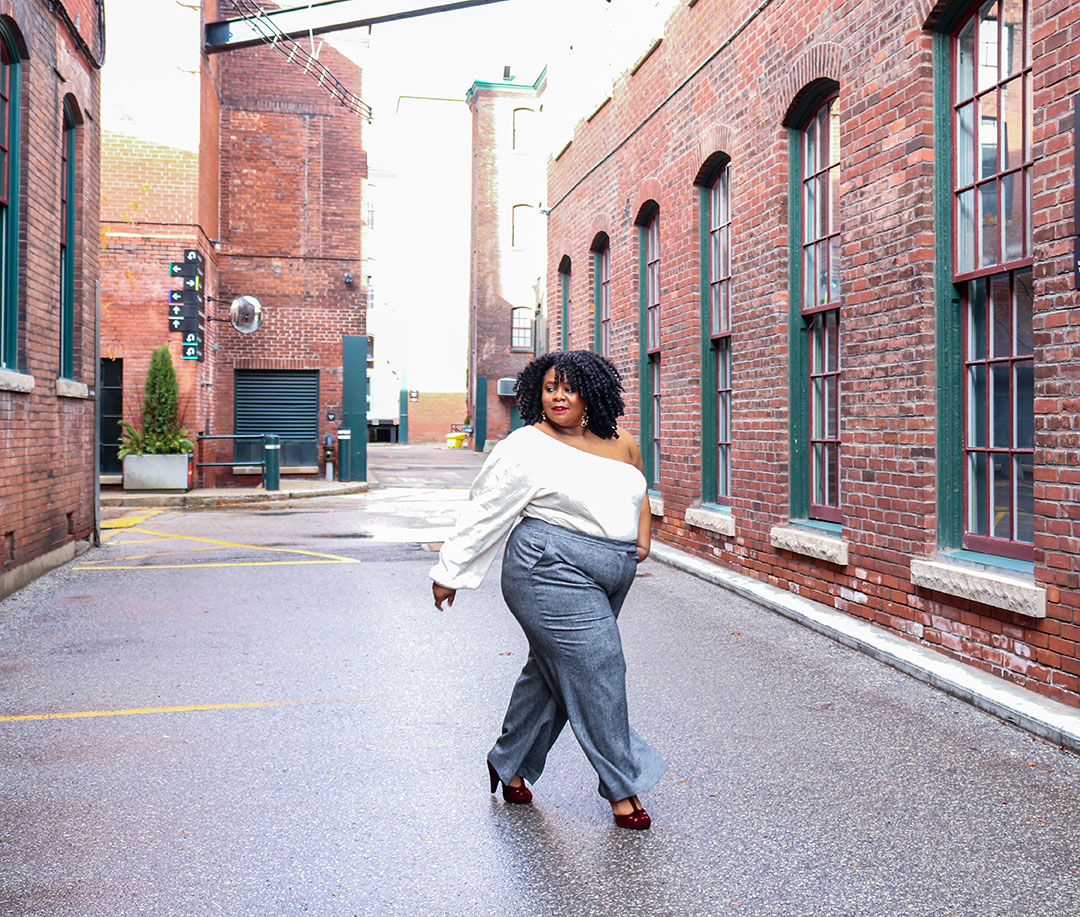 For look one I showcased the full suit and added a large black belt with gold buckle. This time round I nixed the jacket and added this one shoulder knit from Reitmans. The trousers are a wide leg style and feature a tab front closure with pockets.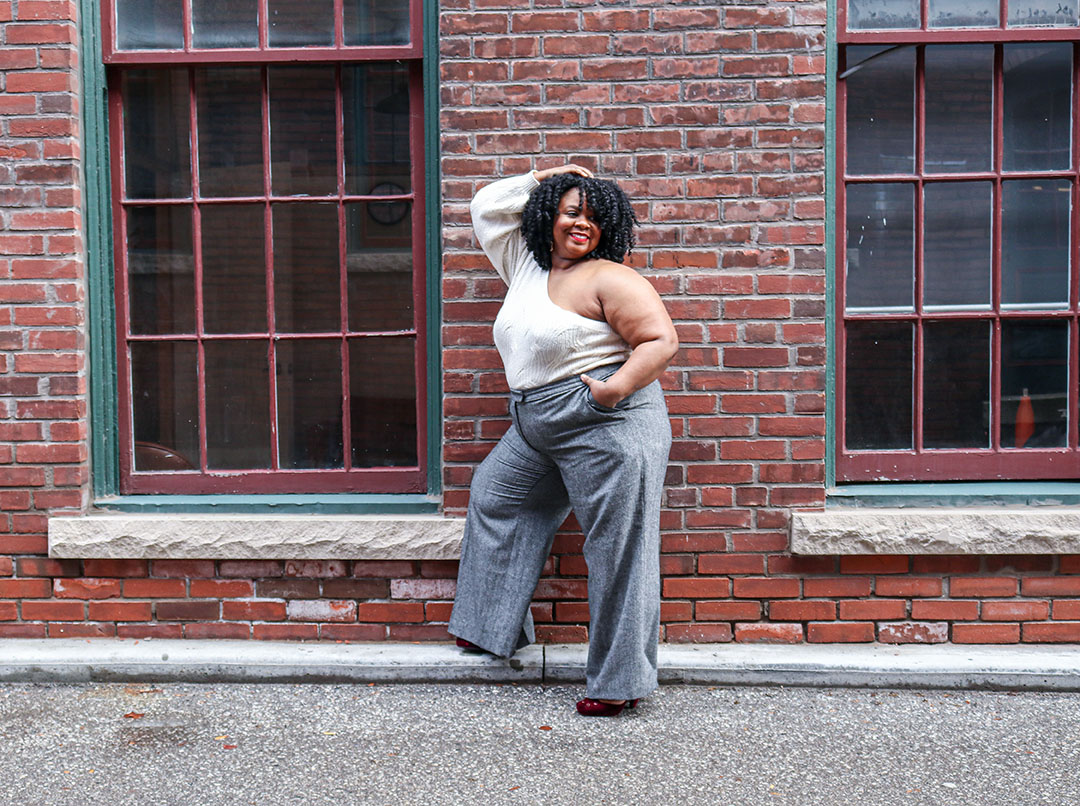 Once again, because Sumissura's specialty is custom clothing you need only enter your measurements onto their website when ordering and voila, you'll receive a perfectly tailored suit that's size YOU!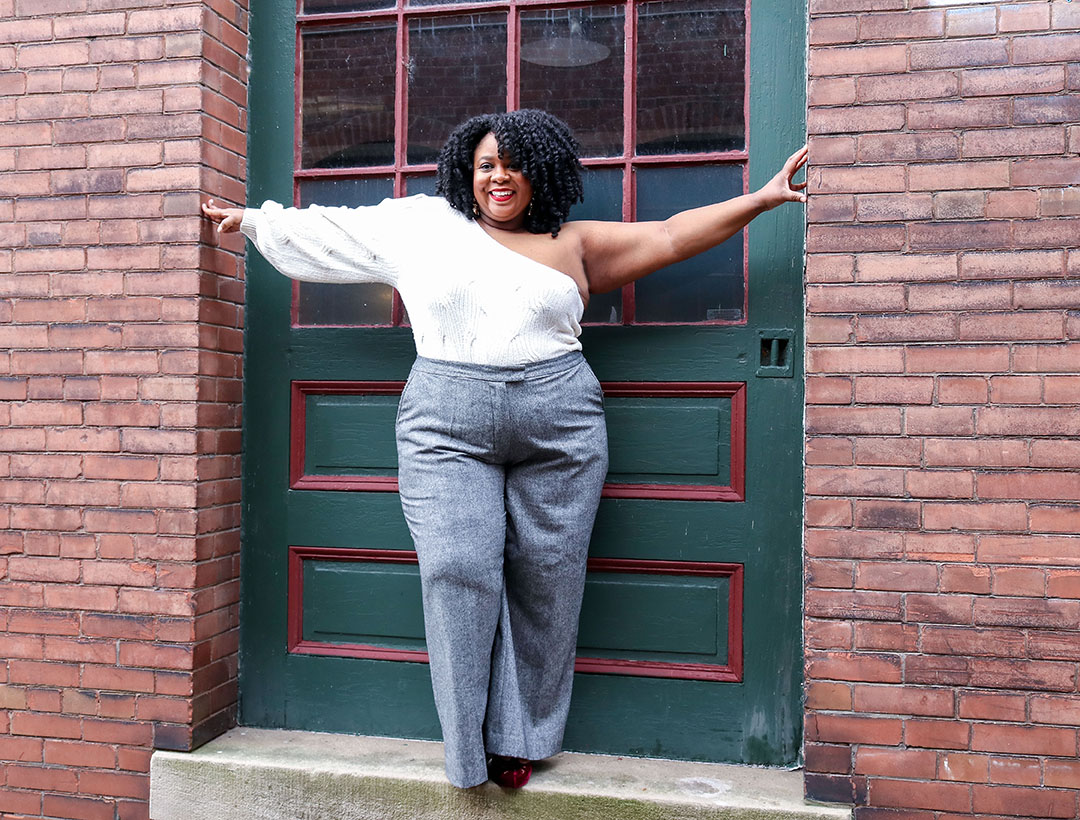 This playful one shoulder trouser look would be perfect for a night out. I added beautiful merlot coloured heels and a fun clutch. See when you've got wardrobe workhorses like a suit, the looks that can be created are endless!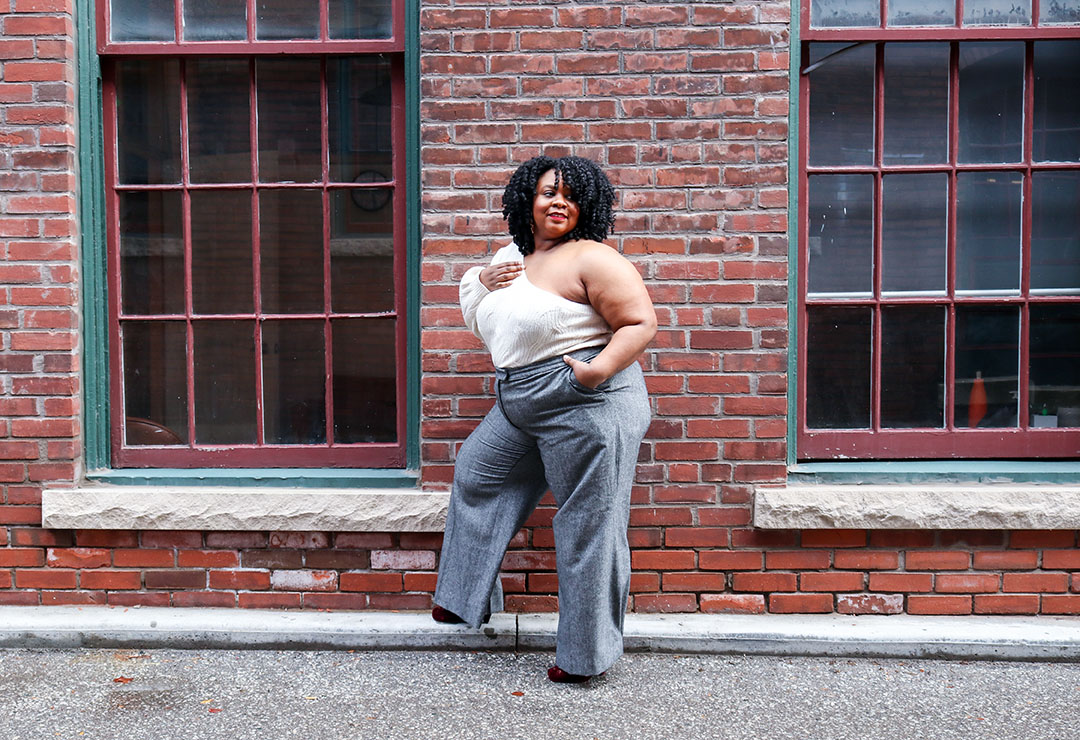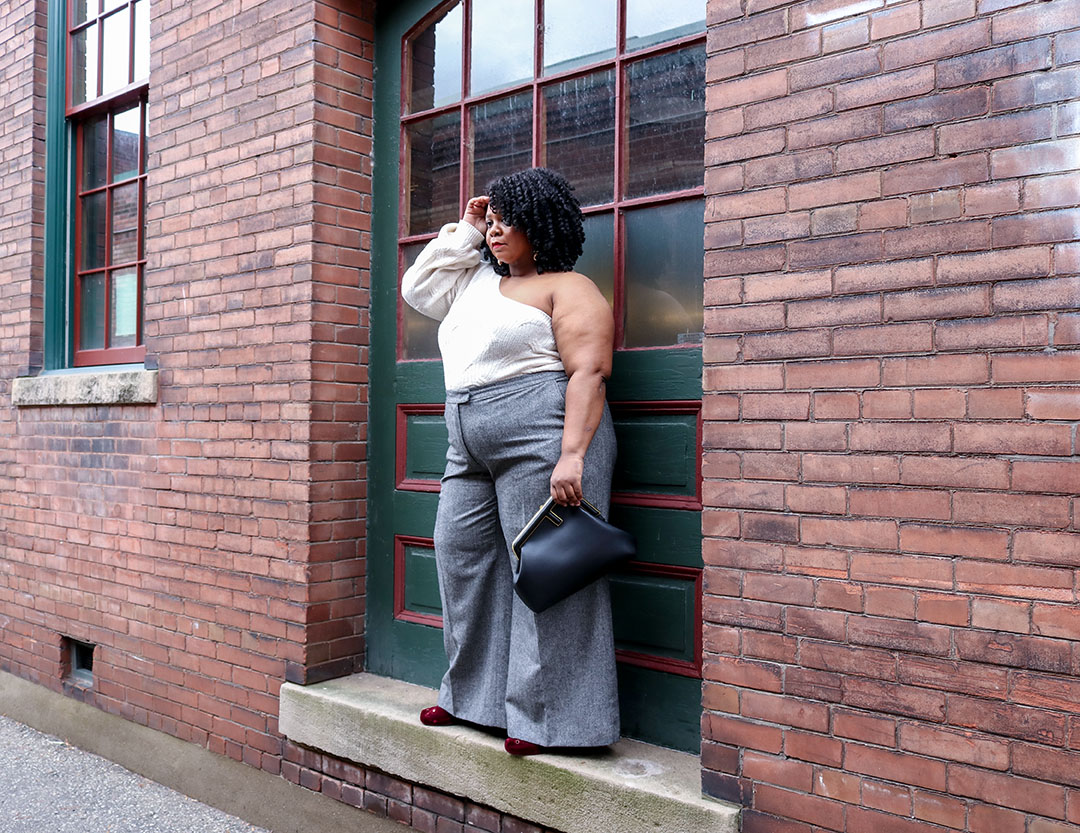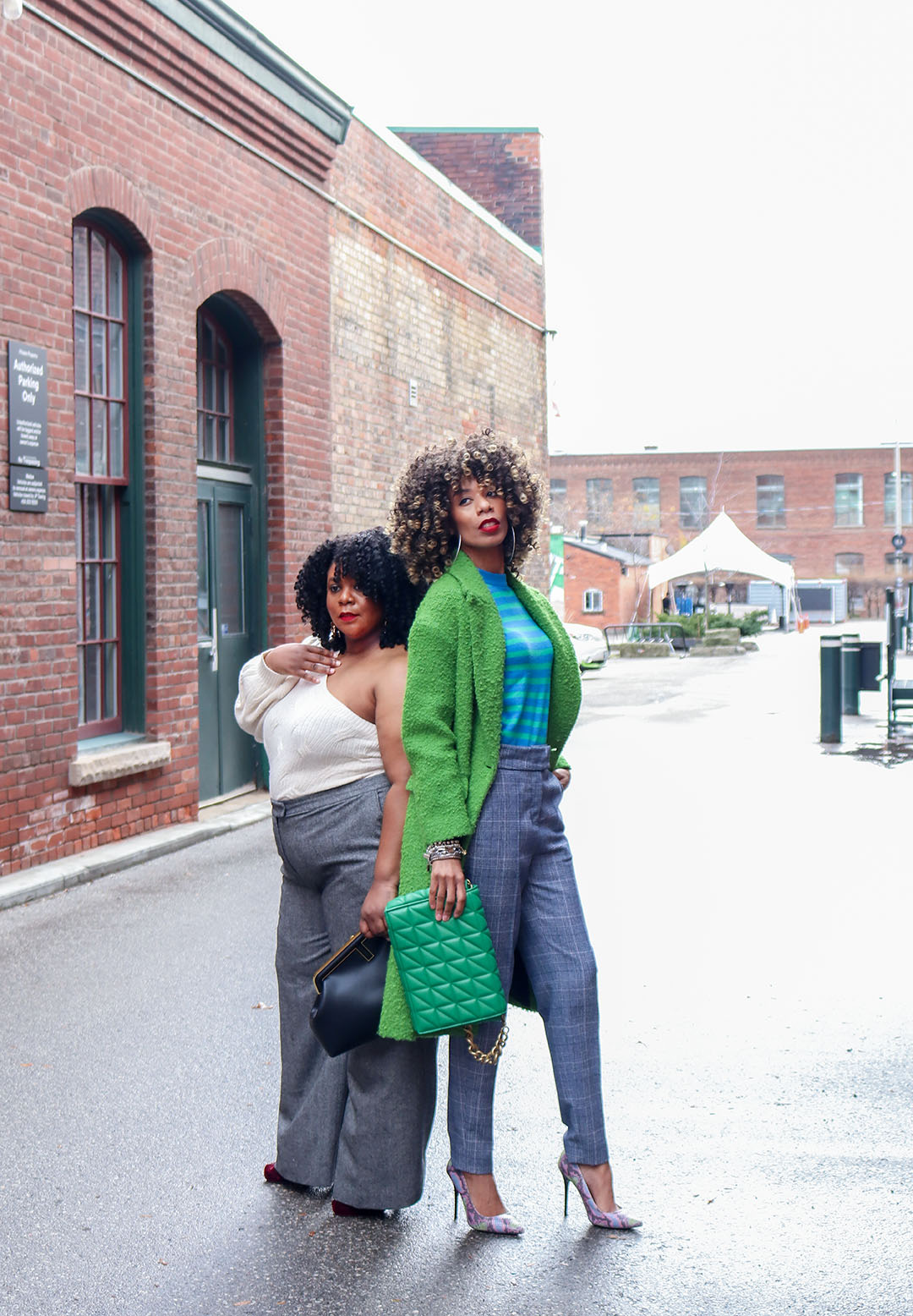 Leslie's Suit "Pull-Up"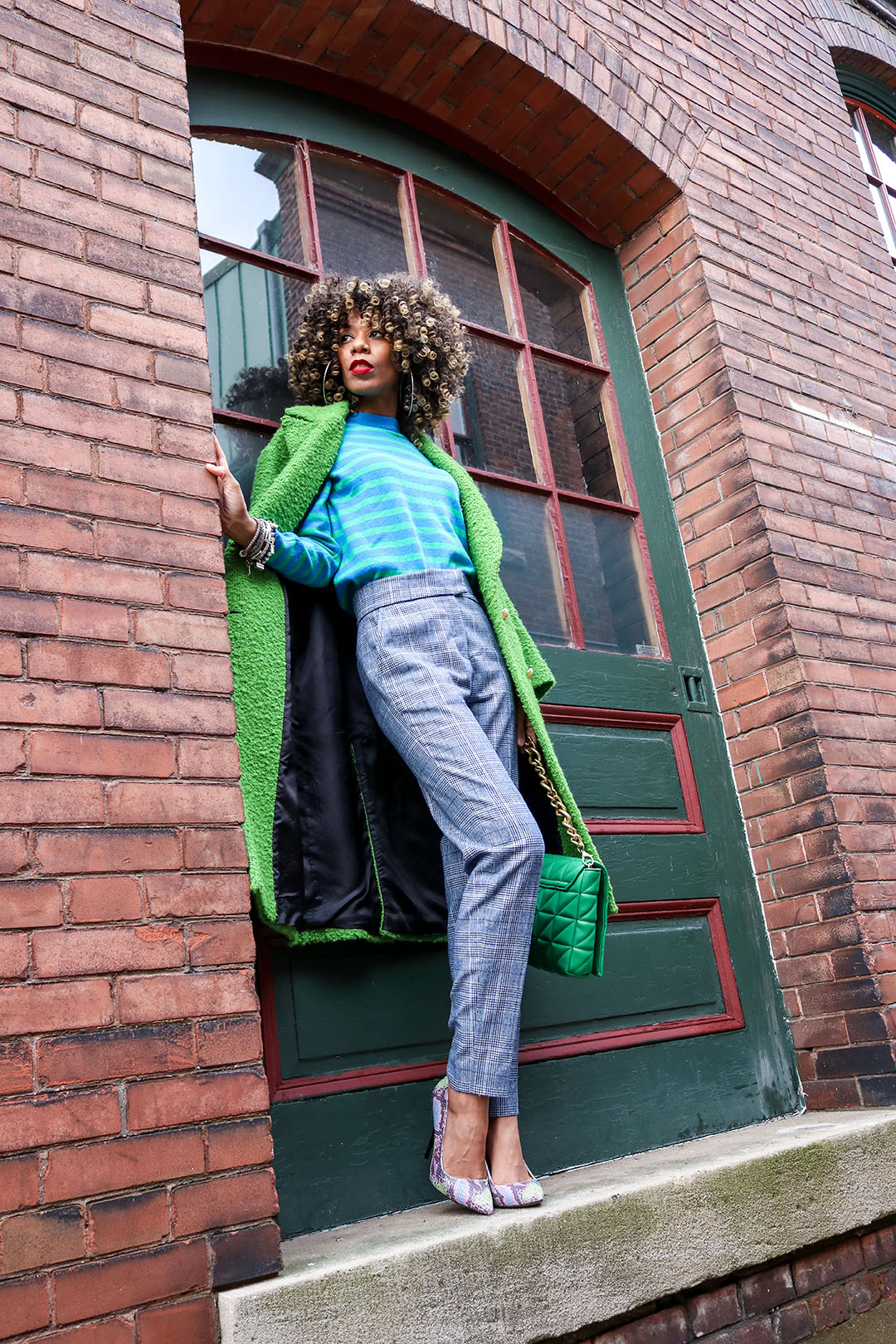 Pants: Sumissura // Top: Zara // Coat: Zara (Sold out online but may find in stores, similar here) // Shoes: Office (old, similar here) //
For my plus size babes: Pants (use link above as these pants are made to measure) // coat//Sweater//
The best part of any suit, if you ask me, is the fact that you can remix it to the Gods! Break it up and dress it up or down to suit your mood, an event or just because! The possibilities are almost endless!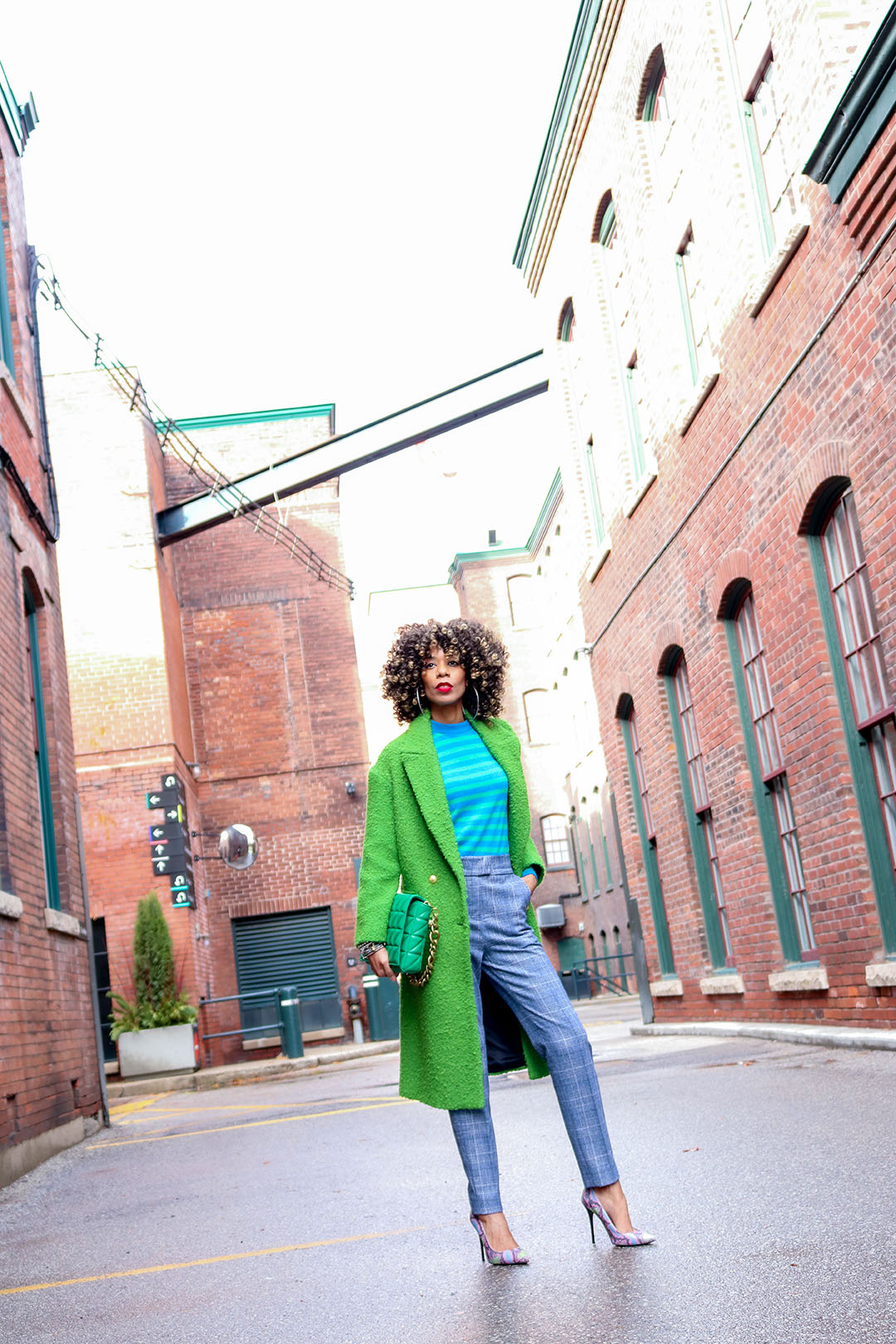 For this look I took my suit pants (full suit shown in our previous post here) and remixed it to create a colourful look that is perfect to keep those grey skies at bay! I don't typically go for subtle suits, but man-o-man it means you can break out all the print, colour and texture you like! As demonstrated here with this gorgeous green over coat and striped crew neck sweater.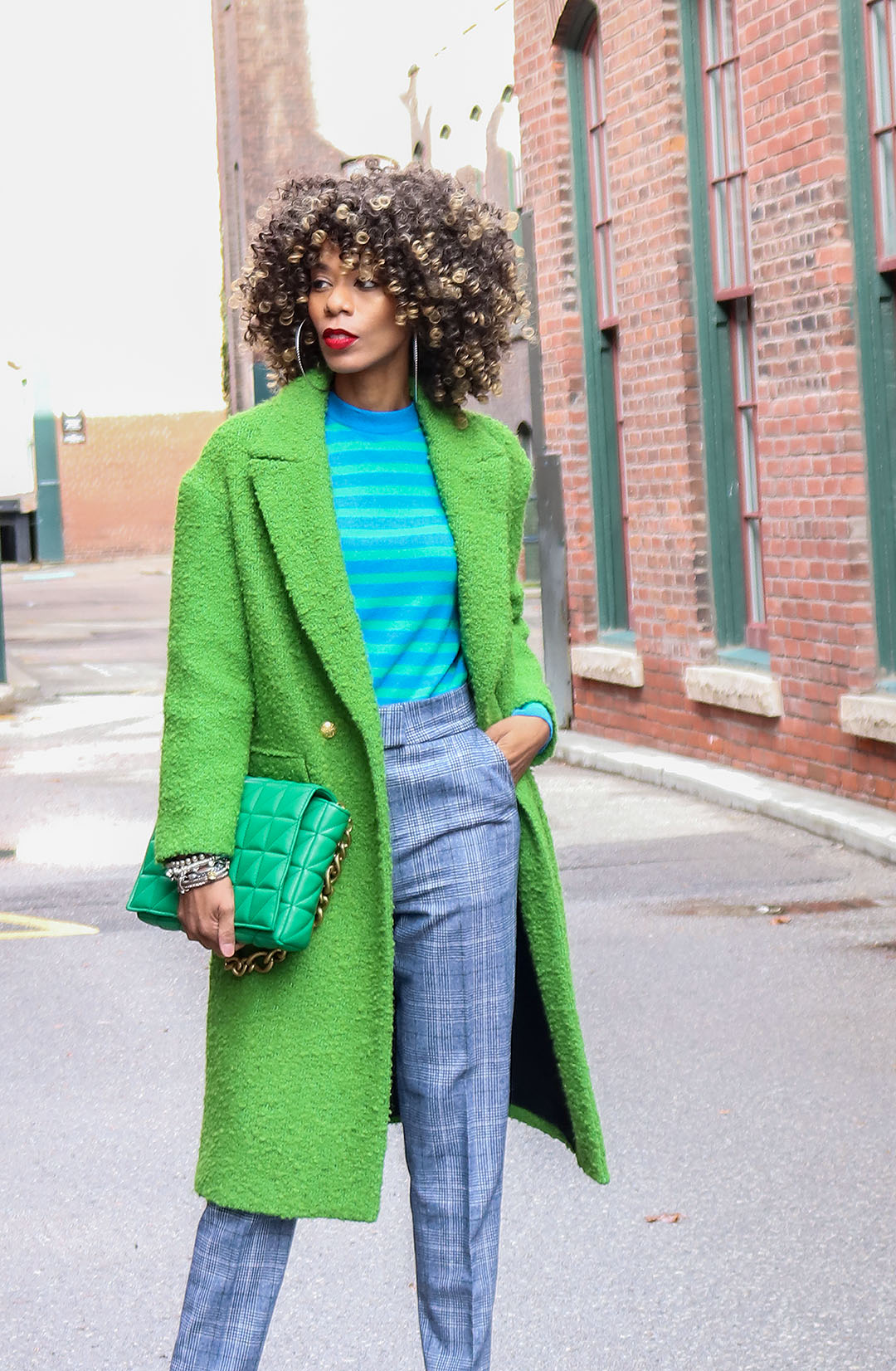 As you can see I am about the bold colour and print mixing babes! Don't be afraid to take that neutral palette and layer on the print and colour! Since the print of the suit pants is so subtle, I was able to pair it with a stripe for the print mix that I love, AND pull out a bold colour to pop the look!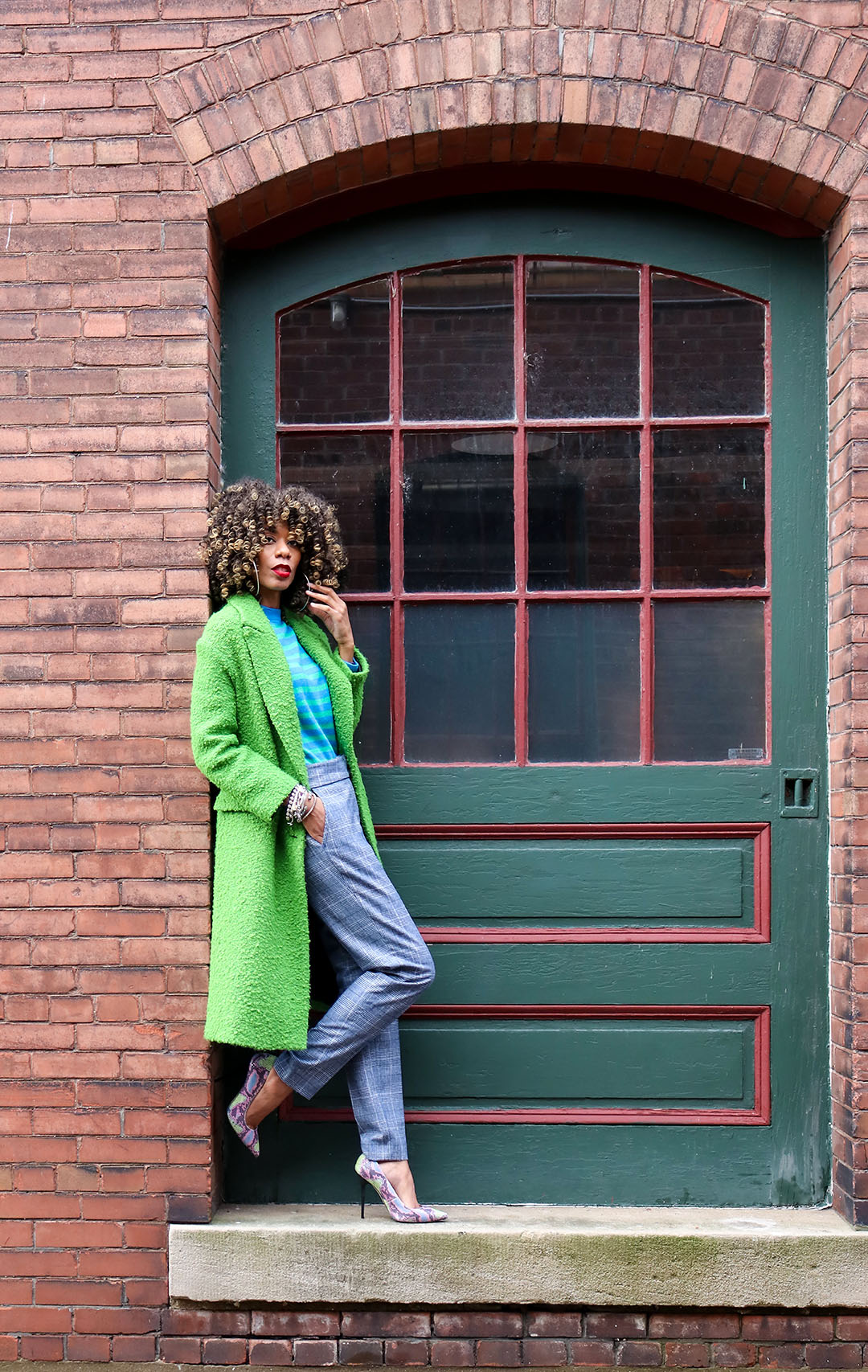 If you're ever not sure what colour to mix and match with, Google it! You can literally ask Google " what colour goes with blue" and you will get a list or series of images showing you what colours go best! I knew I wanted to pair green with this look (I'm obsessed with green right now) and a stripe is a print that mixes well with almost any other print! Win-win!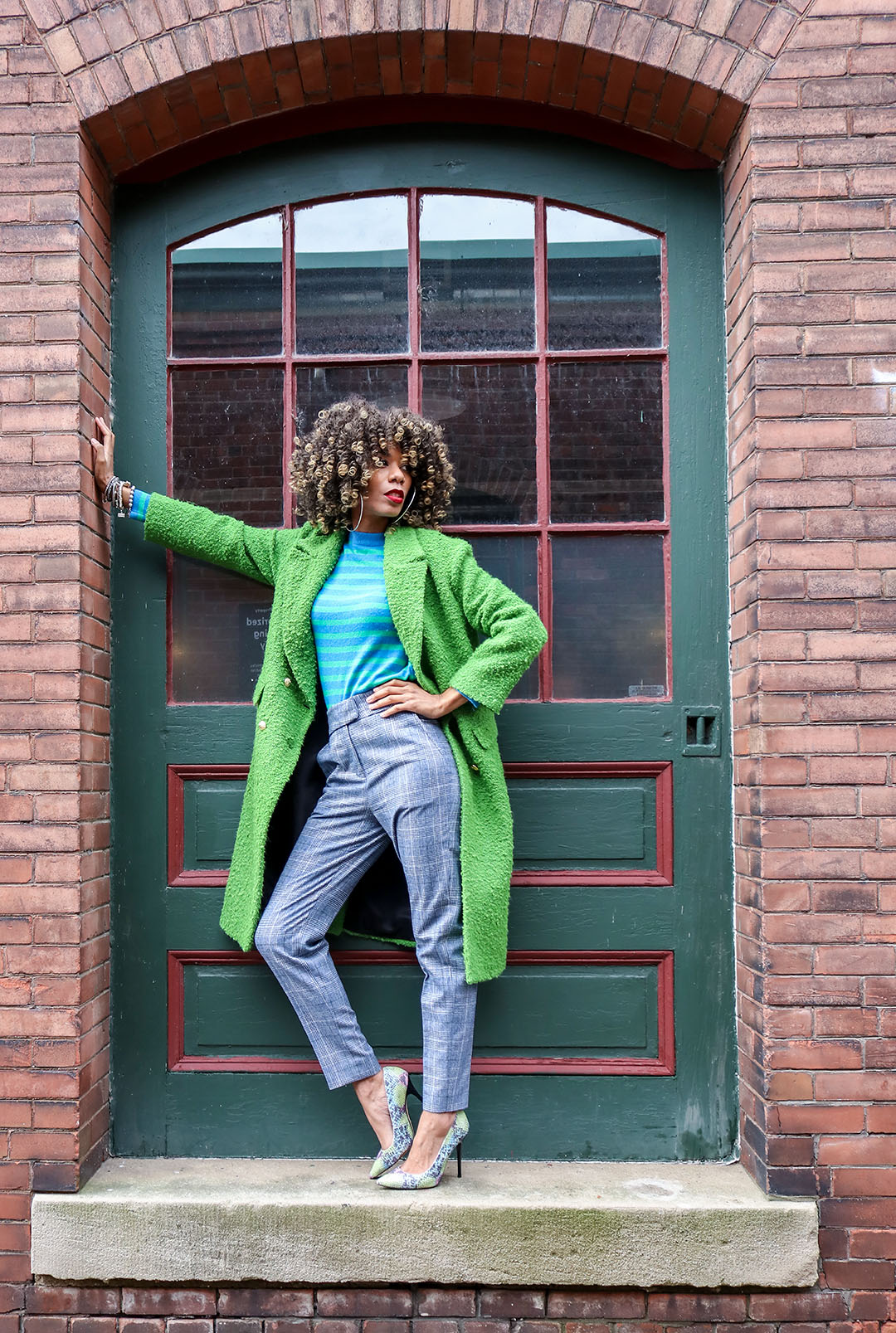 I love this look as I can rock it with flats, heels, to the office or for brunch, it's something that is so easy and comfortable to wear, but packs a punch. Switch out the shoes for flats and you can easily make this your travelling outfit (for those of you travelling these days).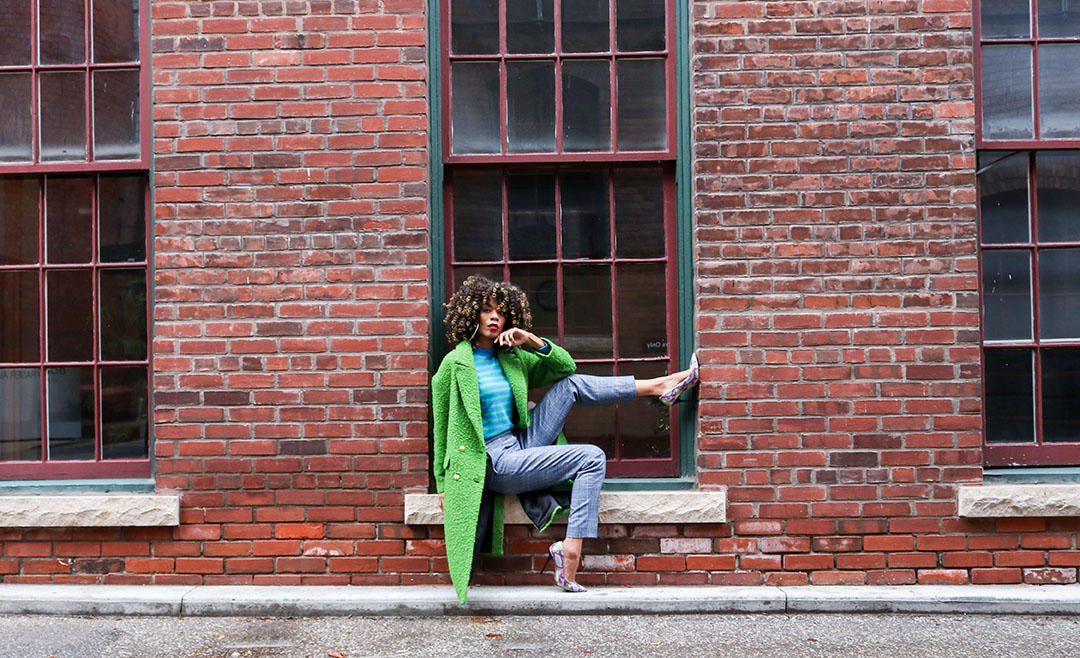 All in all y'all, as you can no doubt guess from everything I said prior to this, I am ALL about a good suit remix. They work for your present life and for your future! Invest babes, and remix it to the Gods!
And that's the long & short of it!
Gail & Leslie xoxo
Photo credit: Roseline Bonheur