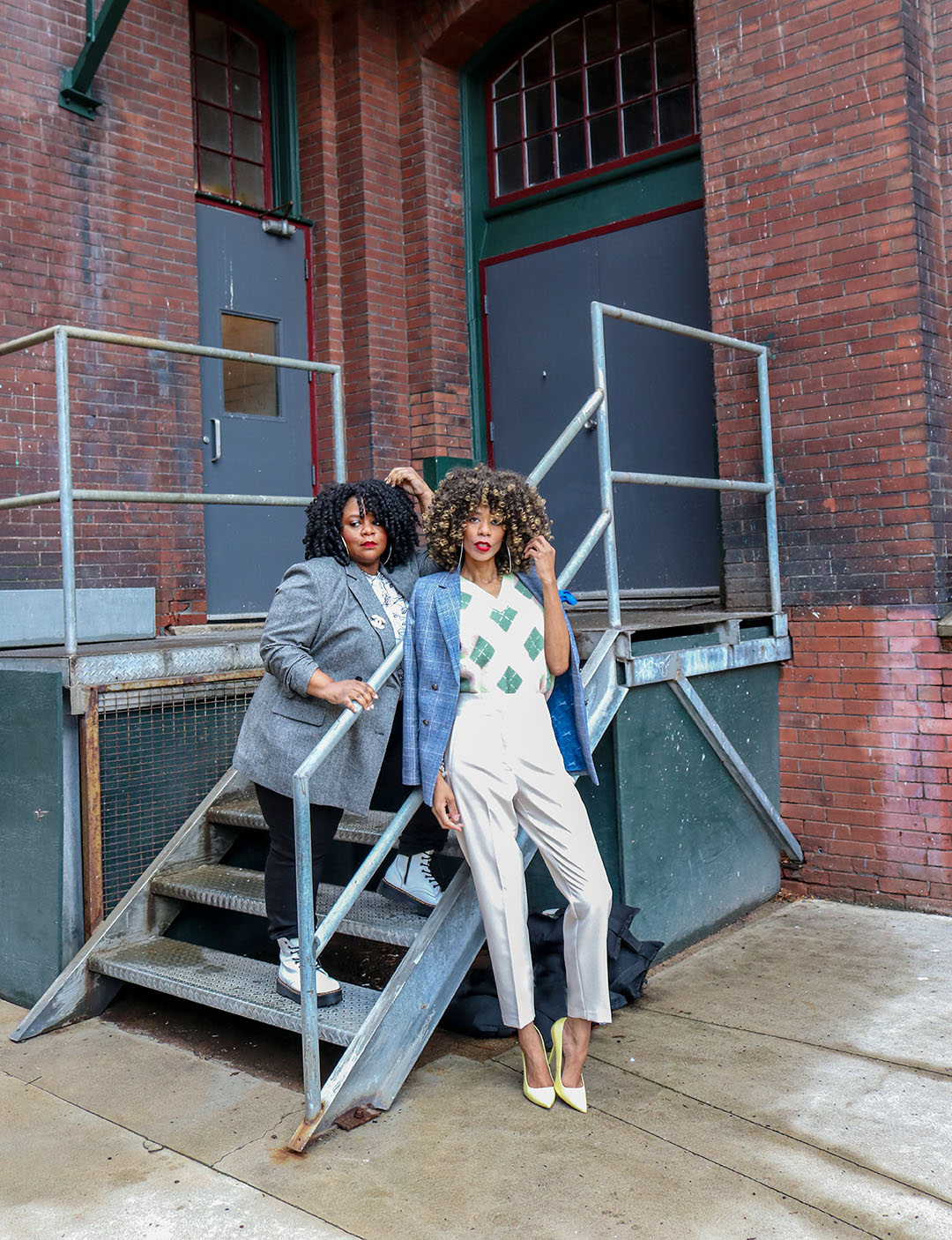 Hello friends, join us as we spill the beans on the final installment of our Sumissura Suit Remix trilogy.
Leslie's Last "Suit" Stand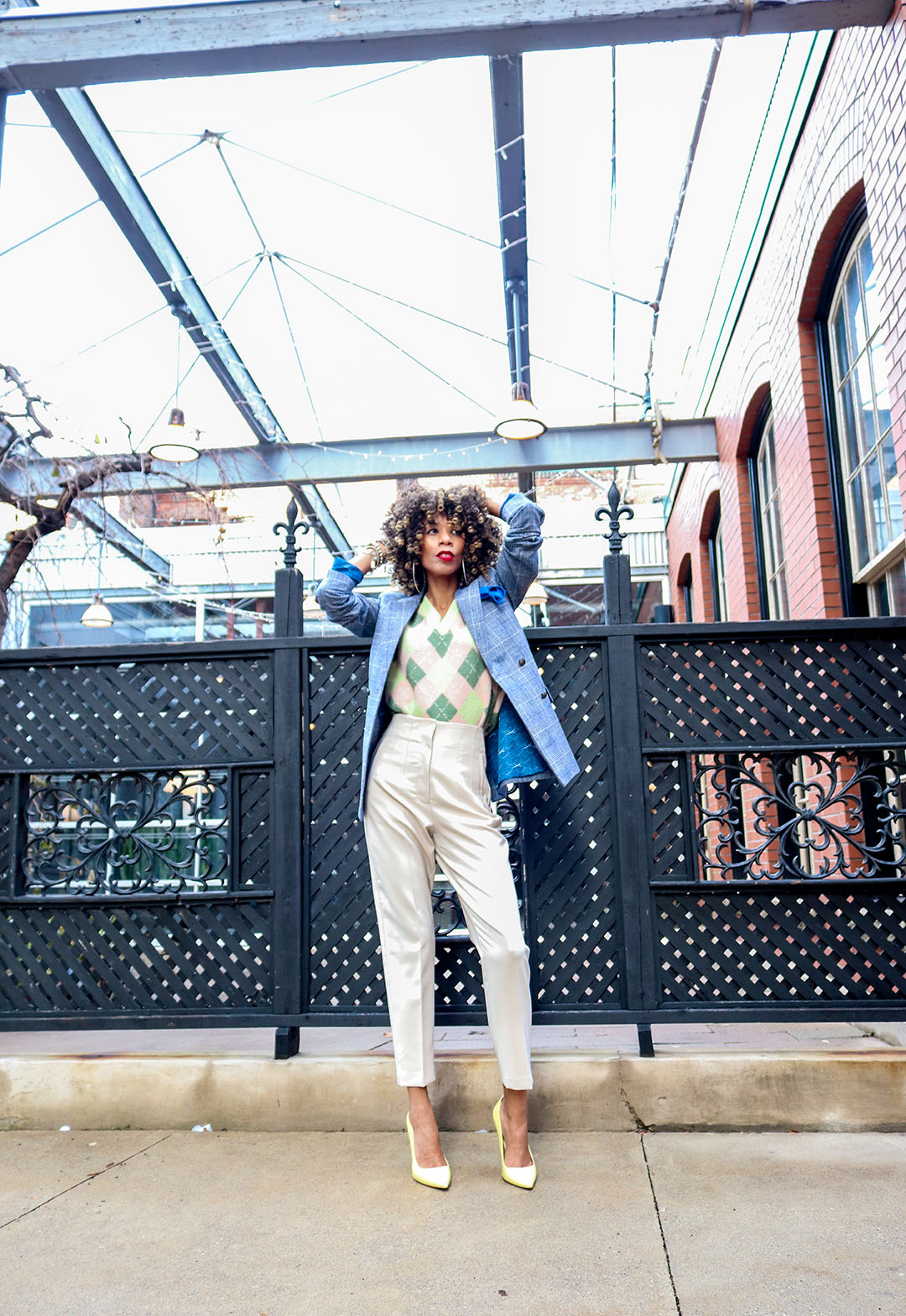 Blazer: Sumissura // Sweater: Zara (sold out / similar here) // Pants: Zara // Shoes: Office (old, similar here) //
And for my plus size beauties: Blazer: Use link above as Sumissura customizes to your perfect silhouette // Sweater // Pants //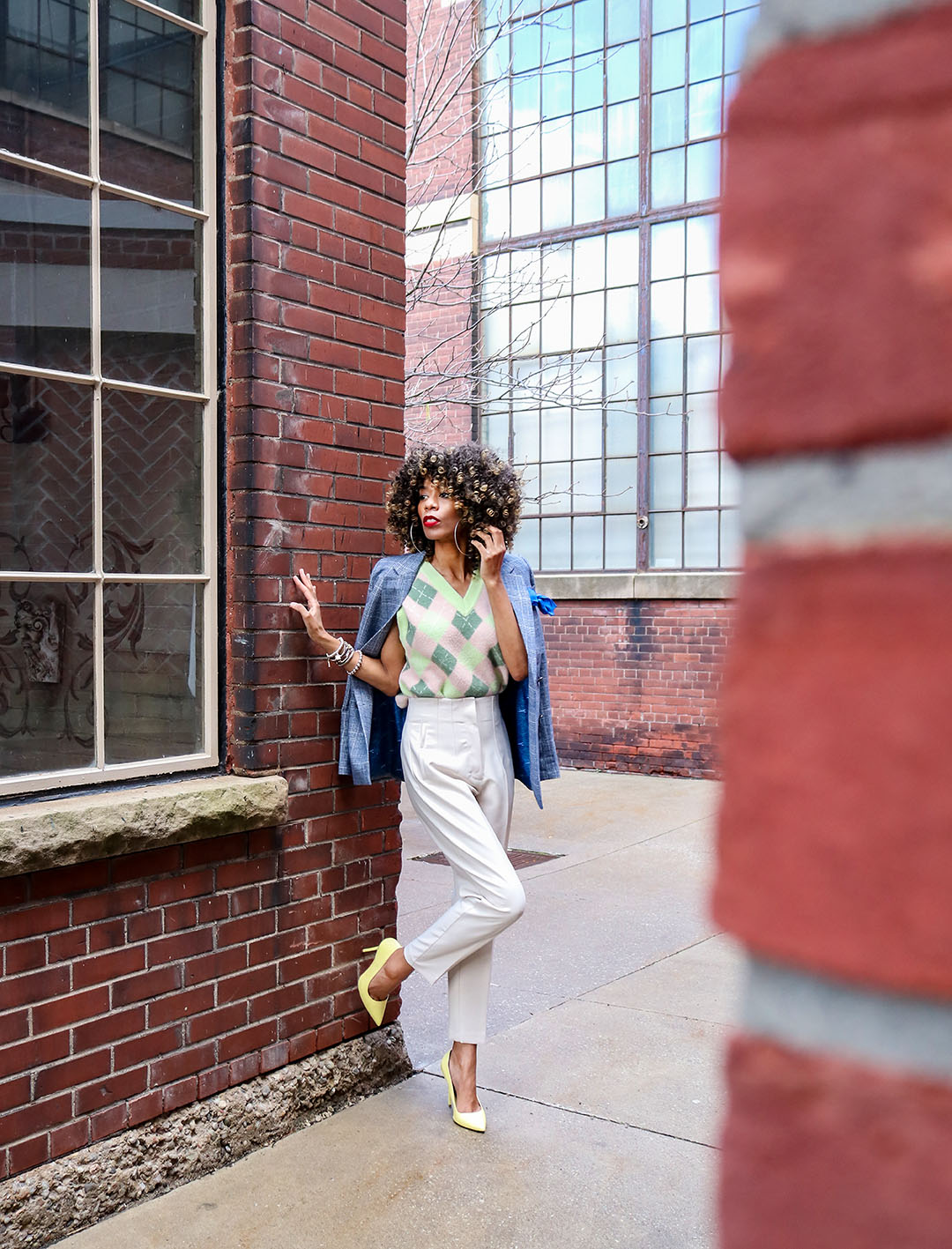 I was not lying when I said I will remix a suit to the Gods! This time we are working with a blazer remix. If you did not know, I ADORE blazers! They are my go to wardrobe item. The real workhorse in my clothing line-up. Why you may ask? Because throwing on a blazer adds polish to just about any look and I'm here for that!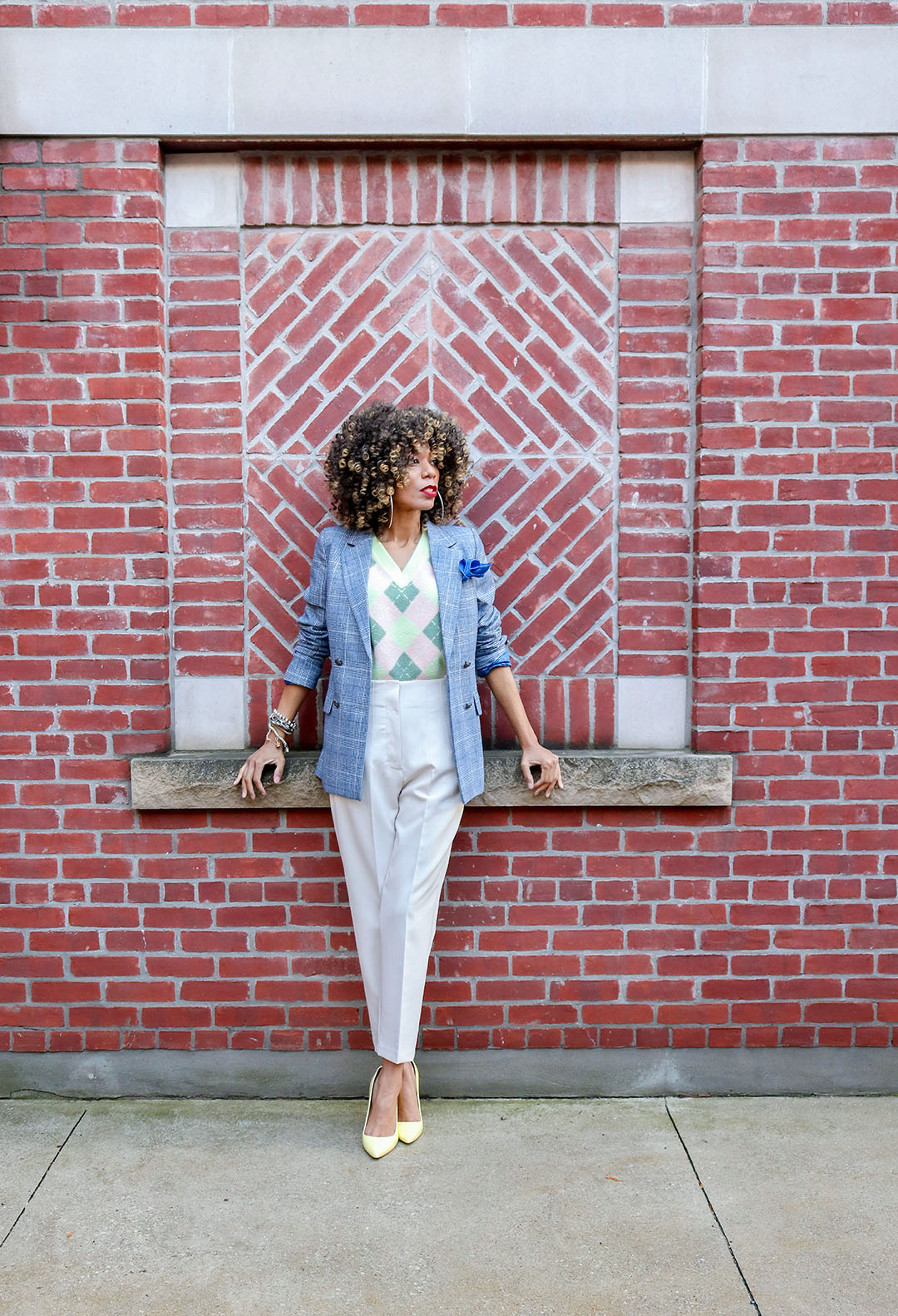 Effortless dressing is what a blazer gives you. Pair it with jeans, joggers, jeggings or shorts, dresses or skirts, you're good to go! For this look, I wanted to layer a knit under my blazer with a bit of print. It's a great way to add some visual interest to the look by doing a bit of print mixing, and argile is a huge trend this season!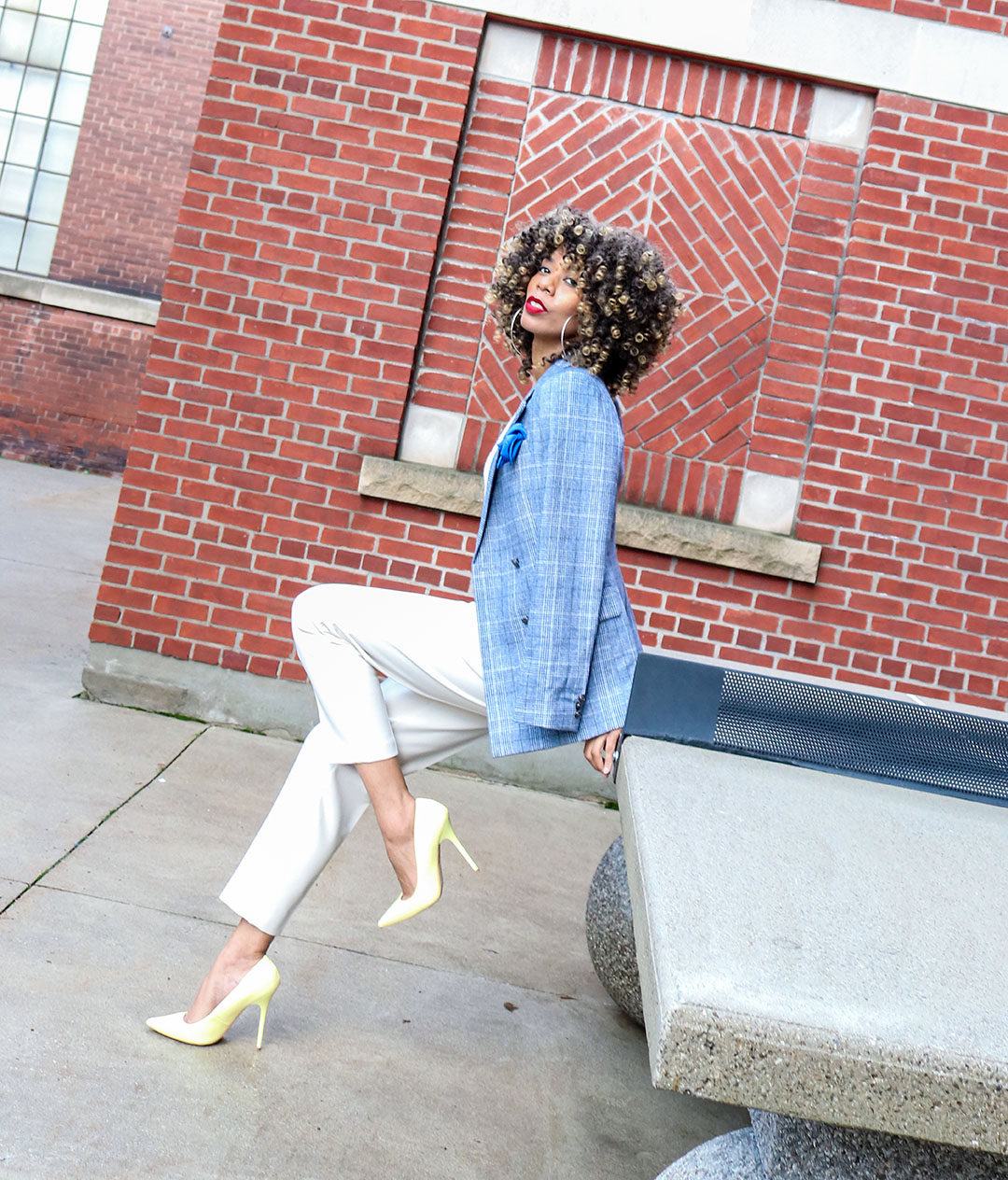 I opted to rock pants with this blazer look, as the weather is cold and we are trying to stay warm. I love that these pants are actually EXTRA high waisted. If you have a long torso like me, an extra high waist is what you need to have your pants look at all high-waisted. Trust me, I know. I have ordered many a high-waisted pant in my life only to try them on and have it look like a mid-rise (which of course, was not the goal).
Again, a good suit is such a great investment as you can re-work each piece over and over again to create a new look. We won't always be in this pandemic, so now is a great time to invest in great pieces that work for now and your future!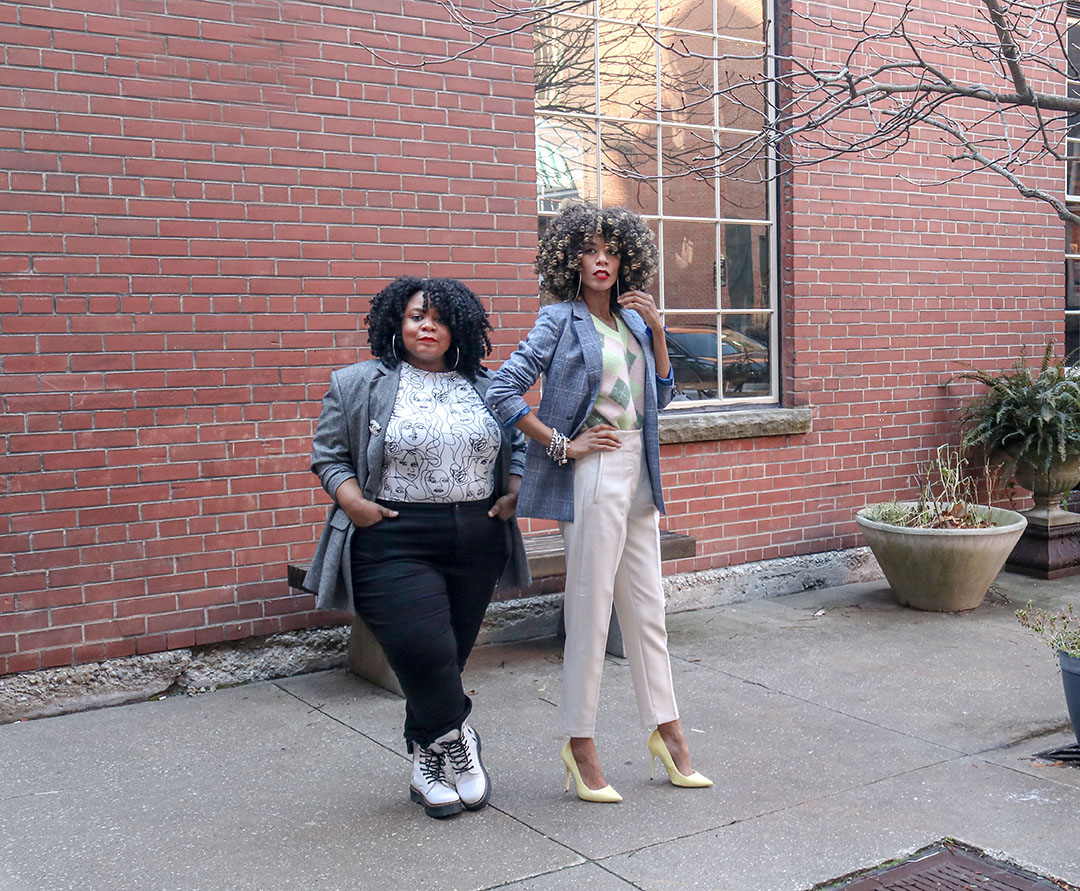 Gail's Edgy Sumissura Look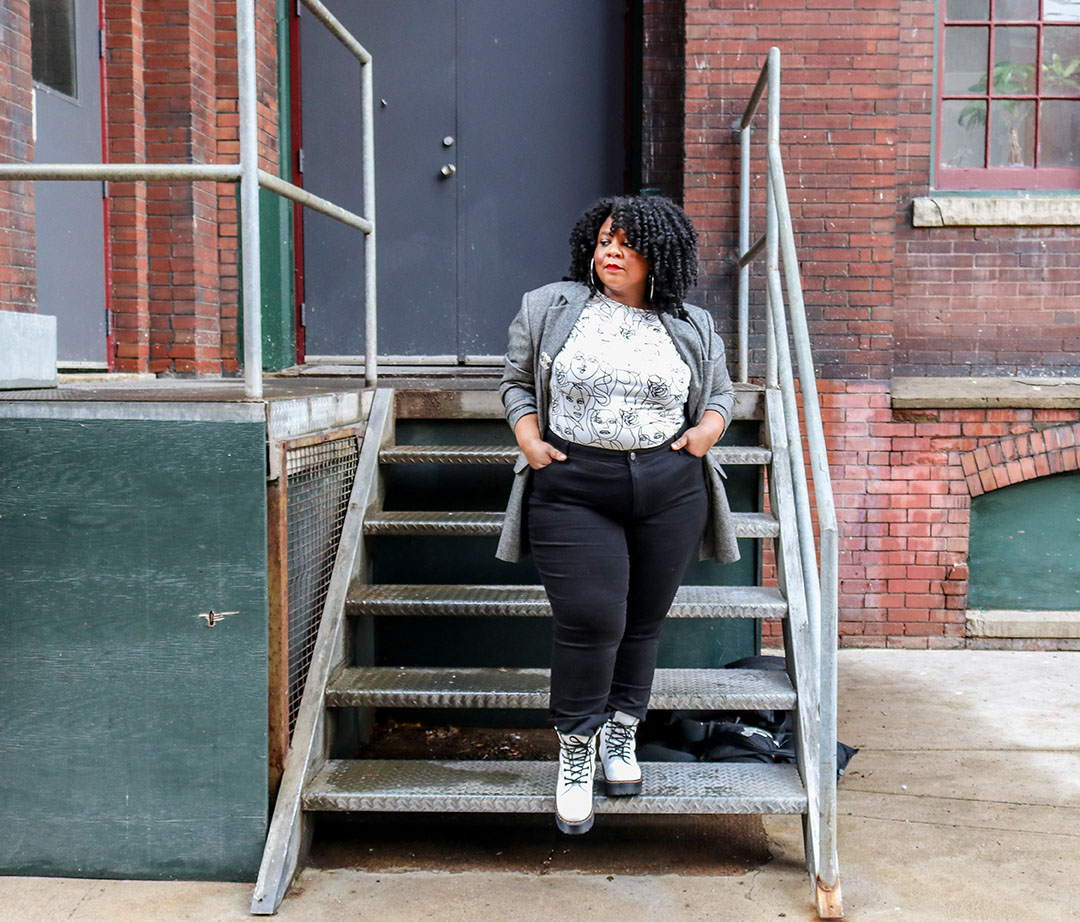 So, we've gone from the boardroom boss babe look to the night out on the town look and now I'm rounding out my Sumissura suit remix look with this edgy outfit. Once again, I must mention the fact that I LOVE the versatility of a great fitting suit because the remix possibilities are endless really.
Blazer: Sumissura (in Quinton fabric) // T-shirt: Shein (old) similar here // Jeans: Reitmans // Boots: Doc Martens
For my straight size sisters, the jacket can be customized to your size! // T-Shirt // Jeans (these Reitmans jeans are also available in straight sizes!)
With this look I was going for a little downtown Toronto Queen West edge with a hint of bling. This look is all about comfort too. I paired the jacket from the suit with these black sculpting skinny jeans (which are available in petite, plus and tall!) from Reitmans and let me tell you they fit like a dream and are COMFORTABLE. These jeans are a five classic pocket design, with a mid rise and feature a button and zip closure plus the fabric itself has plenty of stretch to it.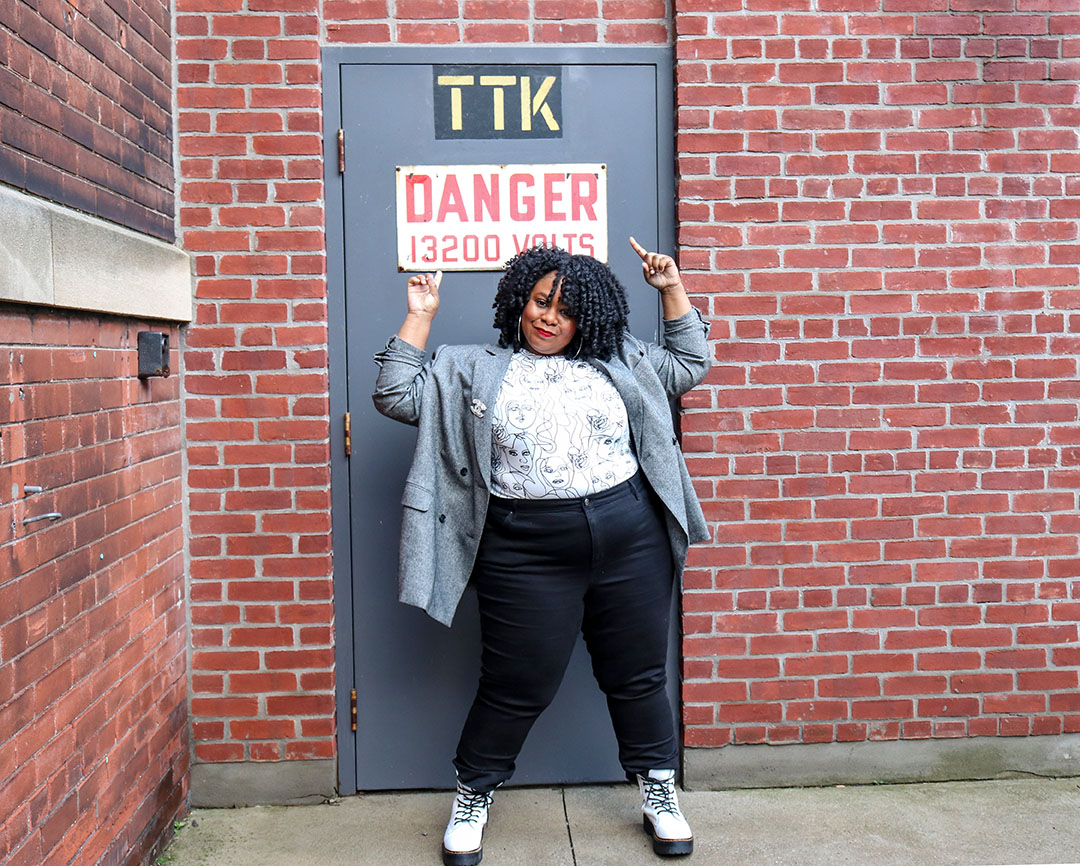 I added this cool line drawing faces t-shirt, again, to give that downtown vibe and added a blinged out brooch because I need to add a little glam to this look.
The final key element to this look are these uber comfy Doc Marten style boots. When I say these boots are comfortable, I mean, it's like walking on a cloud! The soles of the boots have what they call "bounce technology" which is what gives that walking on a cloud feeling!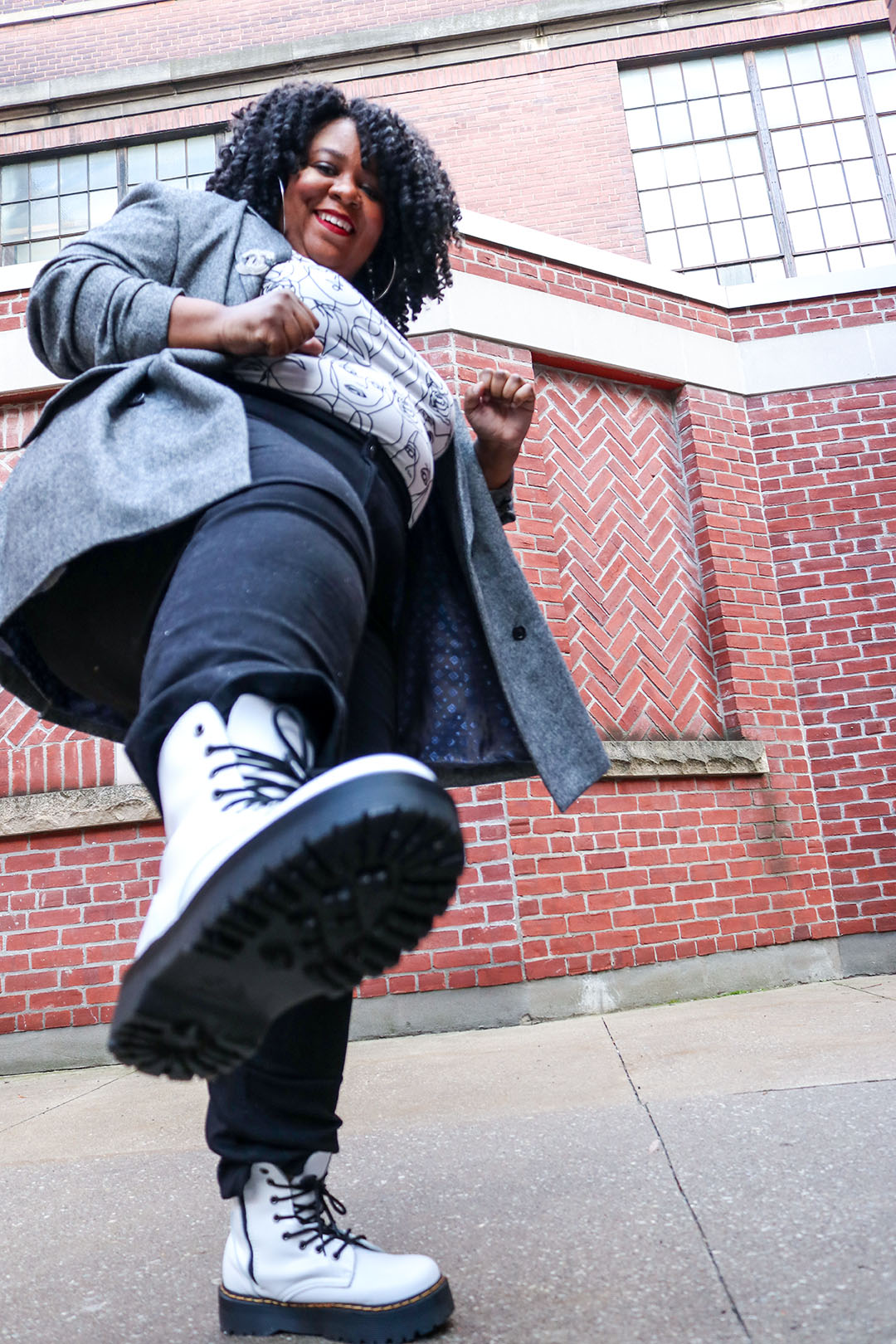 The boots have a side zip so it makes is easy to get in and out of them cause I don't want keep having to do laces up LOL – so, my final Sumissura look is complete!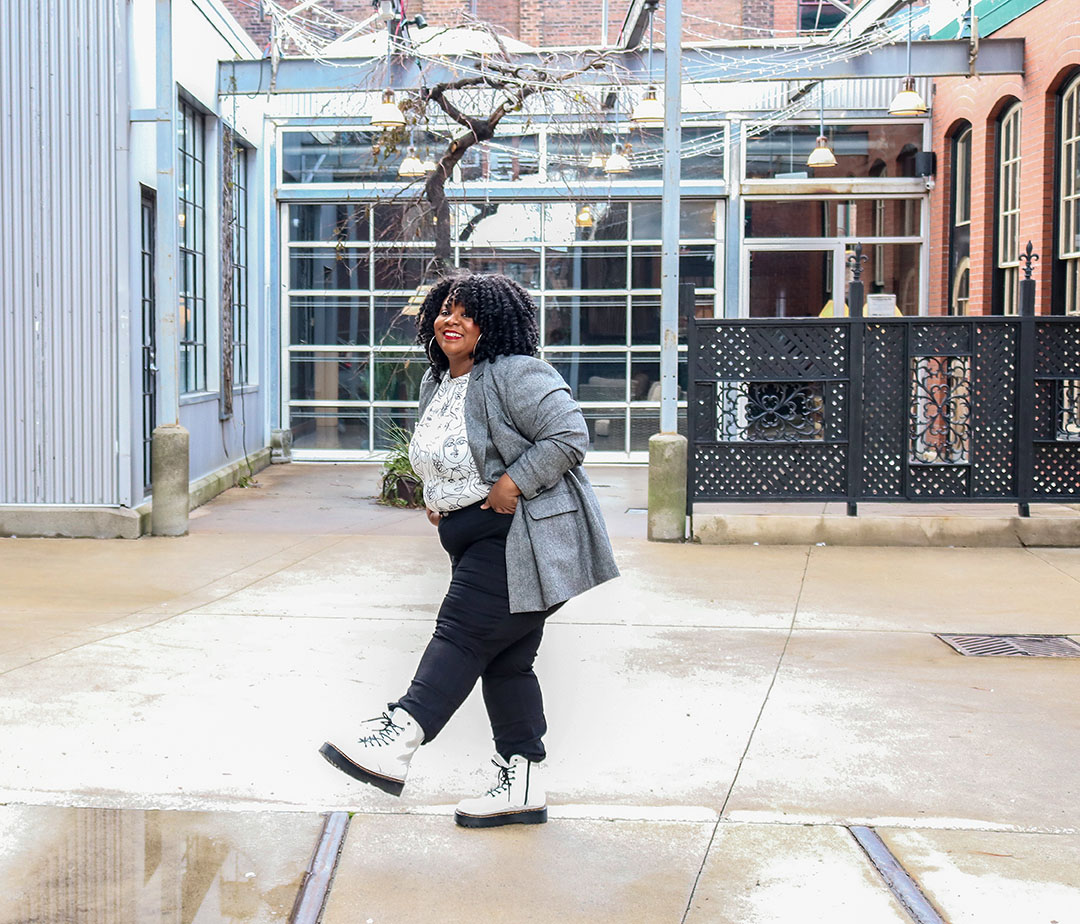 And that's the long and short of it!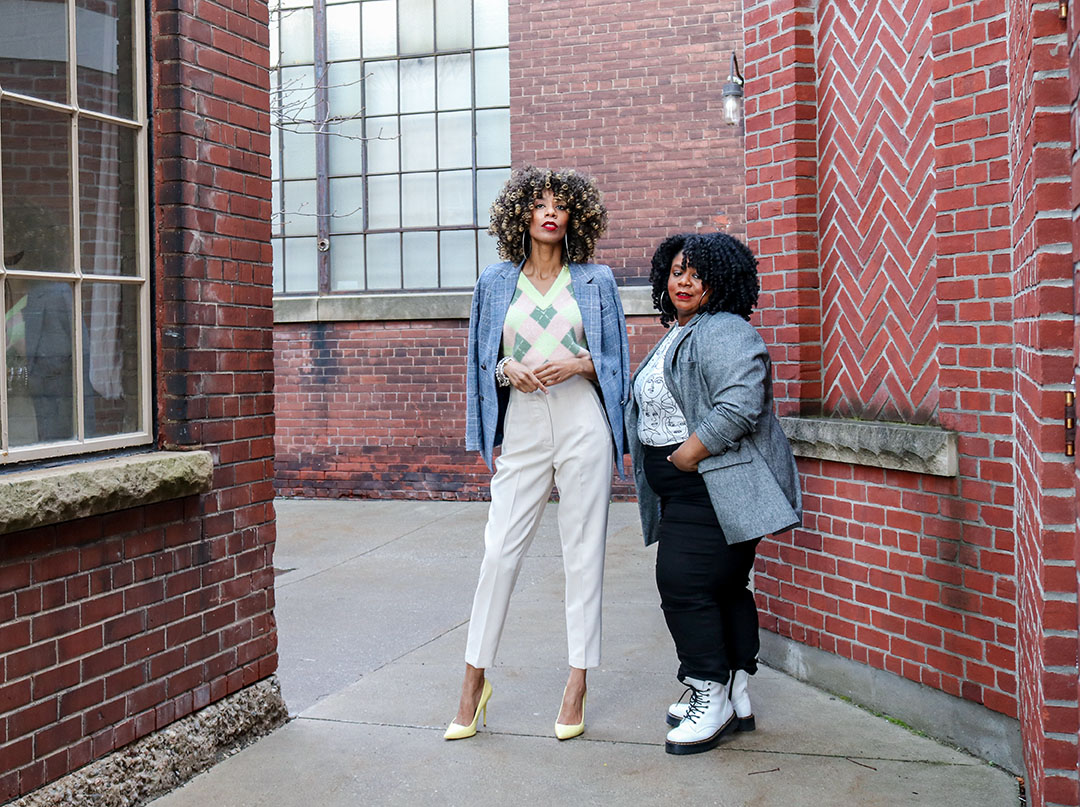 xoxo Gail & Leslie
Photo credit: Roseline Bonheur