The most versatile of clothing pieces found in any woman's wardrobe is a denim-anything. From jeans, to jackets, to dress and vests, denim can be dressed up or down. Follow along with us to see how we've styled our denim looks!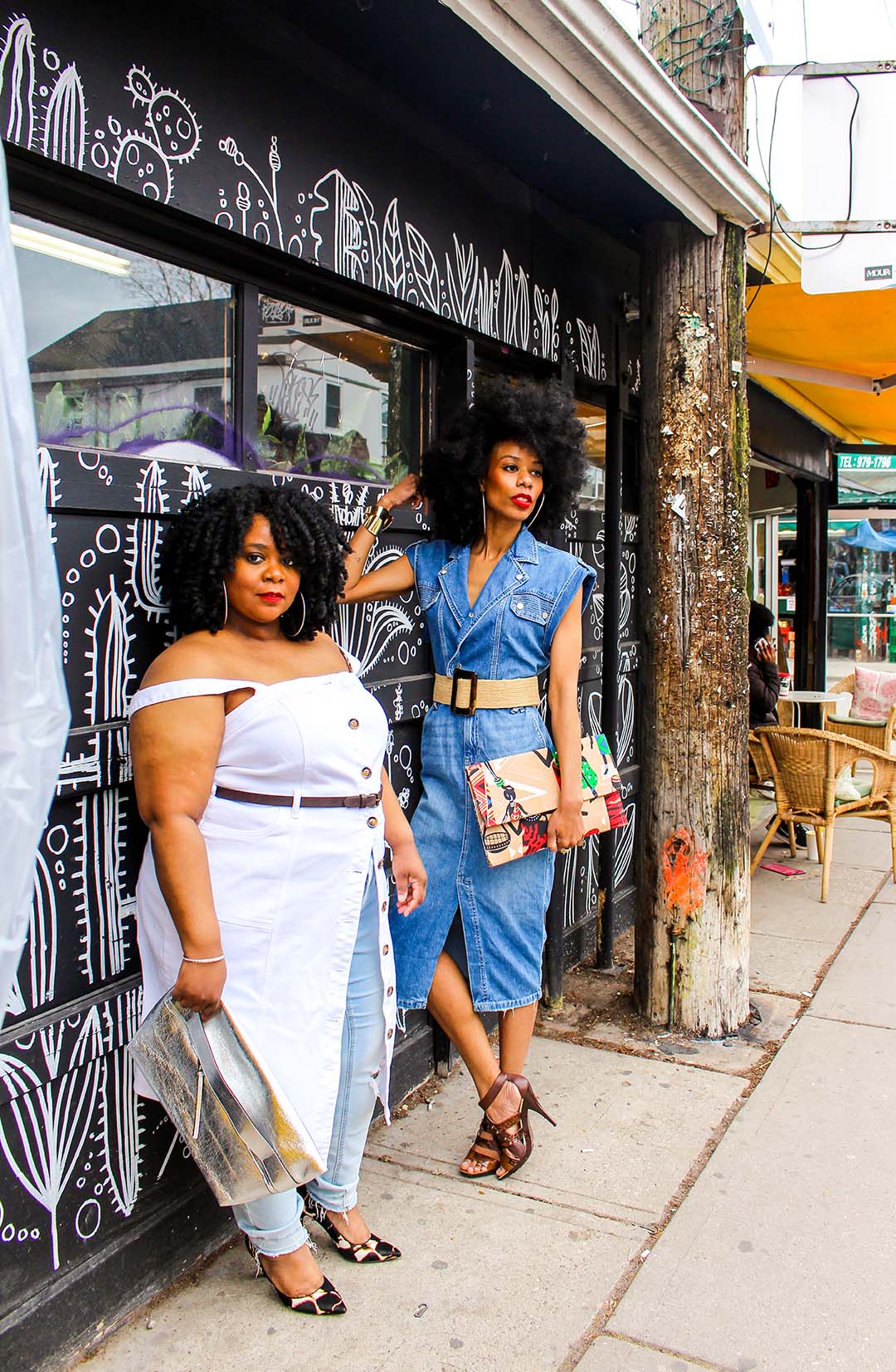 Gail is Giving us the 411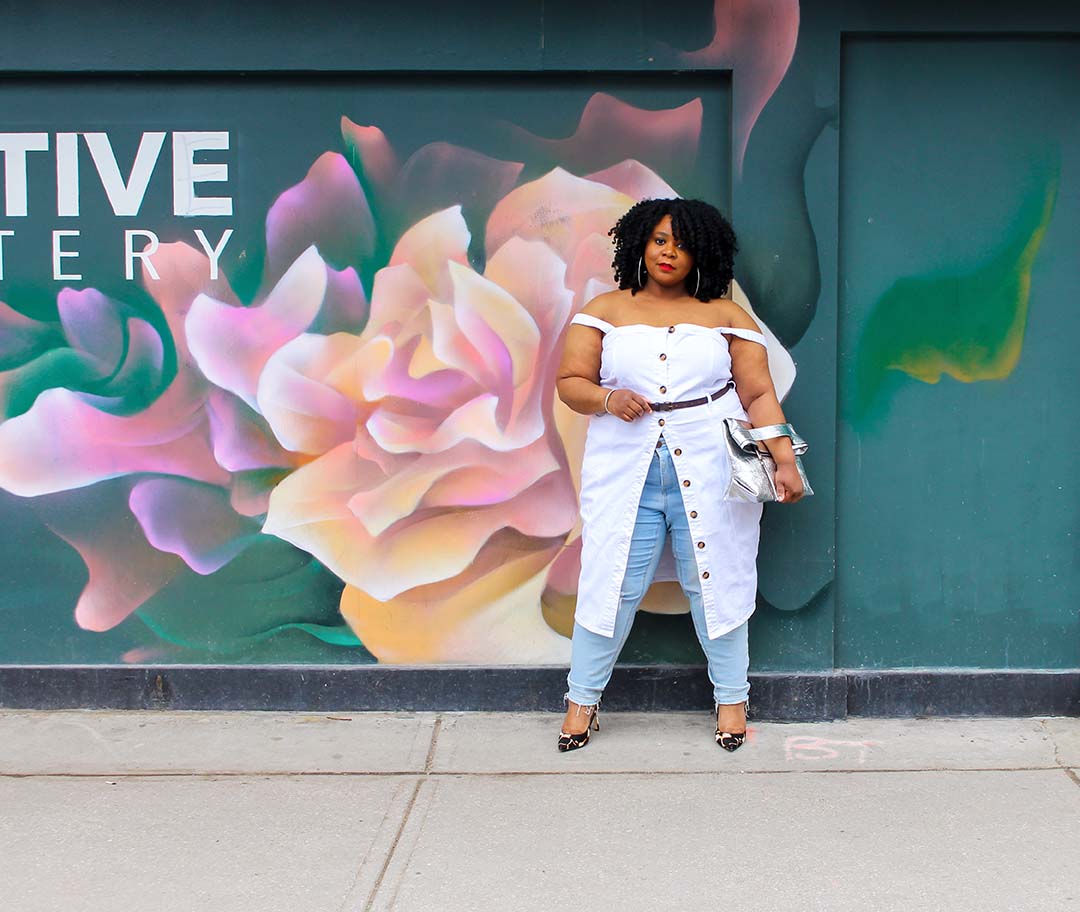 Denim dress: JustFab sold out similar here // Denim jeans: Addition Elle (old) similar here // Belt: Torrid sold out similar here // Clutch: Zara
For my tall girls here are some options for you: Dress // Jeans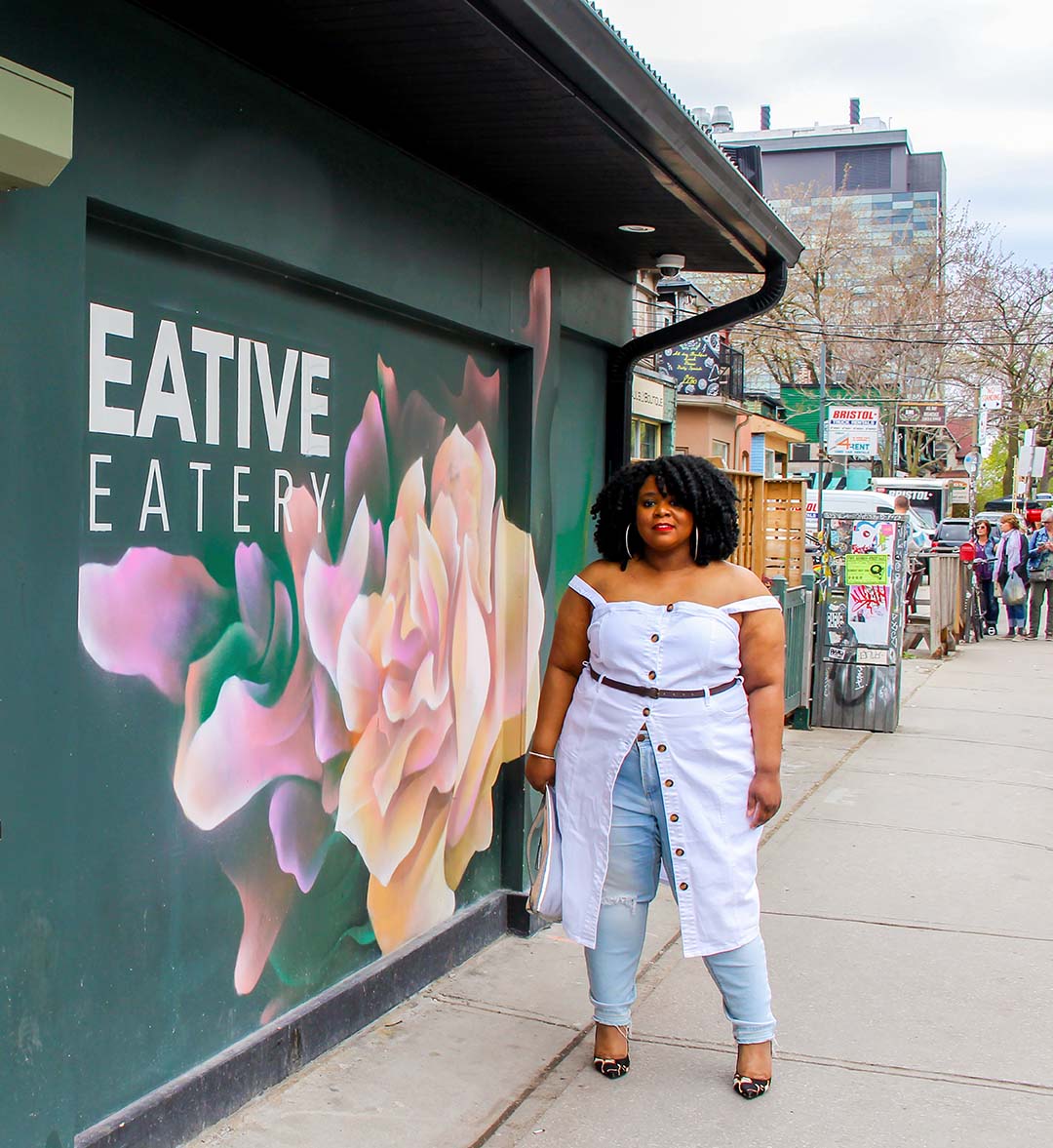 The versatility of denim just can't be beat but I didn't want to just wear blue jeans and that's it. I wanted to do little something unexpected. So, I decided to wear denim jeans under a white denim dress….because why not?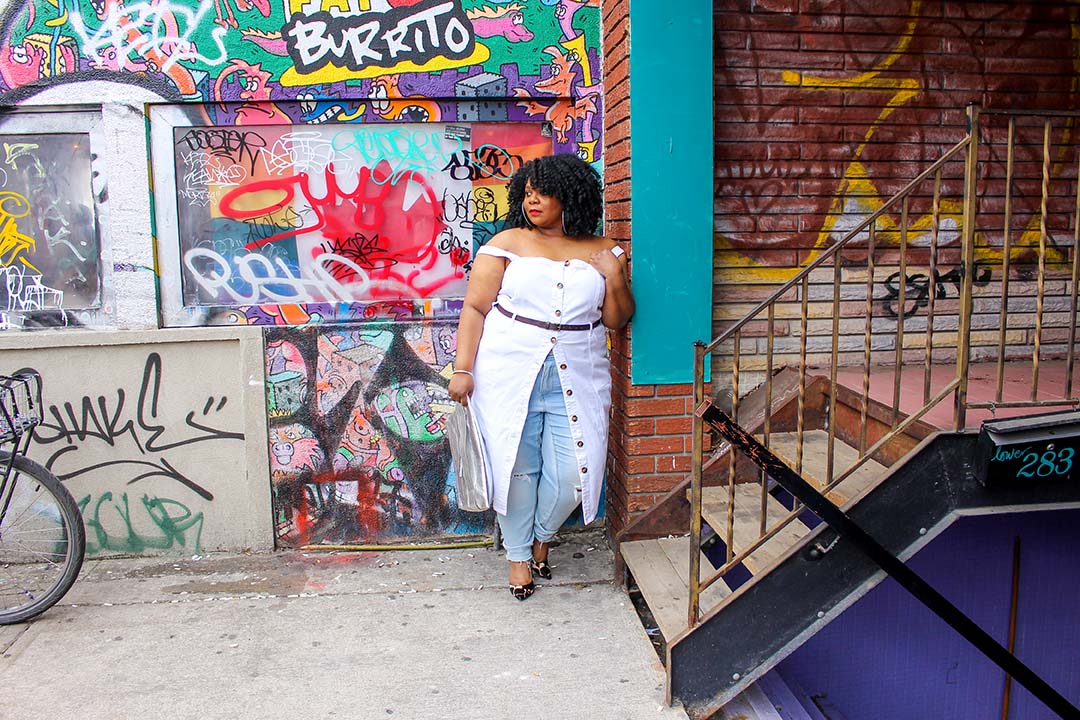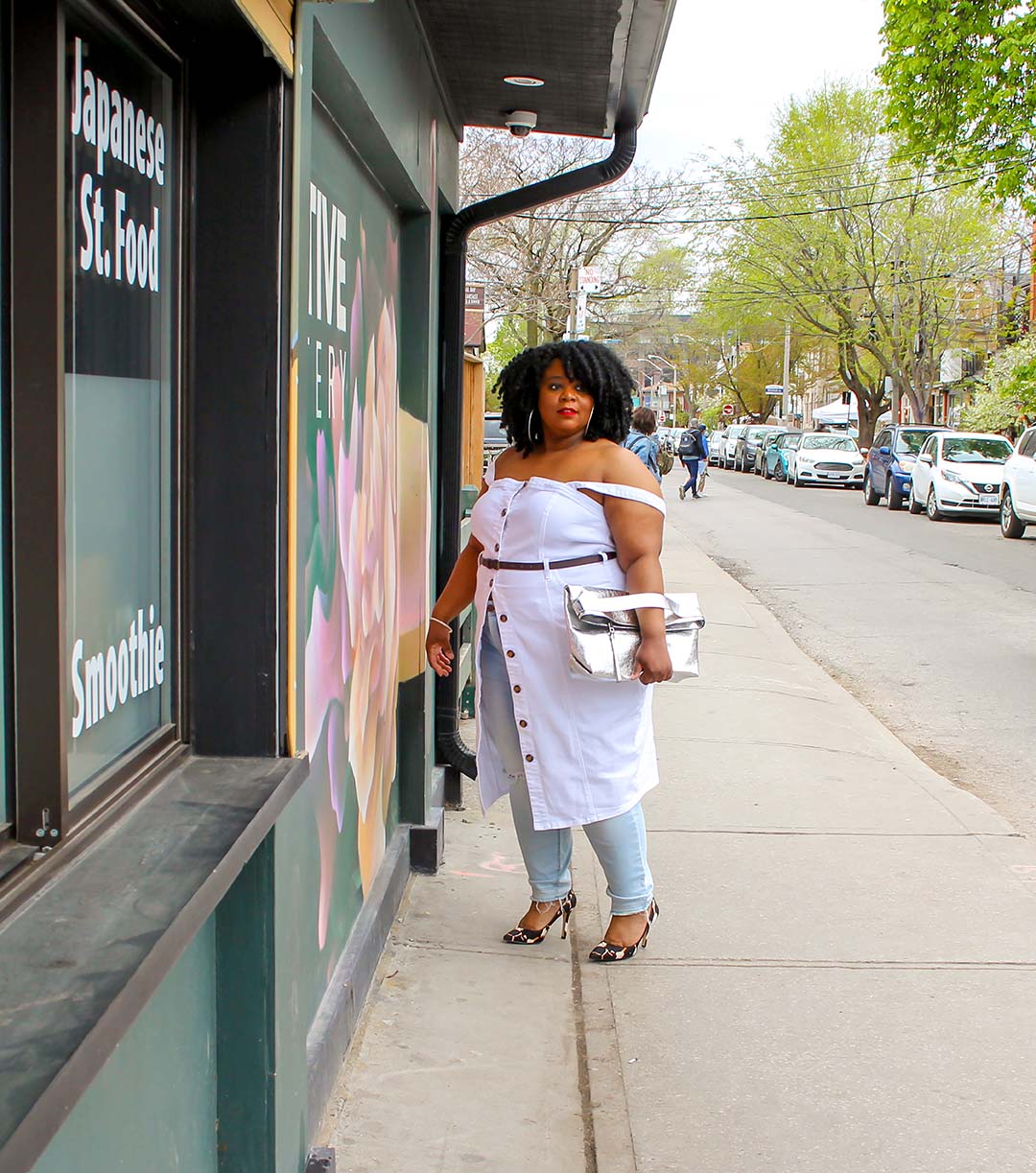 I didn't want to create another plus size denim look that was just jeans and a top. I wanted to create fun, out of the ordinary look that would warrant a double take our two. Too often plus size women are given fashion options that not as forward thinking and "out of the box" compared to our straight size counterparts. That's why I try to create looks that are a little bit different and unexpected.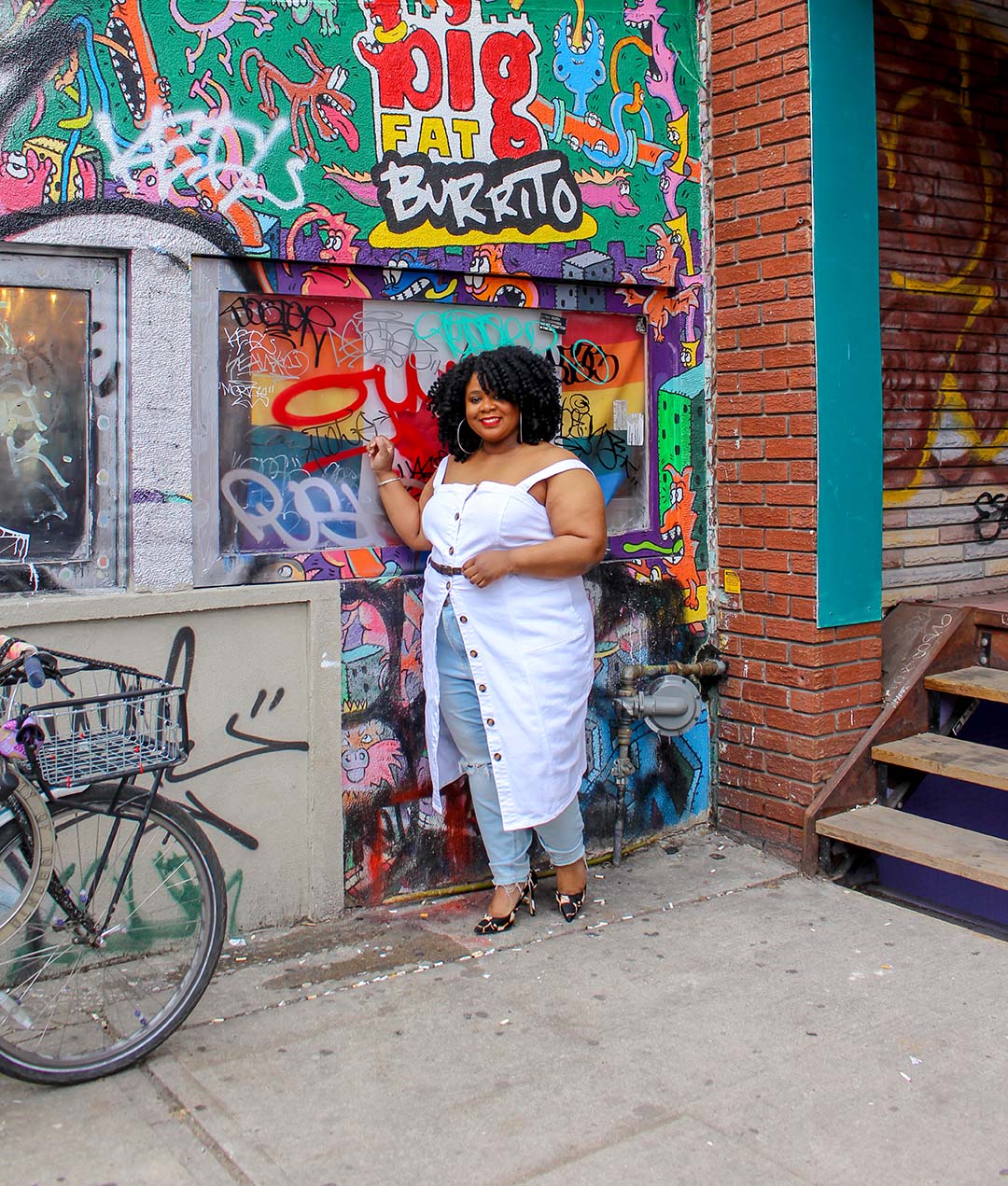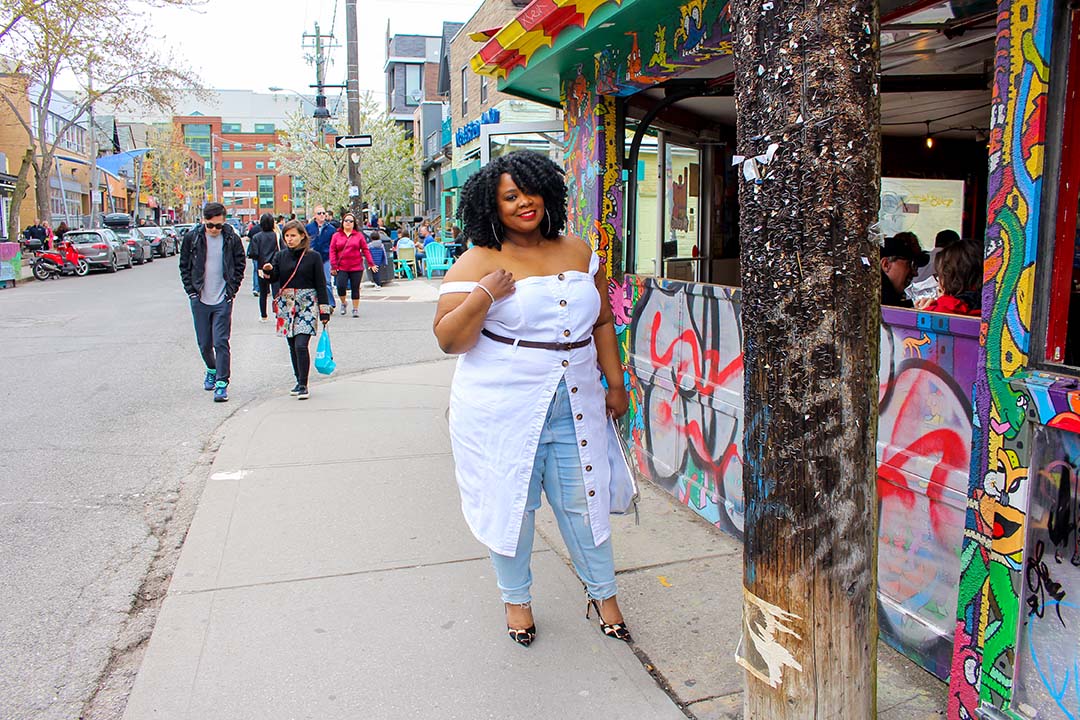 So, I completed my denim on denim look with this oversized silver clutch that I ADORE (reminder – I'm a handbag addict LOL), silver over sized hoop earrings and printed pumps.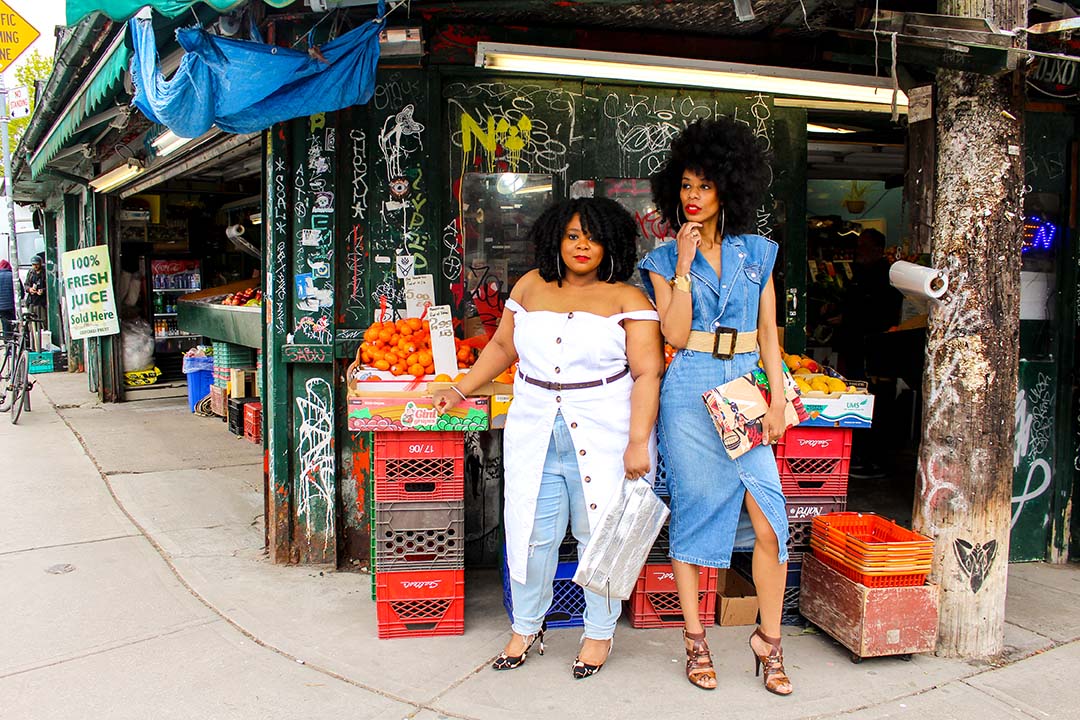 Leslie's Style Deets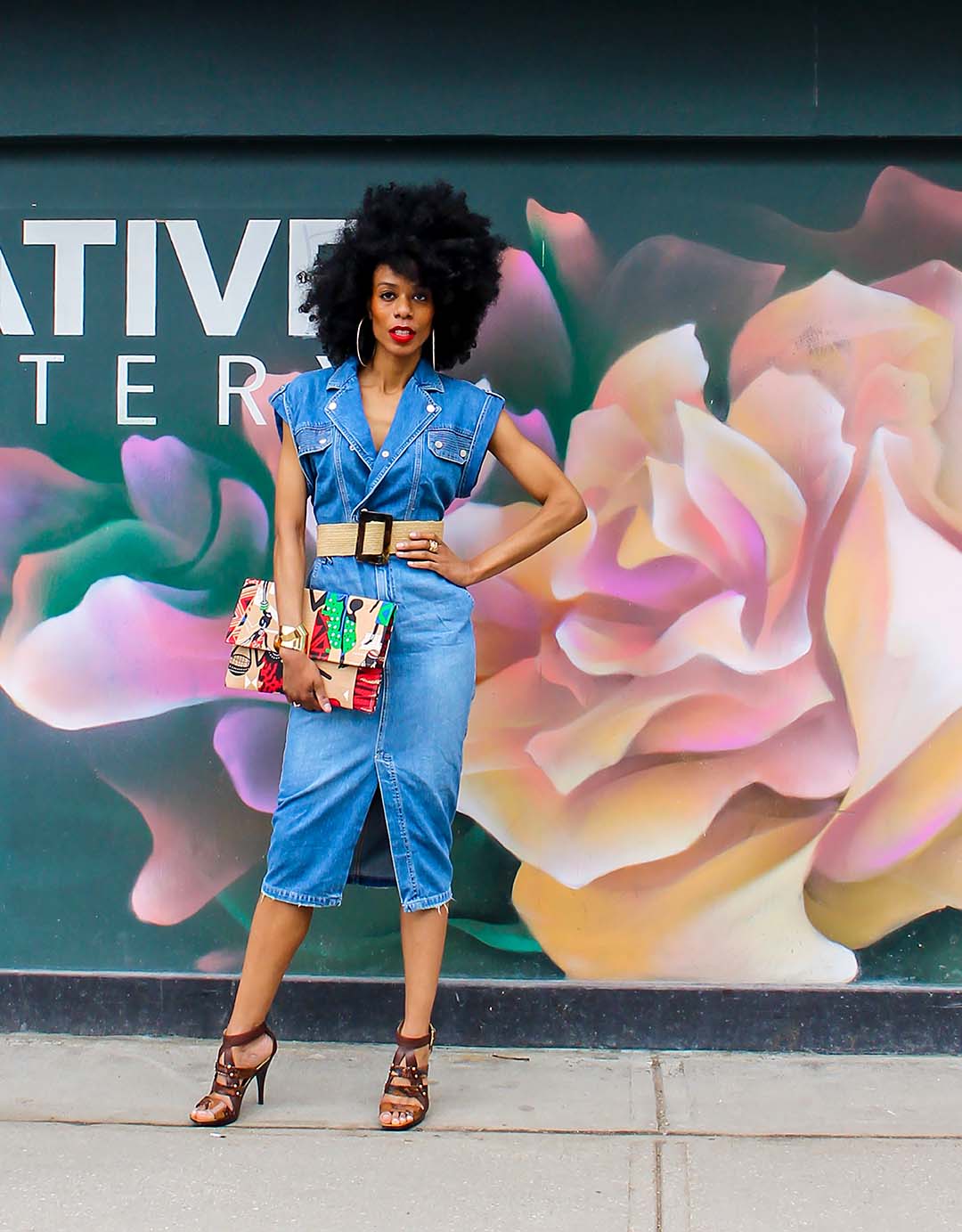 Dress: River Island (sold out, similar here) // Shoes: Michael Kors (old, similar here) // Purse: MissLionHunter (sold out, similar here)
For my gorgeous plus size perfect sisters: Dress //
I am so digging this midi moto style denim dress I found at River Island! Denim is great because it can stand some wear and tear and you can throw it in the wash and not have to shell out for dry cleaning! And when you can get a dope denim dress like this one, hey, you`re ahead of the fashion game!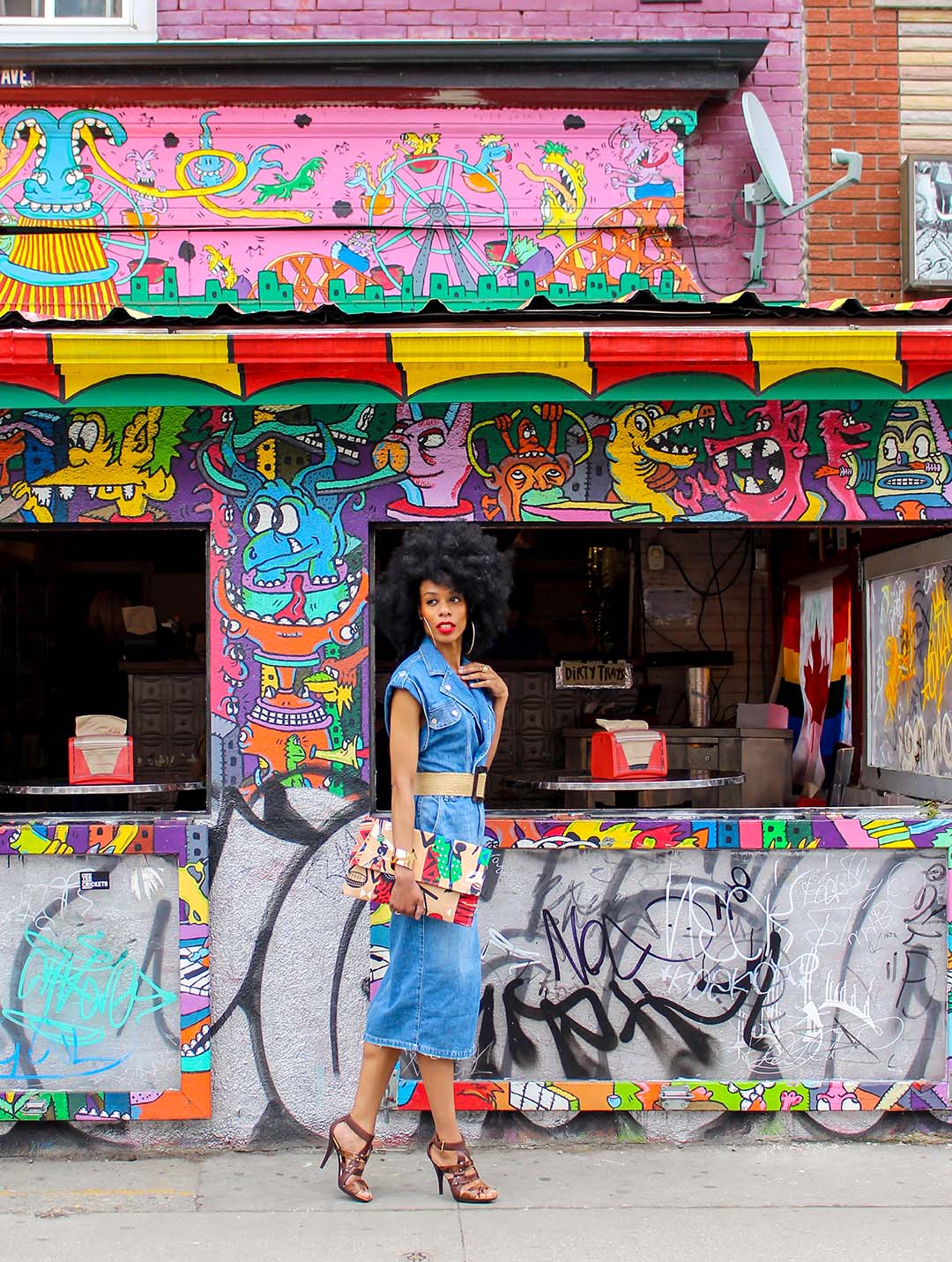 Now for all the pros about this little baby; besides the points I mentioned above, I love the moto style of the top of the dress. It takes the more traditional style of a denim dress and gives it a little zah-zah-zoo (i.e. more visual interest making it more fun!). Another pro about this dress is the length. For me, just hovering around the lower end of tall at 5ft9 (though people keep insisting I`m 5ft10), I love that this dress will work for my taller sisters too! You don't always want everything to be mini. I know for myself, I love a mini dress, but given my height and my size, sometimes that mini dress can become a top!LOL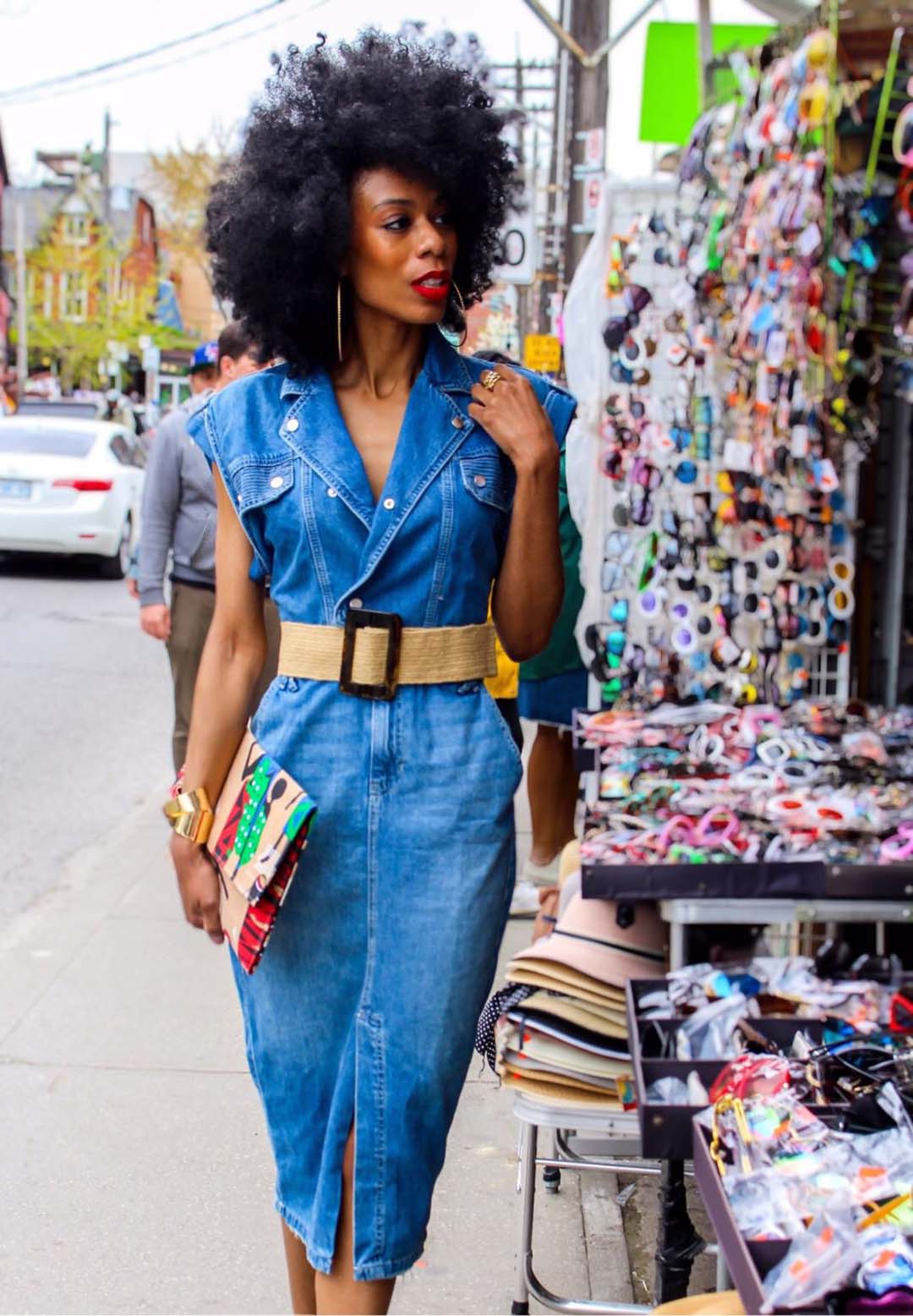 Another feature of note about this dress that I love is that it has a belt. My slim girls know that we are always trying to create that hourglass shape and the belt helps us to accentuate our waistline and give us more shape. When styling this look, I opted to switch out the belt that came with the dress for one I found a little bit more interesting to add another colour and texture to the overall look!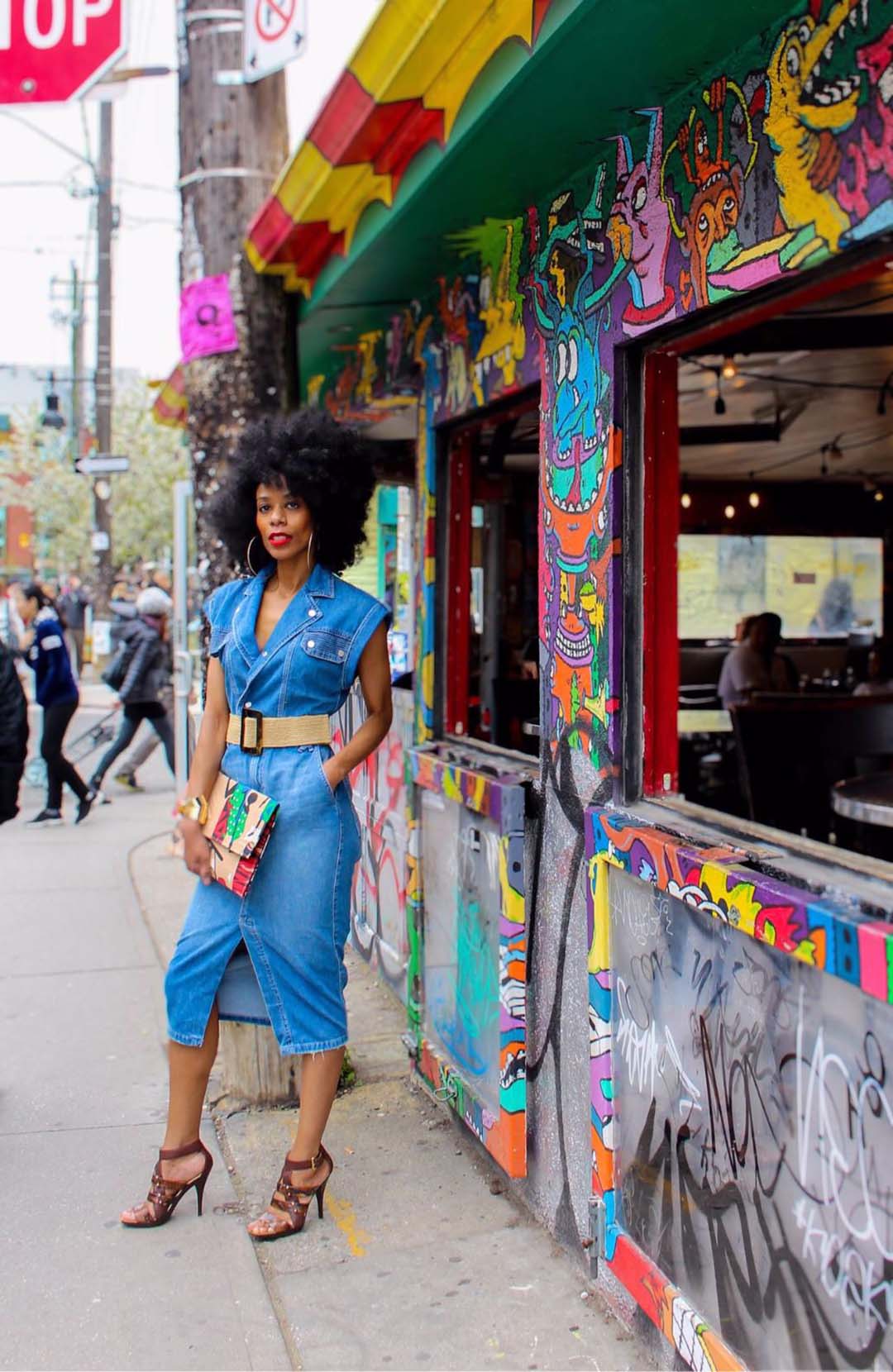 Now for the negatives: Well, as usual, as I am a slim woman, this dress is just a bit big. I should have gone down 1 size to get it to be just a bit more snug, but I was concerned about my broad shoulders. There is a good amount of stretch in the dress too which would have helped if the smaller size was a bit too snug. That was really my only drawback with this item. Now let`s talk shipping. I love River Island, but as they are not in Canada (they are in the UK), shipping can be a bit pricey. I paid approx.. $20 for shipping AND then came duties. So, buyer beware. It can be worth it if you love an item and know your size, but if you don`t, it can be quite costly.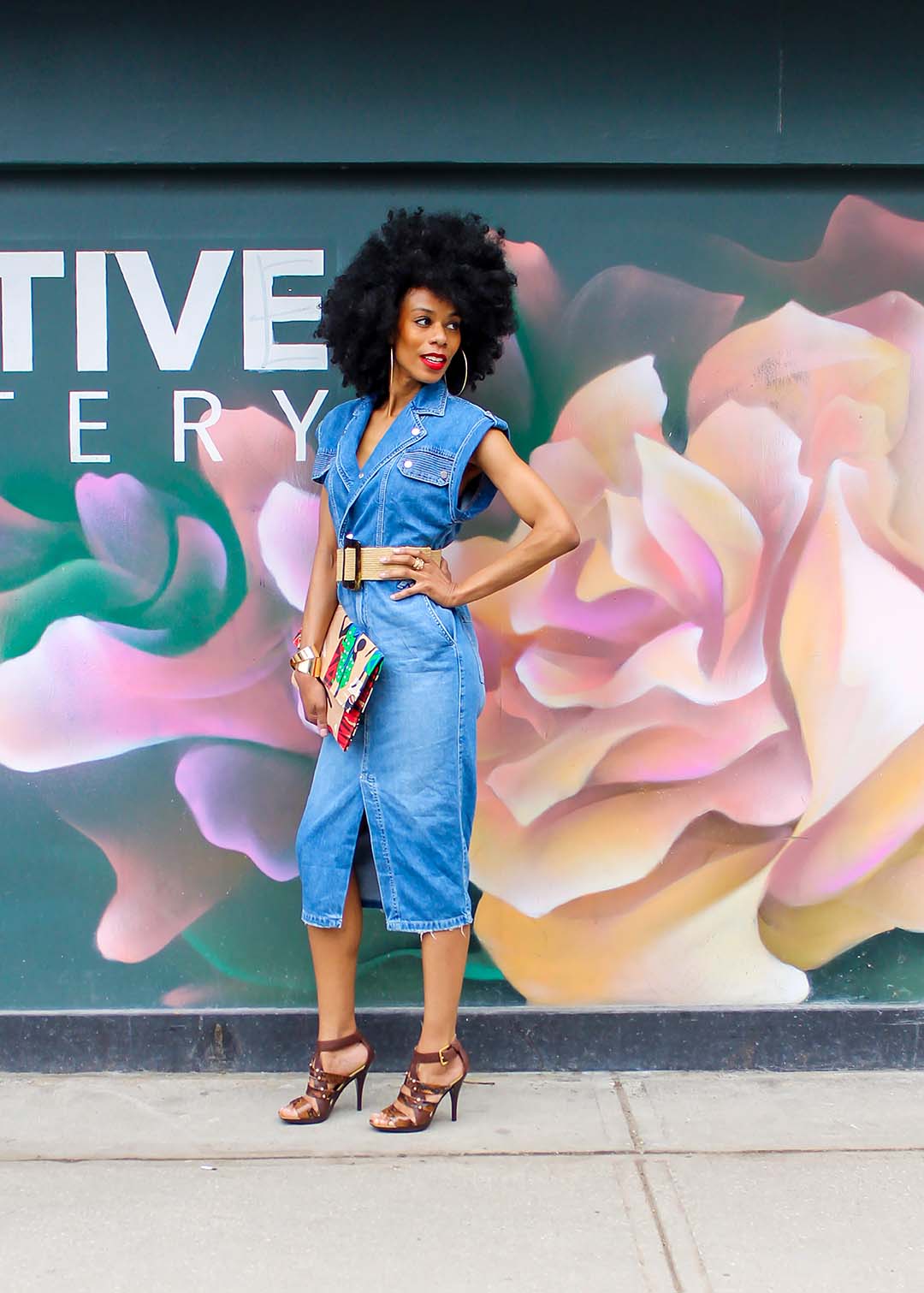 Styling this look was a breeze. I kept it easy, rocking my Michael Kors sandal from circa 2012 – 2013 (found them way, way in the back of my closet!lol) and pulled out my African print clutch that seems to just go with everything!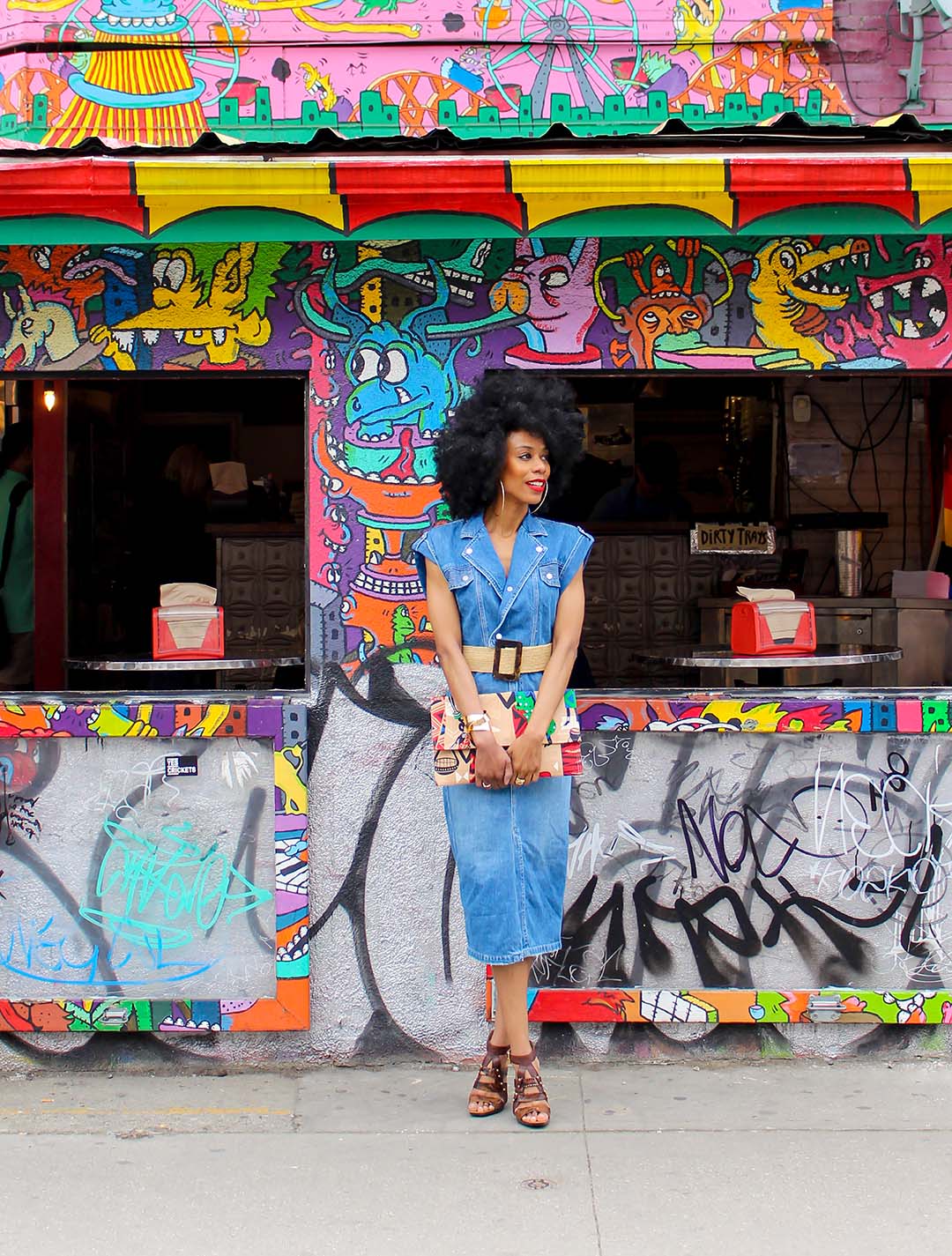 Babes, I`m ready for anything with this fab look! Hope I`ve given you some inspiration for your next denim doozy!:-)
And that's the long and short of it!
Gail & Leslie
Photo credit: Roseline Bonheur