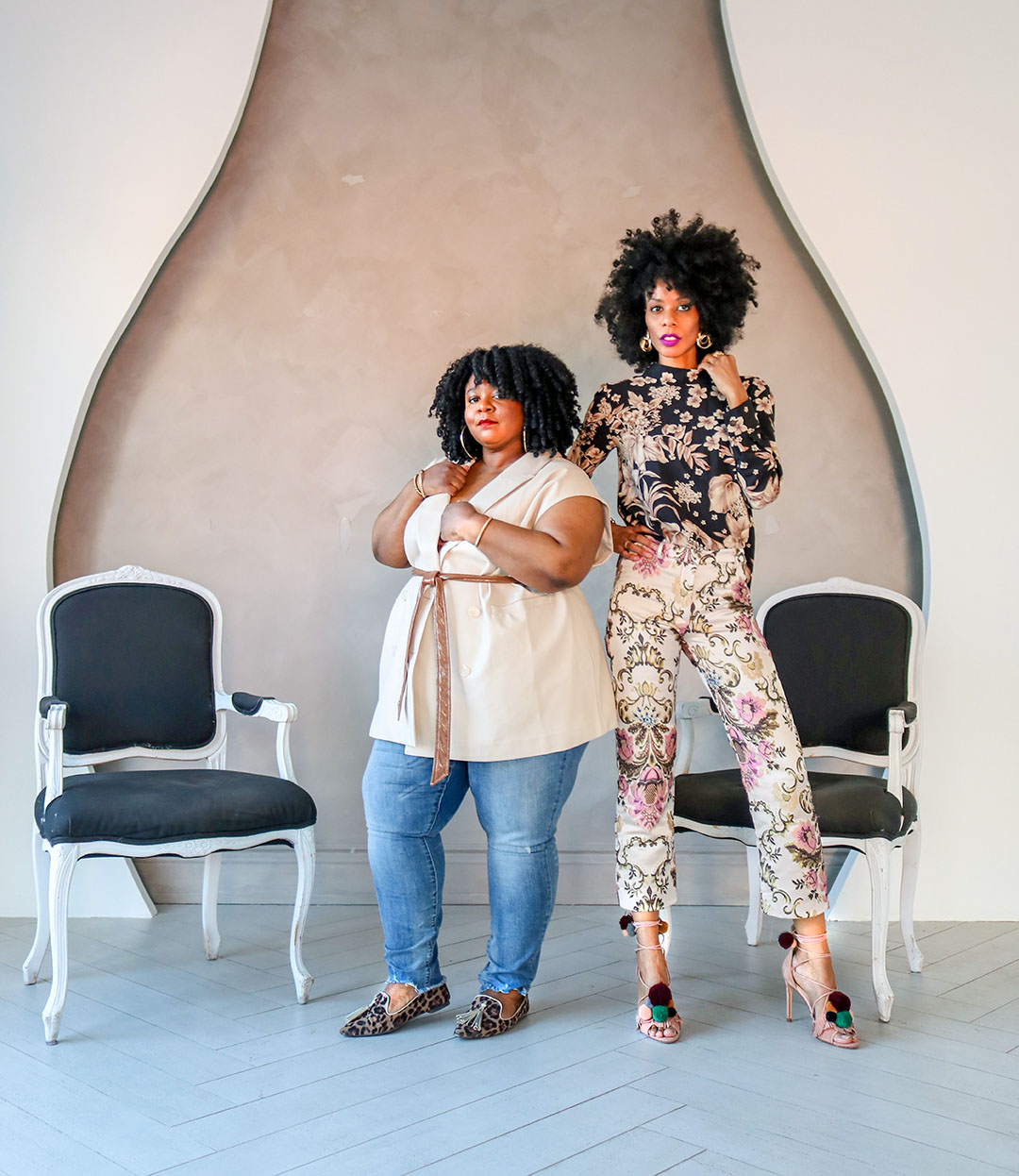 Join us as we showcase two of our fave looks in our spring/summer closets. Pieces we just love, how we rock 'em and how you can too!
Leslie's Floral Extravaganza!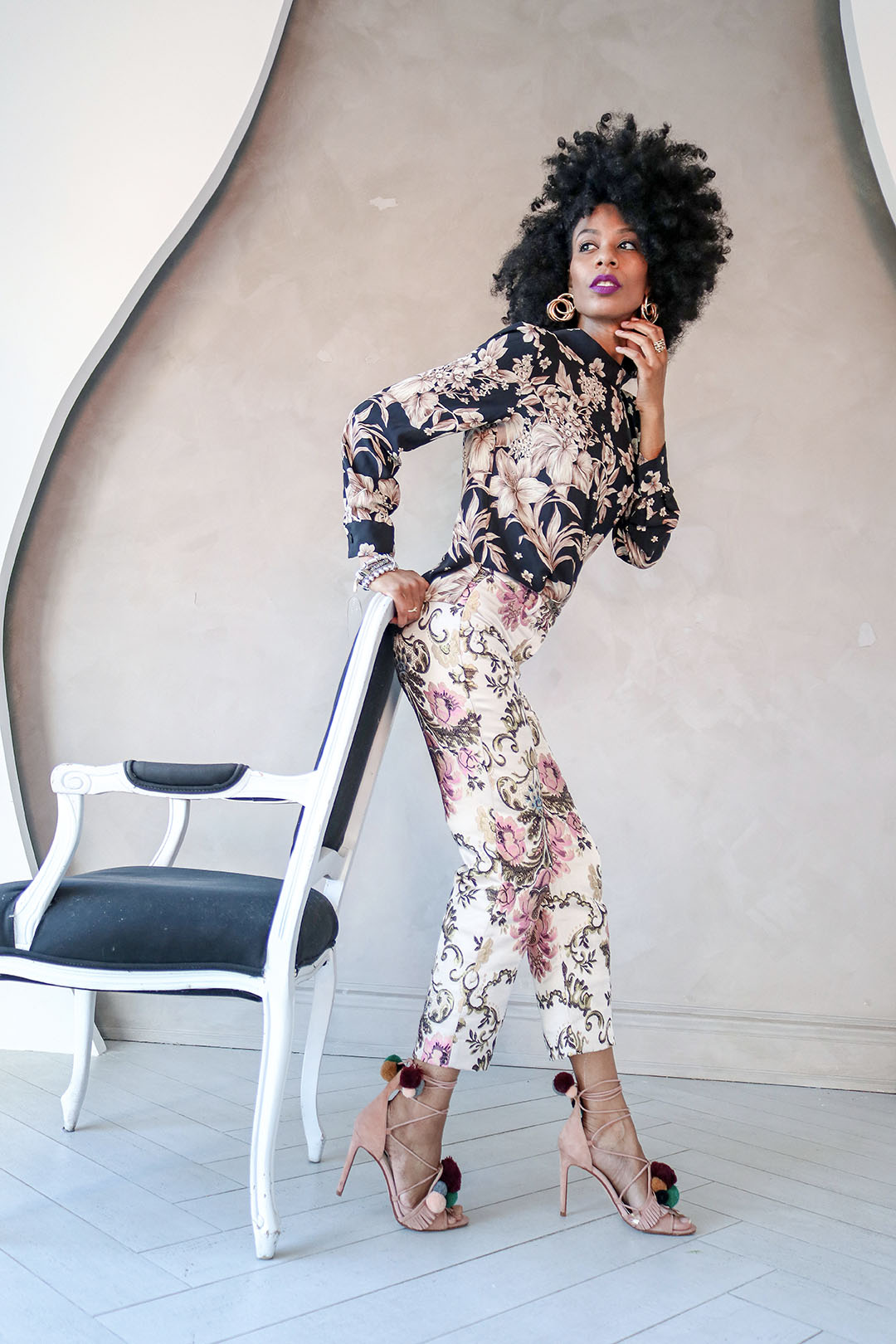 Blouse: Zara (old, similar here, here) // Pants: Pink Tartan (old, similar here, here) // Shoes: Zara (old, similar here) //
For my plus size babes: Blouse, Blouse , Blouse // Pants (in Shale, Gneis, Marlon or Neuf material) //
So y'all, not sure if you can tell but, I'm in my happy place right now. Where is that you may ask? My happy place of print, Print, PRINT! The floral explosion in this look has me feeling myself. Make a statement y'all. It's summertime and we're about to be a little more free in the streets here in Toronto, so now is our time to shine!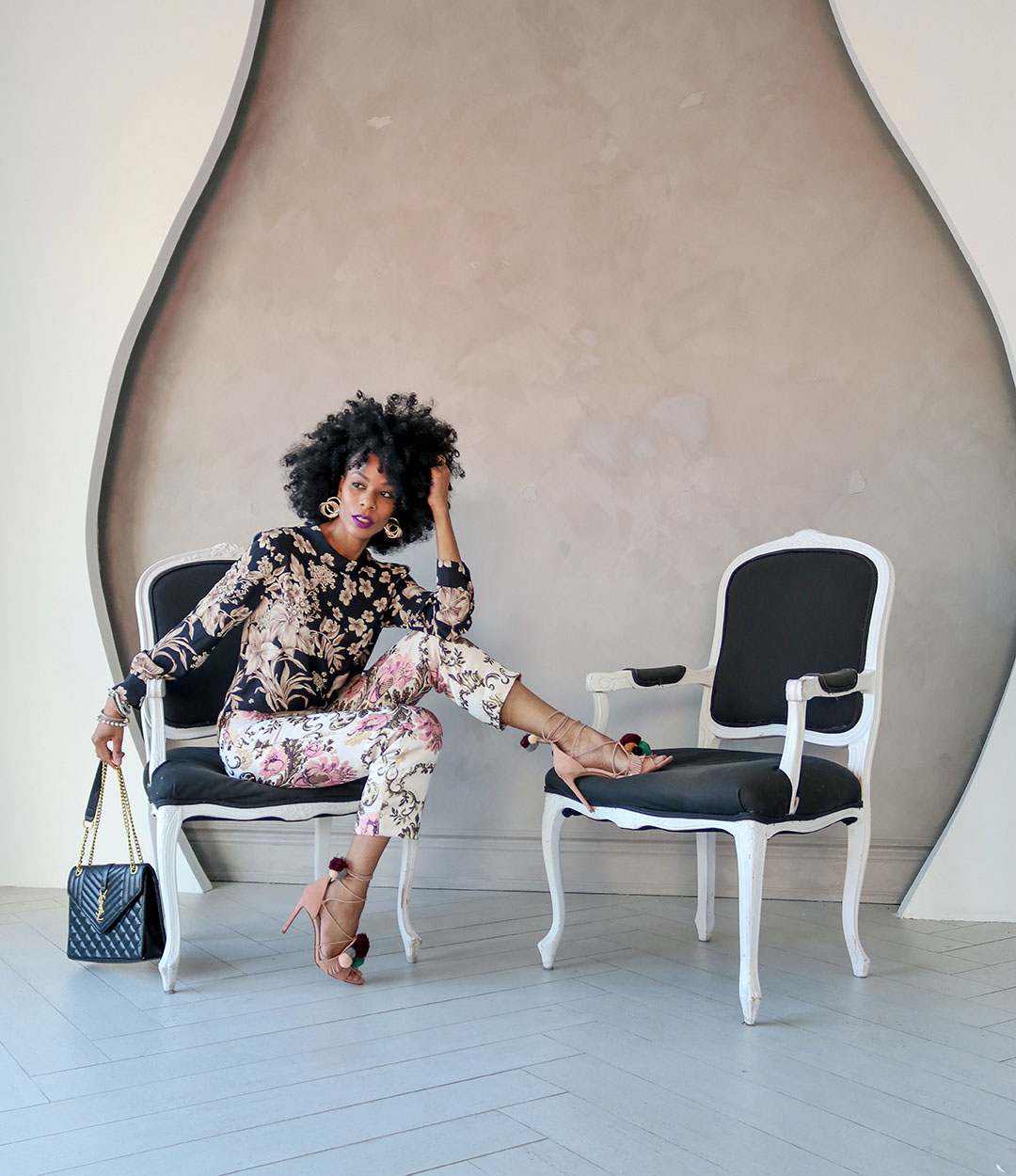 So, I did not really mix prints with this look. I played a little bit with colour mixing but sticking with the same print: floral. This is actually a really easy way to maximize print in a look, especially if you're not too comfortable mixing prints just yet. Another great example would be if you decided to mix say a black & white polka dot top with a multi-coloured polka dot pant. Playing with that colour mix while maxing out the print! This screams summer to me and you look good doing it!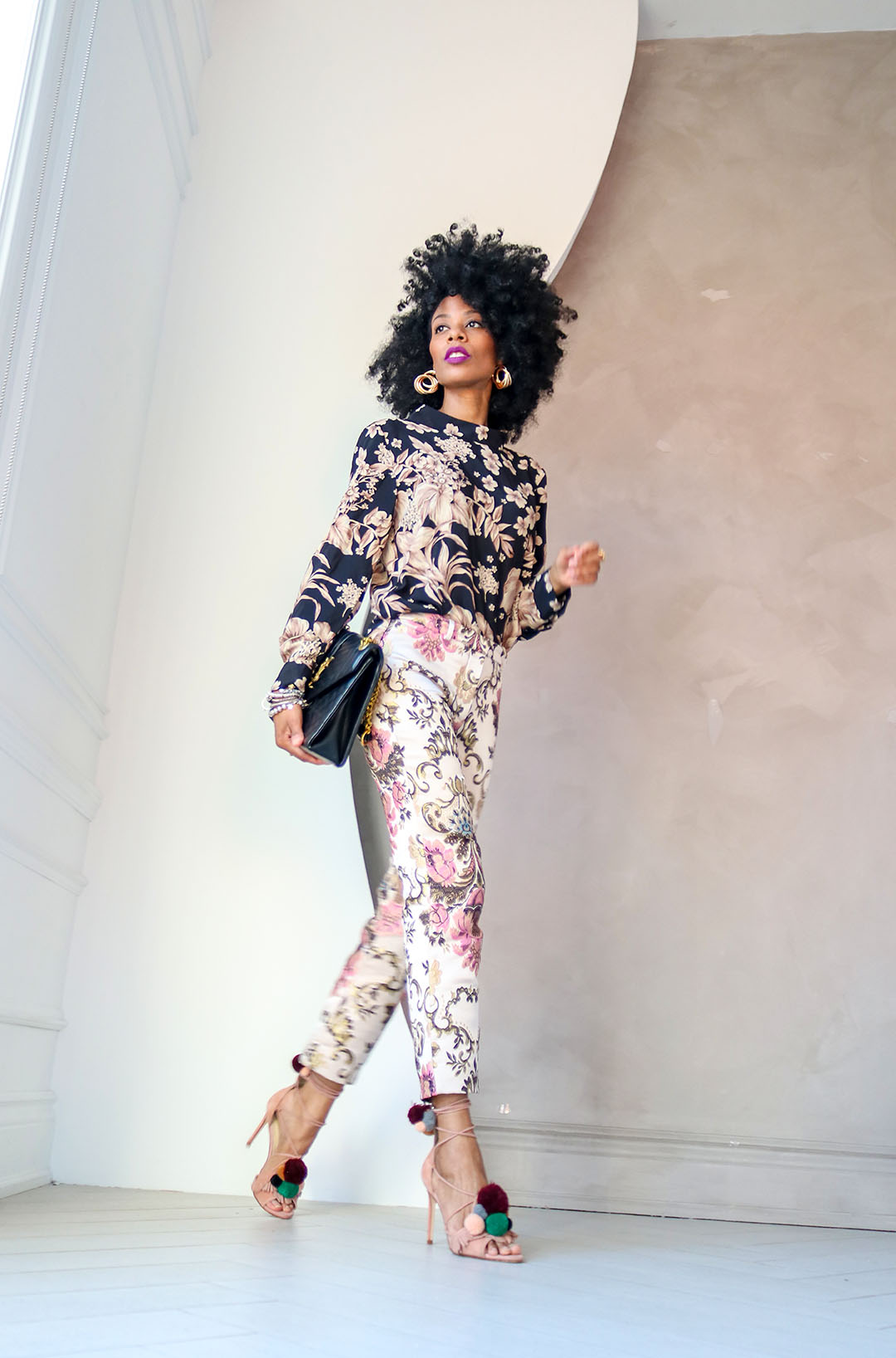 On their own, the blouse could easily be worn with a ton of pieces in my wardrobe: jeans, white skirt, shorts, the list could go on and on. Same goes for the pants. Imagine a cute white shirt tied at the waist with these pants. Great for summer!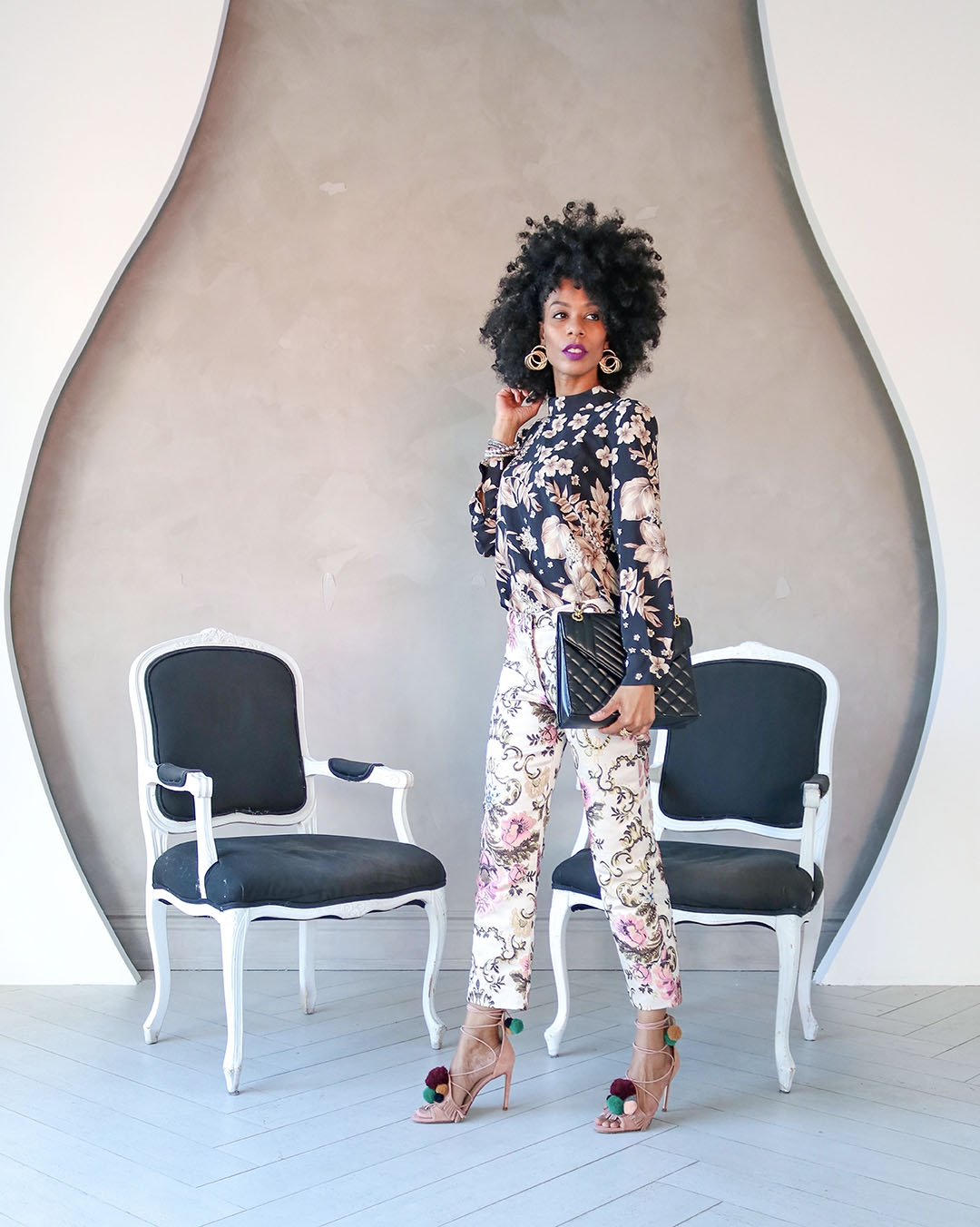 Now for the shoes!!! Unfortunately, they are an oldie, but such a goodie! I wear them so very much as they can add an extra pop to any outfit. The thing to note here, is that if you want to continue on the "bold" theme of a look like this, try to add a shoe that is striking. I went with a heeled sandal, in pink but with multi-coloured pom-poms at the toe that add to the playfulness of the look. If that is too much for you, you could easily wear a nude sandal or transparent one to leave the entire focus of the look on the blouse and pants.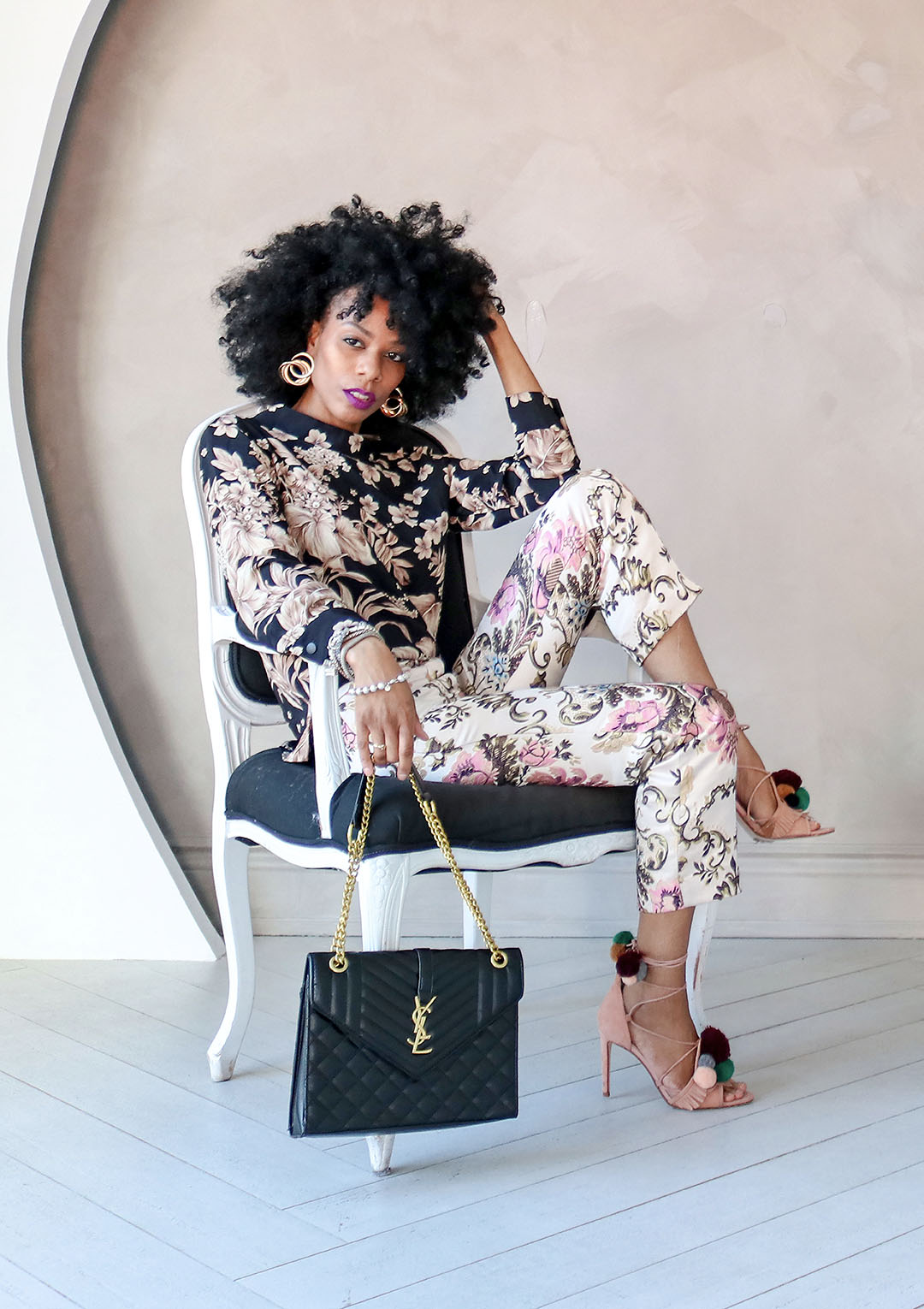 The lesson here is that if you're ready for print, try going bold with an all-over print outfit. Don't be afraid to make a statement! The real truth about fashion is that there are no rules, it's all about the confidence of the woman in the clothing that truly makes the statement!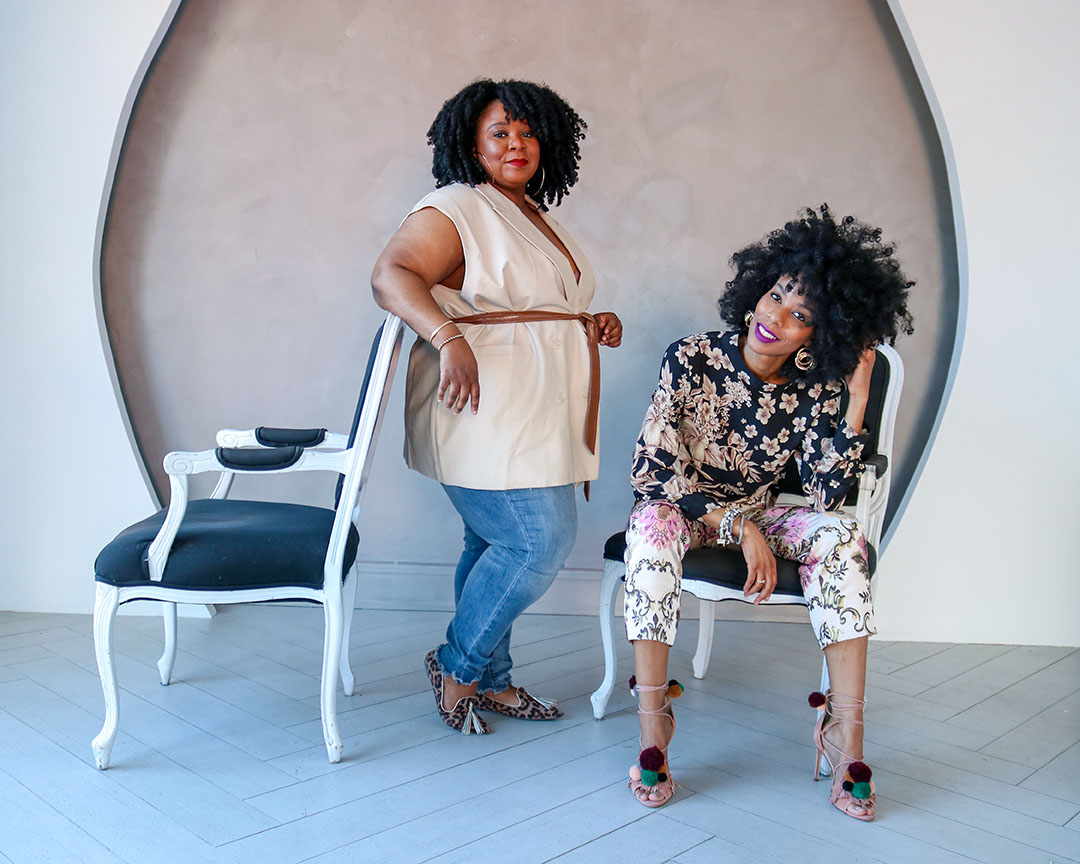 Gail's Leather Look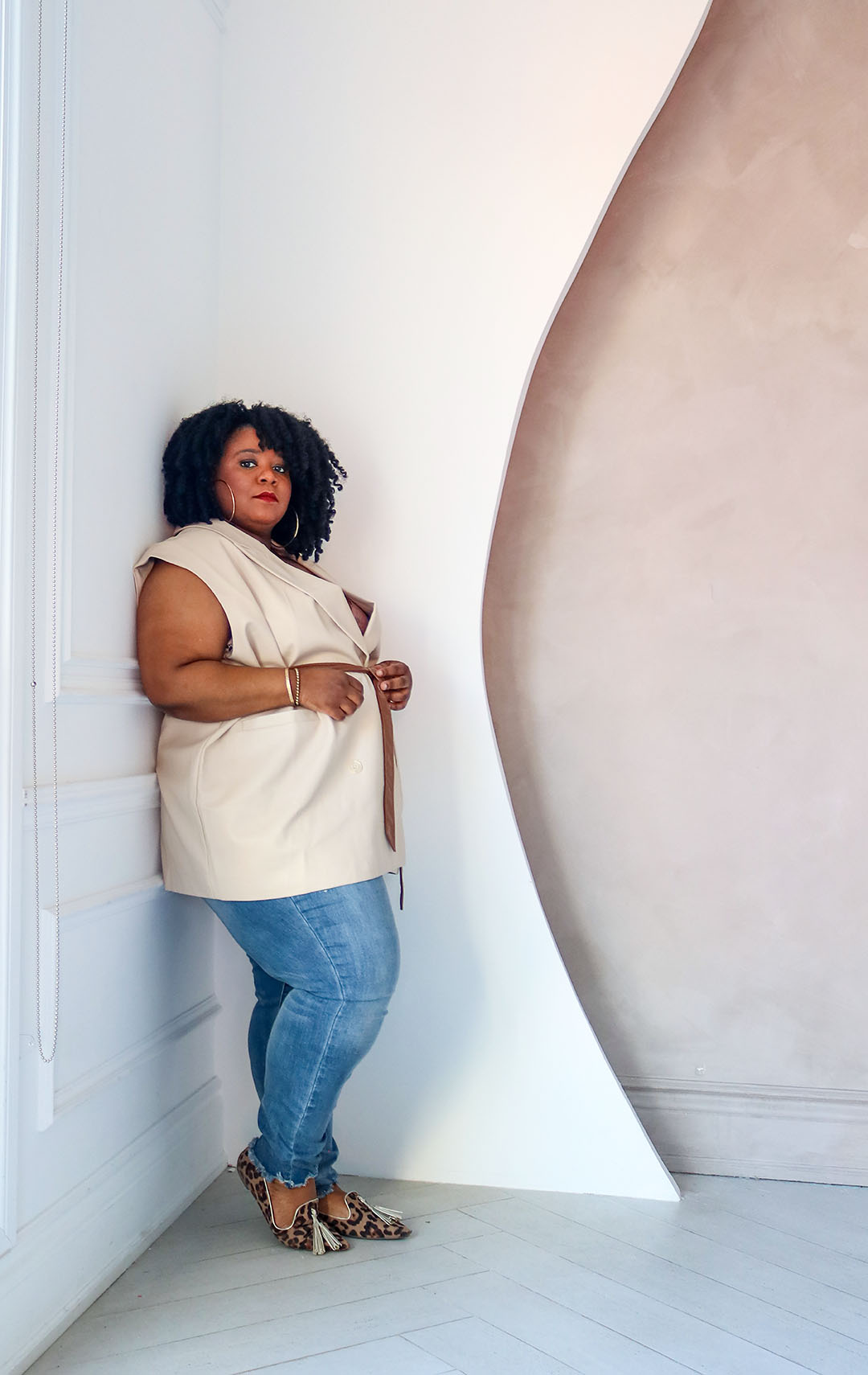 I just love how the plus size fashions are continuing to evolve and the options widen. There is still work to do but there's no doubt that things have gotten a lot better. Eloquii has definitely been one of the plus size retailers that have been working hard to offer plus size women fashion forward styles that I, for one, am proud to wear!
Leather Vest: Eloquii // Jeans: Just Fab (old) similar here // Shoes: AliExpress
For my straight size sisters here are some options for you: Vest // Jeans
So, about this oversized, sleeveless leather vest from Eloquii. Y'ALL, I freaking love it! It is fashioned in a double breasted jacket style and has a sort "muscle tee" style to the shoulders. The leather is buttery soft and the vest is lined which I really like. I got mine in a size 22 and fits perfectly over my ample hips and behind.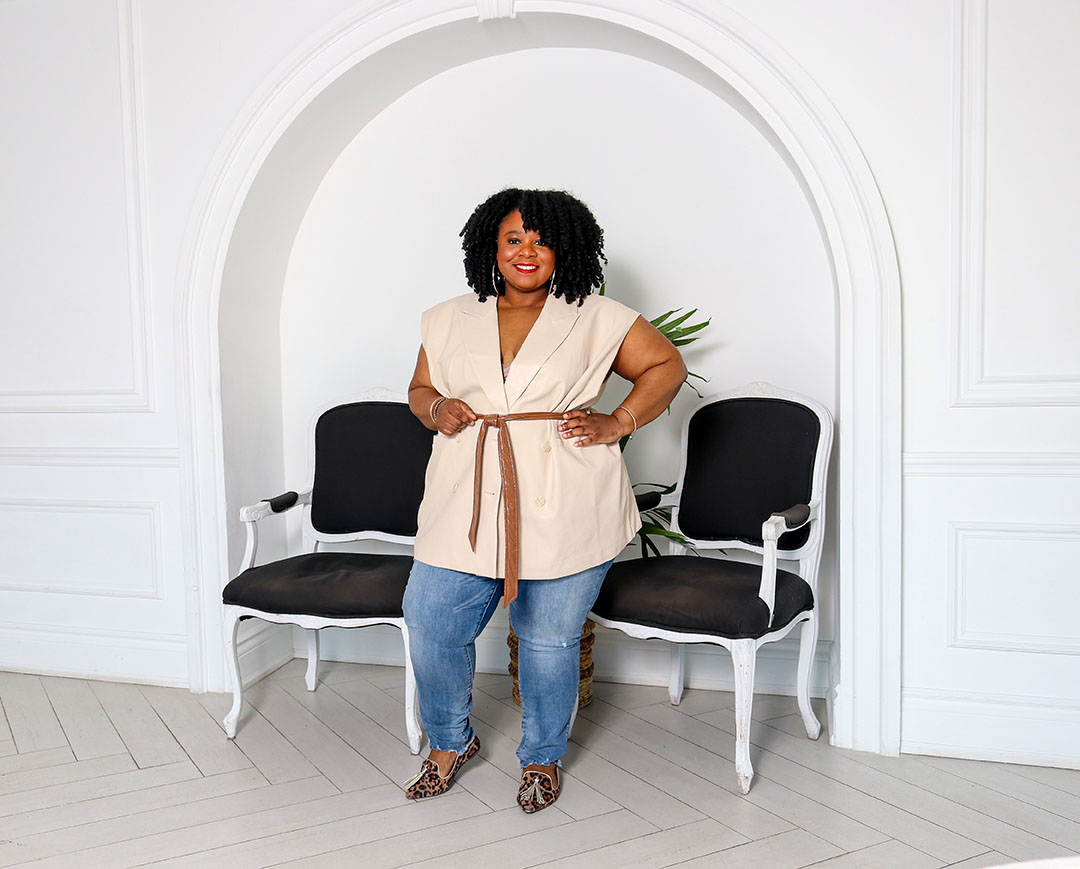 I also like the it falls well past my butt for that oversized look. I added a caramel coloured belt that I took from my pleather trench coat in the same colour to cinch it my waist.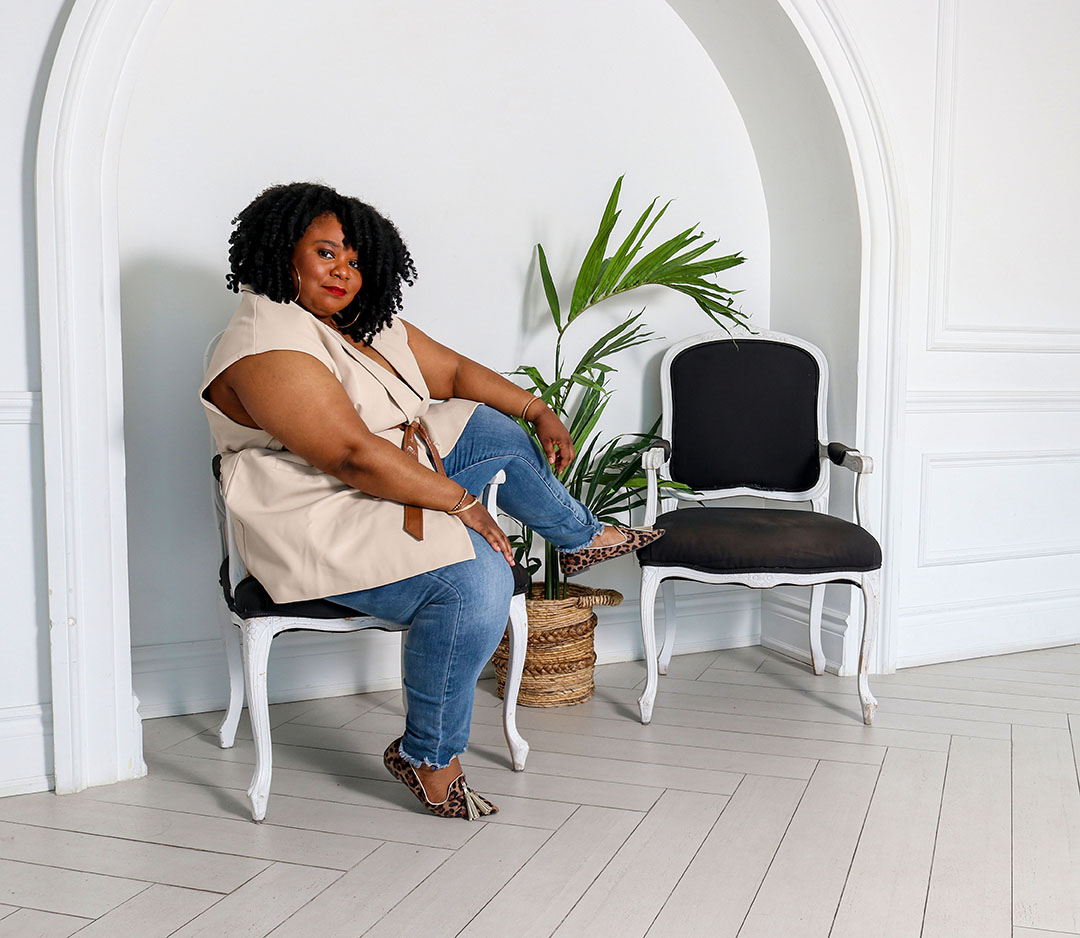 Now about these jeans. These are skinny jeans with an unfinished hem that I picked up from Just Fab. I picked them up in a size 24W. When on the hunt for jeans, or any pants really, it's important to remember to purchase pants that fit that largest part of your body. In my case, that's my hips and behind. Usually, that results in the waist being too big but not to worry, just take those jeans to tailor and you'll be good to go!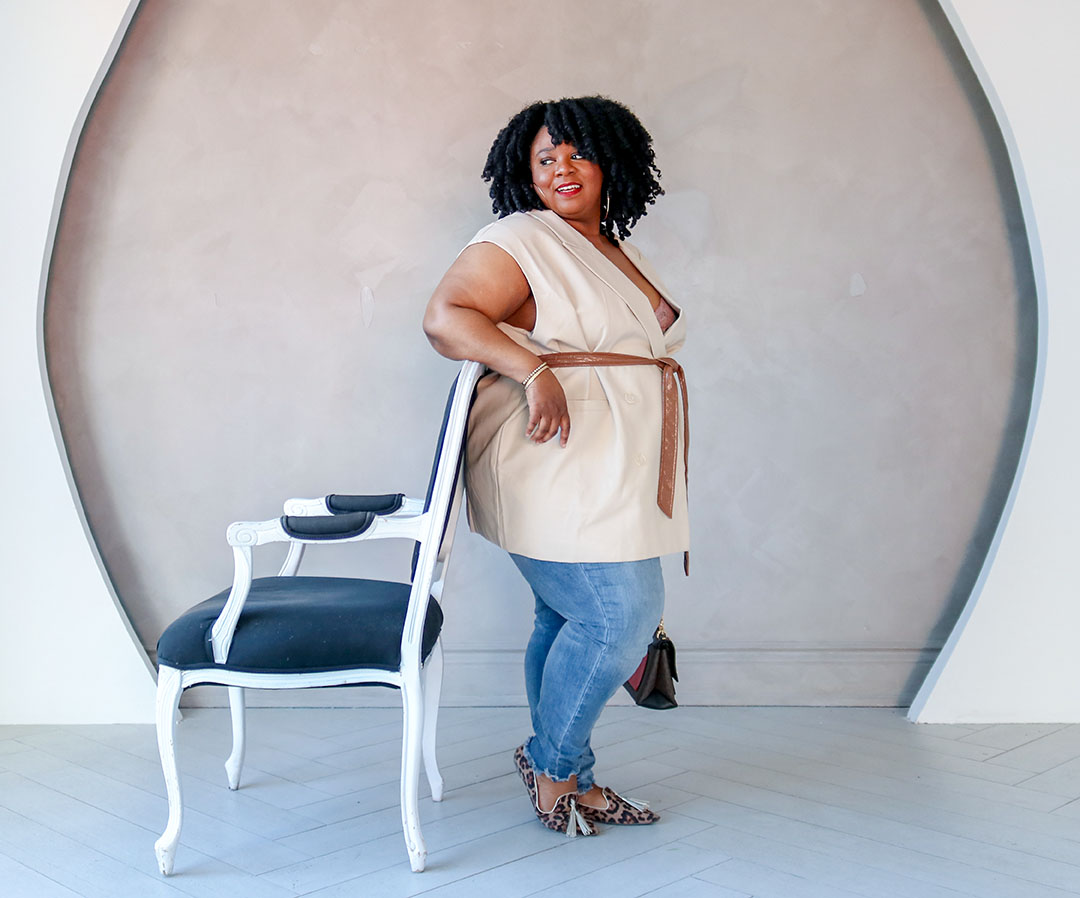 I completed my look with leopard print flats, cute purchase and gold jewelry for a little extra sparkle.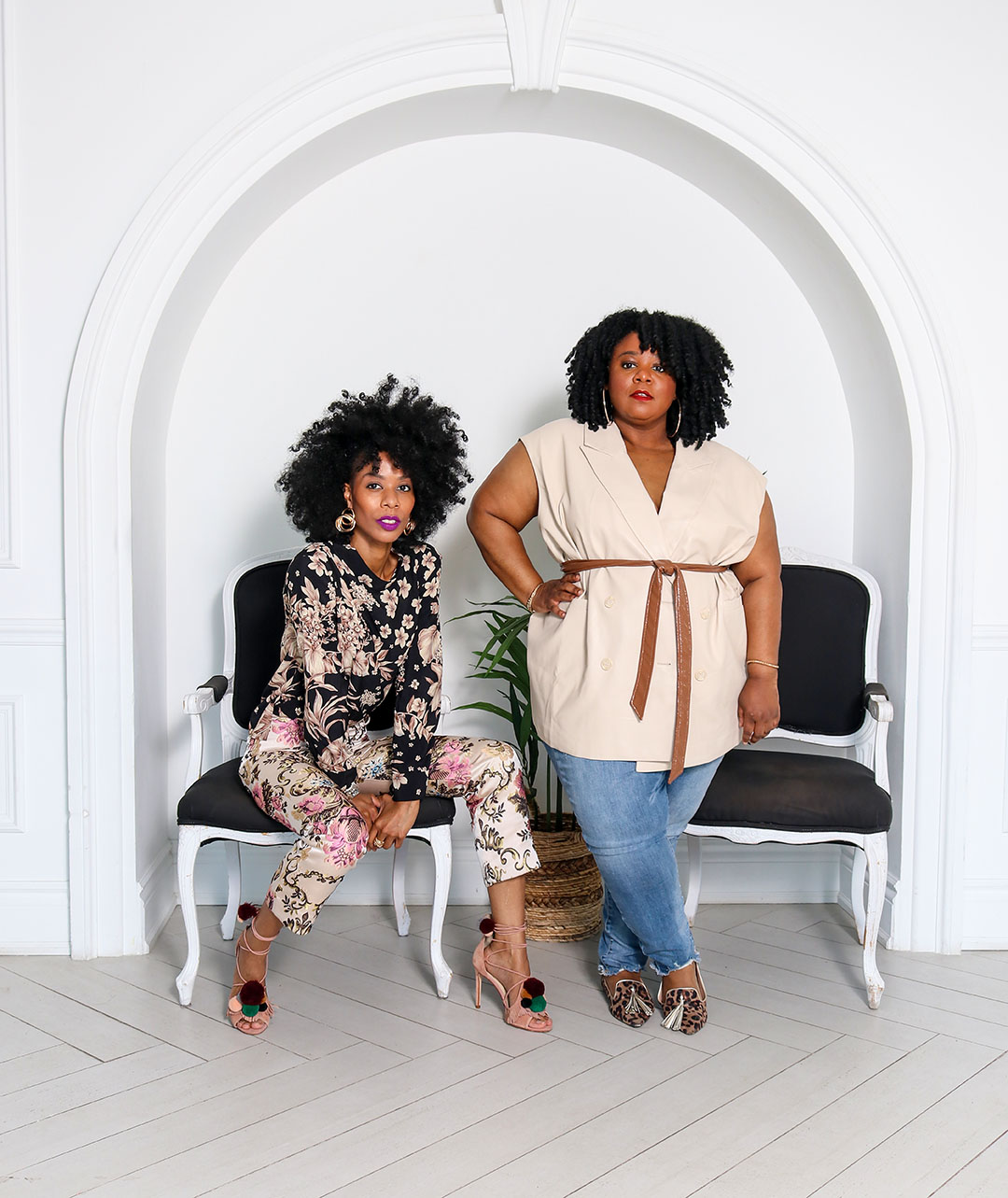 And that's the long and short of it!
Gail & Leslie xoxo
Photo credit: Roseline Bonheur