And another one! Anthropologie did it again with some great size inclusive looks to keep you looking like a million bucks this spring/summer! Slip outta that sweat suit and slide in to one of these great looks from the Anthropologie at Shops at Don Mills! Don't forget Canada, you can call your local store to place an online order and skip the duties!!!!!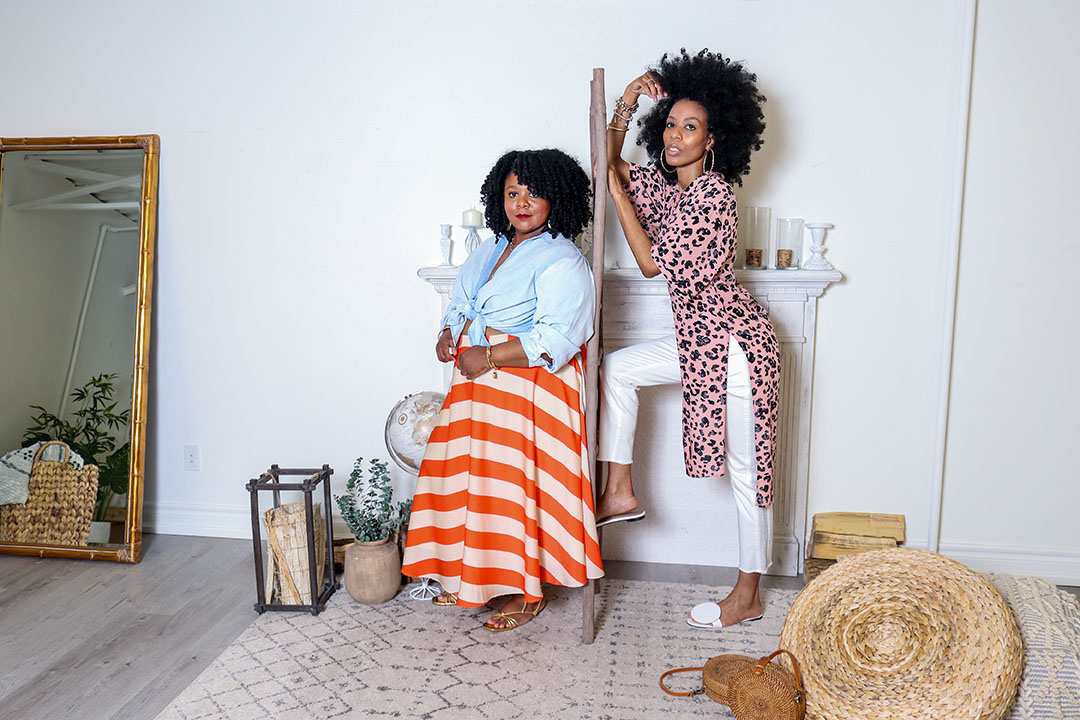 Gail's Summer Ready Skirt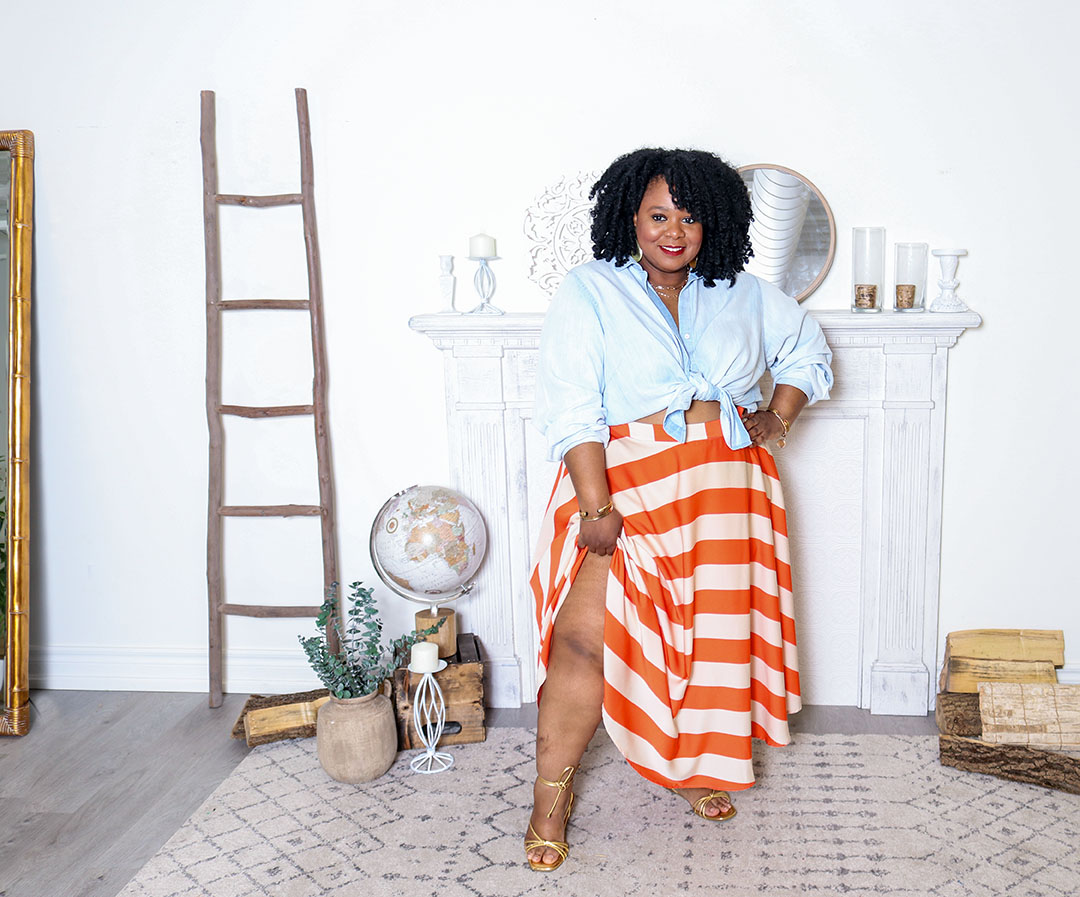 Denim Shirt: Anthropologie (sold out) similar here // Striped Skirt: Anthropologie (sold out) similar here // Purse: Anthropologie // Shoes: Shoe Dazzle
This entire look is also available in straight sizes!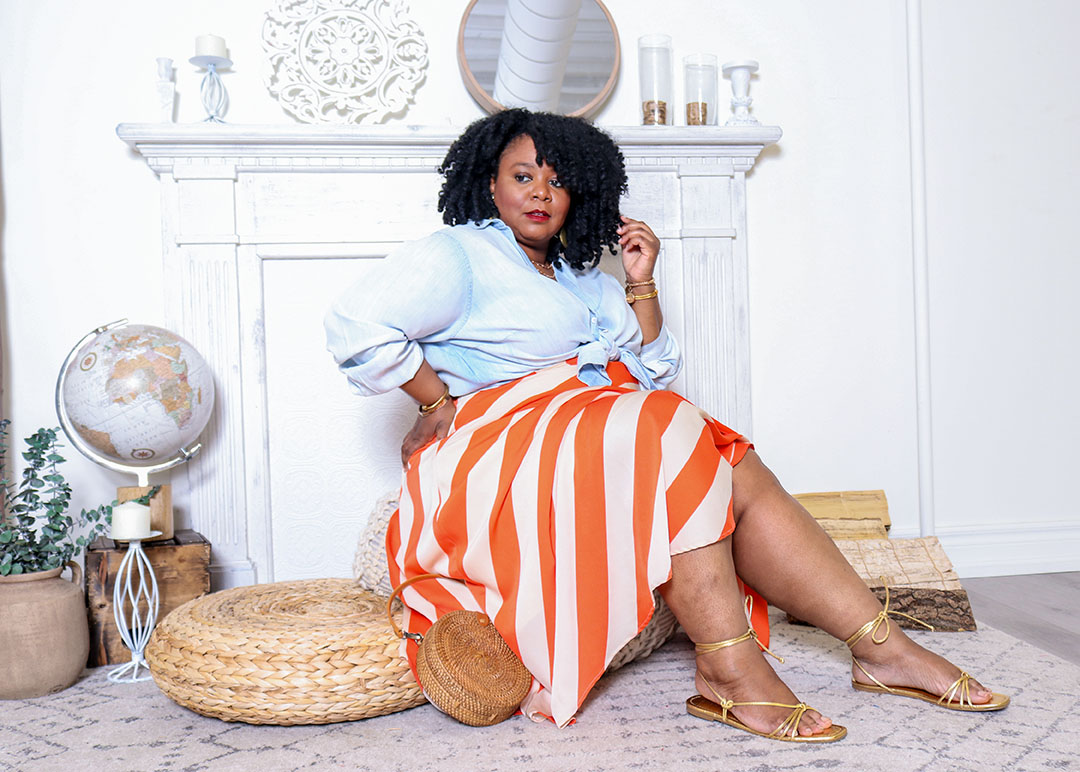 I love mixing and matching look with tops/blouses with skirts and or pants so this look from Anthropologies is right up my alley. This denim shirt is a definite wardrobe staple. It goes with just about everything in one's wardrobe and so versatile too. And, let me tell you the fabric of this shirt is so freakin soft, its AMAZING!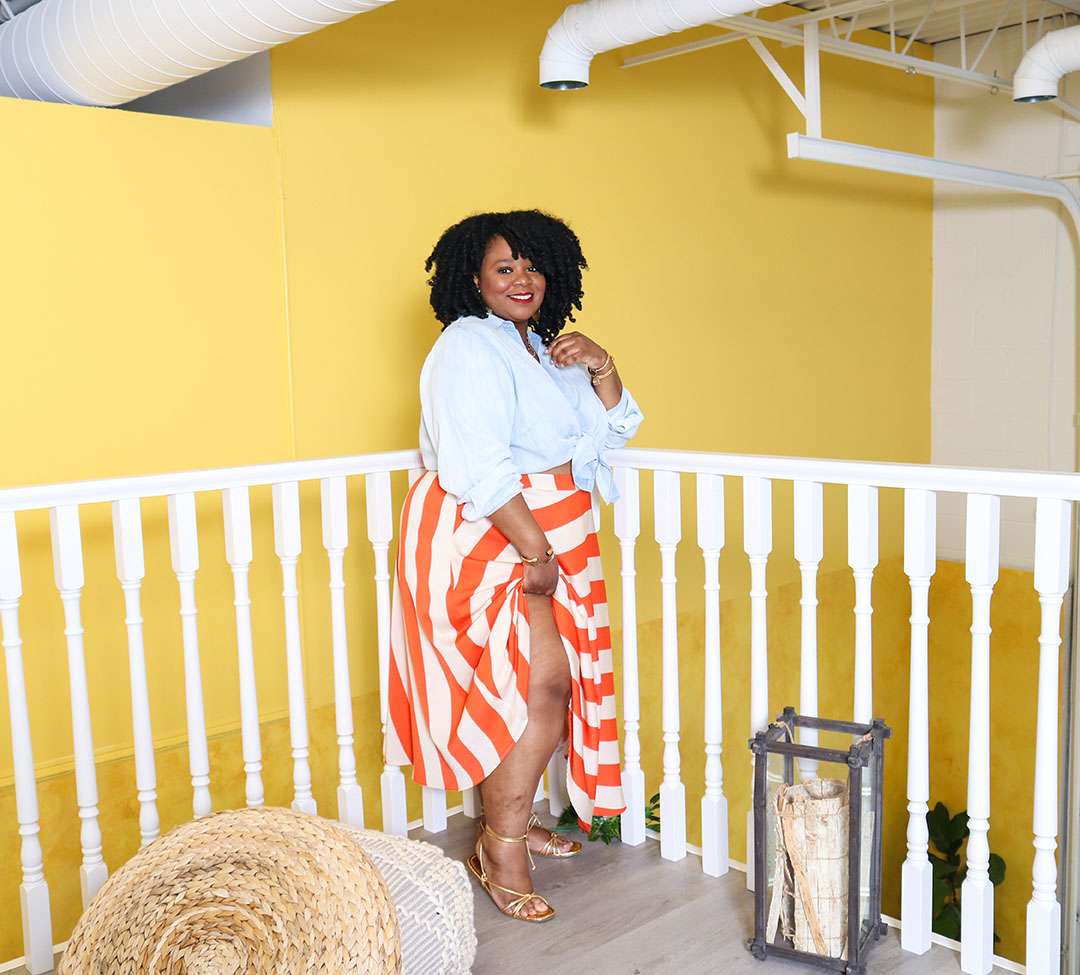 As a far as versatility goes the shirt can be worn tied a the waist as I've done, the sleeves rolled up or as regular button down shirt.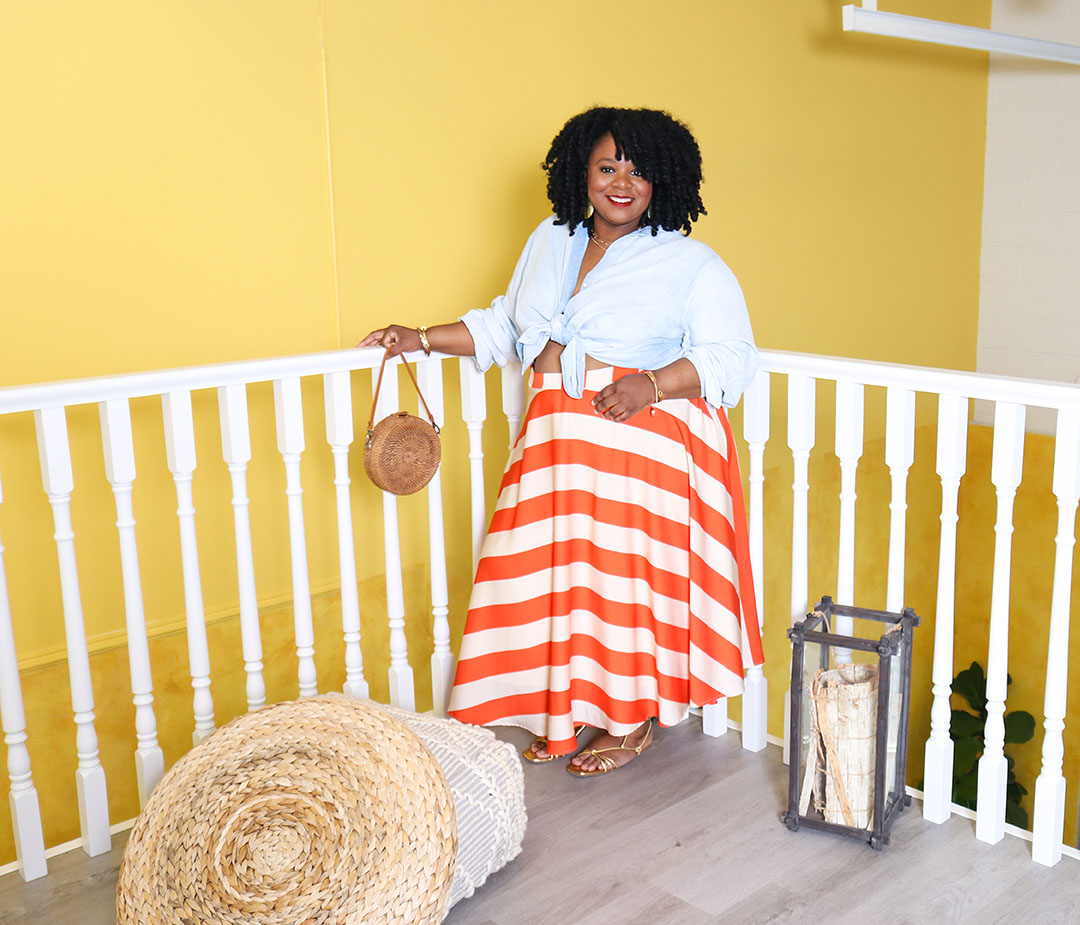 Now about this midi skirt. I just love it. Again, it can be worn with just about anything and can be dressed up or down. I love the cream and orange stripe combo. It's just so vibrant and happy! I got the skirt in a size 2X and I still feel as though I could have sized down to a size 1X so the cut of this skirt is very generous.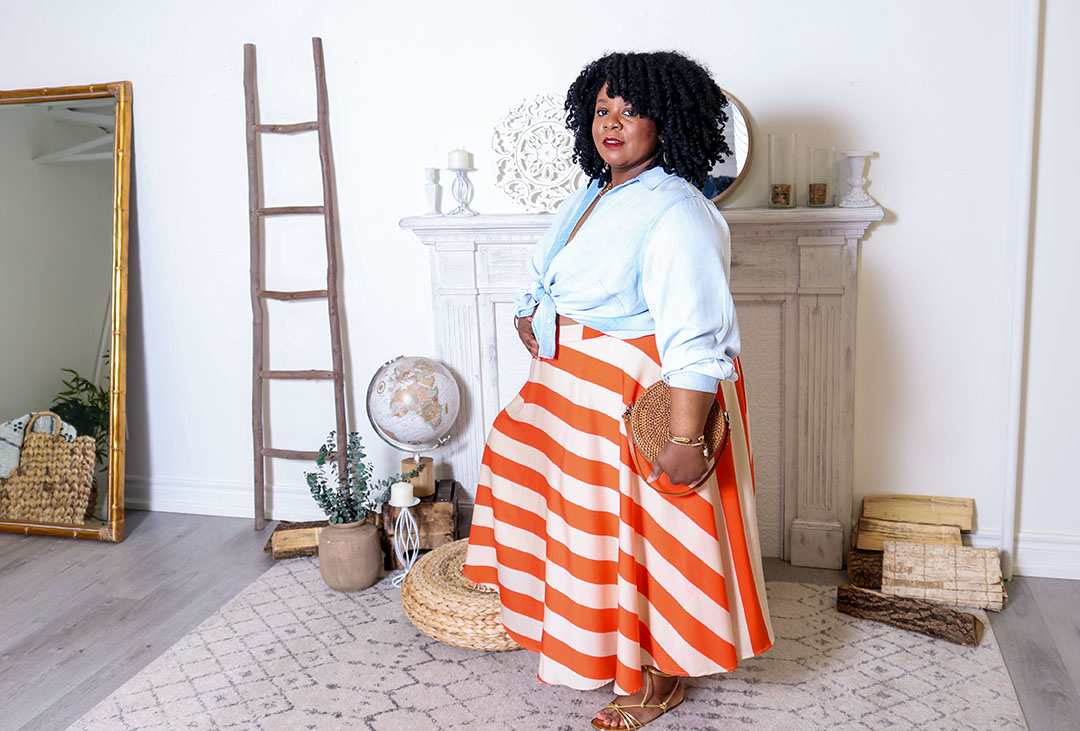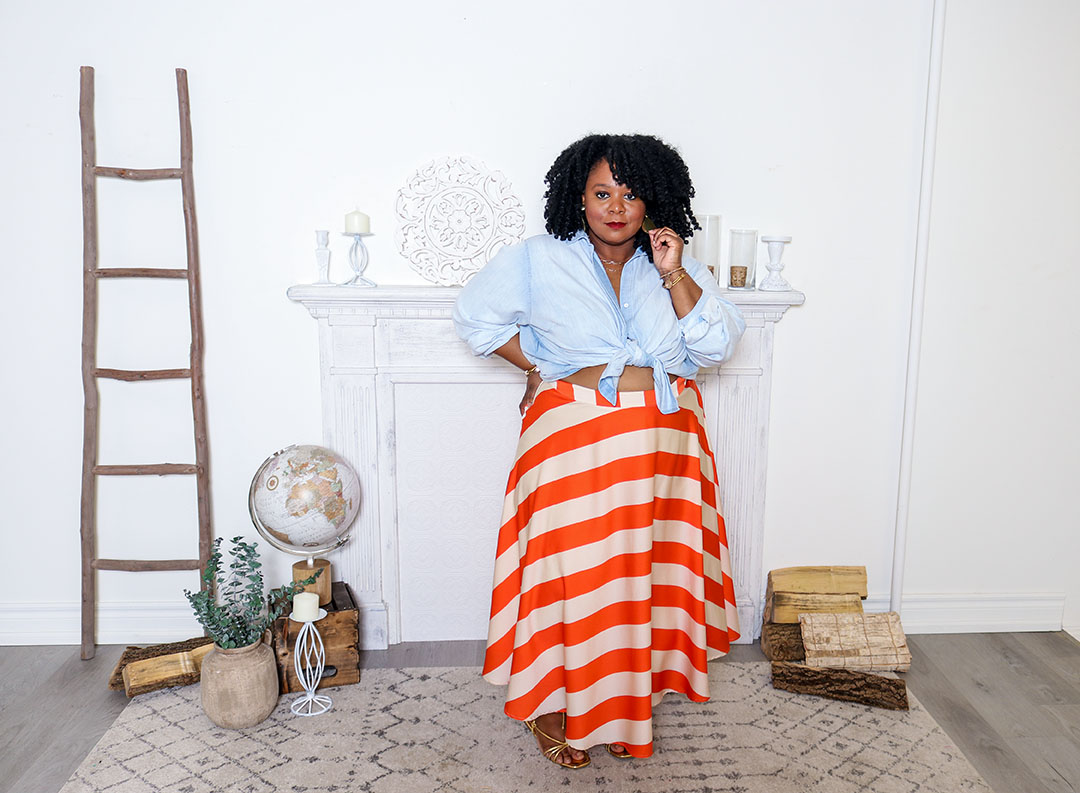 I completed my look with these gold ankle tie sandals, gold earrings and bracelets and this cute rattan style purse.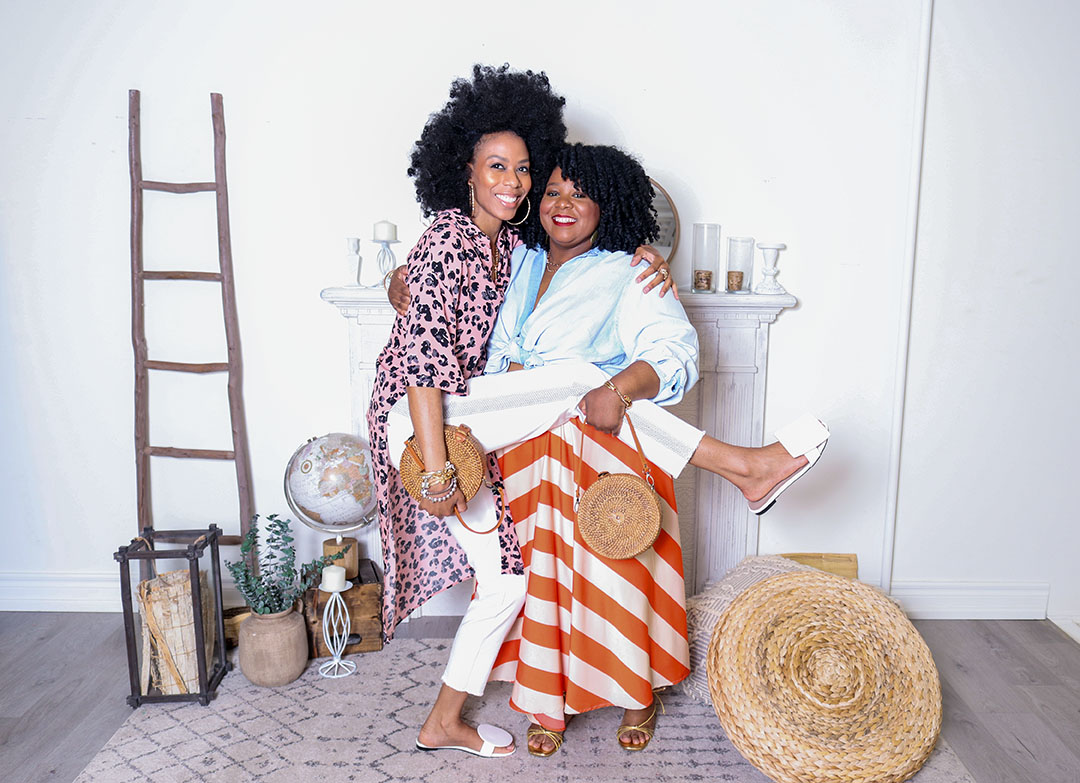 Leslie's Casual Chic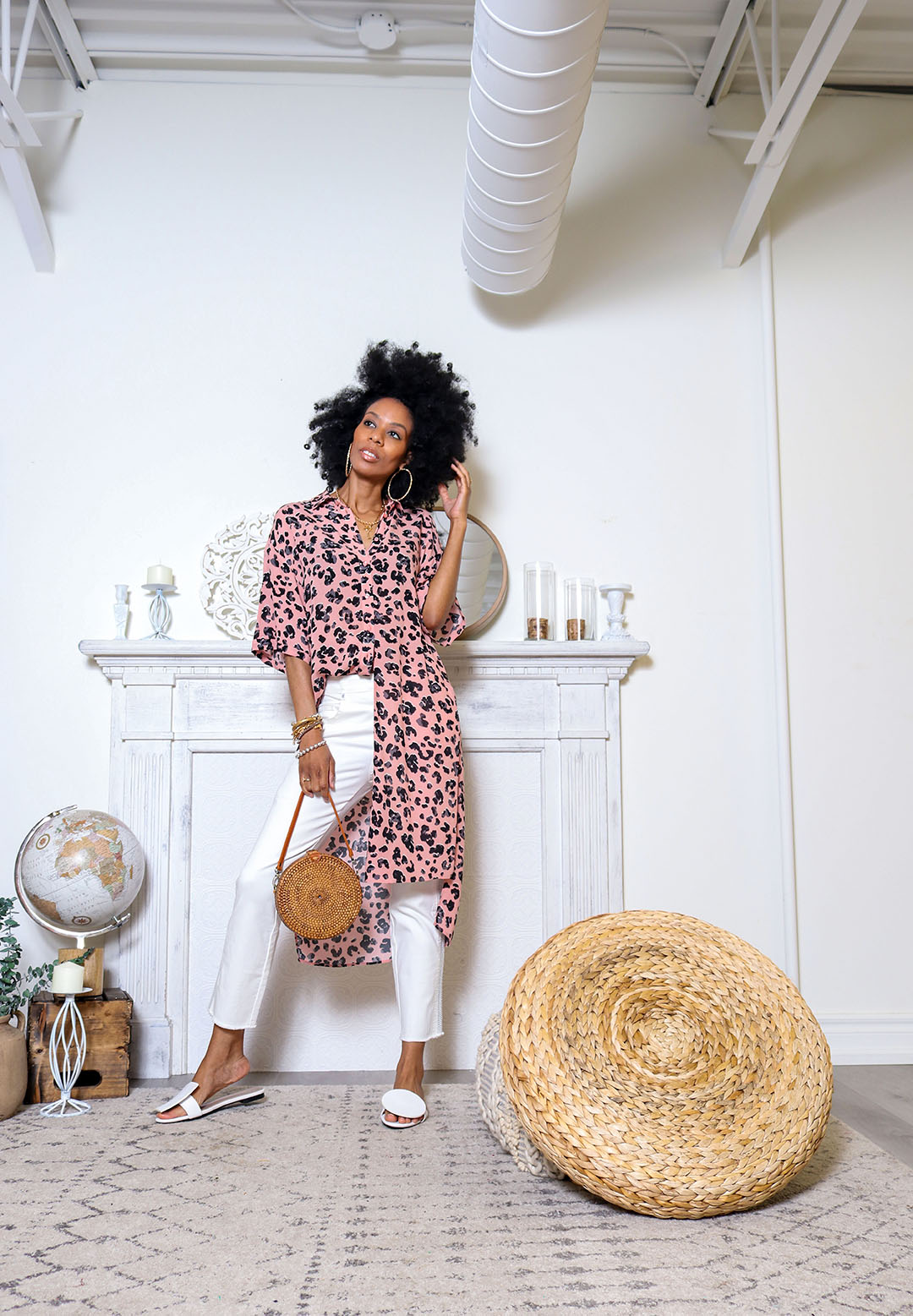 Tunic: Anthropologie // Jeans: Anthropologie // Purse: Anthropologie // Shoes: Ali Express //
For my plus size babes, Anthropologie's got you covered! Use the links above!
This pandemic has got me all over the casual chic game for my day to day looks. I like pieces that I can easily throw on, whether I'm dressing up to go somewhere or just to run errands. I like to be effortlessly cute. This is one of those looks that is super casual, and still super cute and comfy and yes, I would wear this everyday all day if I could!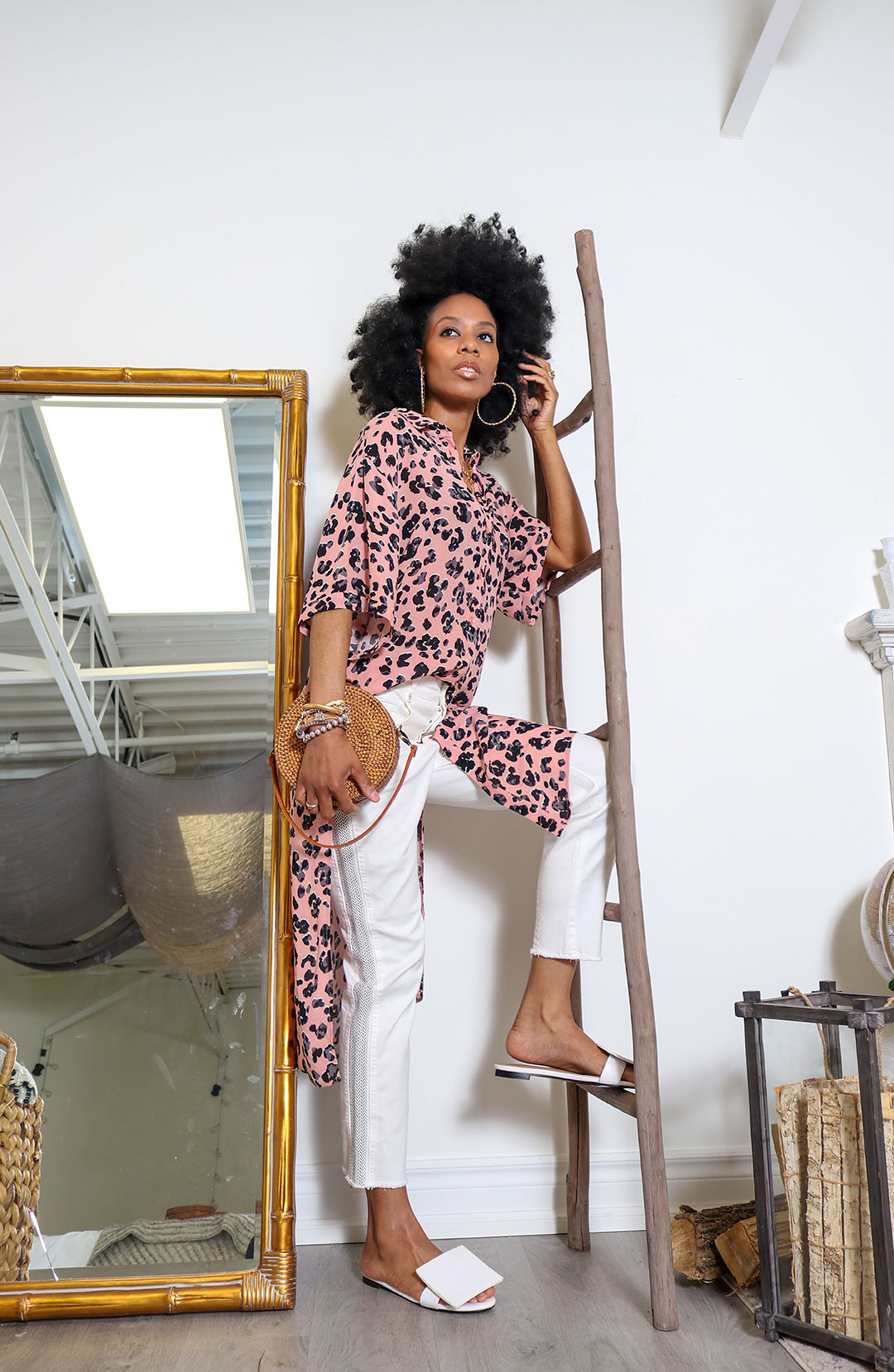 This tunic is awesome! I just love the print and the colour, and the length means I can wear it as a dress with shorts, rock it with jeans or even wear it as a top. That is versatility baby! Since spring can still slip us a surprise attack of cool weather (it's snowing in Toronto as I write this) I opted to rock this tunic with some great jeans!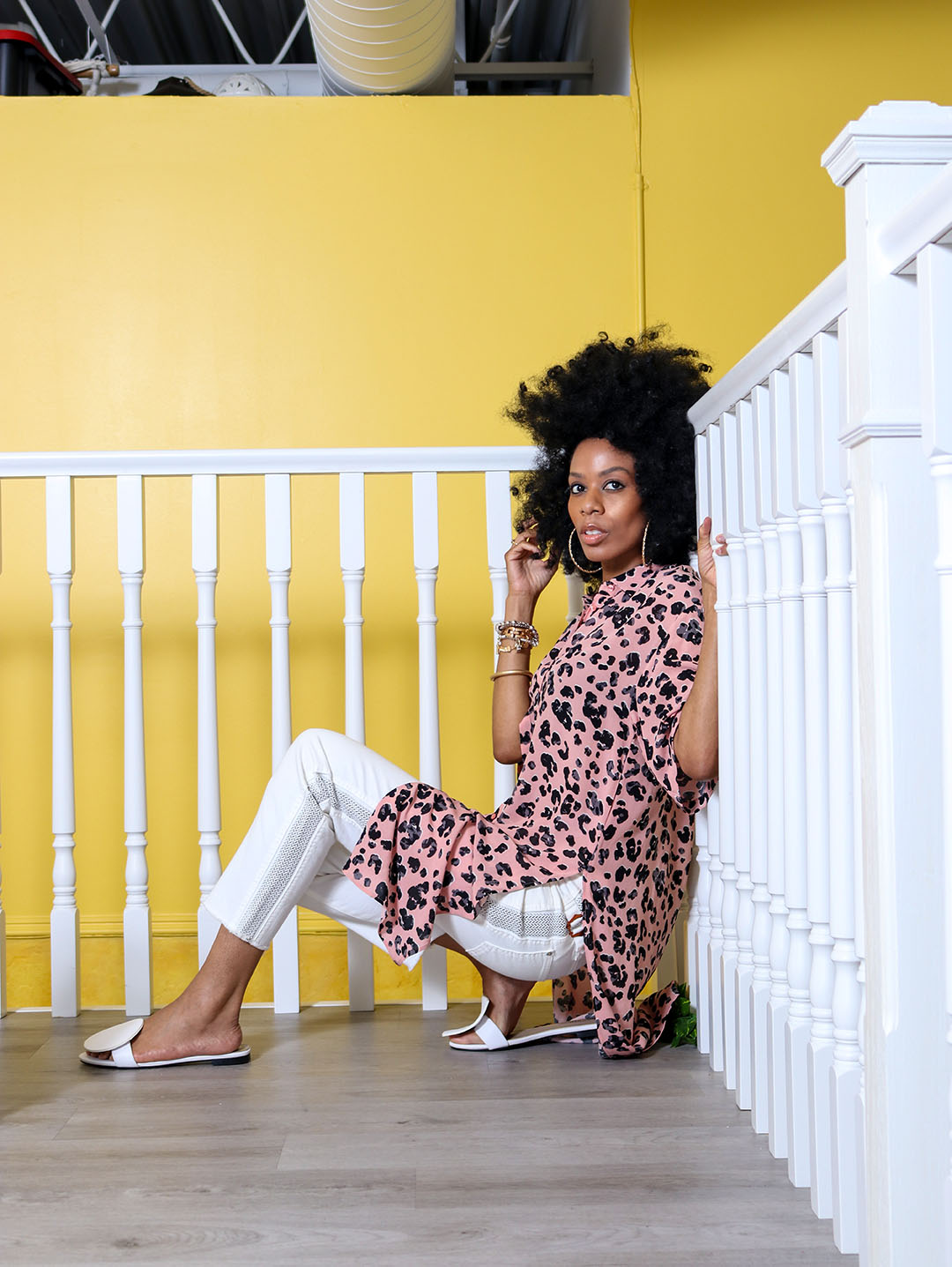 I love these jeans because of the details baby! The side stripe and the rolled cuff are great little details that make these jeans a little different from your everyday pair. Super comfy with some stretch, I like that I will be able to wear these for all the seasons and it is still classic enough for me to wear year after year!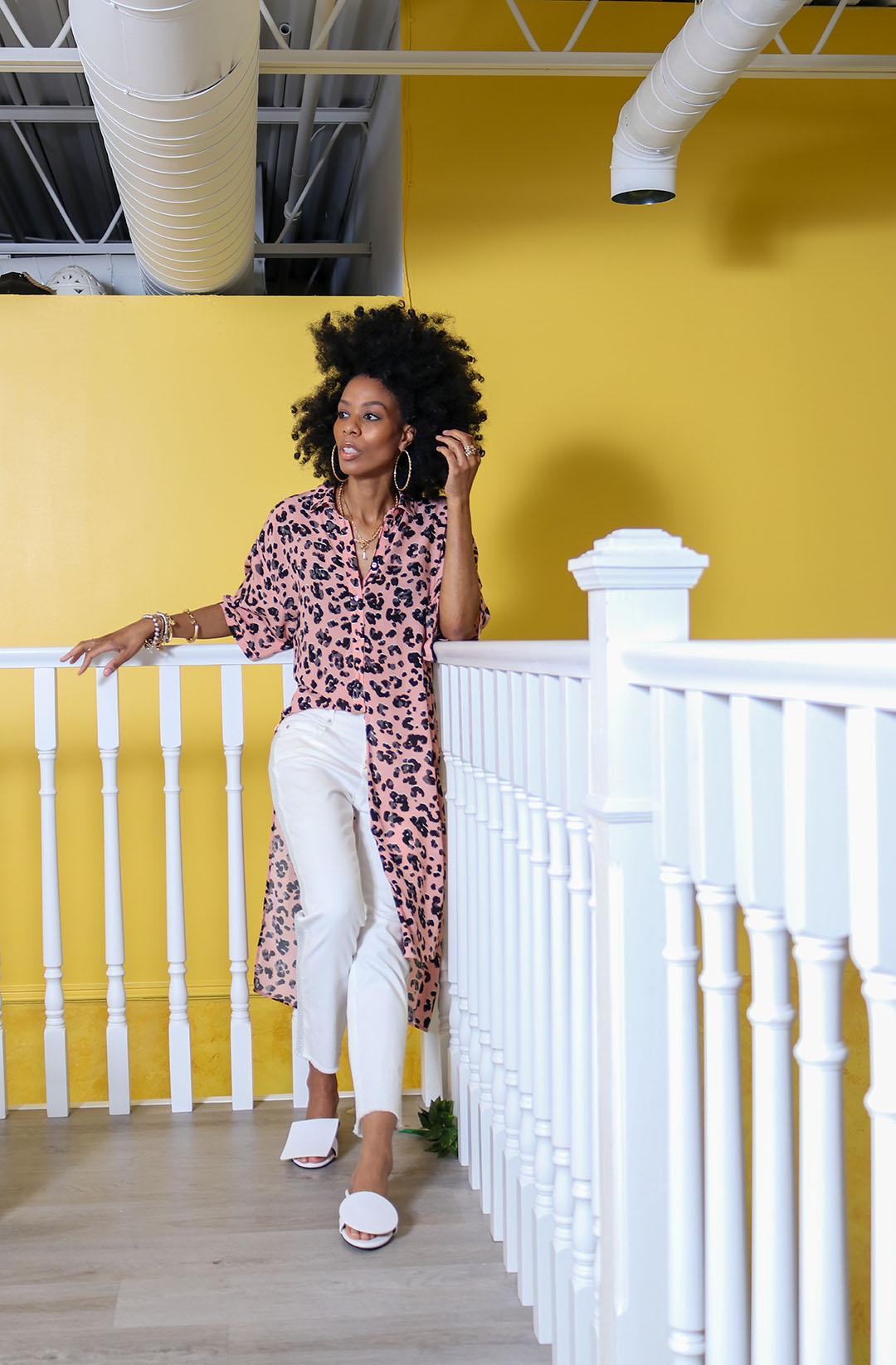 So this here lil purse has got me shook! I LOVE IT! It can be worn cross body so I can have my hands free and it is so perfect for those spring/summer outfits. It's big enough to hold all my essentials, yet not cumbersome. And it really goes with just about everything in my wardrobe which is always a +++ for me!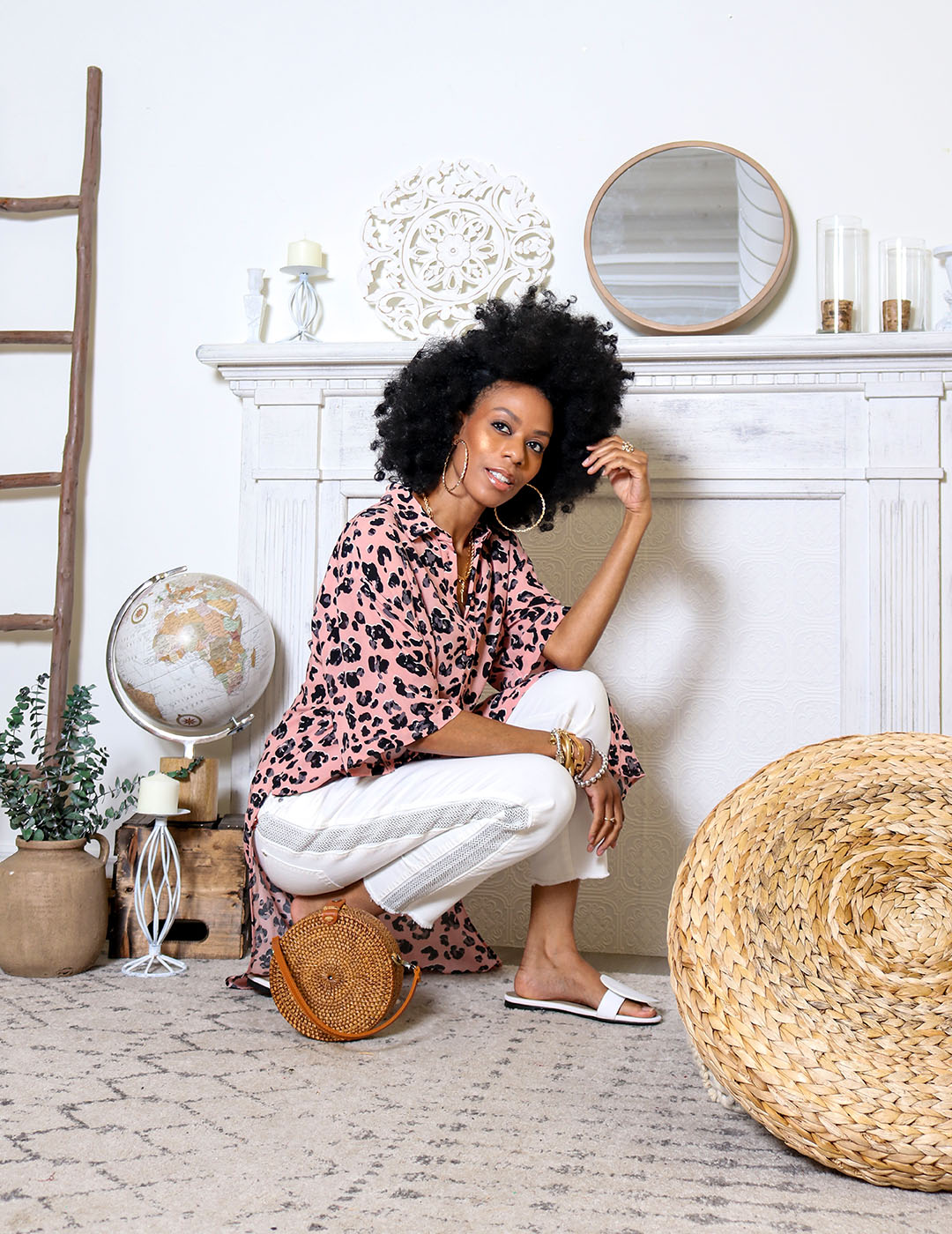 The last element I want to discuss with this look are these fab sandals. As I stay saying these days, I'm all about the flats, especially with this pandemic that won't end! I am always looking for flats that keep me looking cute and are comfortable to wear. I love that one shoe has a circle at the toe and the other has a square. Different enough to satisfy my inner quirky girl, and stylish enough to satisfy my inner fashionista!!!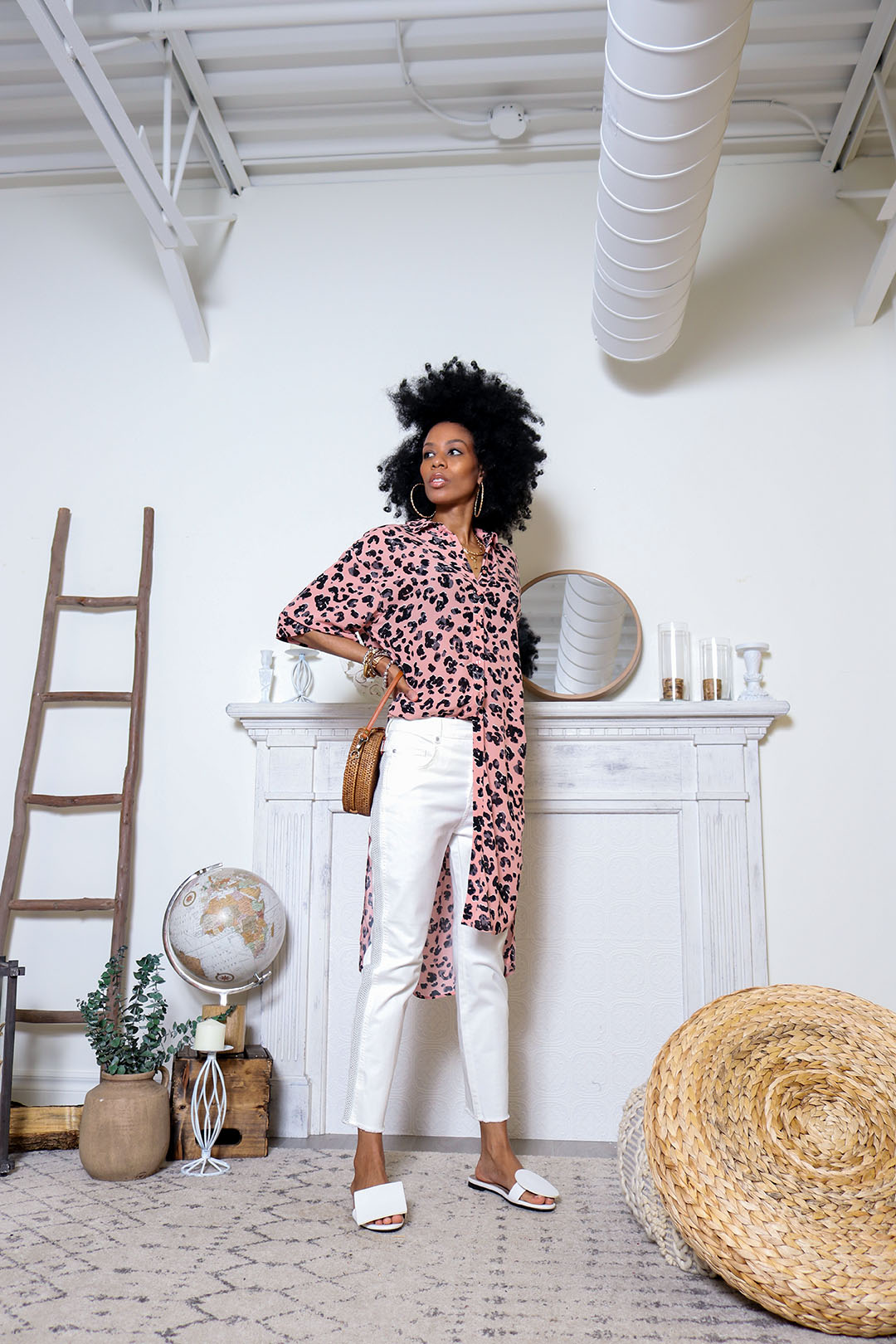 Y'all I am ready to be out and about in them streets! Thank you Anthropologie for keeping your girl looking cute and fab this spring!
And that's the long and short of it!
Gail & Leslie xoxo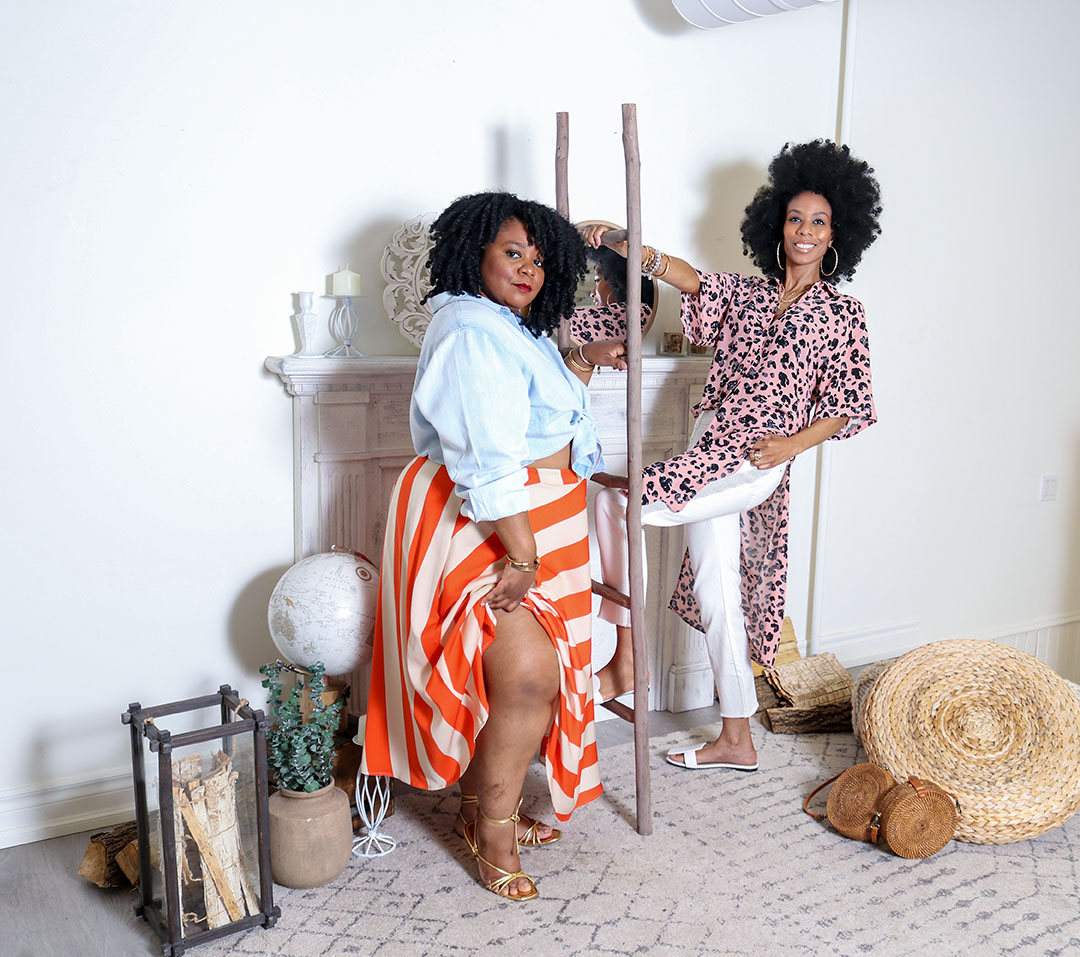 Photo credit: Roseline Bonheur
Though this is a sponsored post, the opinions shared are our own.