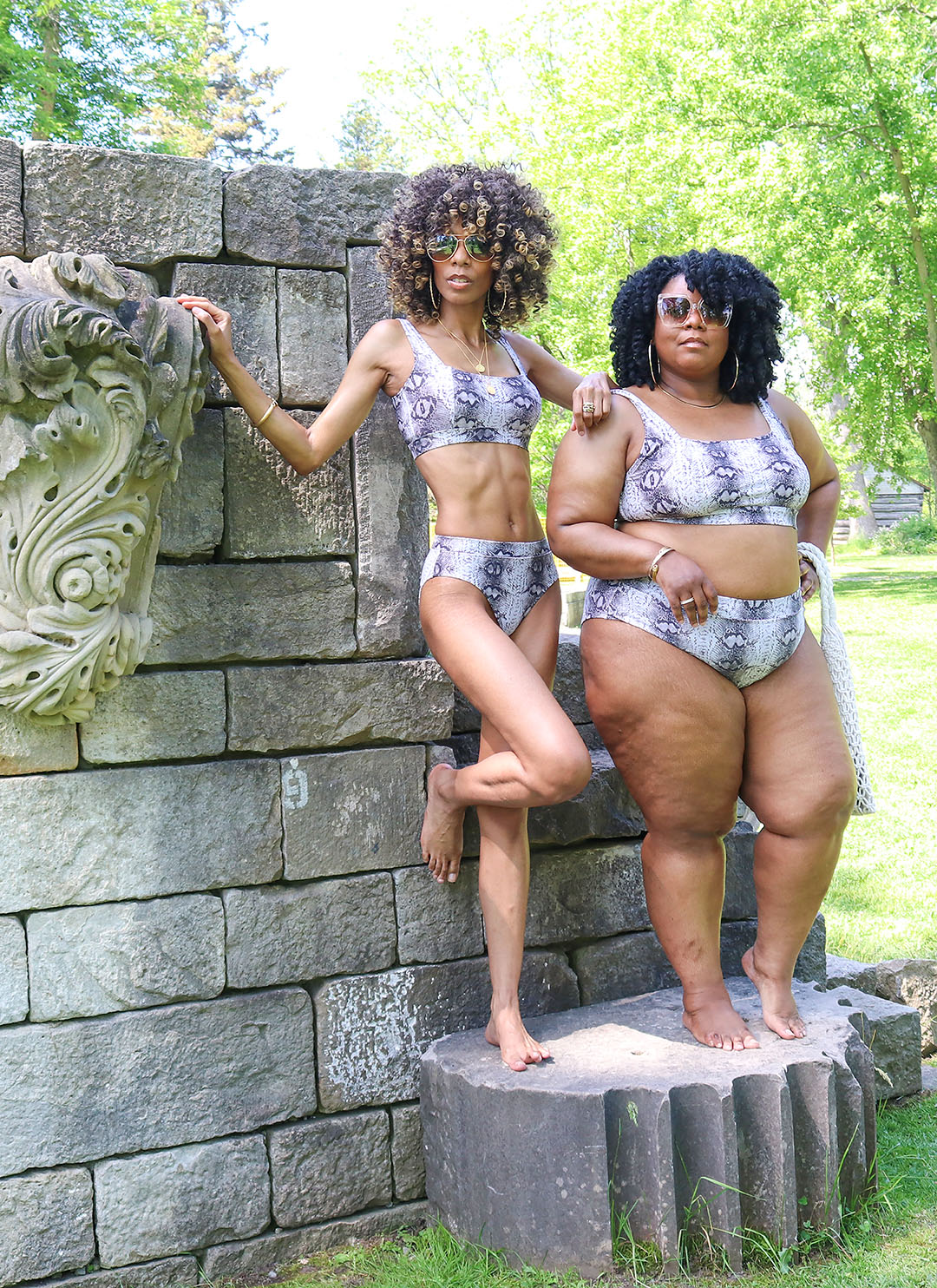 Tis the season for sunscreen, sand and swimwear!
Gail – Beach Ready With Joe Fresh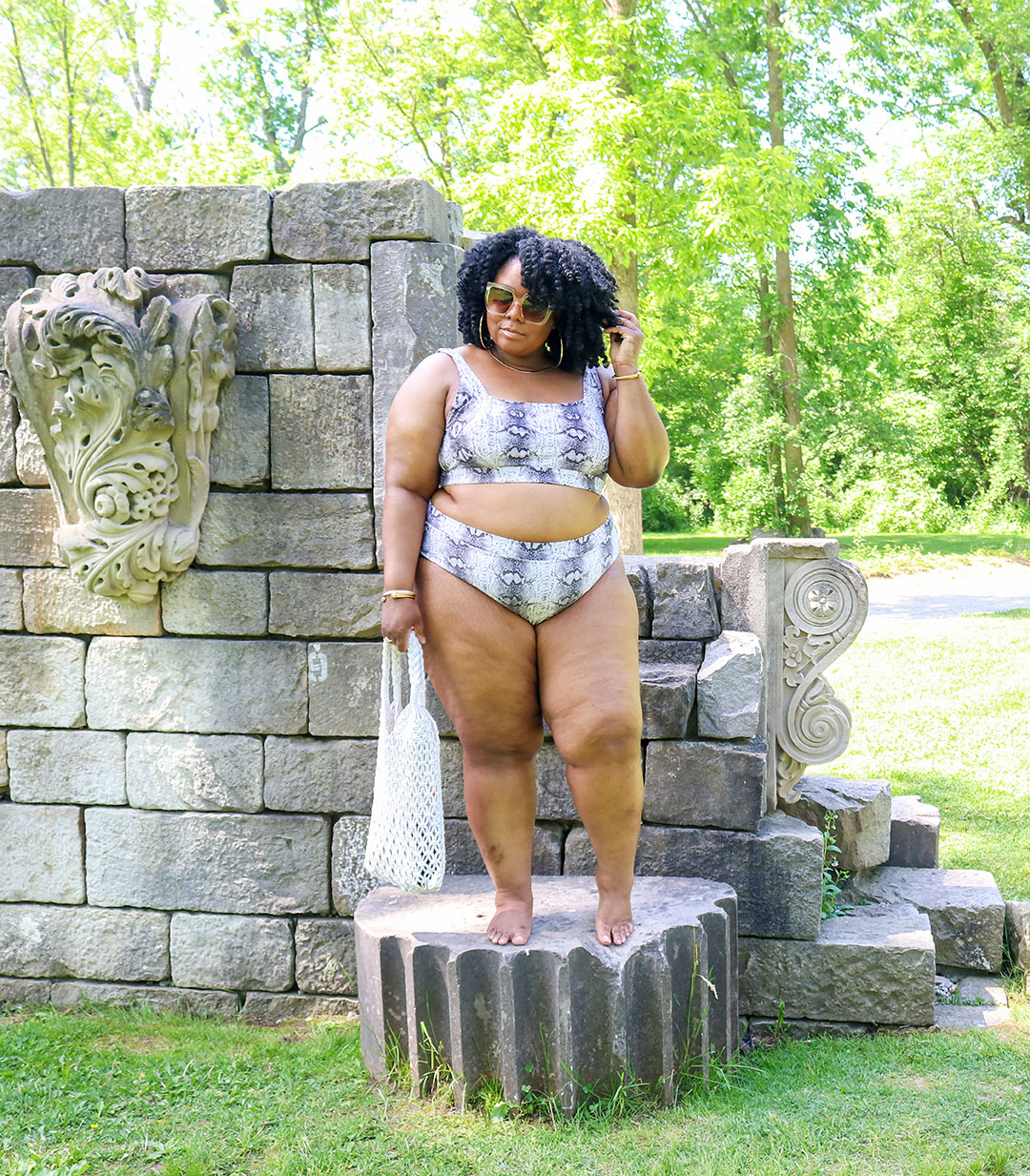 Swim Top: Joe Fresh // Swim Bottoms: Joe Fresh // Sunnies: AliExpress
Another glorious swimsuit season is upon and I couldn't be happier. With the lockdown here in Ontario finally lifted aka the "Get of jail free card" I 'm ready for a socially distanced day the beach!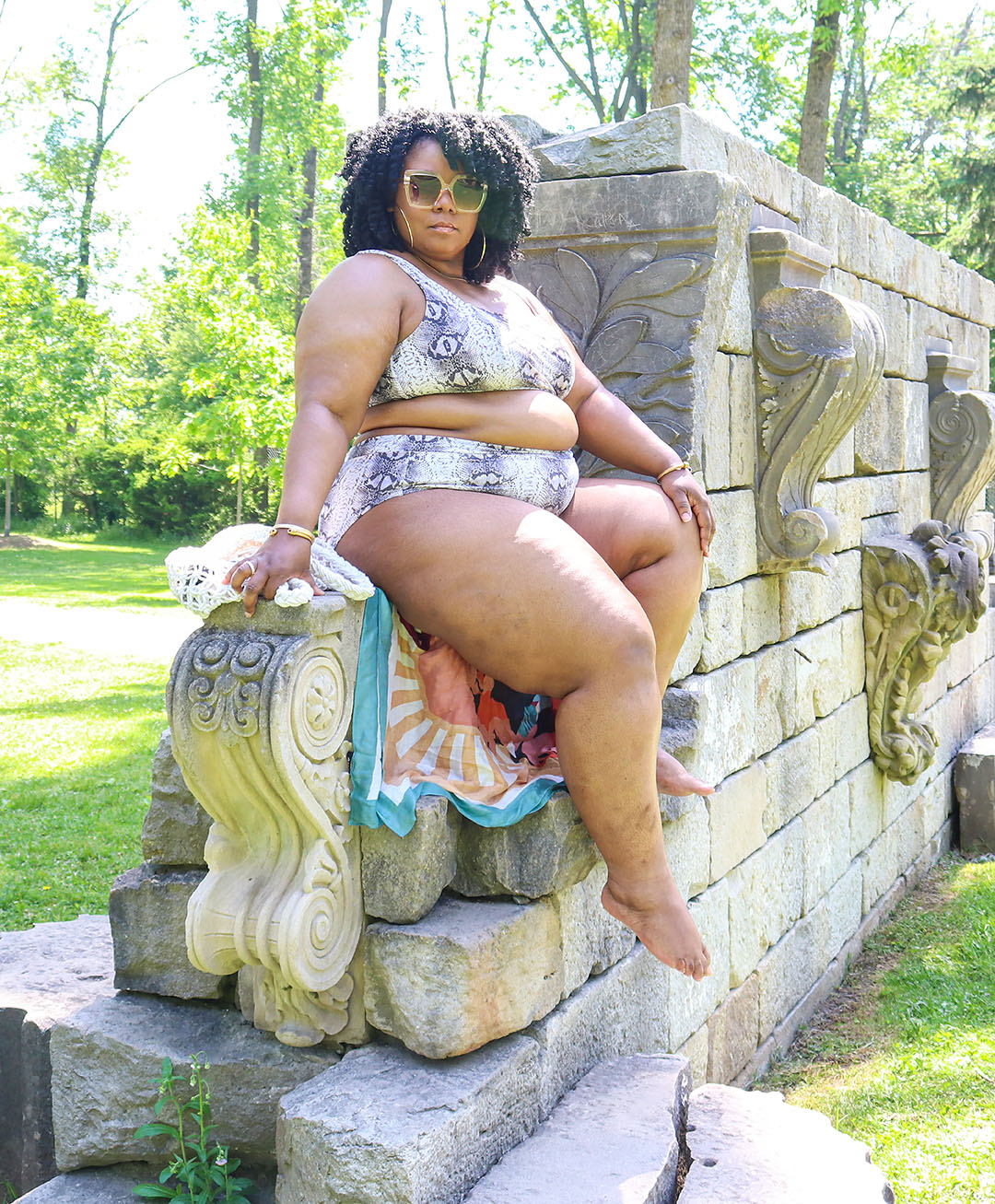 This swimsuit from Joe Fresh which is a collaboration with Roxy Earle, of the Real Housewives of Toronto fame, is a perfect fit. Animal print of any sort is always my jam so this snake print number is sizzlin. Since I have larger hips and behind I was fastidious about the fit of these swim bottoms but the cut in these bad boys is excellent.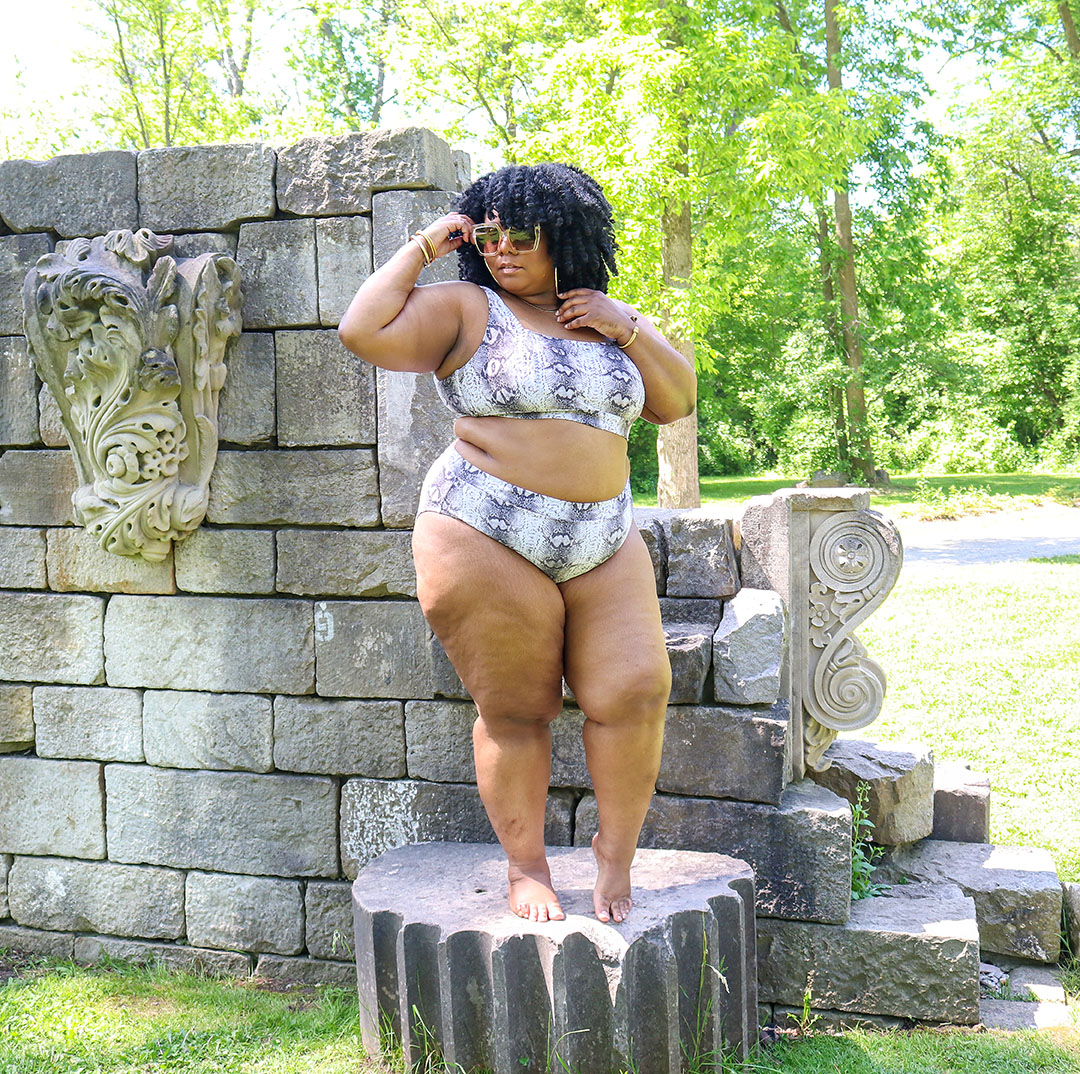 The swimsuit top fit equally well and features large straps to help you feel supported in the bust area and has a little padding.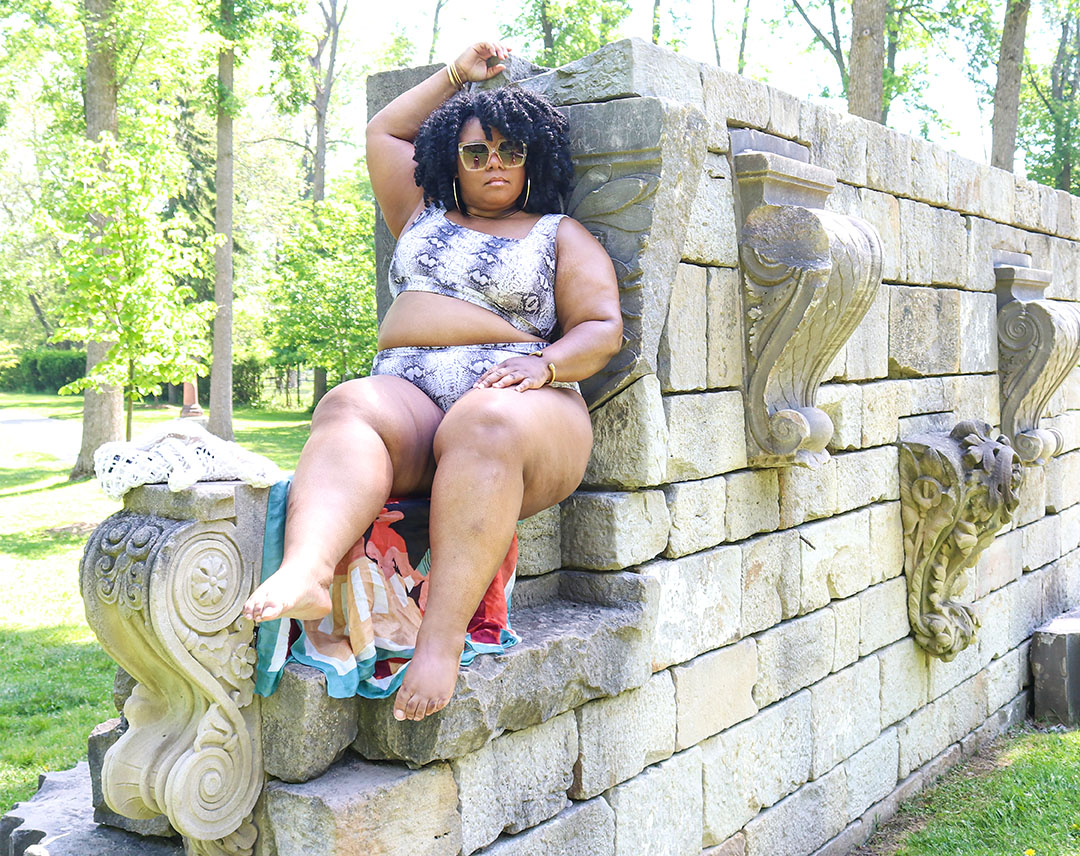 Now, I know some of us plus size ladies aren't exactly ready for a two piece swimsuit and I definitely get it. If you want to ease into the whole swimsuit thing take your time. As the old saying goes, "Rome wasn't built in a day". You can start out with a one piece if that works for you like these one here or wear a colourful sarong or kimono with the swimsuit I'm wearing. All the matters is that you wear what make you feel comfortable and confident so you can thoroughly enjoy your day in the sun!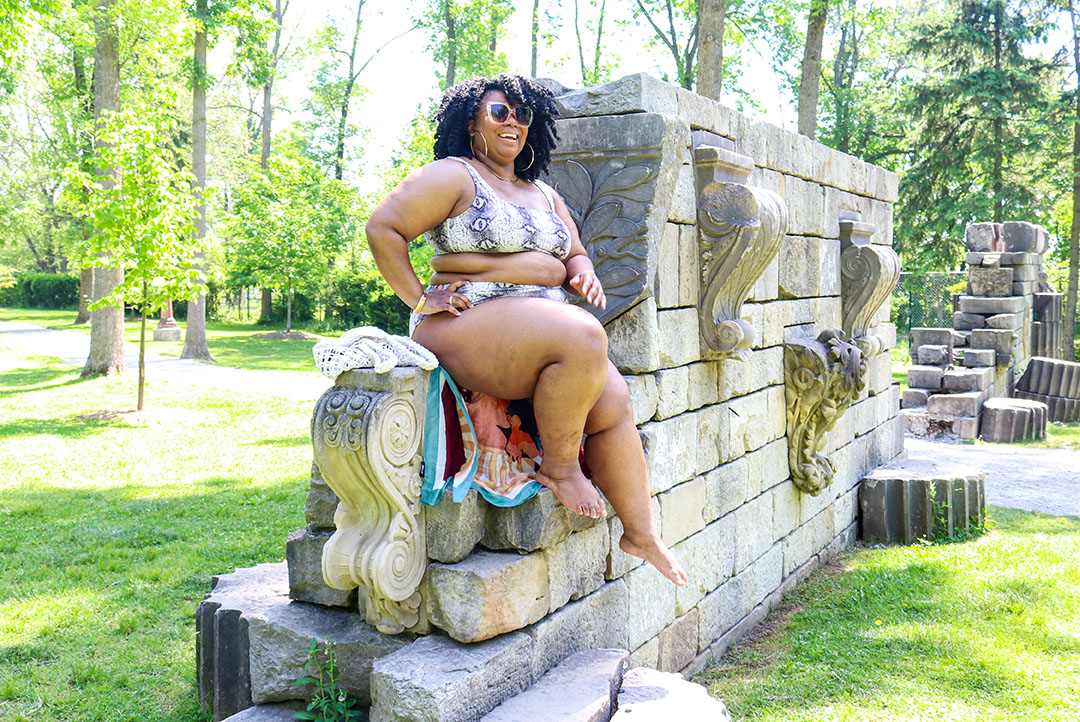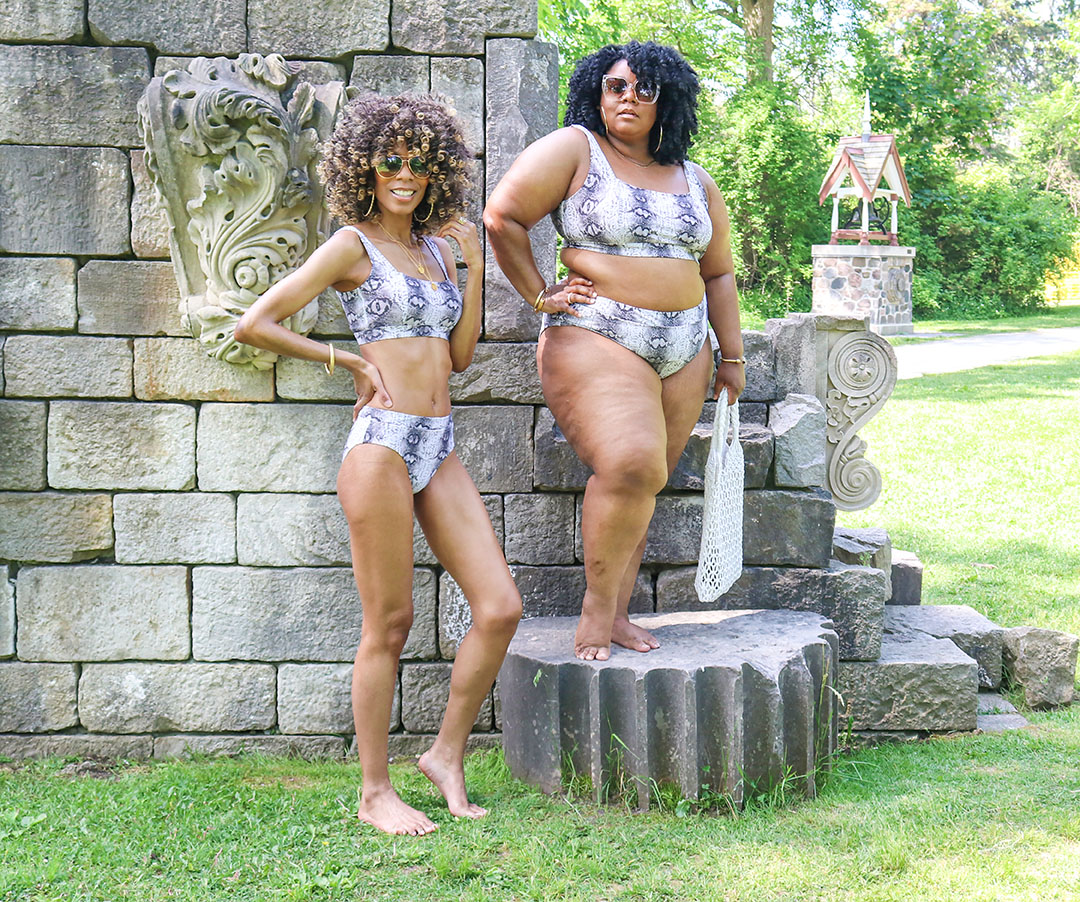 Leslie's Swimsuit Sensation!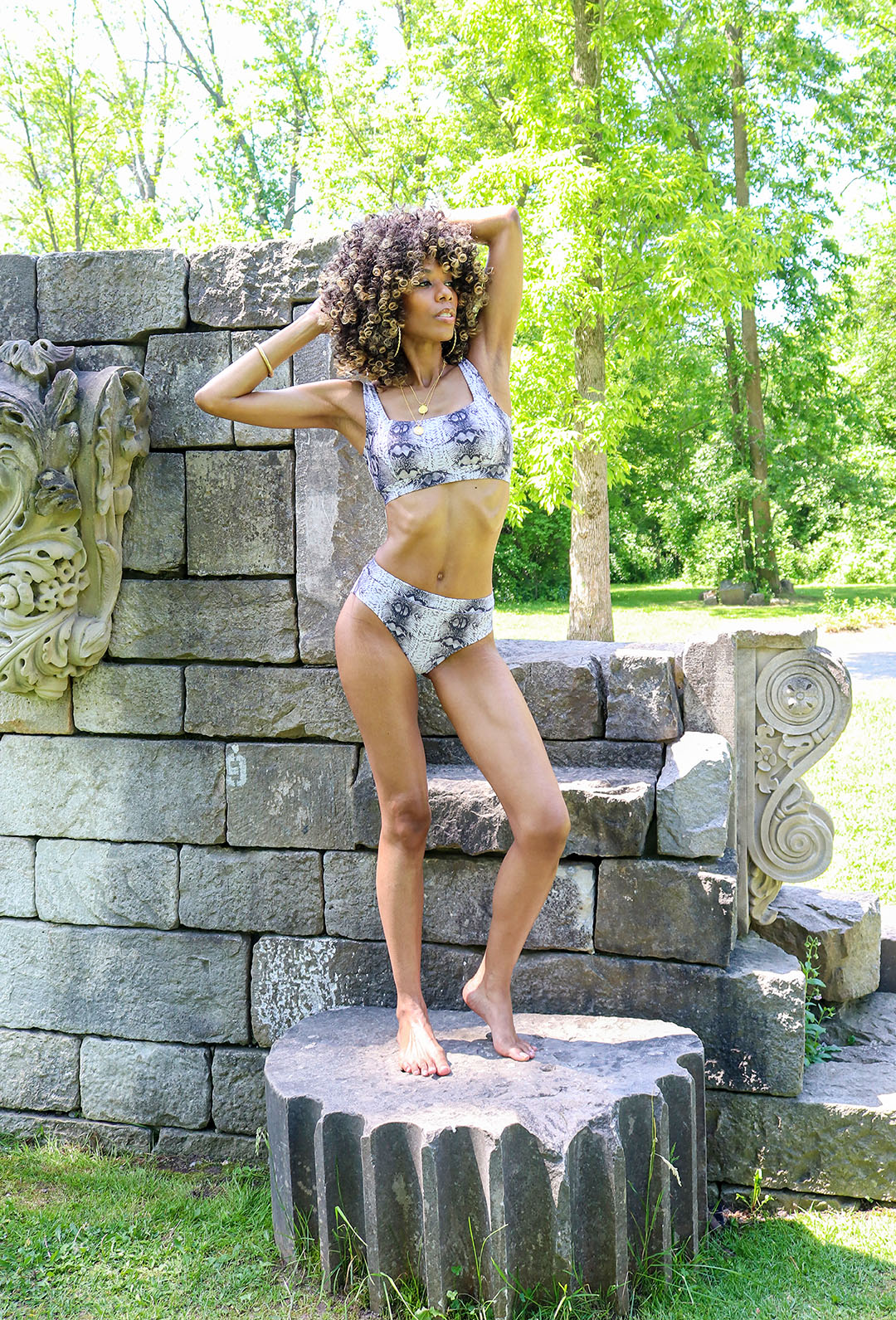 Bikini top: Joe Fresh // Bikini bottoms: Joe Fresh //
For my plus size babes, this swimsuit comes in the perfect size you!
It's that time of year again when we go on the hunt for a great swimsuit! It can be so tricky, because, buy it too big and you can end up with a saggy bootie when you get out of the water; and too small means that the suit will not flatter your curves, but rather create extra lumps and bumps.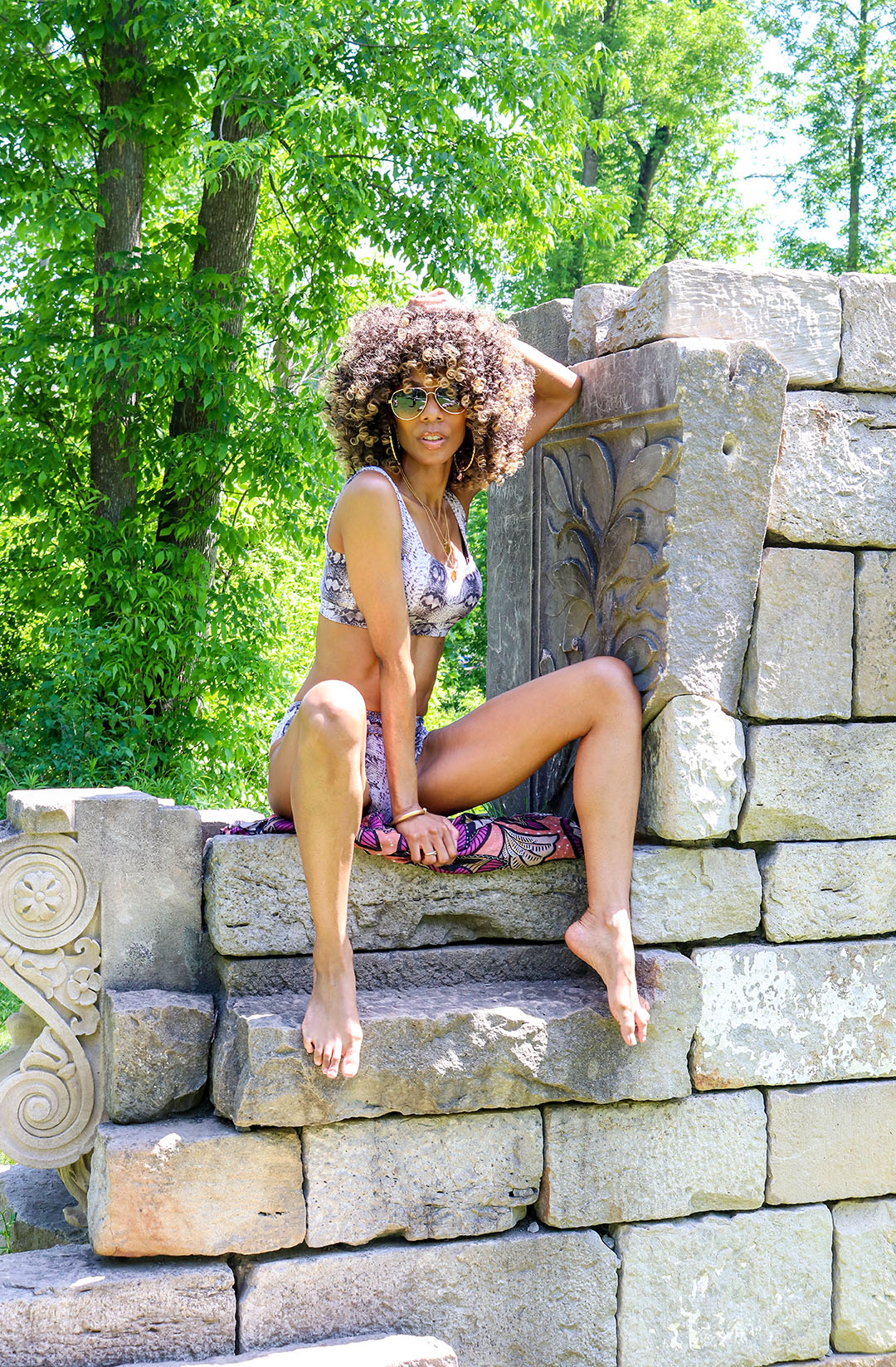 I consider this to be a really great suit for me because of the fit. The top is perfect because I love to add in a little "enhancement" to give the illusion that my bust line is larger than it actually is. It also provides great support so that you can rest assured that the waves won't carry away your top and leave you relying on seaweed to cover the essentials.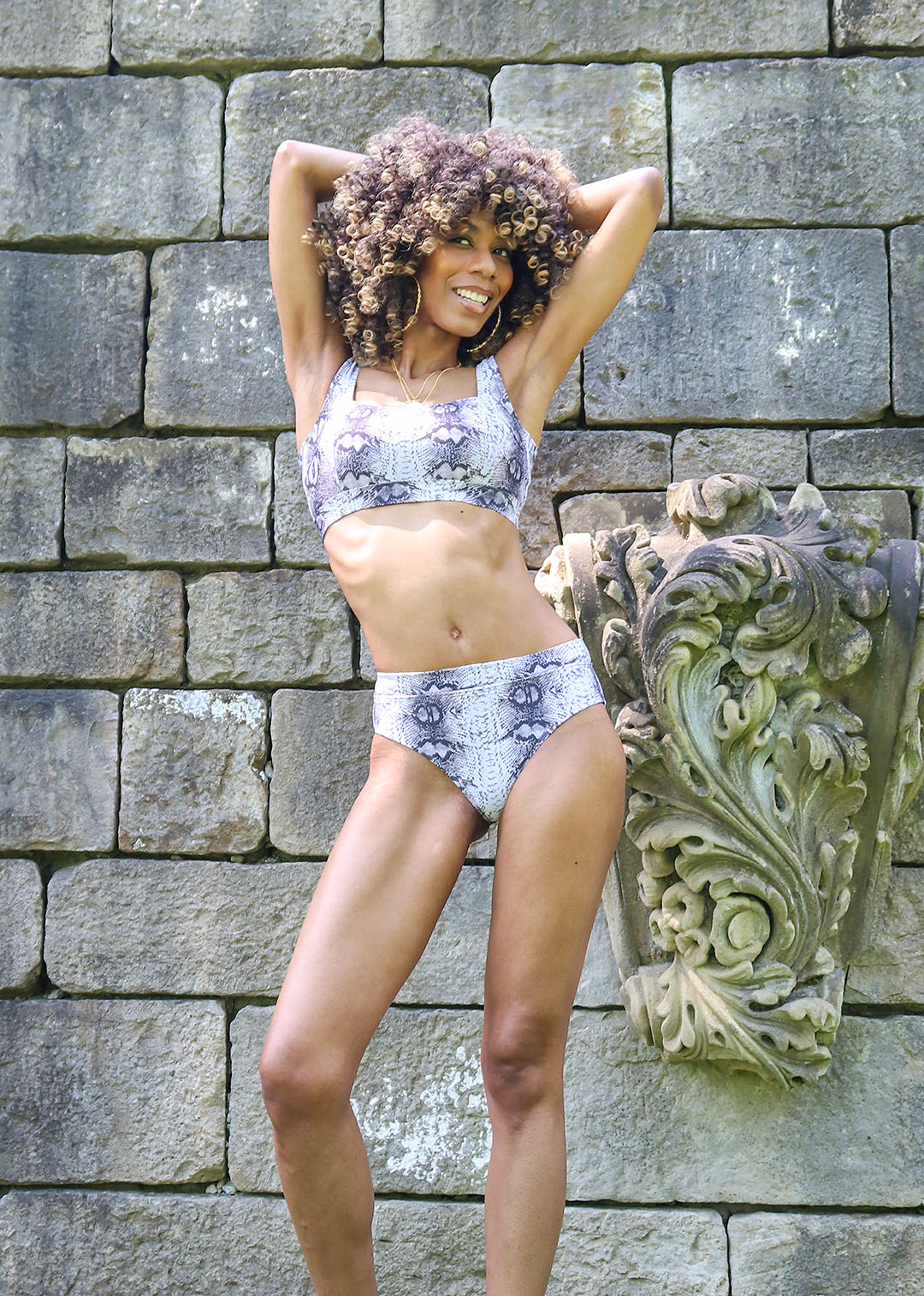 The high-waisted bottoms are great as well. They make the line of your leg look like it goes on for days, and specifically for us girls with those long torsos, it shortens that out to make us look more evenly proportioned (love that)! I also love that as the waist hits a narrow part of my slim frame, I get a bit more of the hourglass figure that I love.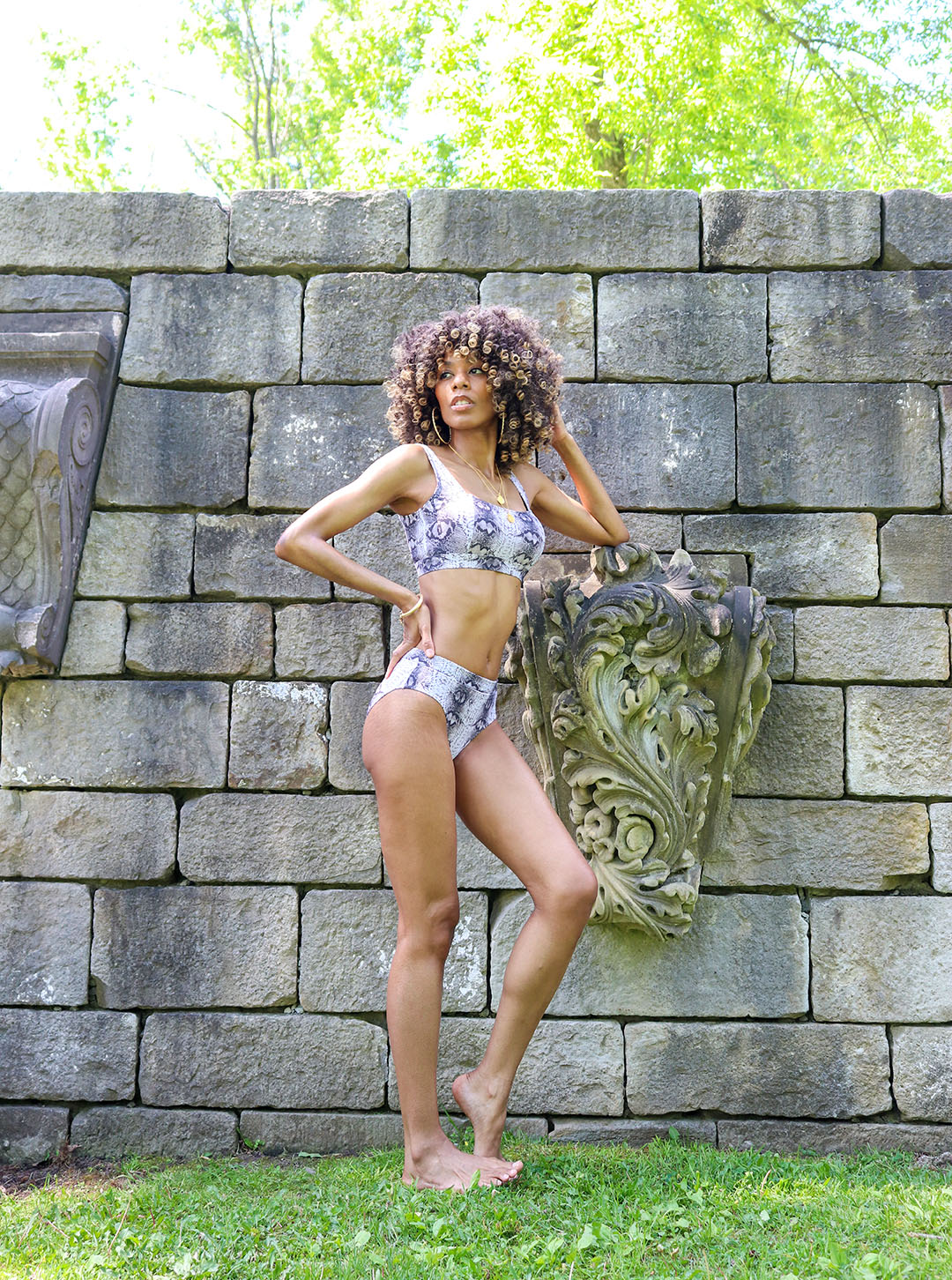 Y'alls, you know I love a print so there is no surprise that this bikini is up my alley in that respect! I think the colour and print really compliment the skin and I cannot wait to rock this 2 piece when I hit the beach, or perhaps if I can find a friend with a pool!!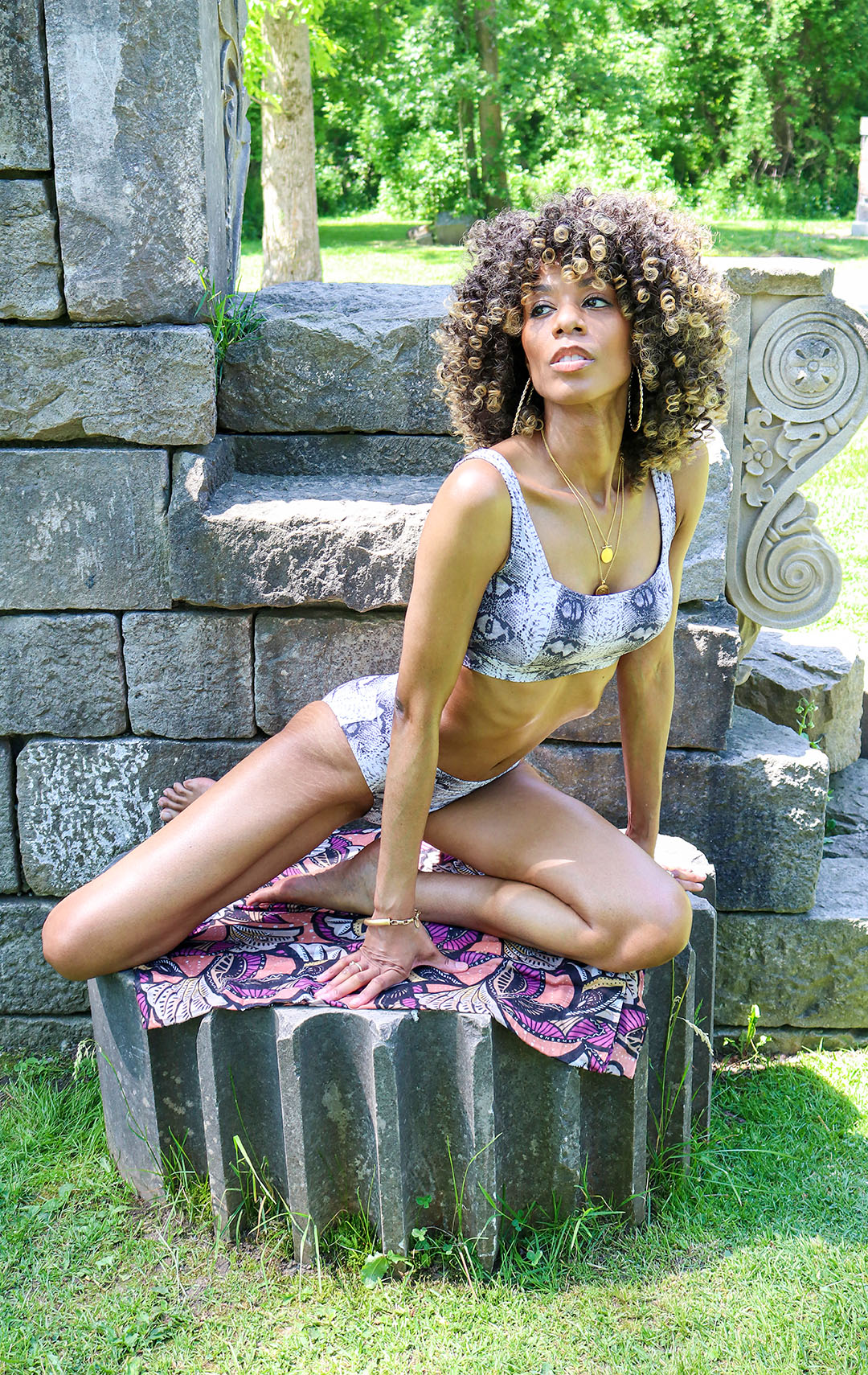 Enjoy the fun in the sun with this little number that will keep you cute and ready to dive into summer!
And that's the long & short of it!
Gail & Leslie xoxo
Photo credit: Roseline Bonheur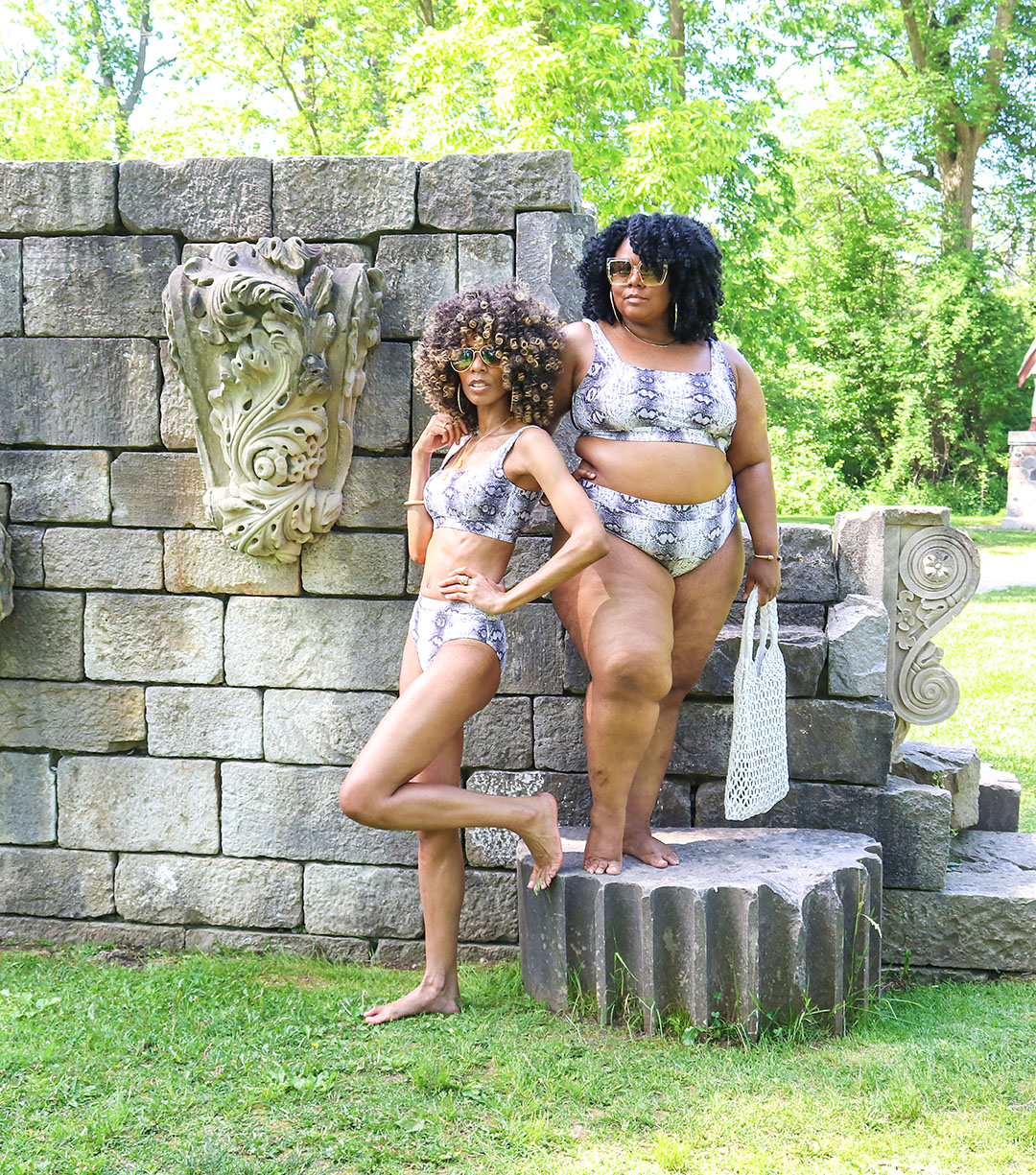 Though this is a sponsored post the opinions expressed are our own.