Chocolate, toffee, caramel – all beautiful colours you'll find in our next installment of our series on monochromatic looks. This week we tackle the variety and richness of the colour brown. Follow along as we show you have we flip it and reverse it to create fun monochromatic looks in shades of cocoa.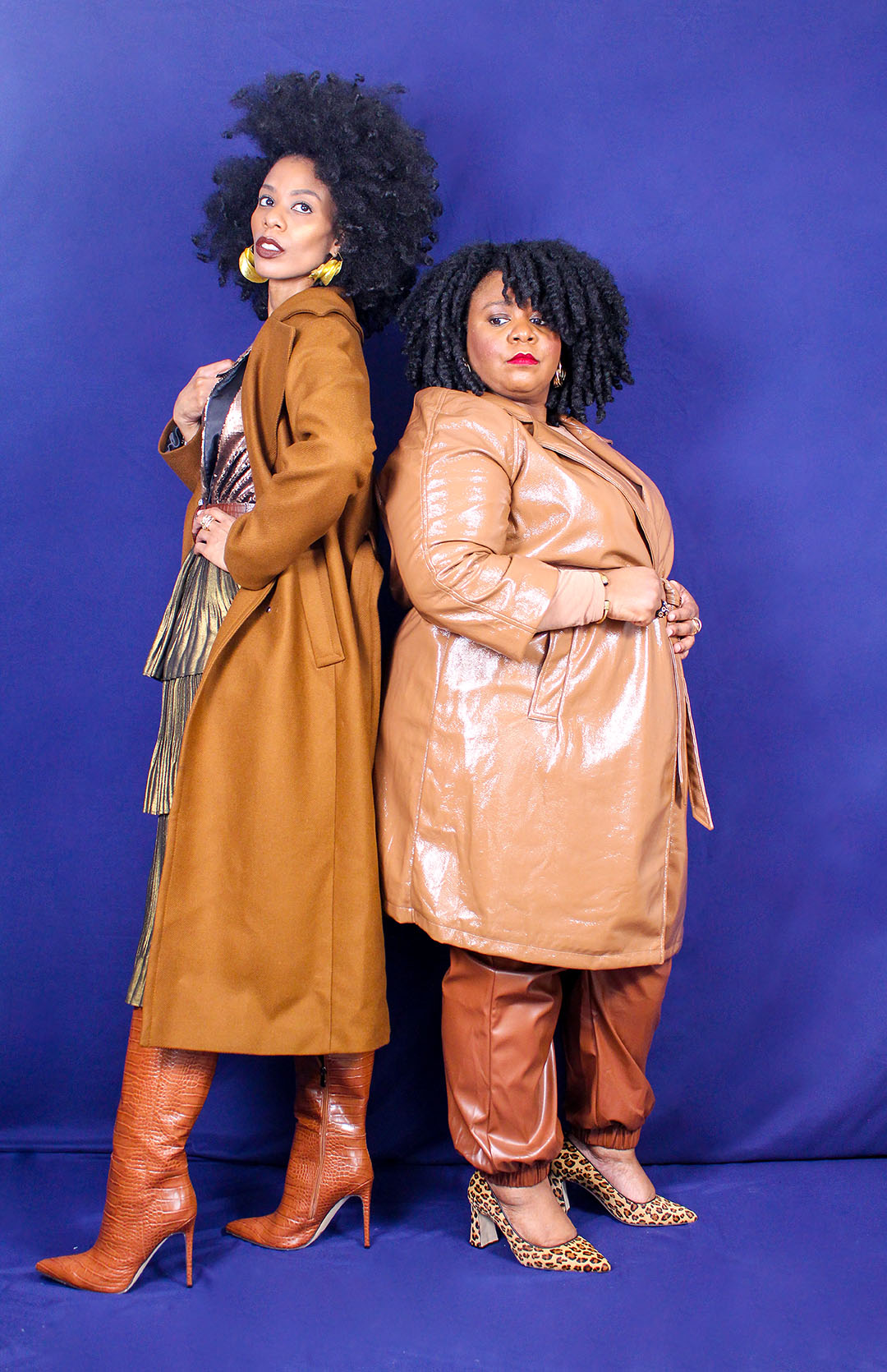 Gail's Ode to Cocoa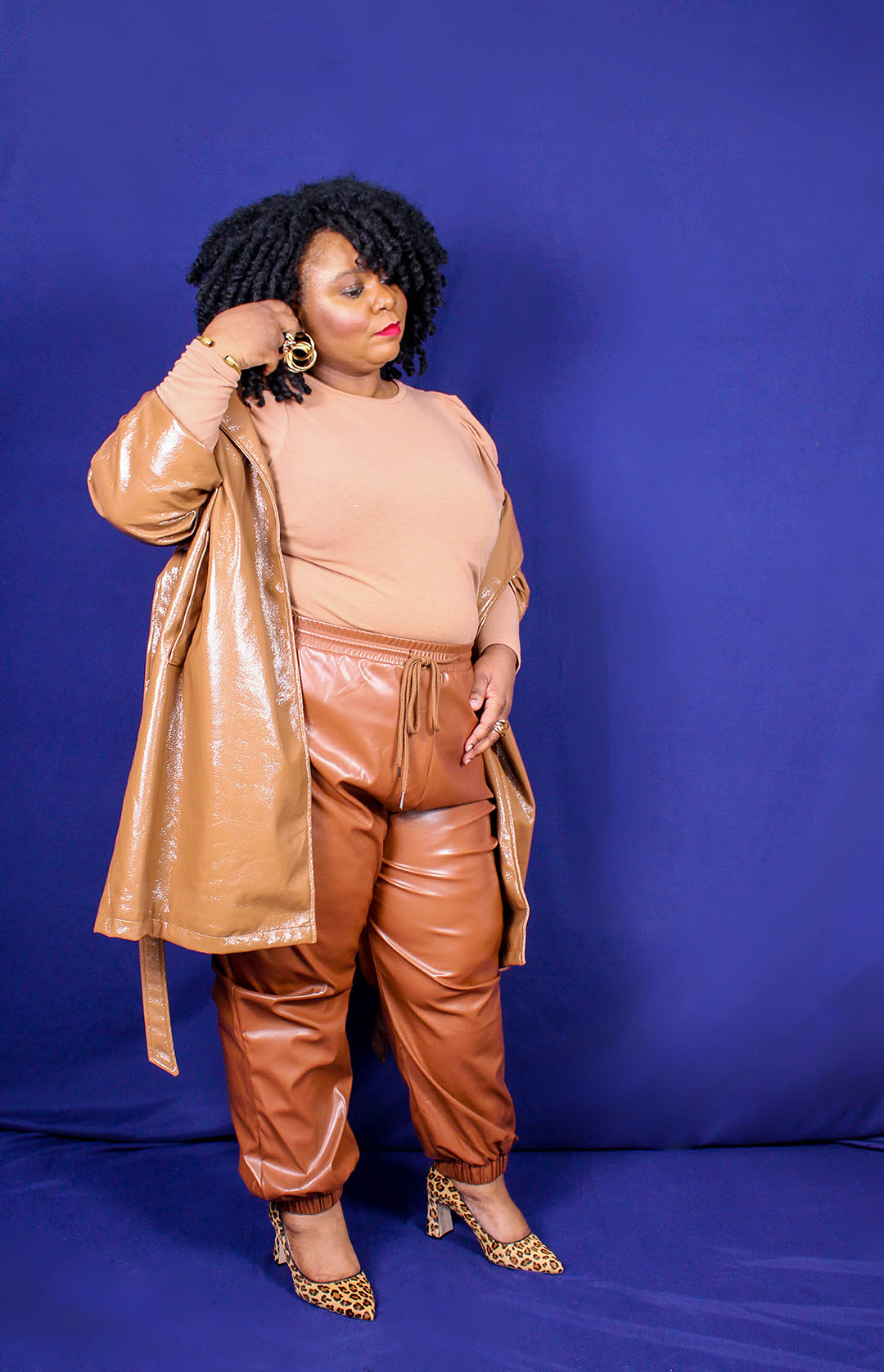 Trench Coat: ASOS Curve // Top: Shoe Dazzle (sold out) similar here // Faux Leather Joggers: Aliexpress similar here here or here // Pumps: Ally Shoes
For my straight sizes sisters: Trench Coat // Top // Pants
I cannot lie, I'm really feeling this toffee meets, caramel, meets, café au lait look! You ever put on an outfit and you're just like, "BAM, I am FEELIN myself!". Well, friends, that was me in this look. This ode to brown features faux leather pants, a trench coat topper and little animal print for good measure.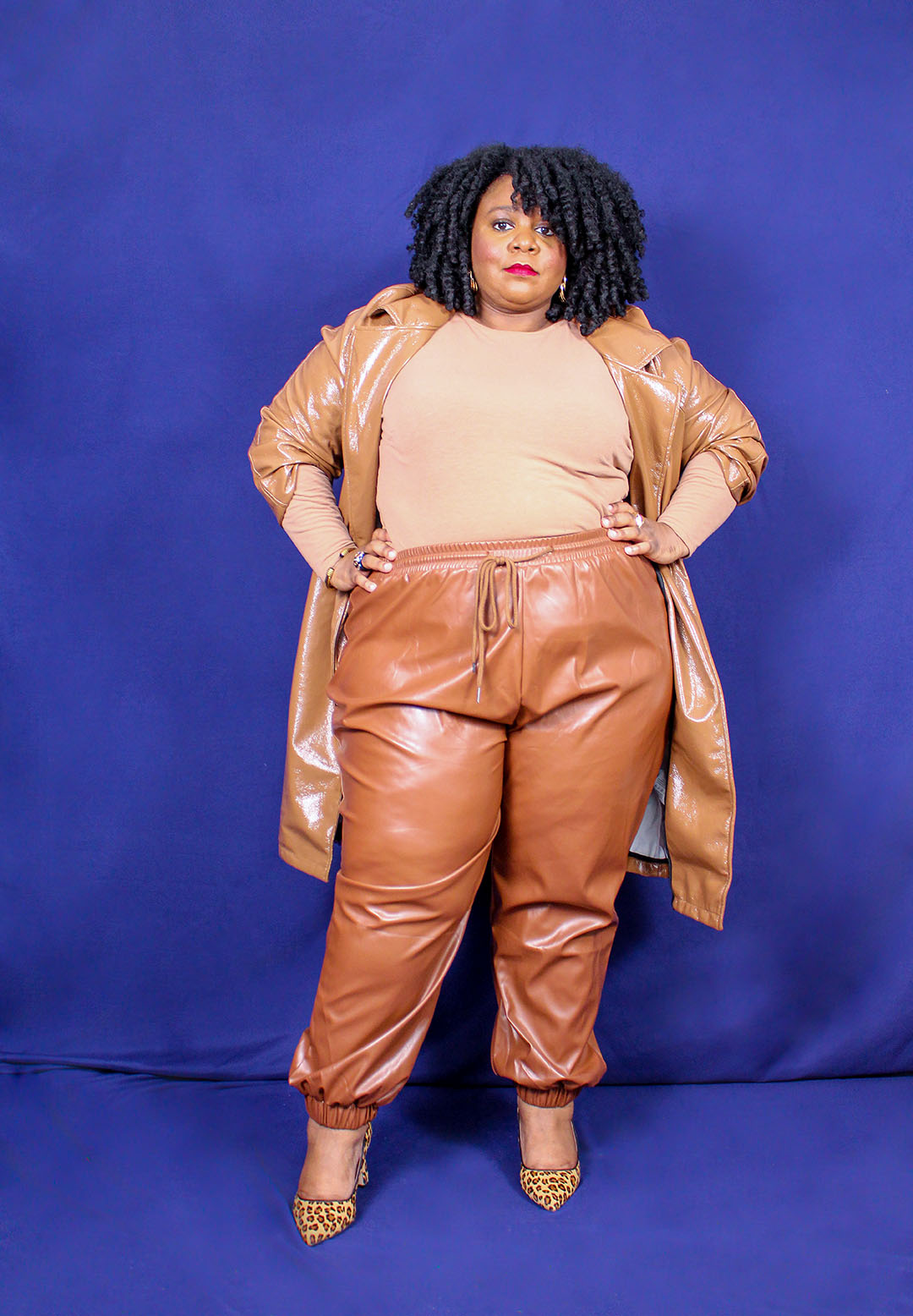 First up is this trench coat. I snagged this guy from ASOS Curve site and I'm so glad I did. It's simple wrap sstyle trench – so no buttons. Now normally I'm not really a fan of wrap style coats only because after a while the front portion of the coat always "riggles" open on me and I'm constantly adjusting it but because the coat is pleather when I tie the belt everything stays locked, loaded and in place.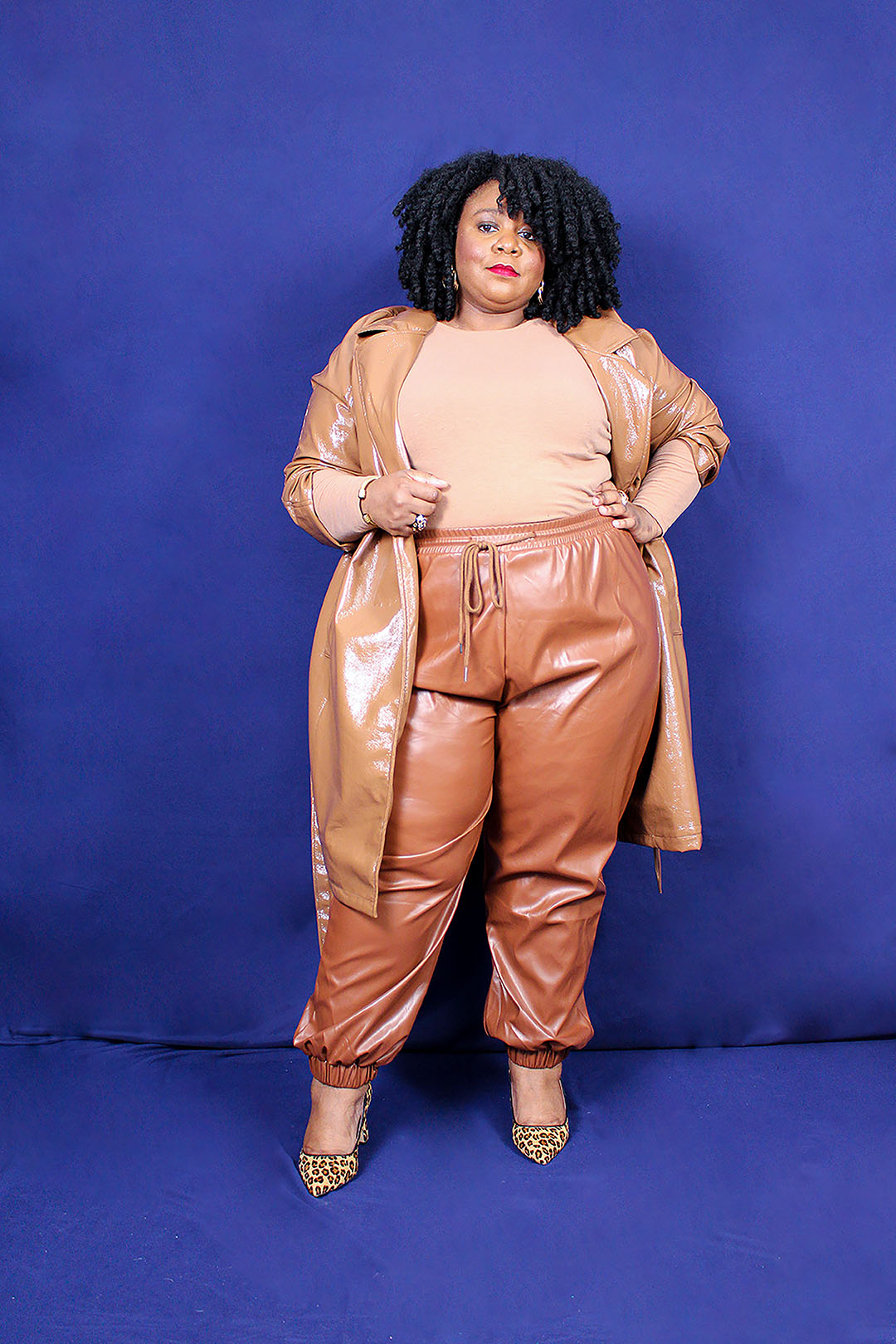 I love the high of the coat as well. I purchased the coat in a size USA 22 and of course it has pockets. While the interior of the coat is not lined in the "traditional" sense, there is a sort of white backing on the underside of the pleather material.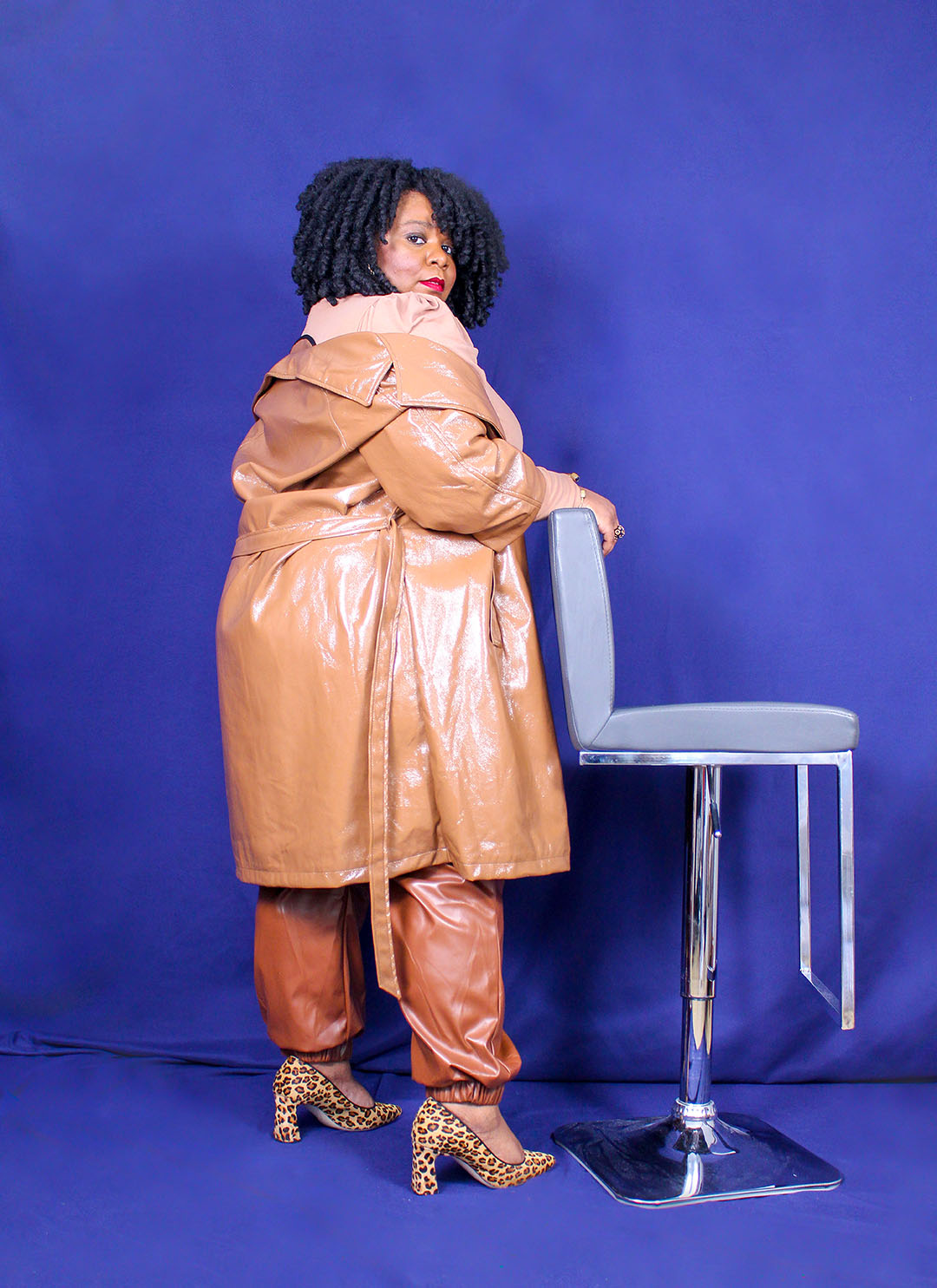 Now about these caramel coloured faux leather joggers. When I first pulled these out of the package there was, shall we say, an unusual odor that assaulted my nostrils. I had to air them out for a couple of days before I could put these bad boys on. I got them in a size 3X and the fit was perfect – not too baggy but generous fit for my hips, thank you Lord! While I really do like these joggers a lot, especially the caramel colour, I wish the faux leather was a little bit thicker.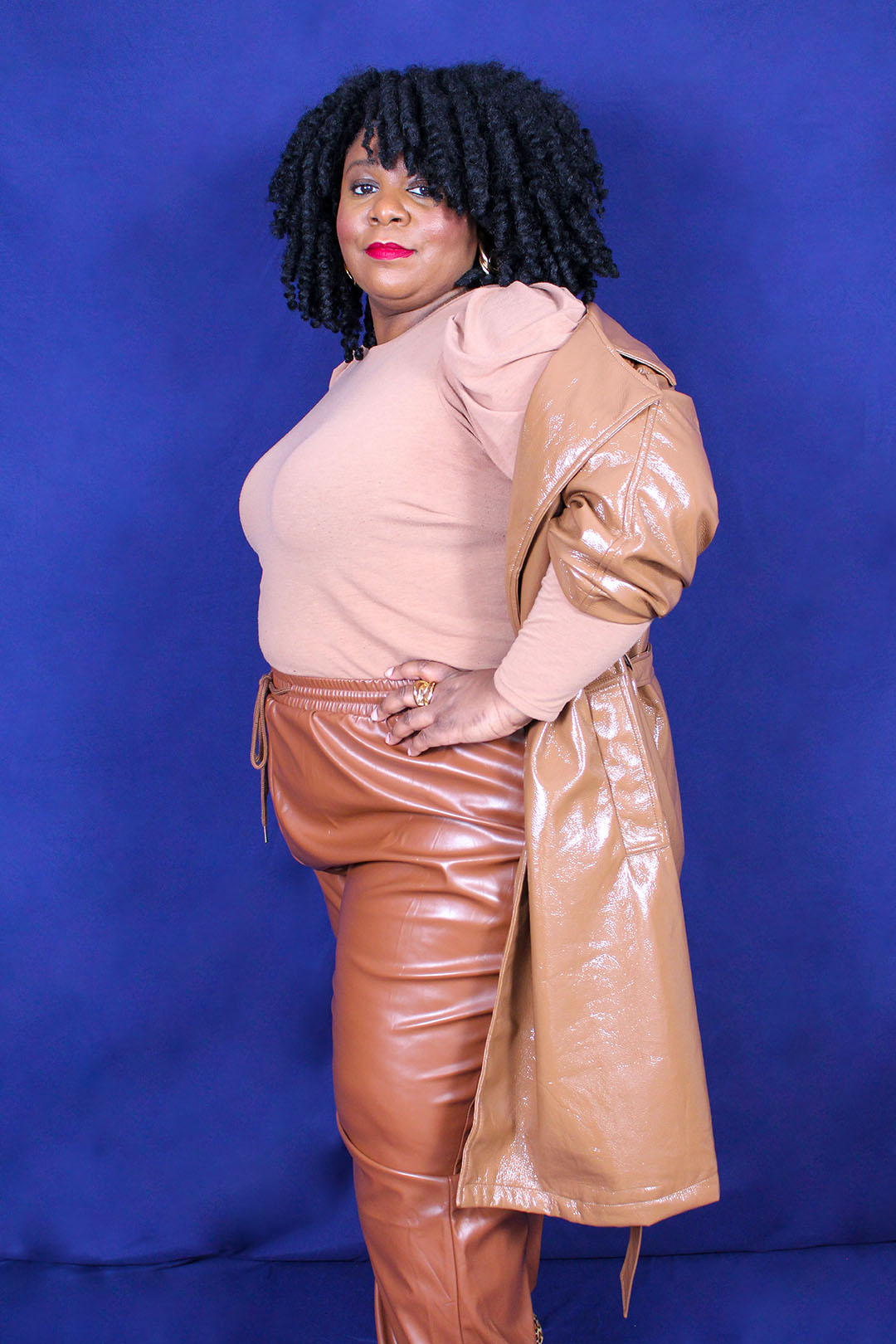 I paired my lovely joggers with this cafe au lait top from Shoe Dazzle. I'm wearing a 2X which gave me a more snug fit. The top features a fun draping detail detail at the shoulder which I thought was really cute.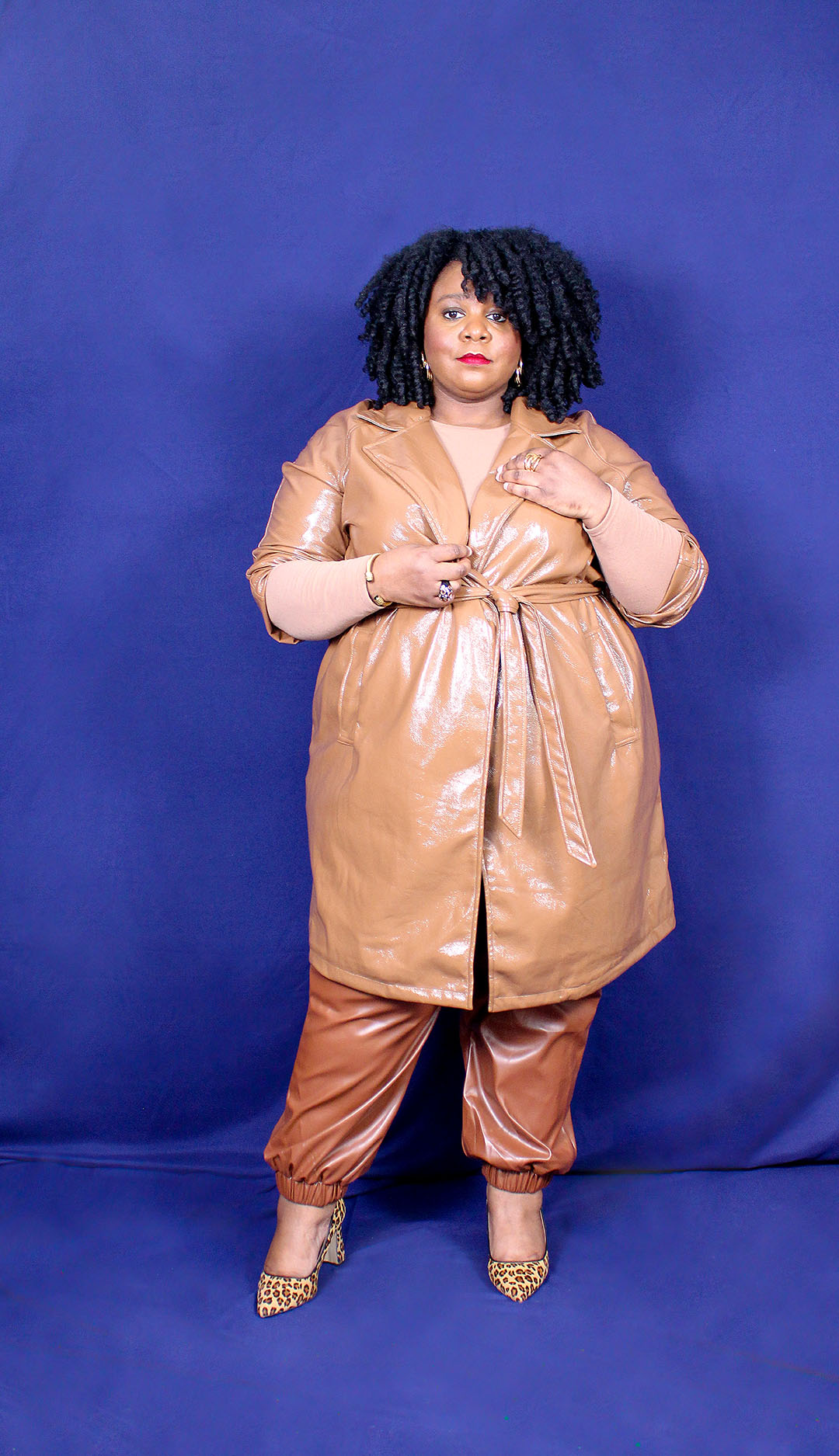 I completed the look with fun gold accessories and these oh so comfy Ally Shoes in a leopard – because as you know, leopard print is a neutral LOL.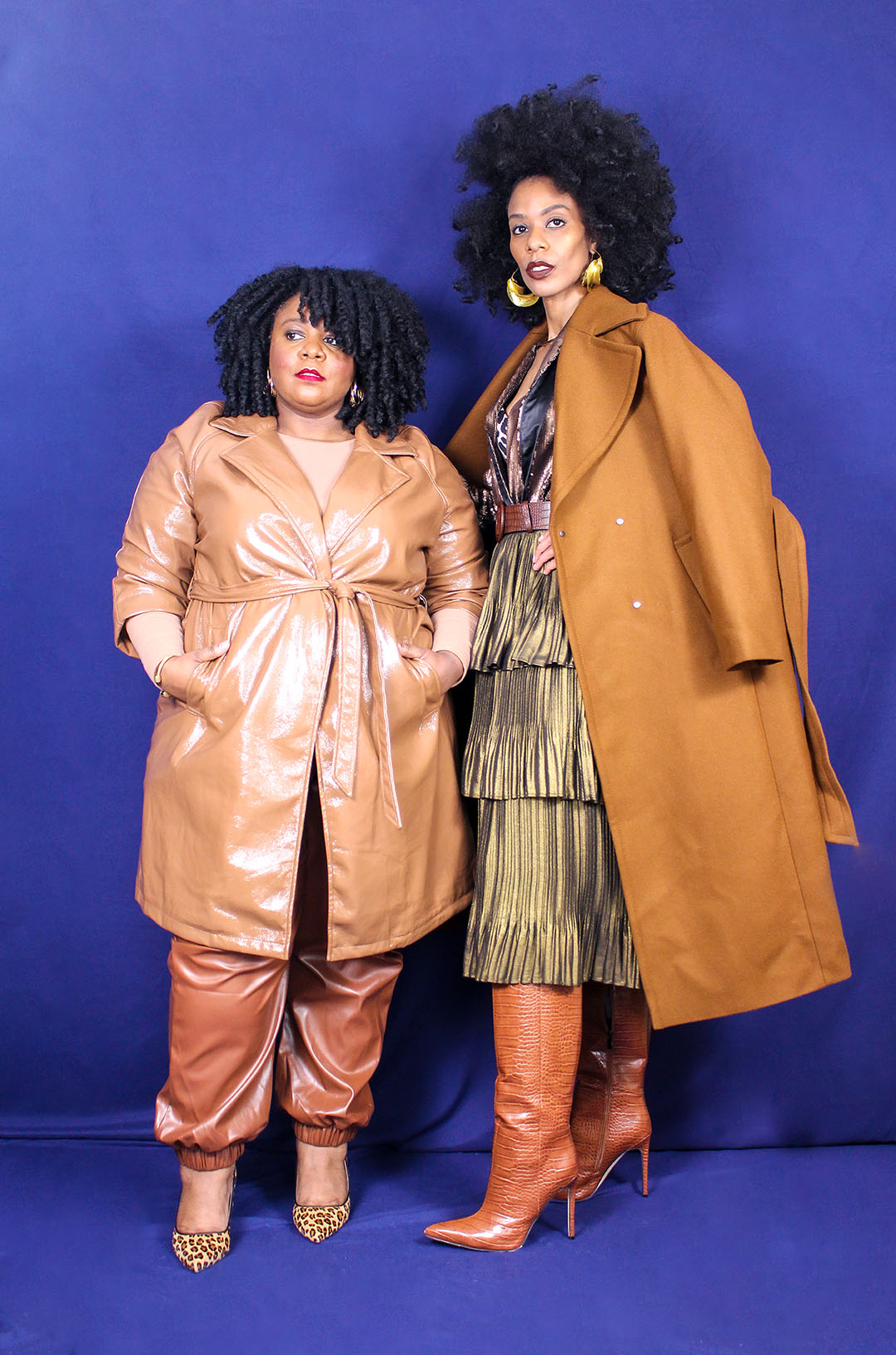 Leslie's Brown Sugar Baby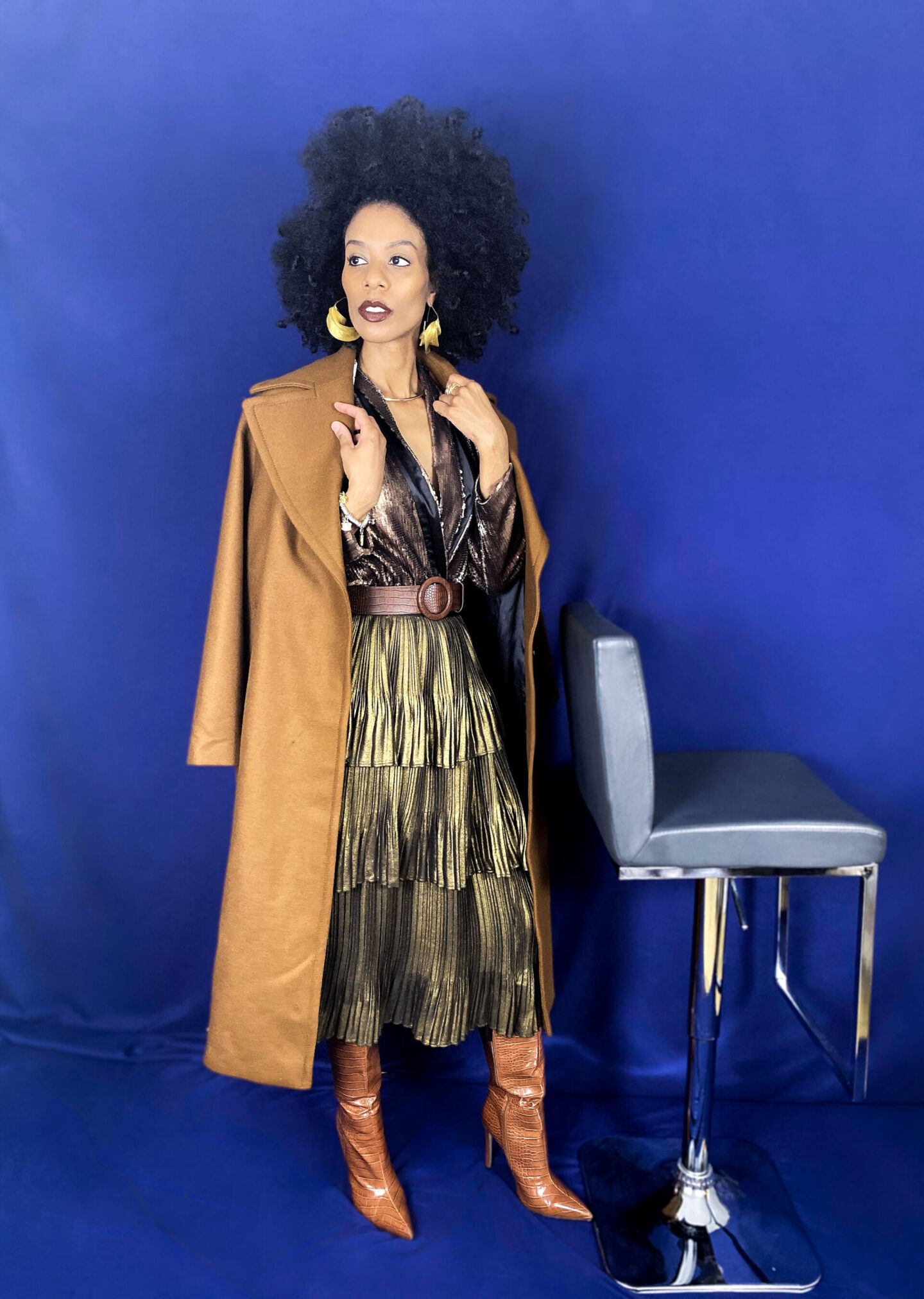 Coat: Hudson's Bay // Sequin Blazer: Zara (old, similar here) // Skirt: Topshop (old, similar here, here) // Boots: ASOS (old, similar here, here, here) //
For my plus size babes: Coat // Blazer // Skirt // Boots, Boots //
Yes, you often see me in outfits with a lot of bold colour and prints, but man-o-man there's something to be said for that mocha-choco-late that is just so sweet!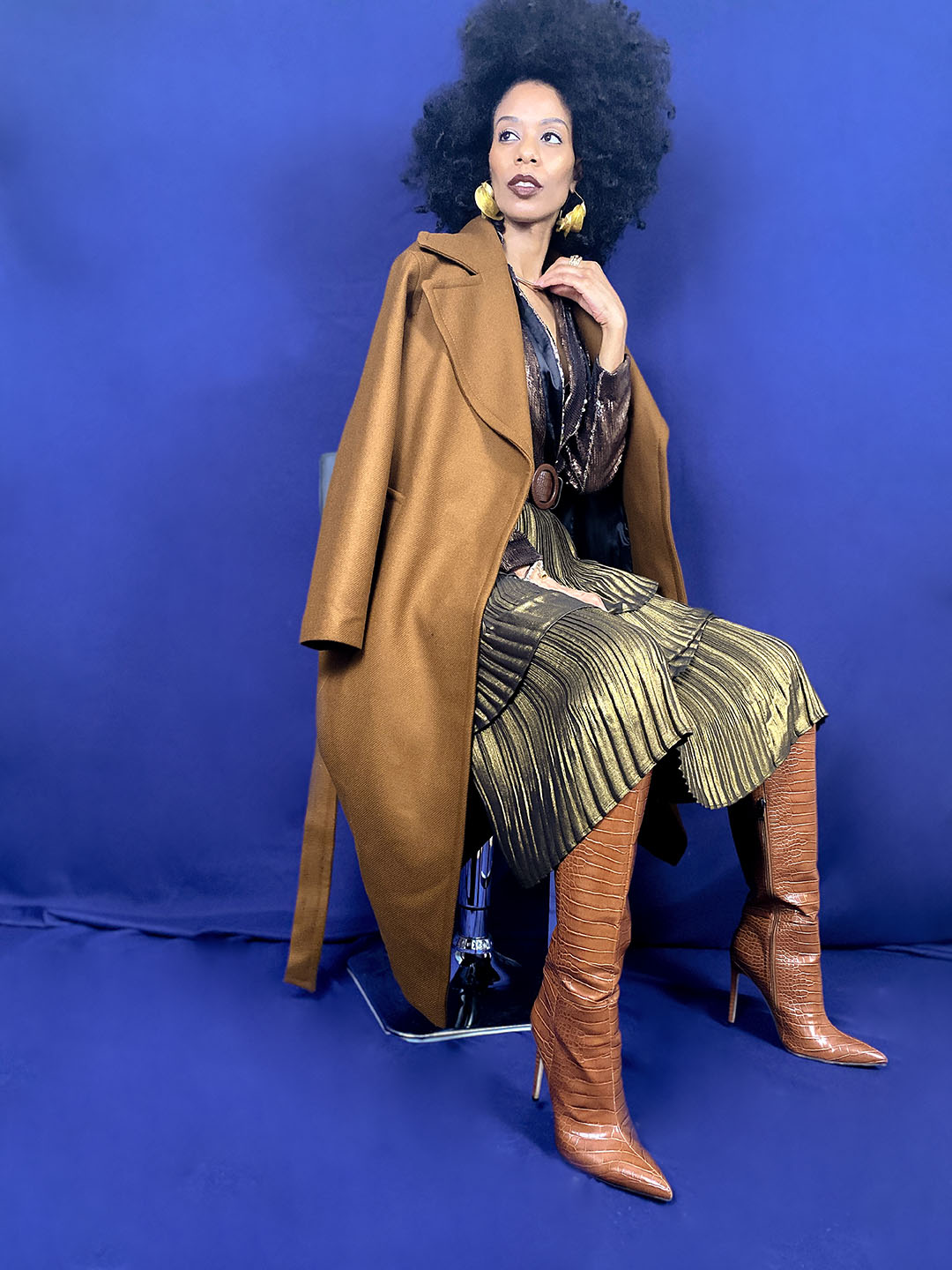 Monochromatic and tone-on-tone looks can be quite striking by the simple fact that they are all one colour thus making for a dramatic impact. This look combines the richness of mocha with the sparkle of sequins and a metallic.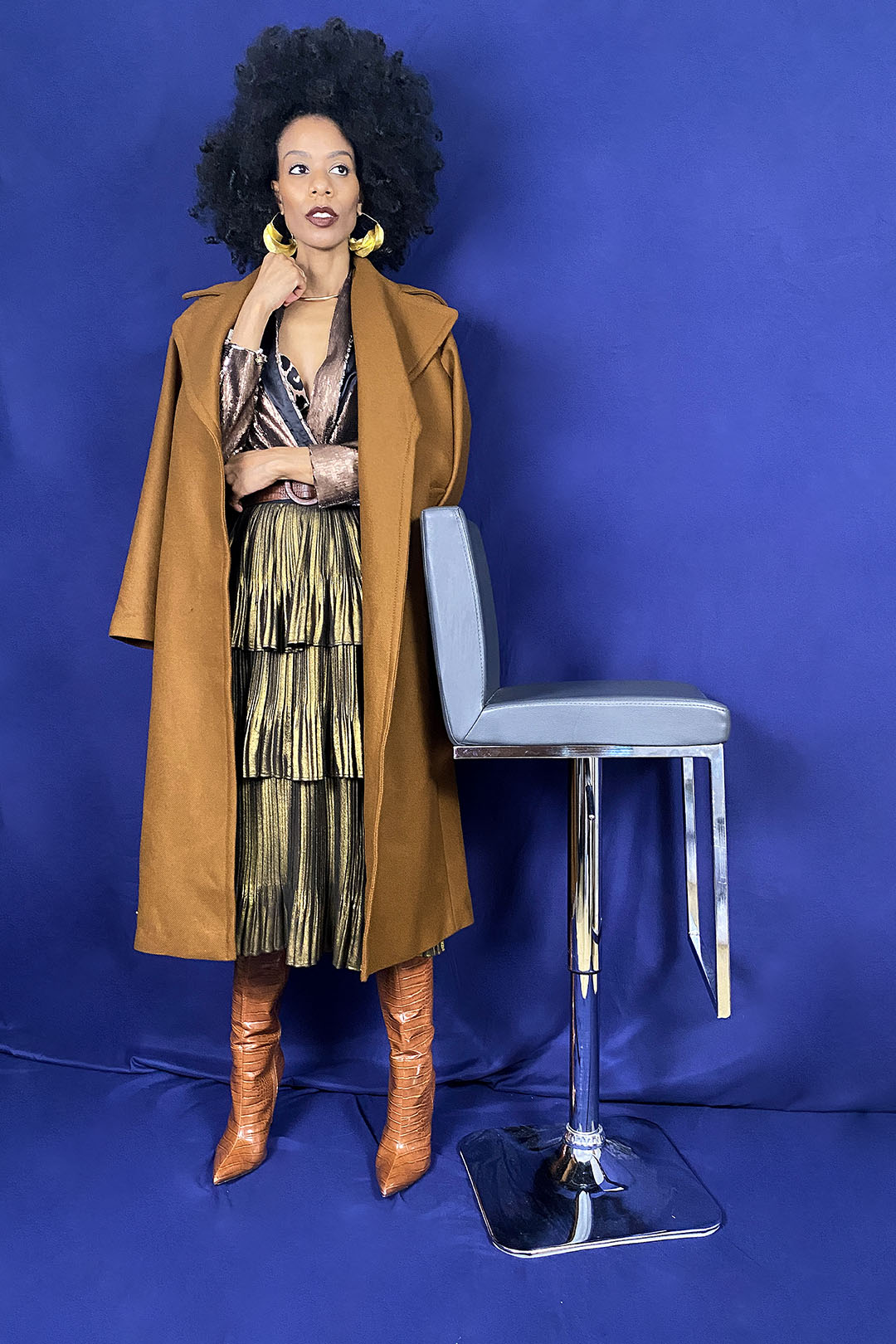 In our journey of monochromatics we've seen the magnificents of bright colours, the visual interest of introducing prints into your monochrome look and now we're looking at the impact of textures and tones! Another great way to keep your monochrome look from falling flat is introducing the mix media of texture. For this look, we have sequins, a metallic pleat, an embossed croc print and a great wool blend. All of these elements come together to give the look depth, interest and a touch of playfulness.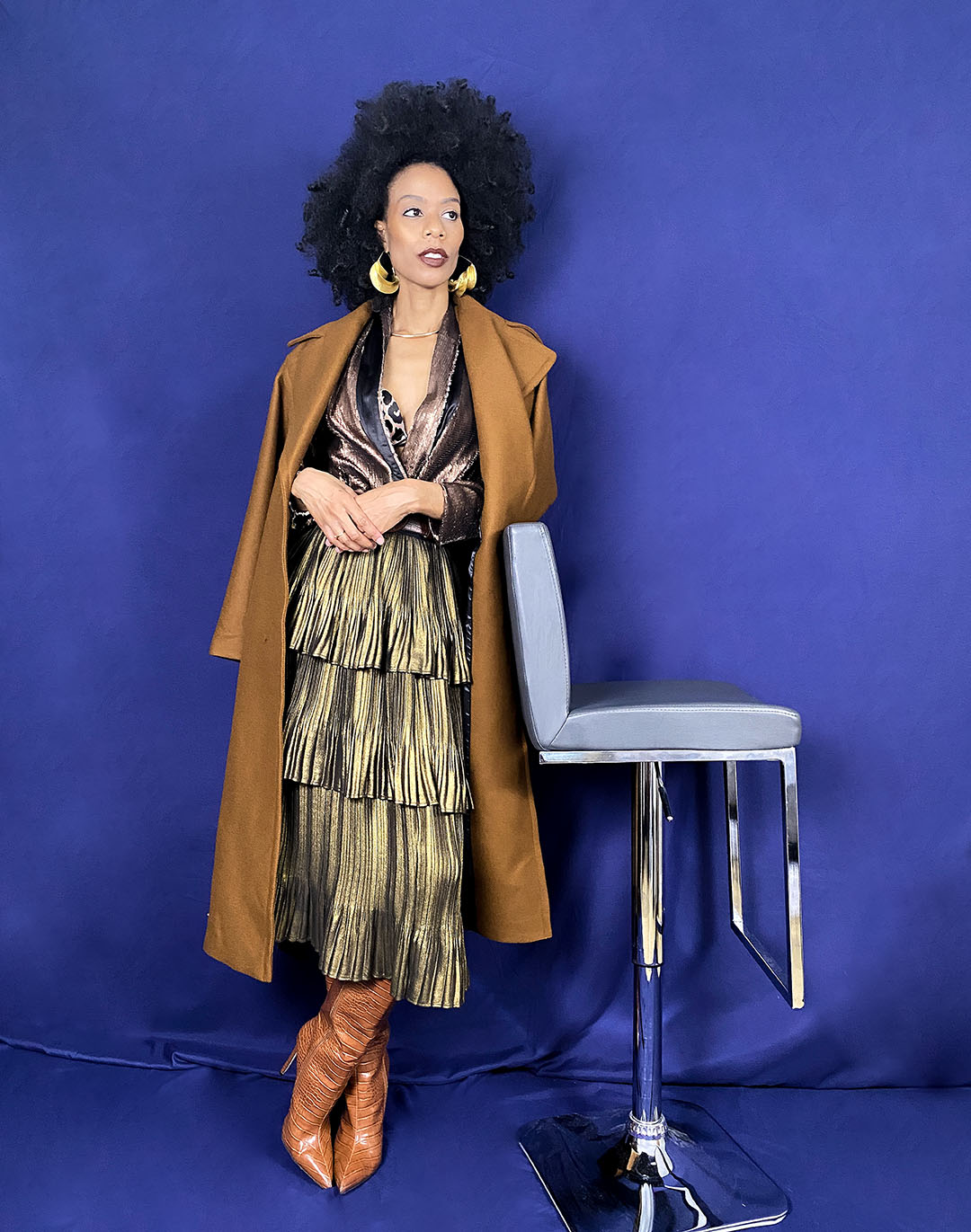 I added the belt to highlight my waist at the last minute, but you know what? I actually prefer the look without the belt (surprise, surprise)! The skirt has a black waistband which would have been enough to highlight my waist, but you know I just had to be extra!lol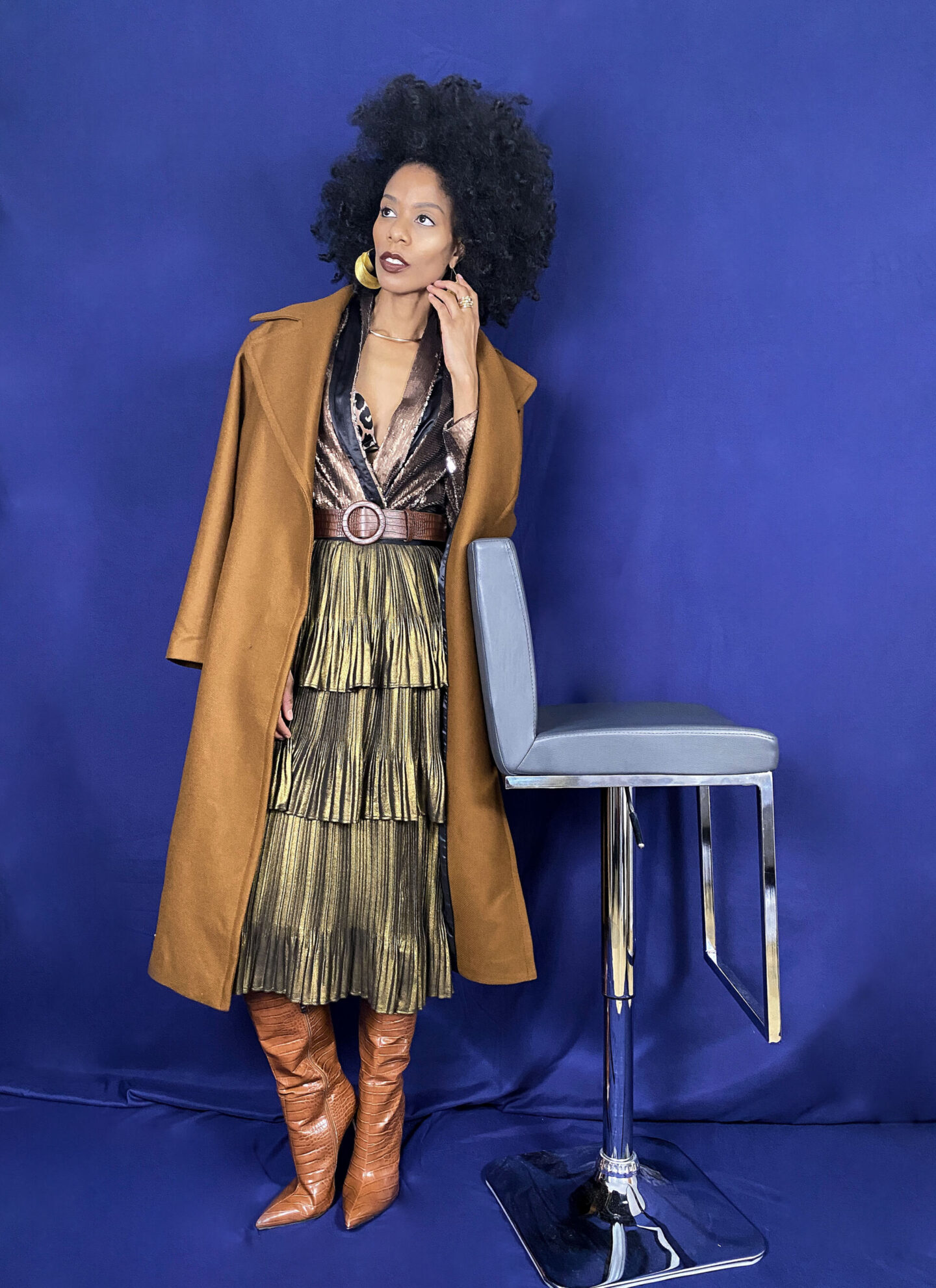 All in all, as our journey in monochromatics and tone on tone looks comes to an end, I just have this to say; whether you decide to mix your prints, colour block those hues or rock one great colour, make sure the individual pieces work for your body, highlighting the features you like most. That way, no matter what you do, you will always be looking fly!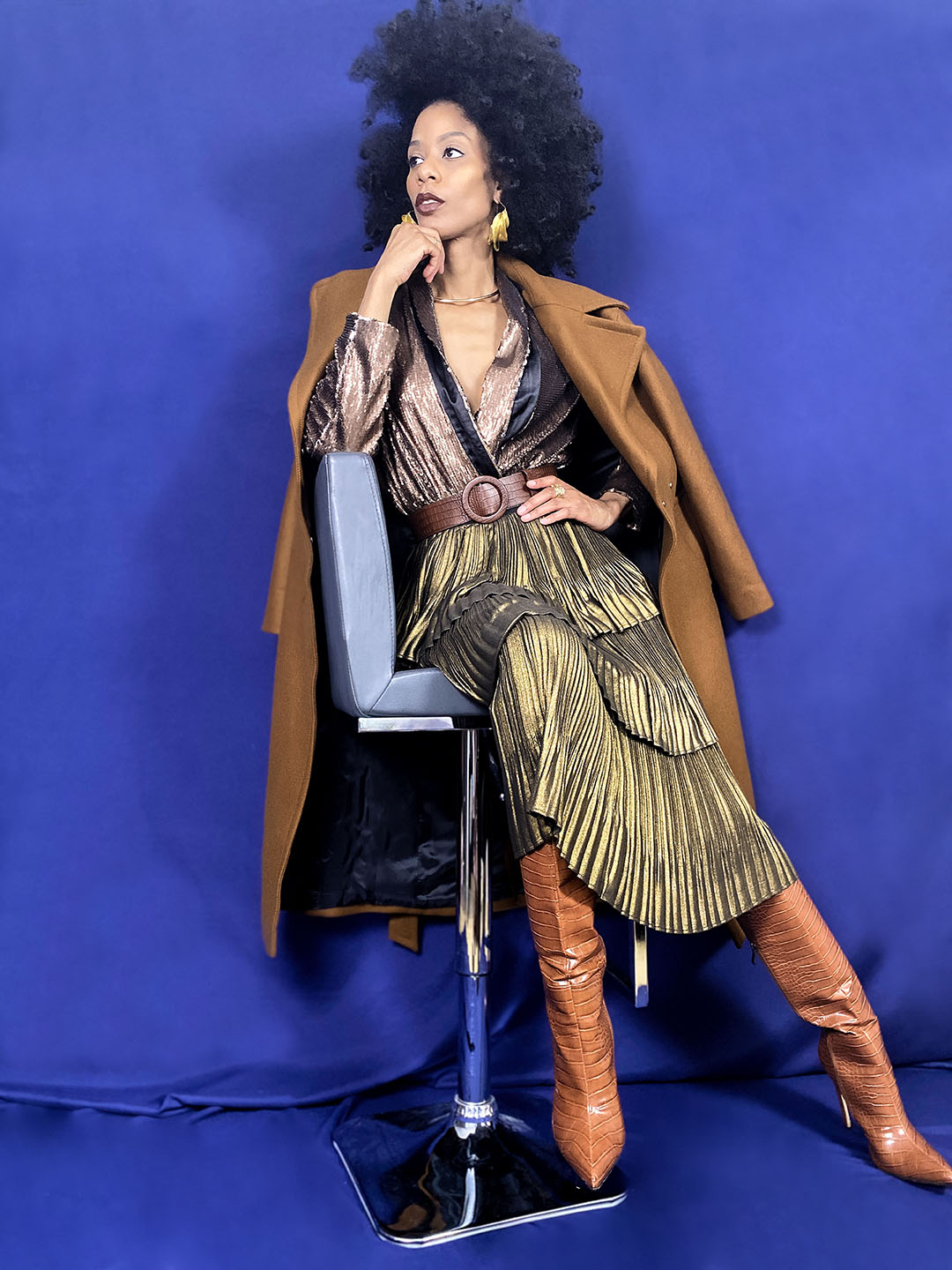 And that's the long & short of it!
Gail & Leslie xoxo