Welcome to our three part series on monochromatic and tone-on-tone looks! We know we often like to bring you some print mixing and colour blocking, but we wanted to switch it up on y'all and focus on how you can get maximum impact with monochromatics!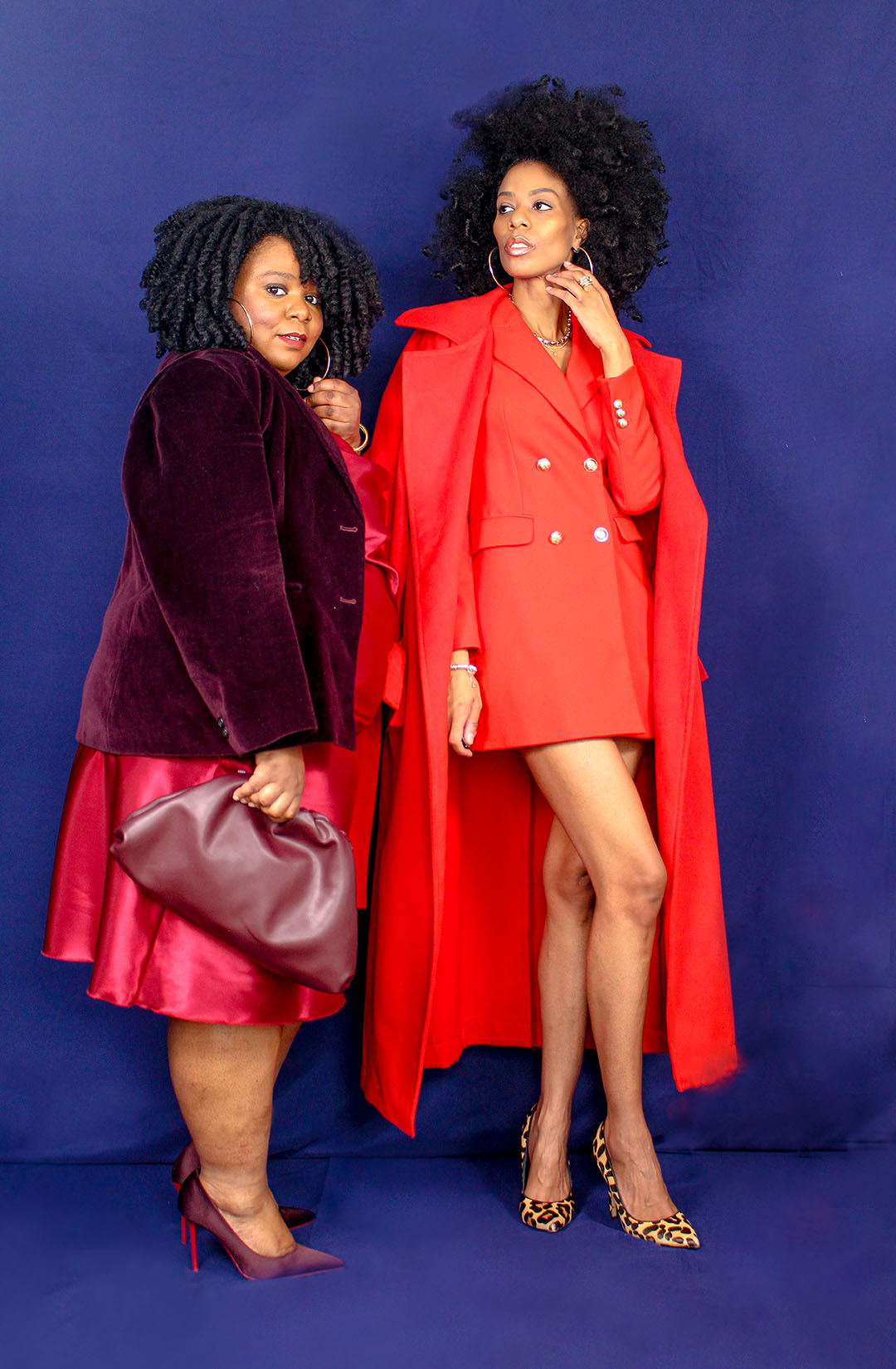 Gail – The Lady in Red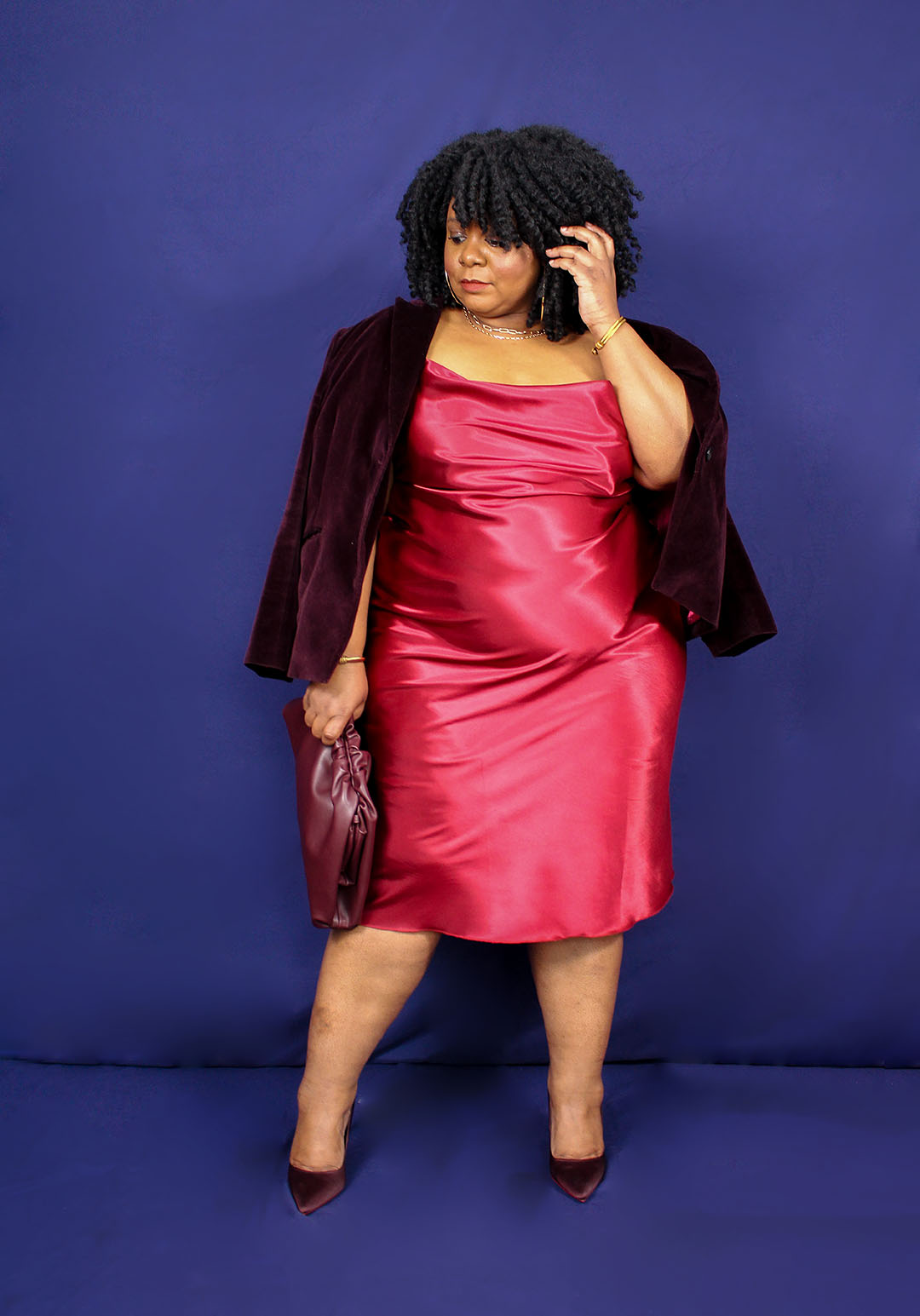 Red slip dress: Aliexpress (sold out) similar here // Jacket: Sumissura // Shoes (old) similar here //
For my straight size sisters: Dress // Jacket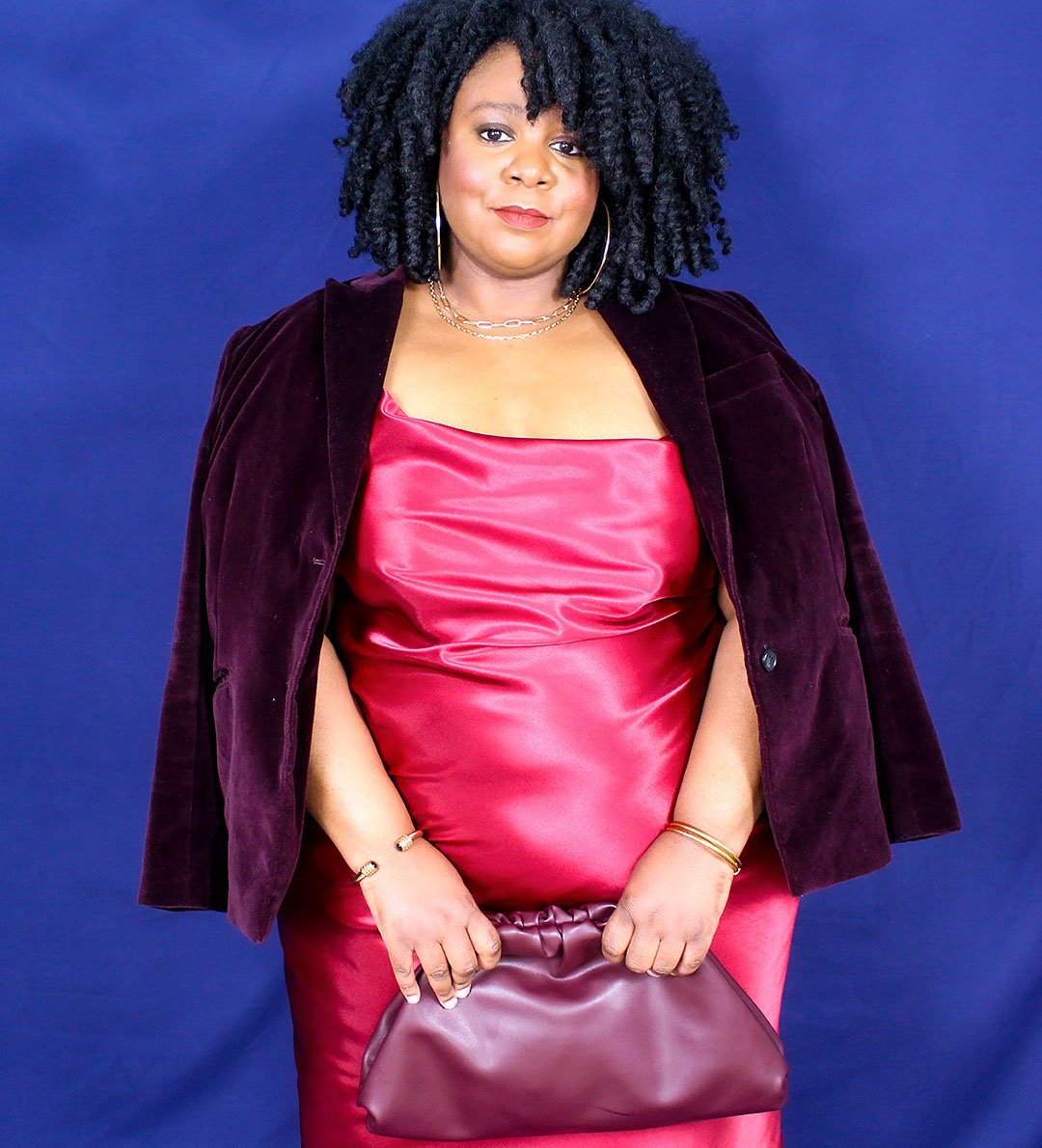 Red is my FAVOURITE colour. It's my power colour. When I put on red outfit, internally, I'm like, "World get a load of me!" LOL Actually, I consulted that wonder of wonders that contains all knowledge…and by that I mean Google and according to Mr. Google the colour red,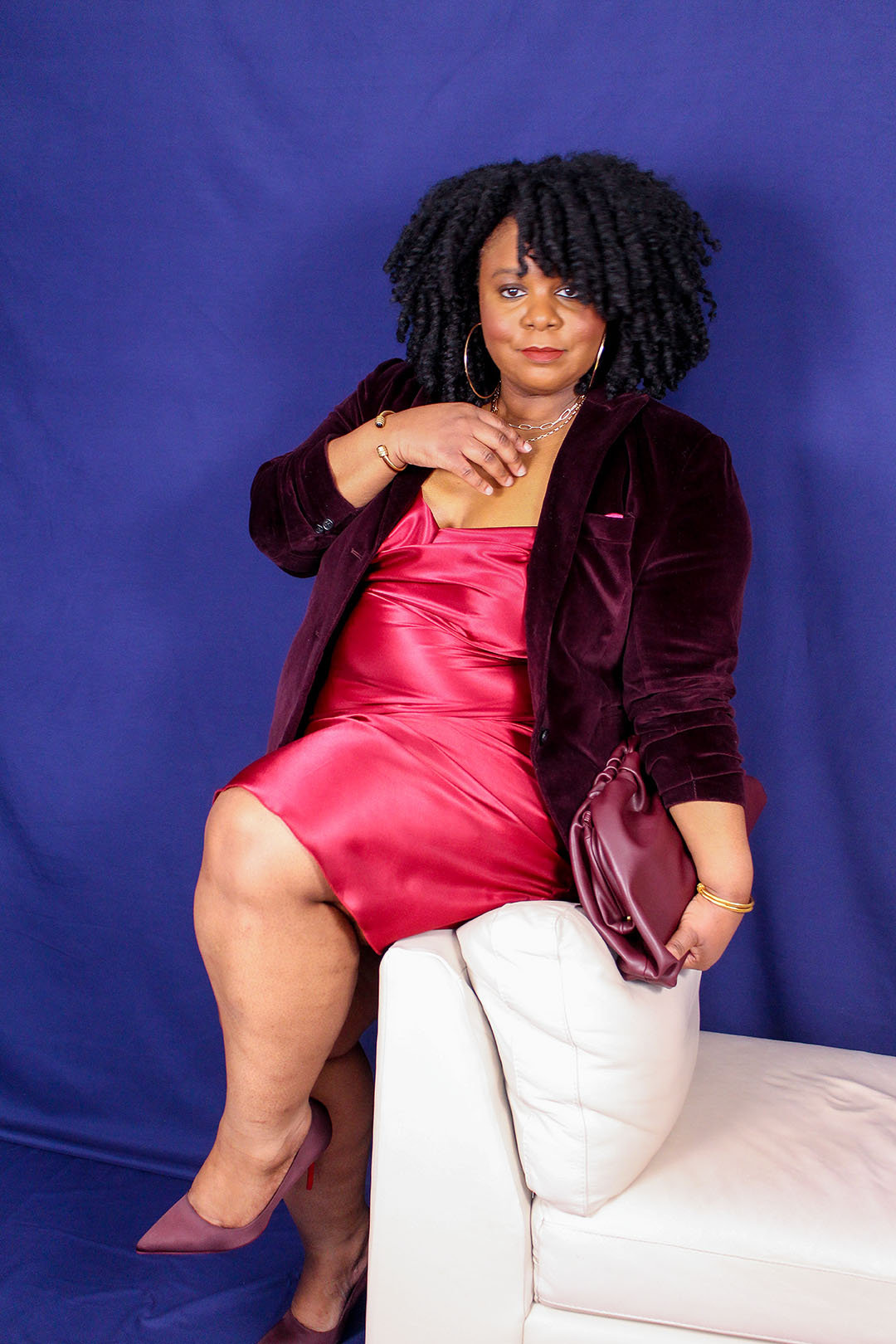 "…has a range of symbolic meanings, including life, health, vigor, war, courage, anger, love and religious fervor. The common thread is that all these require passion, and the "life force" that drives passion blood is red".
Now a head to toe one colour look need not be boring. Playing with different textures really make it all more interesting and fun. I love the play between the structured velvet jacket against soft and feminine satin dress.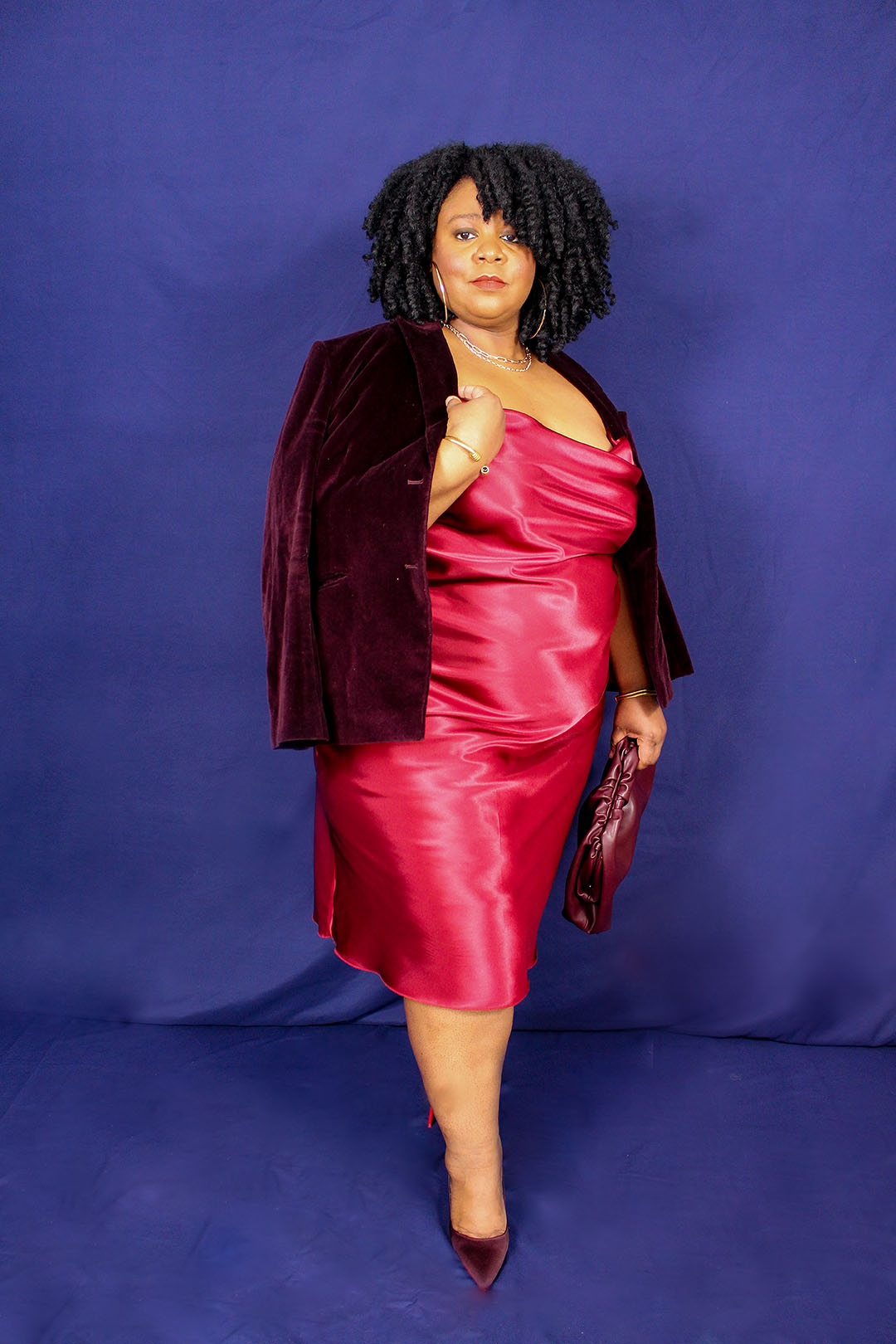 For this look I went with a simple red slip dress and red velvet blazer. When we FINALLY get out of lockdown I'll be dashing on this cute look – trust!!! Lol
This dress, which I got in a size 3XL, features a cowl neckline with adjustable spaghetti straps. I love that it just skims of over my body so beautifully. The quality of the fabric feels so luxurious too. I completed my look by adding gold accessories and a burgundy clutch.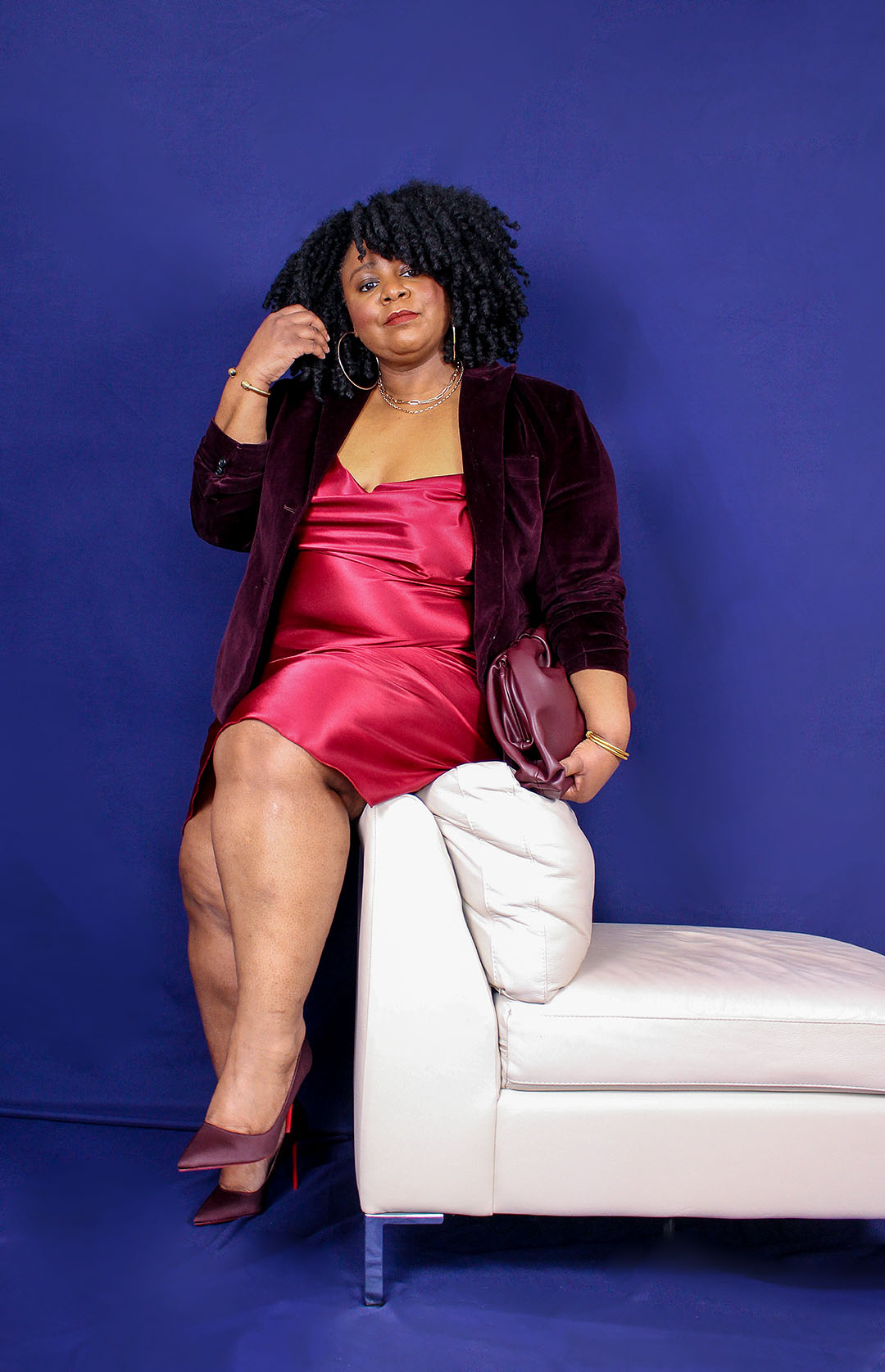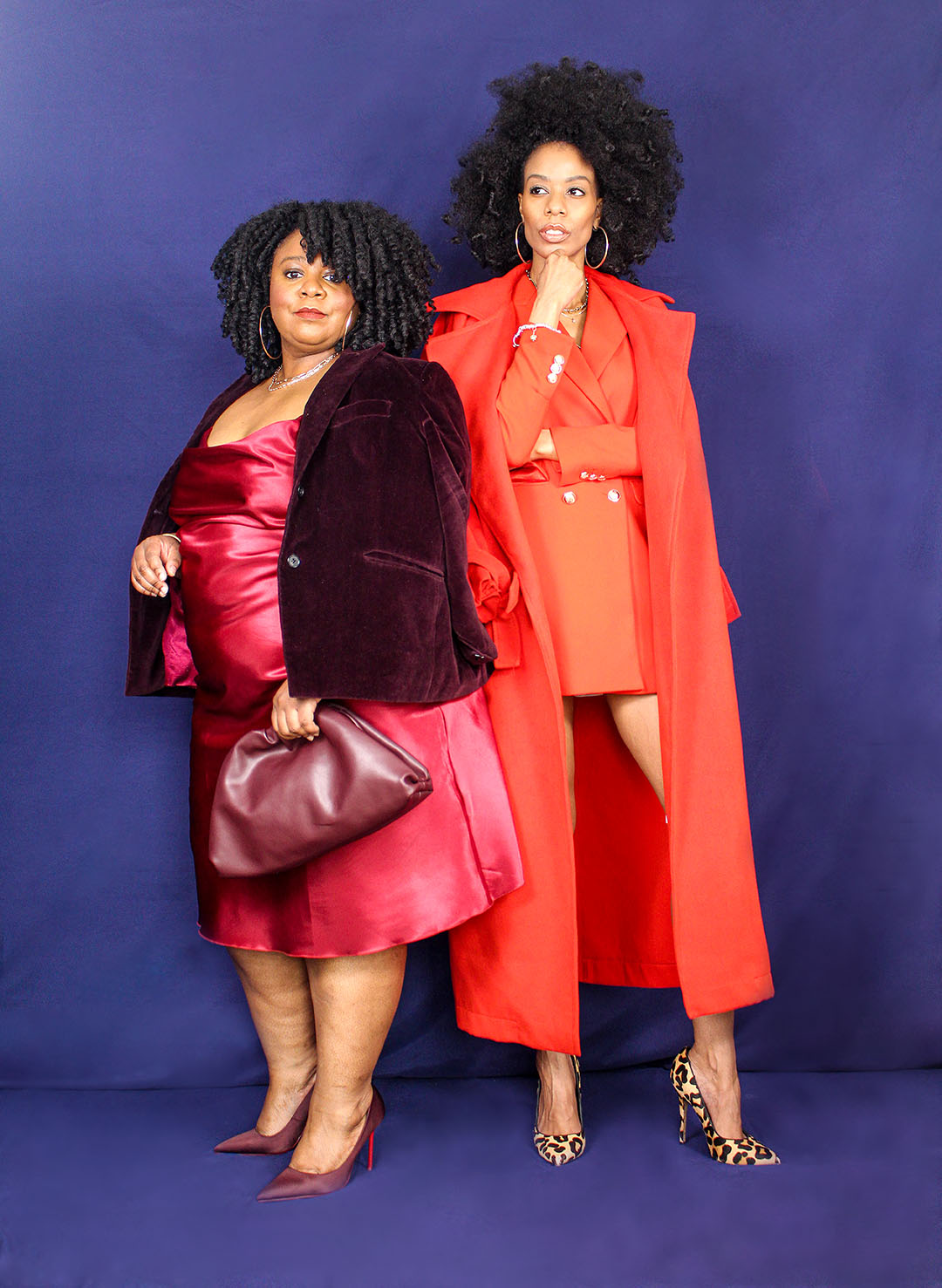 Leslie's Fire Engine Fierceness!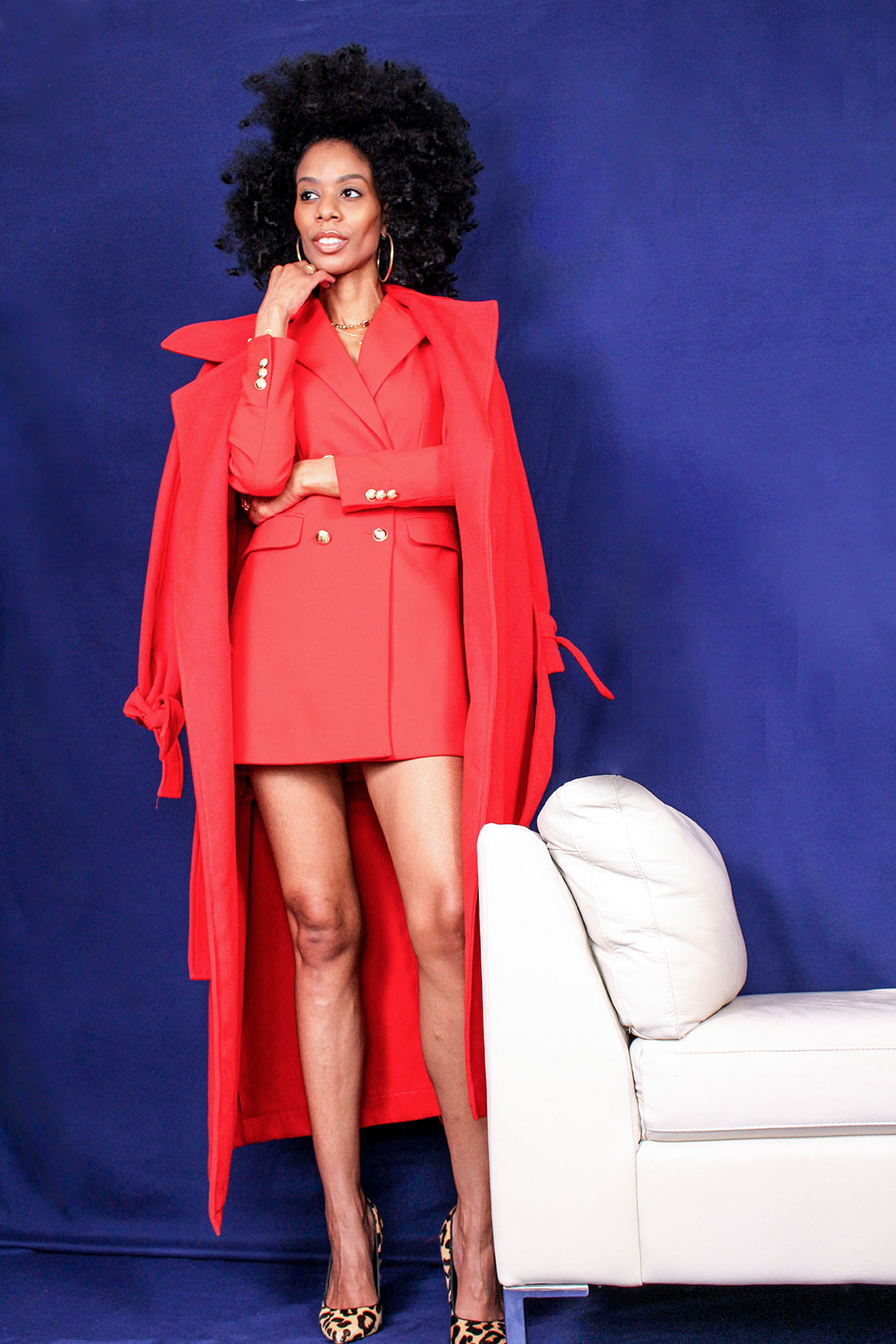 Coat: Kyna Collection (old, similar here, here) // Blazer: Zara (old, similar here) // Shoes: Office (old, similar here) //
For my plus size beauties: Coat, Coat // Blazer //
You will not often find me wearing the colour red. But when I do wear this spicy colour, I go all the way! It's about that big impact you can get with monochromatic looks y'all and I'm here for it!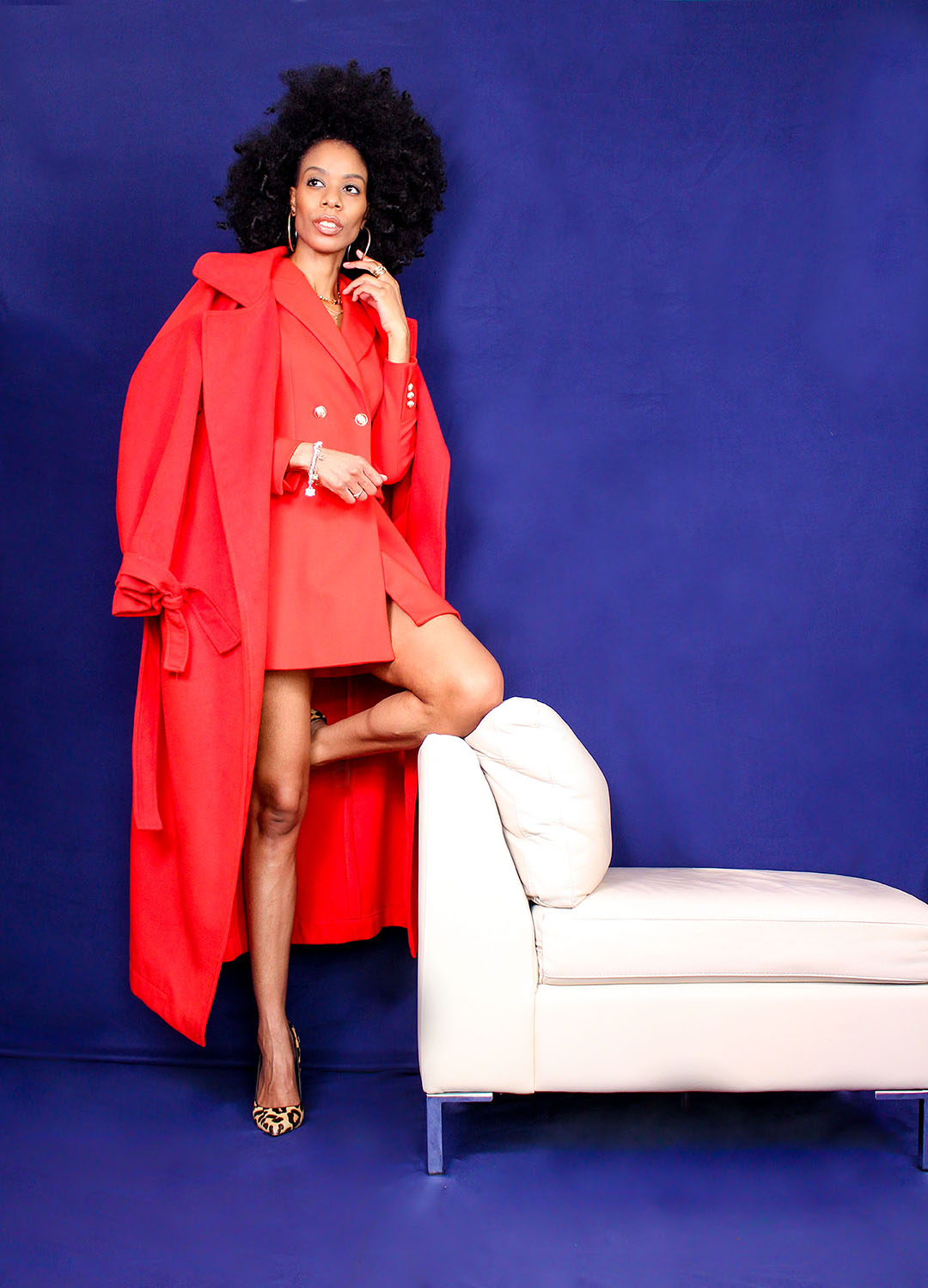 If you've been along with us in our fashion journey, you'll know that I love me a hot print or bold colour combos. But there is something to be said for a striking colour all on its own that can make such a dramatic impact. And whether it's a graphic print or a beautiful colour, I'm always about the big impact!
Suits are my thing, so no real surprise that a blazer dress would be a piece that I am drawn to. Why you may ask? I love that it pulls a look together with just one piece. Whether it be a blazer with jeans and a cute T, or a blazer dress, that one piece pulls the look together effortlessly, and who doesn't like effortless fashion!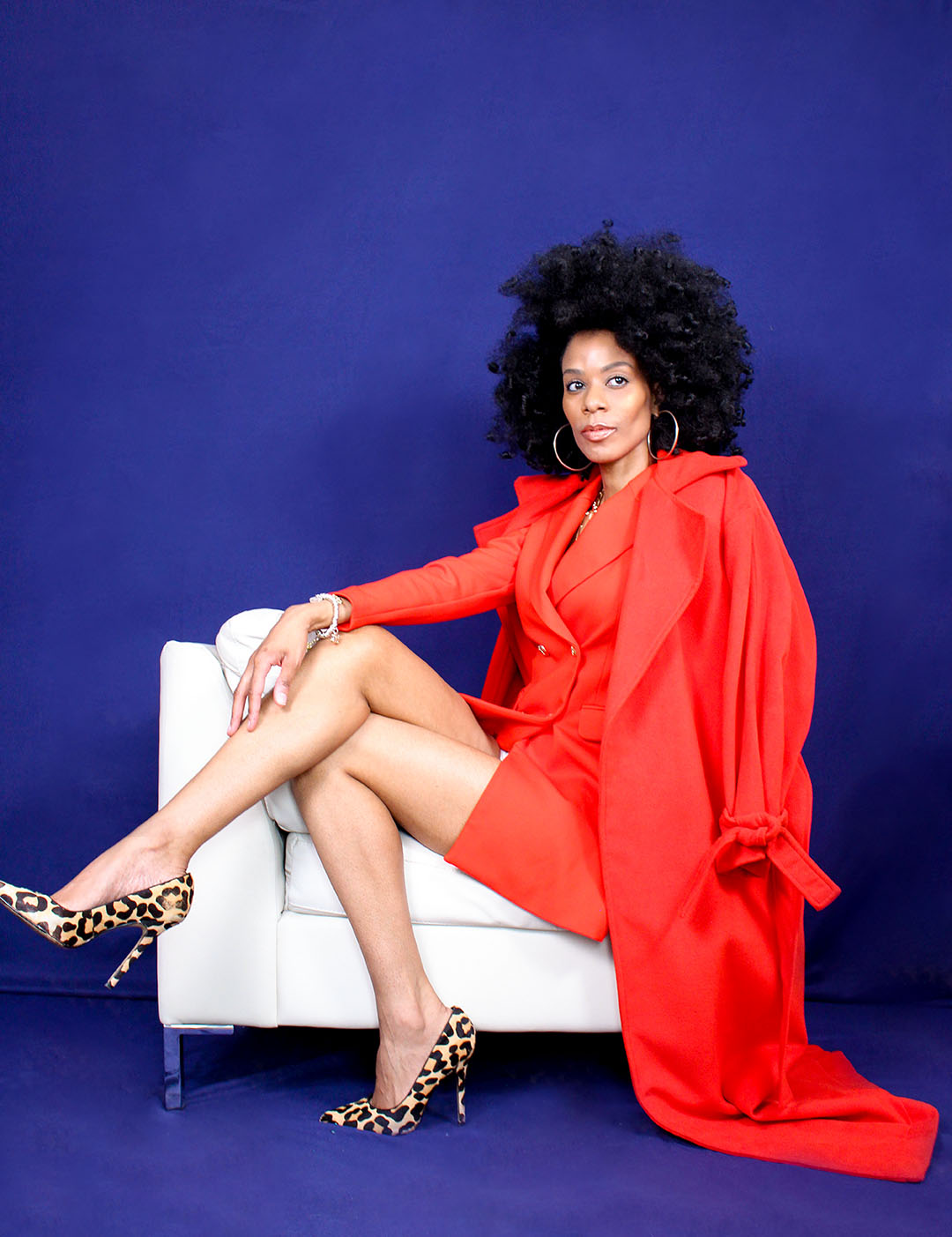 My other huge obsession (my list seems to be getting quite long), is a great coat. Y'all, you need to run out to the store in your pajamas? Throw on a cute coat! You got a hole in the butt of those pants, but you just need to run a quick errand? Throw on a cute coat! You don't feel like putting on a bra to go grab the kids at school? Throw on a cute coat! As you can see, a cute coat can cover a myriad of sins, and no one will ever be the wiser!
Over the years, I've found that coats are one of the best investment pieces in my wardrobe. You can rock them season after season and they can be the look; making you look like you are a true fashionista when you might just be trying to hide the stain on your pants (no, I'm not ashamed to say I've done that!lol)!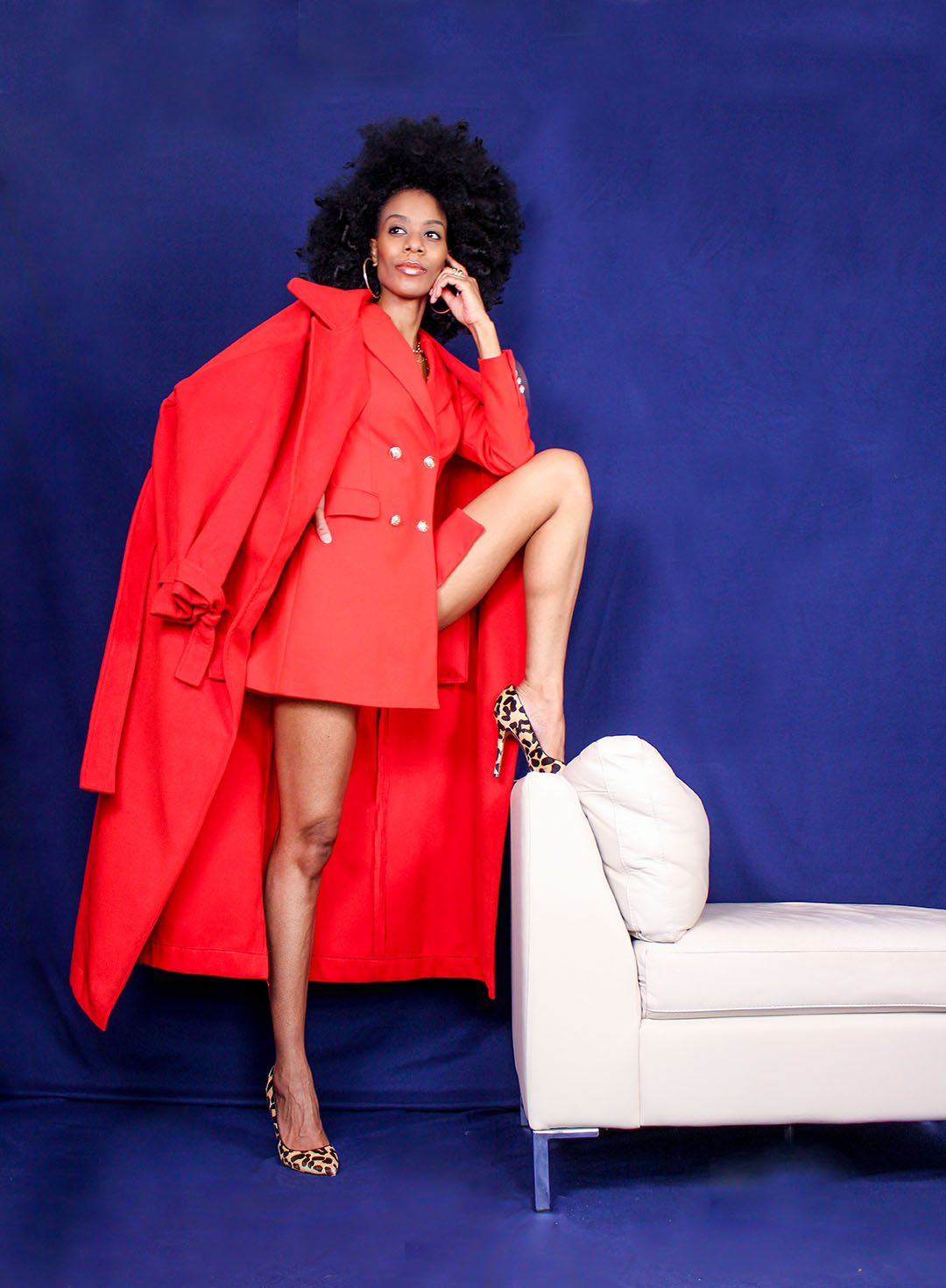 Now, sizing is where it can get a bit tricky for us women. We've got boobs to consider, long arms, height etc. For me, it's all about getting my shoulder and arms to fit as best as possible as, while I LOVE tailoring my pieces to fit, I don't typically have my coats tailored. One thing I often look for is if the coat has a belt or if I would be able to belt it. This helps me get the fit I need in the shoulders and arms and just cinching it to fit my waistline.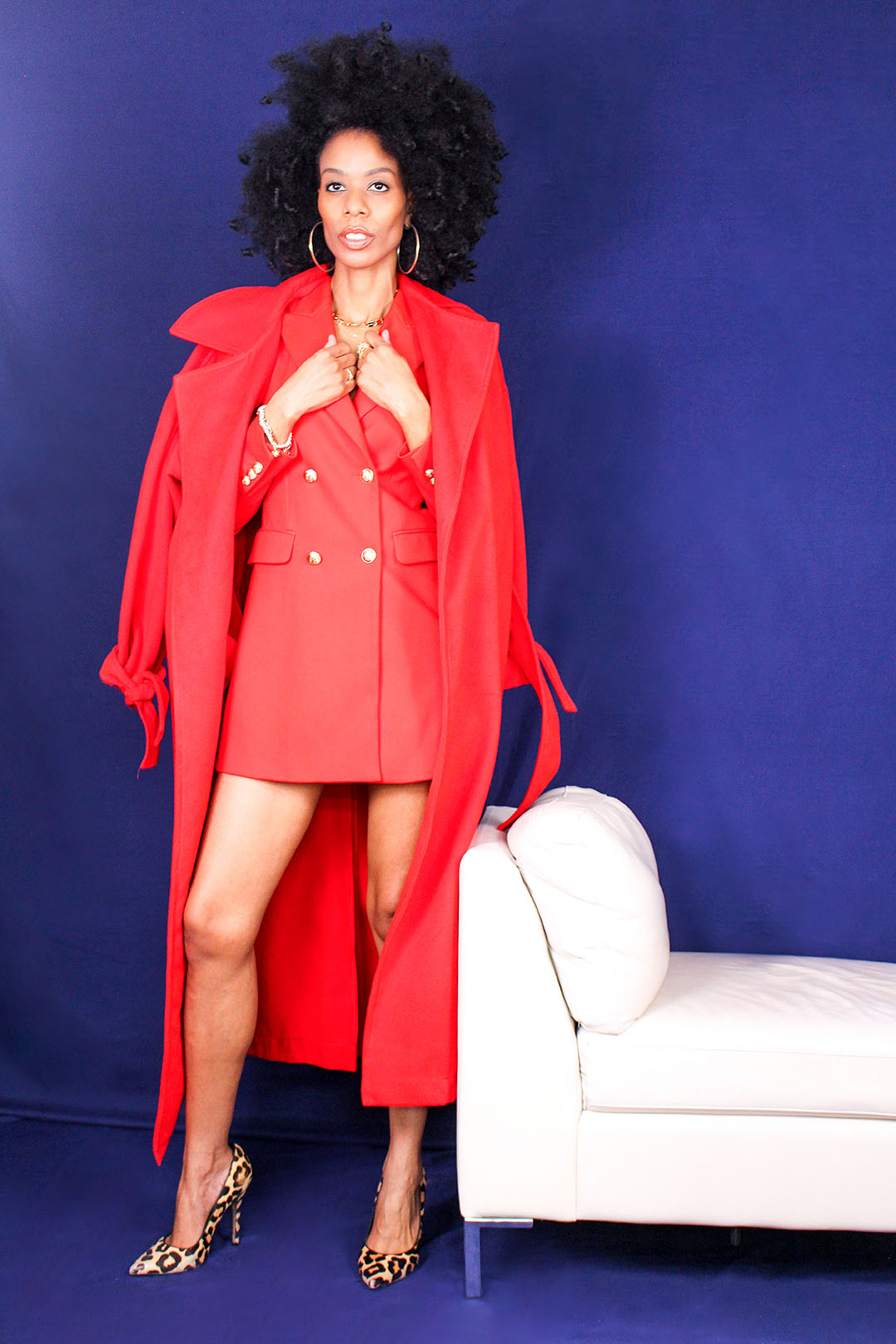 Alternatively, the trend these days is for the oversized coat look so needless to say, that is working out for me since, as I have a small frame, coats often naturally look oversized on me!
All in all, for those of you out there that want to look cute, but don't want the hassle of mixing prints, or colour blocking etcetera, etcetera, a cute monochromatic look in a bold colour could be the secret to your fashion success! Add this to your repertoire and make a splash!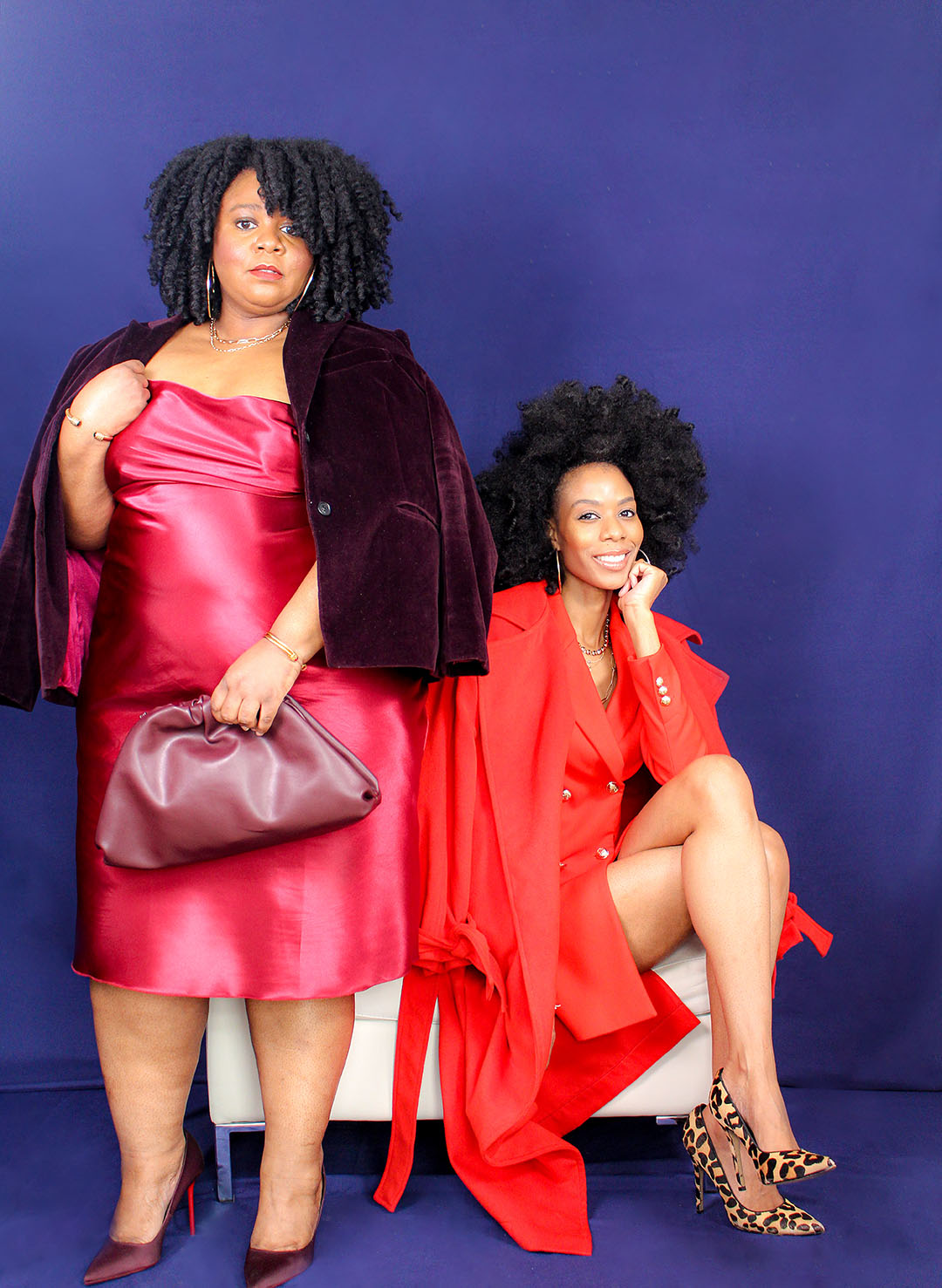 And that's the long & short of it!
Gail & Leslie xoxo
Photo credit: Roseline Bonheur