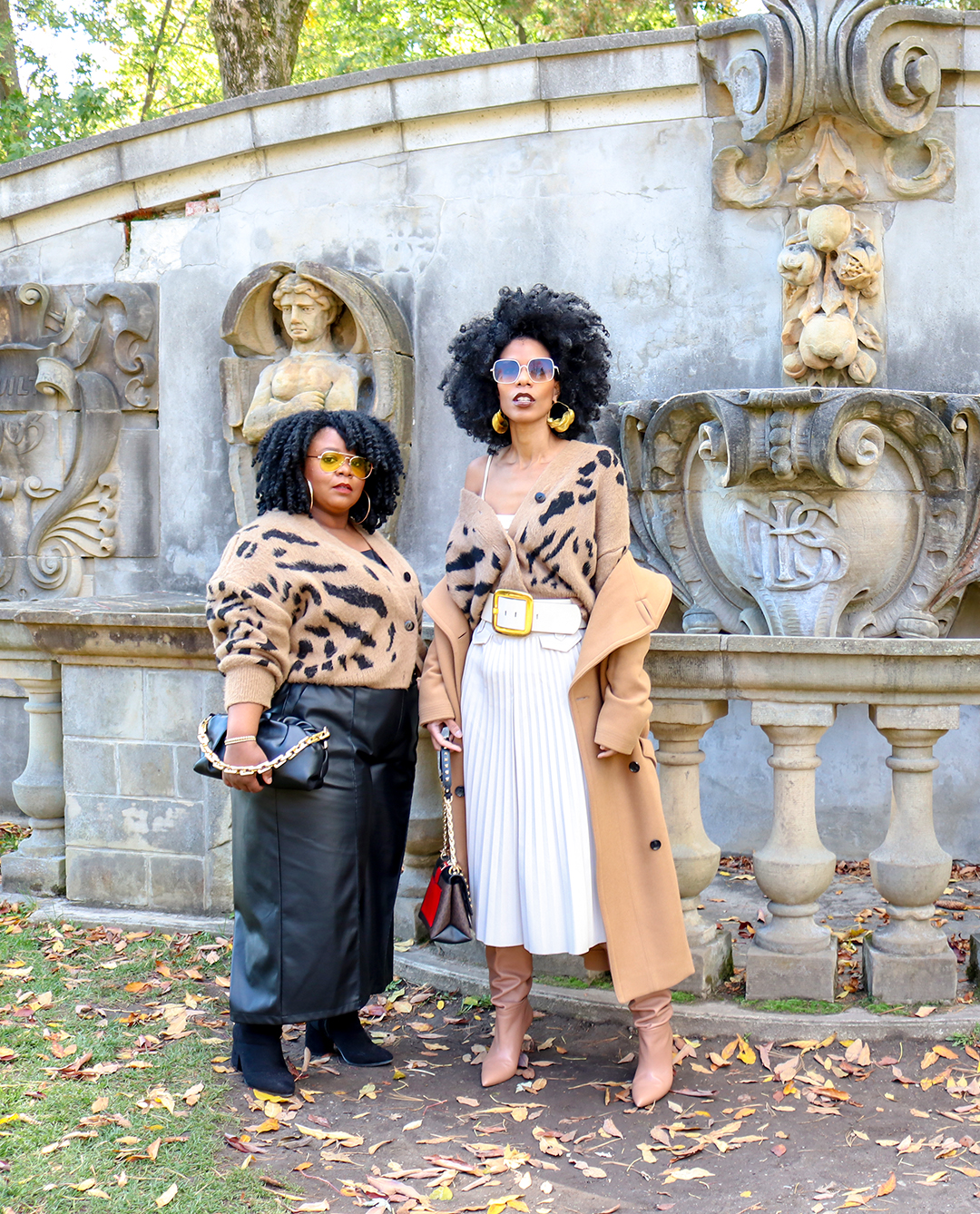 As the cool crisp air of fall blows it signals that its sweater weather and time to reach for your fave knitwear. Follow along with us as we keep it cute while keeping the cold breezes at bay.
Leslie's Zeal for Zebra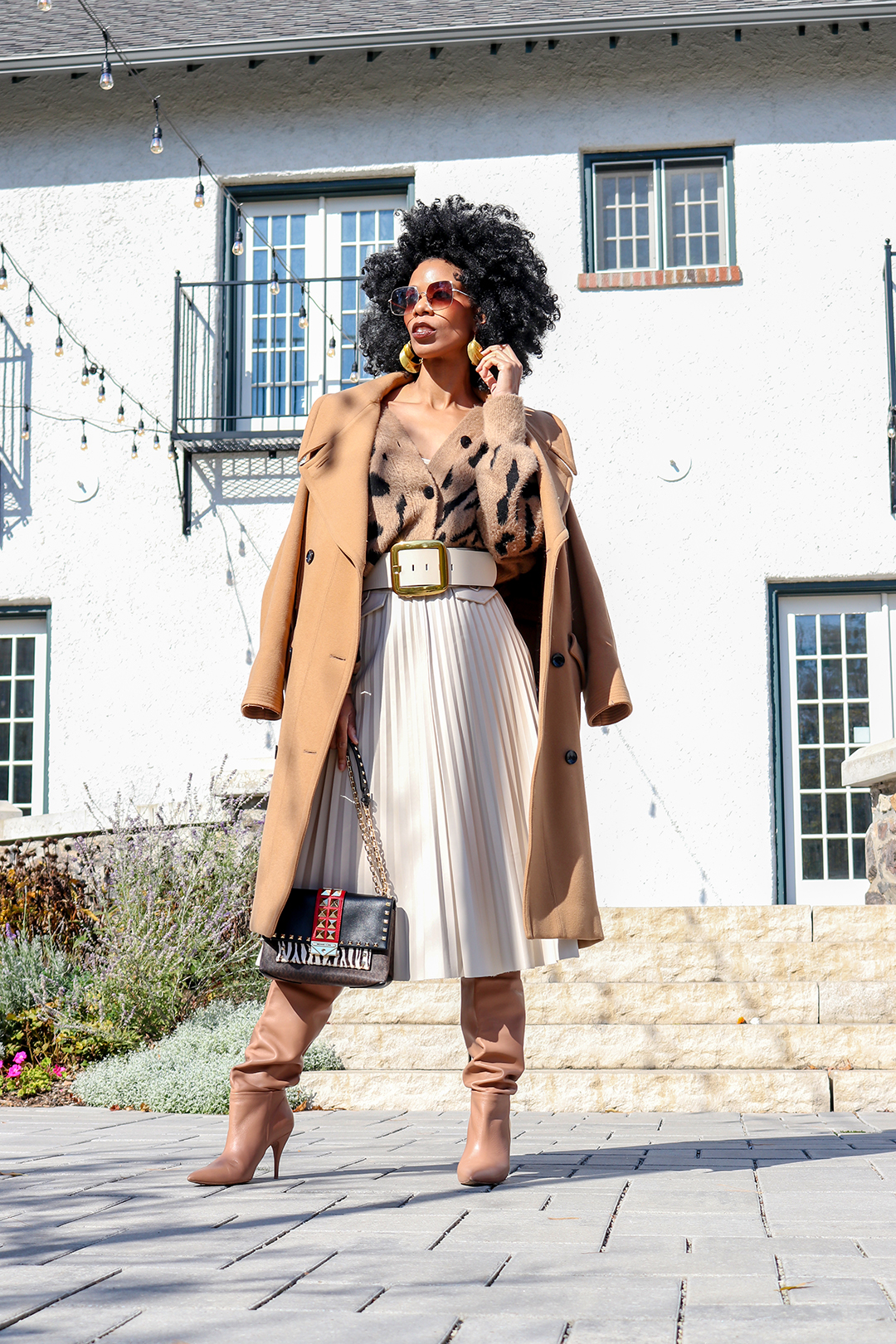 Sweater: Hudson's Bay (old, similar here, here) // Coat: H&M (old, similar here) // Cami: Walmart (old, similar here) // Skirt: River Island (old, similar here, here, here) // Boots: Zara (old, similar here, here) // Belt: Zara // Purse: Michael Kors (old, similar here) //
For my gorgeous plus size sisters: Sweater, Sweater // Coat // Cami // Skirt, Skirt // Belt //
I love feeling comfortable in everything I wear, and this pandemic has only strengthened this feeling in me! So whether I'm lounging at home or going out for a night on the town (remember when we used to be able to do that ) either way, I wana be comfy. This look is all about bringing the comfy to my cute!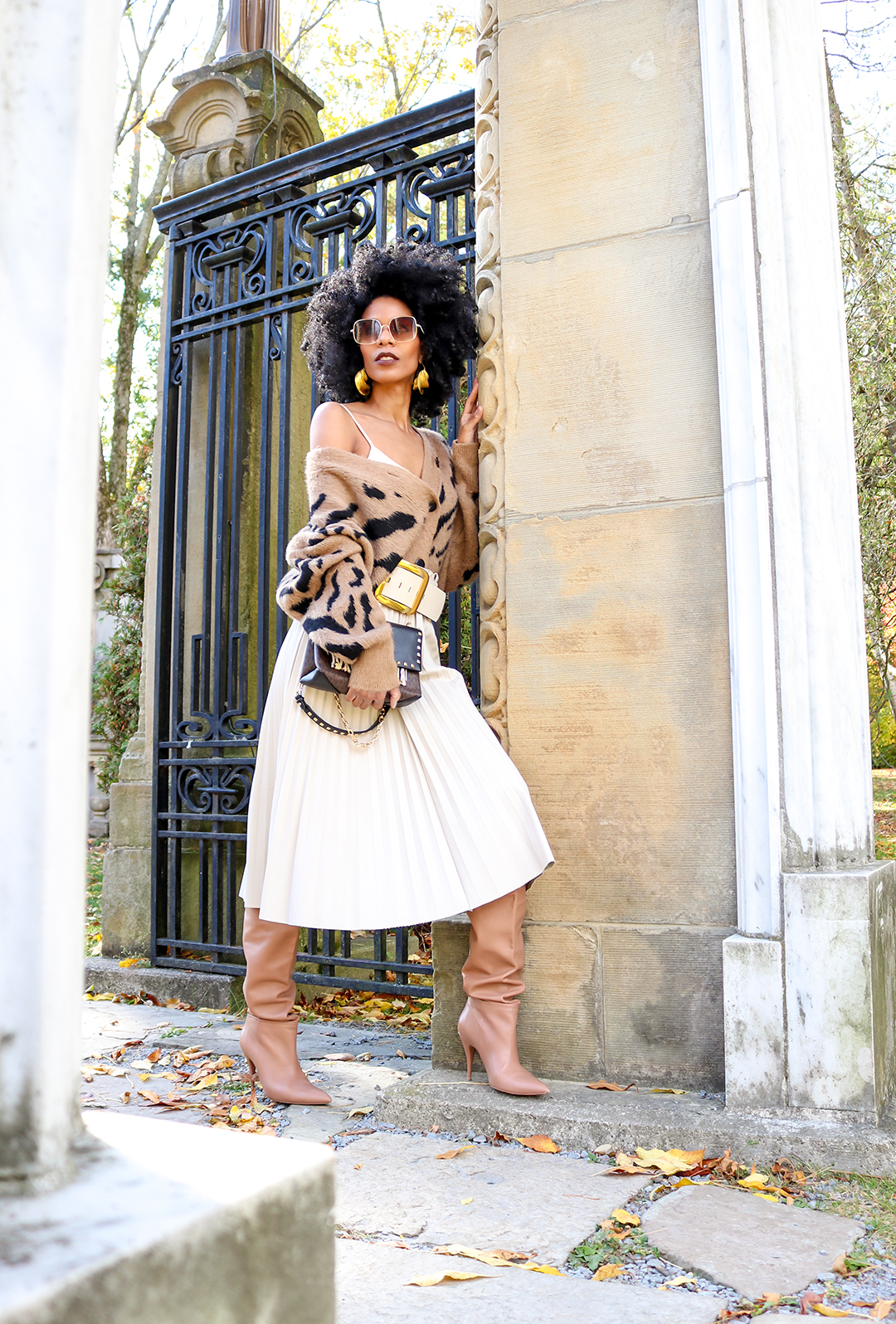 This sweater that we scooped up from TopShop at Hudson's Bay is so soft I can literally fall asleep in it. I purposely bought it 2 sizes too big so that I would have that oversized look. This would also ensure that the sleeves would be more than long enough as well! And don't get me started on how much I love the animal print!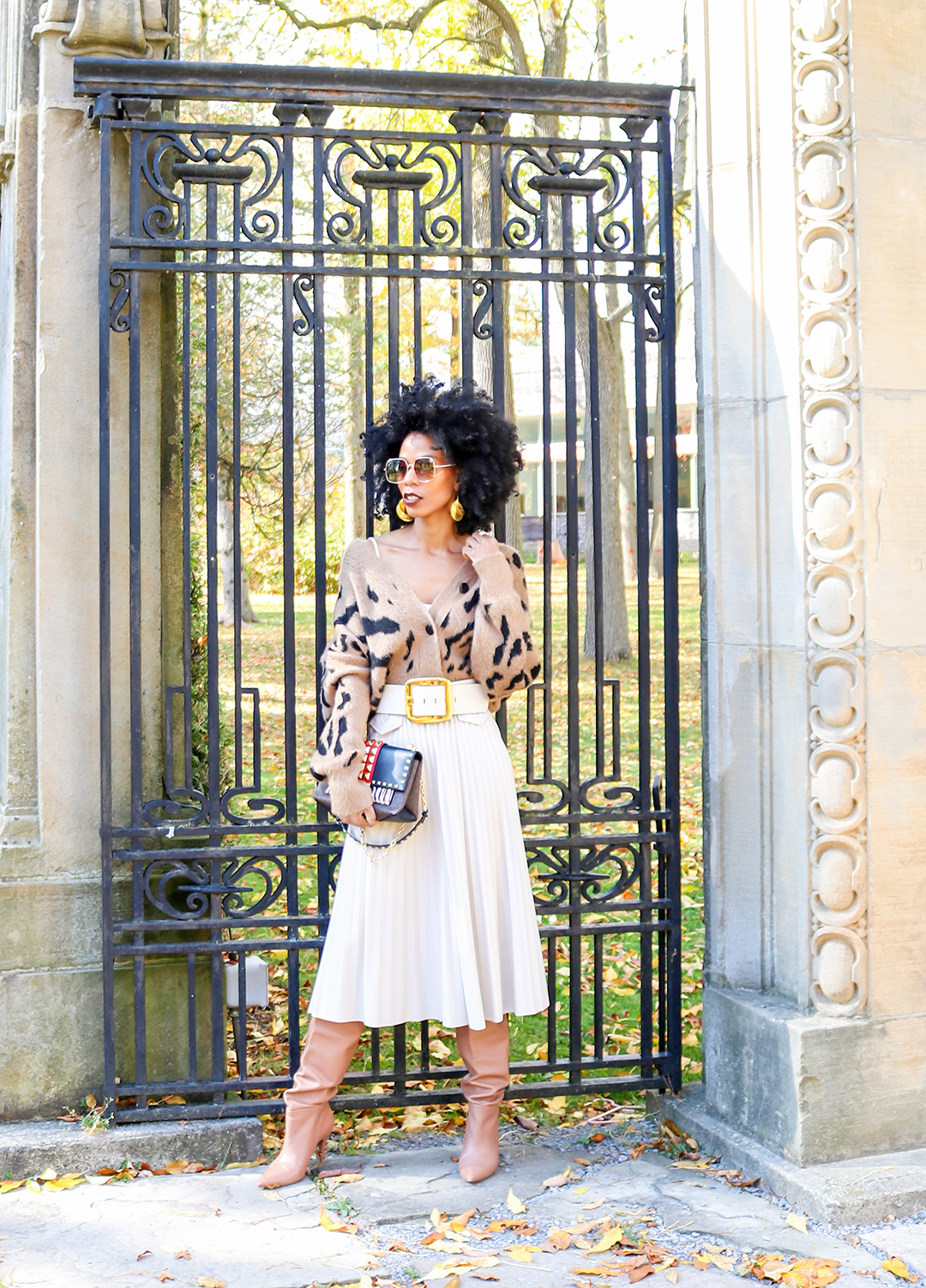 Animal prints have never really gone out of fashion. When I watch movies from the 40's, 60's, 80's and now, an animal print often makes an appearance. My mama always says, everything comes back in fashion (whether you want it to or not!LOL) and from what I have seen, it's true. This cardigan with its beige and brown zebra print is on trend and easy to pair with jeans and sneakers or, in my case, a faux leather pleated skirt.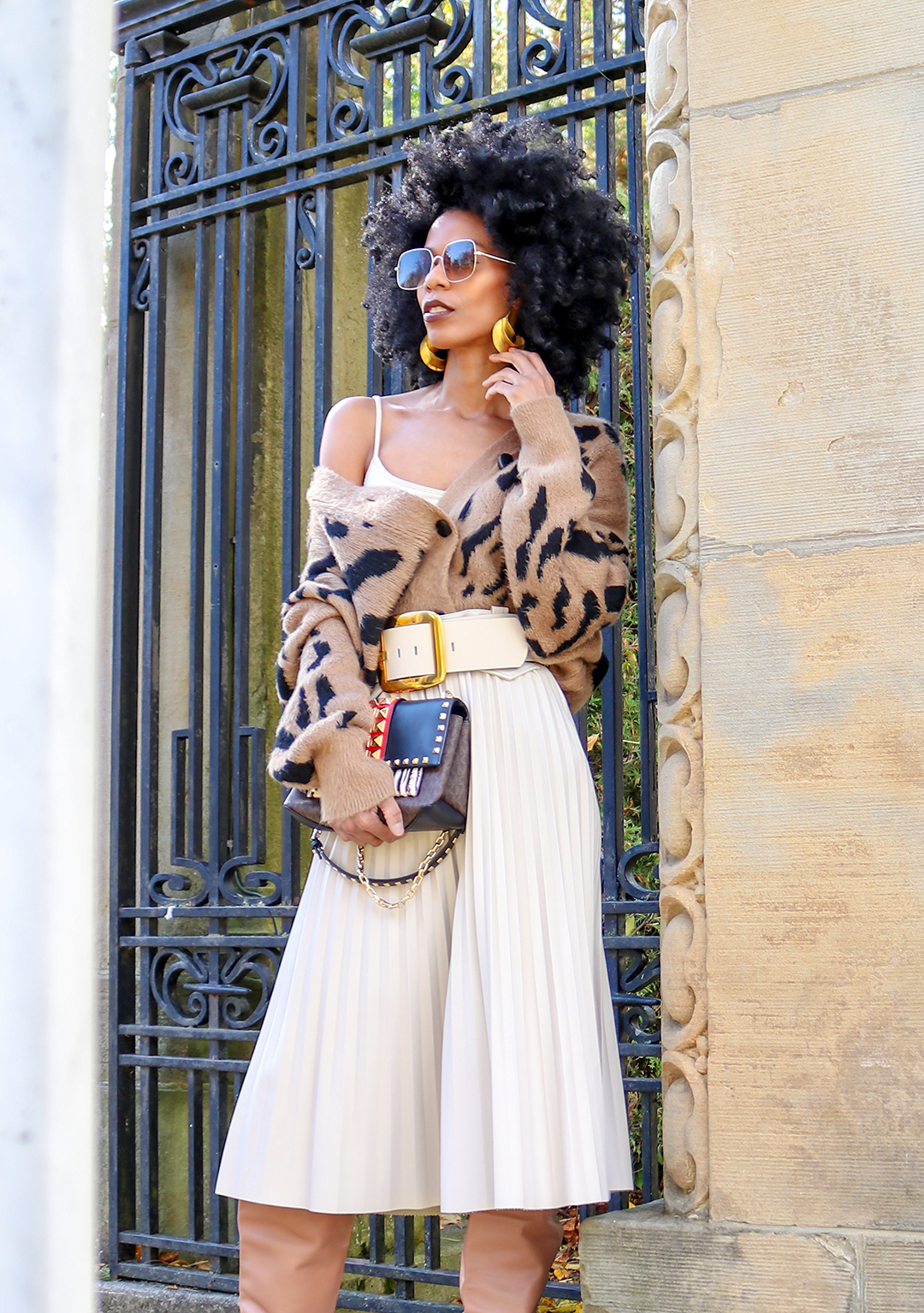 Continuing my theme of comfort, this skirt being pleated allows me to be free, free, free! For colder days, I can throw on a pair of jogging pants underneath (and for the record, yes, I have done this) and on warmer fall days, it allows for great air circulation! LOL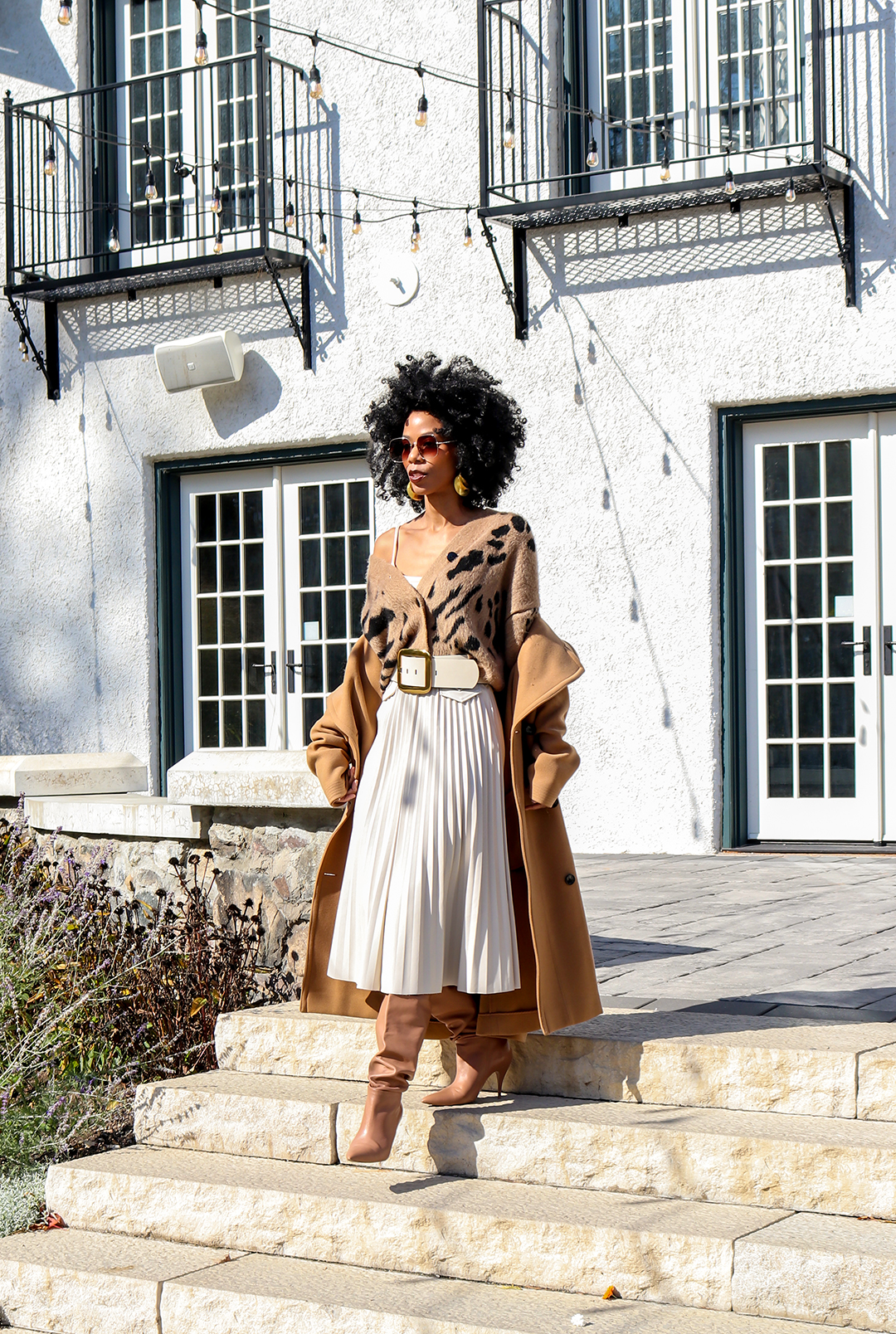 The faux leather means that I don't have to worry too much about this creamy colour getting dirty and it too goes with so many pieces in my wardrobe which is even more important to a lot of us these days!
While I love colour and print, it always pays to have some neutrals in your closet. These boots that I picked up from Zara a couple years a go now are still going strong. The heel height is such that I can happily wear them for a prolonged period, while the style and colour are classic e enough to be fashionable year after year. Investment pieces y'all, that is what I'm about !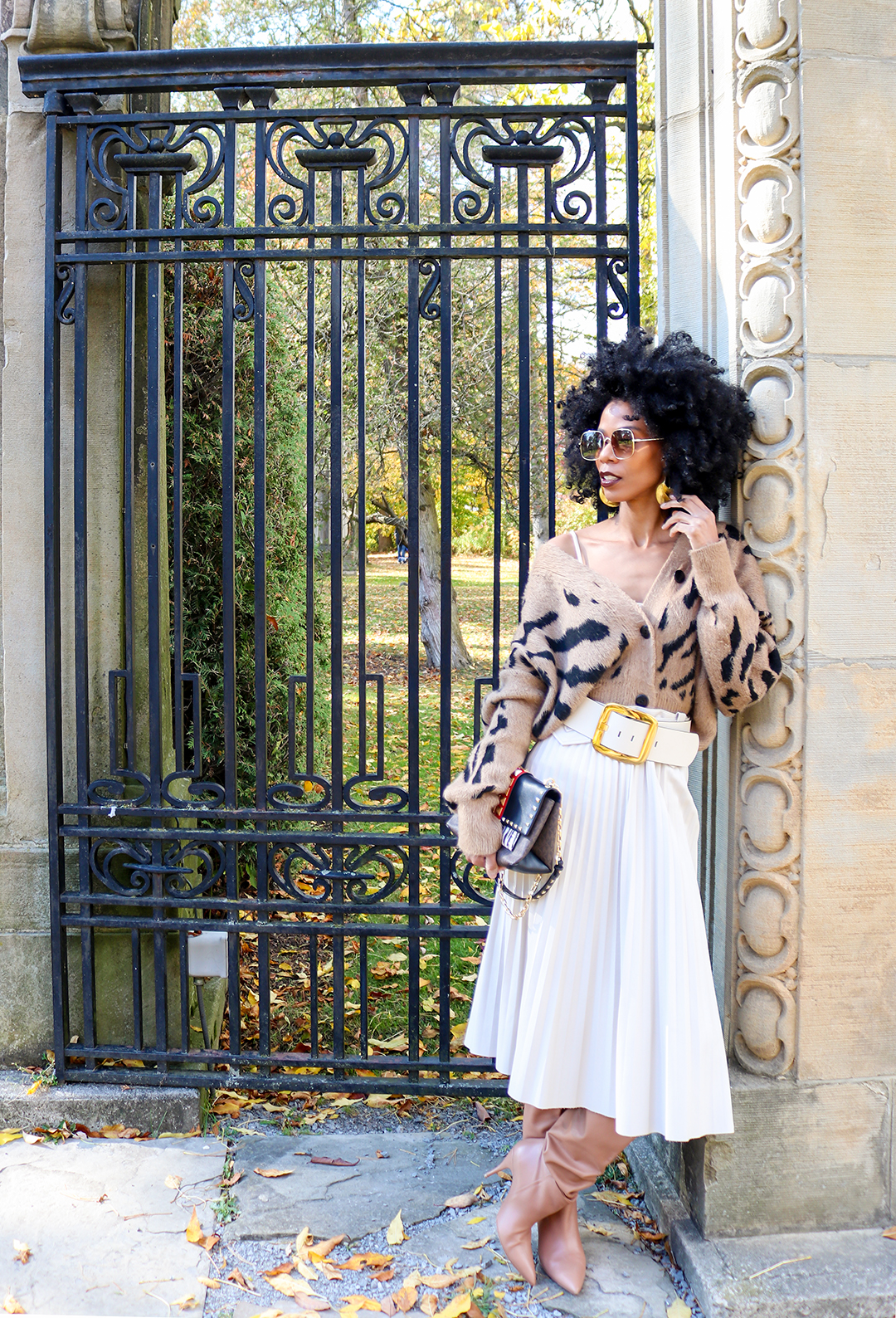 The oversized belt has become my thing – I can't lie, I love it! This one I recently picked up from Zara and I am not disappointed. Because I'm long and lean with minimal curves I am always looking for ways to create that desirable hourglass shape and I've found belts are the simple key to my success! I use them to both shorten the appearance of my long torso as well as highlight my waistline creating the silhouette I'm after.
Comfy, cute, classic, that's what this look is all about!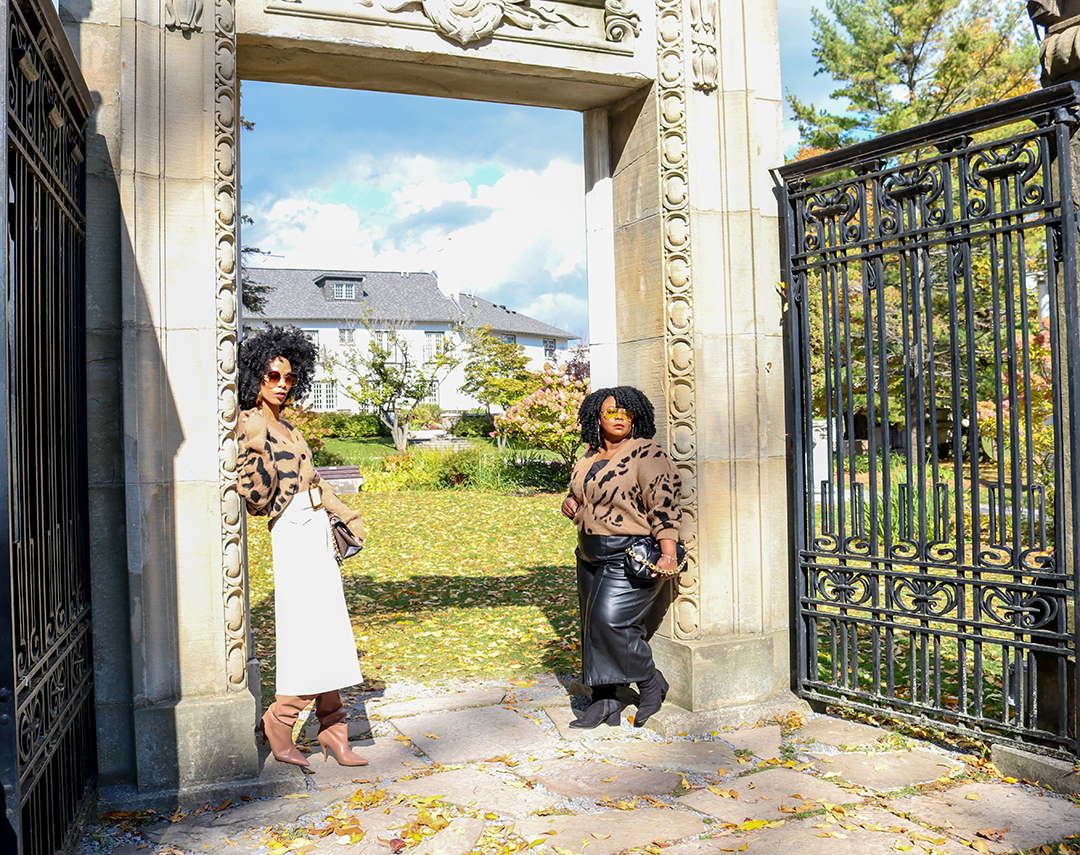 Gail's Graphic Print Goals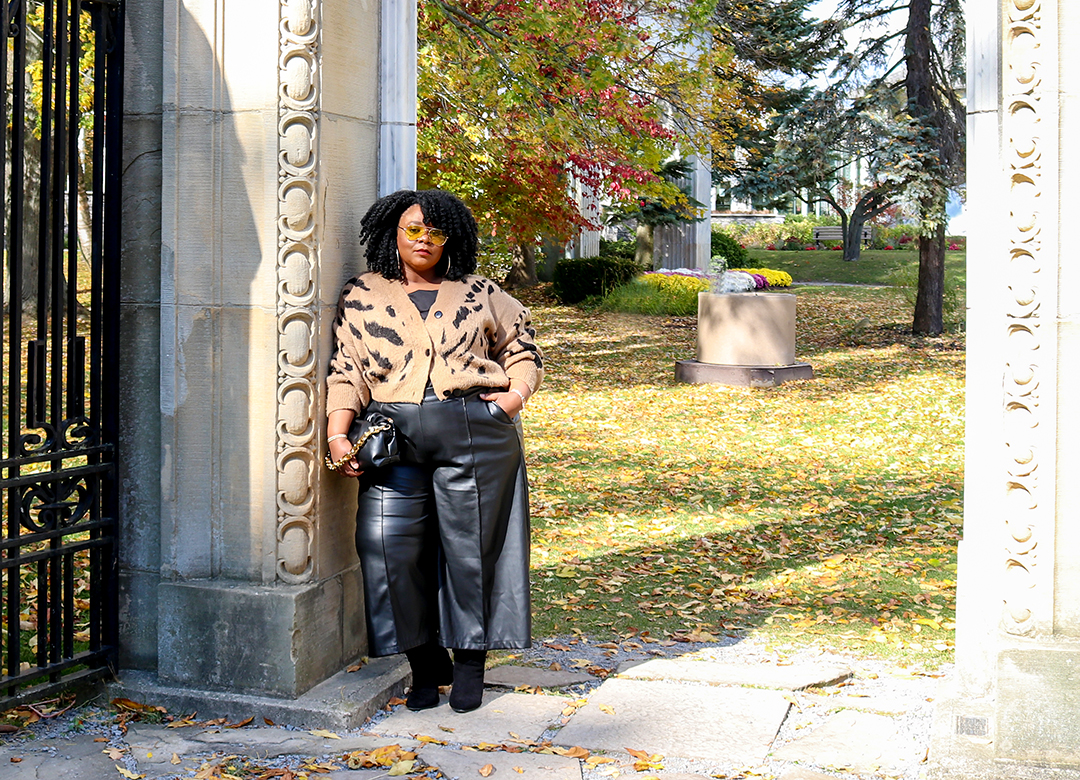 Cardi: Topshop (old) similar here // Tank top: Reitmans (old) similar here //Faux leather pants: Lane Bryant (old) similar here // Wide Calf Faux Suede Boots: Lane Bryant (old) similar here // Handbag: eBay
For my straight size sisters here are some options for you: Cardi (see Leslie's option) // Faux leather pants // Faux Suede Boots
Getting to play with fashion is so much fun. I get to express myself how ever I want to and that is so exciting really. So, putting this look together was so much because it incorporates something that I love so much faux leather pieces. I know the point of this post is about the cardi that Leslie and I are both wearing but it's the faux leather cropped pants for me!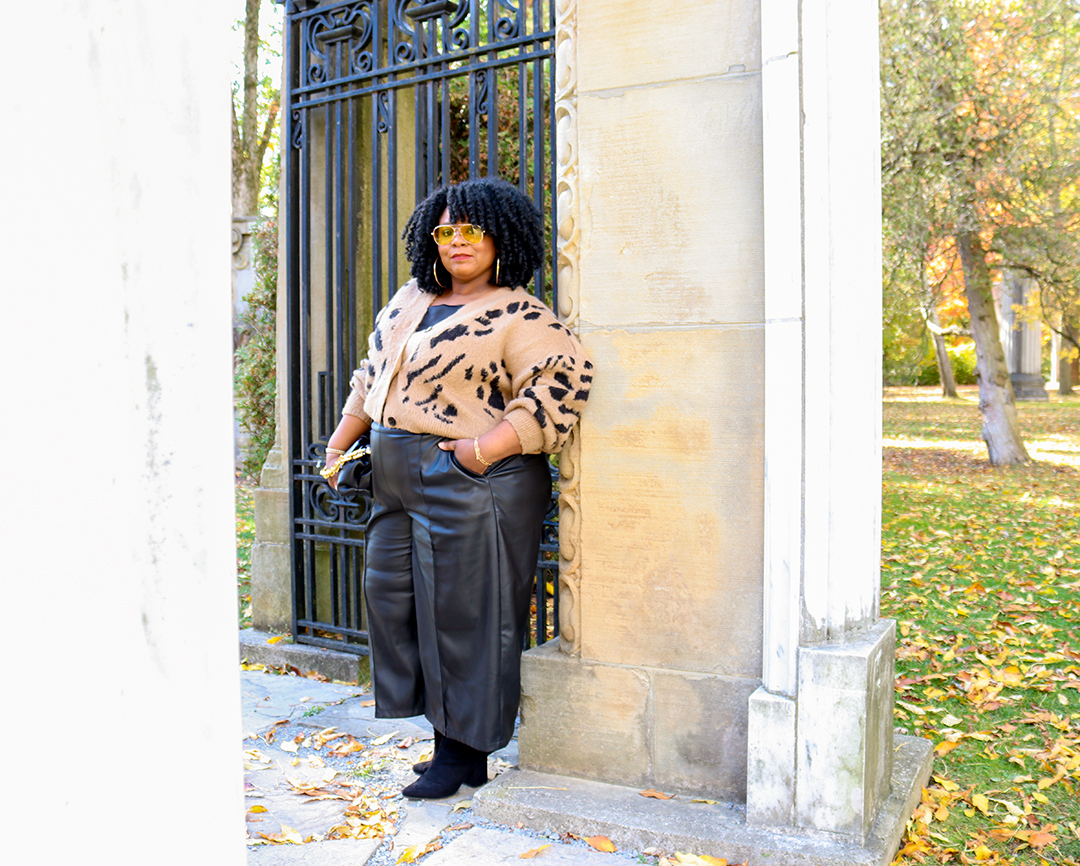 I was traveling with my cousins for our annual icewine festival trip last year when we were free to be outside and travel and what not and I hopped, skipped and jumped into Lane Bryant hereto for referred to as "LB". I saw these faux leather wide leg cropped pants, which were on sale, and I knew I had to try these bad boys on. Now I don't want you to freak out that these pants are wide leg. The flow beautifully and have an edgy quality to them so don't be afraid to step out of your comfort zone.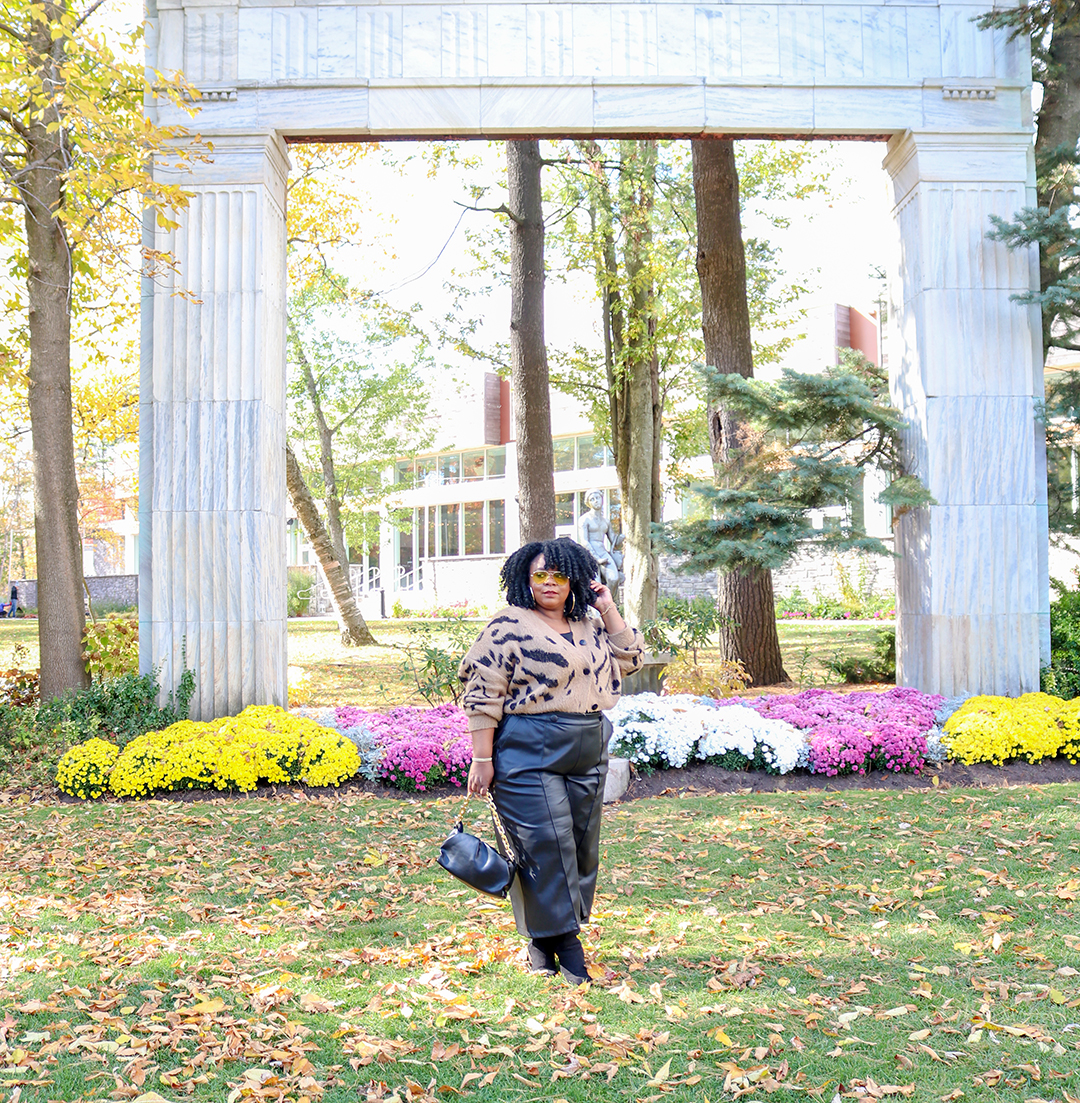 These size 22 cropped pants are a pull on and feature an elasticized waist in the back. There is a cute button details in the front with a seam running down the front. They also have pockets which lie flat so no added bulkiness at the hip.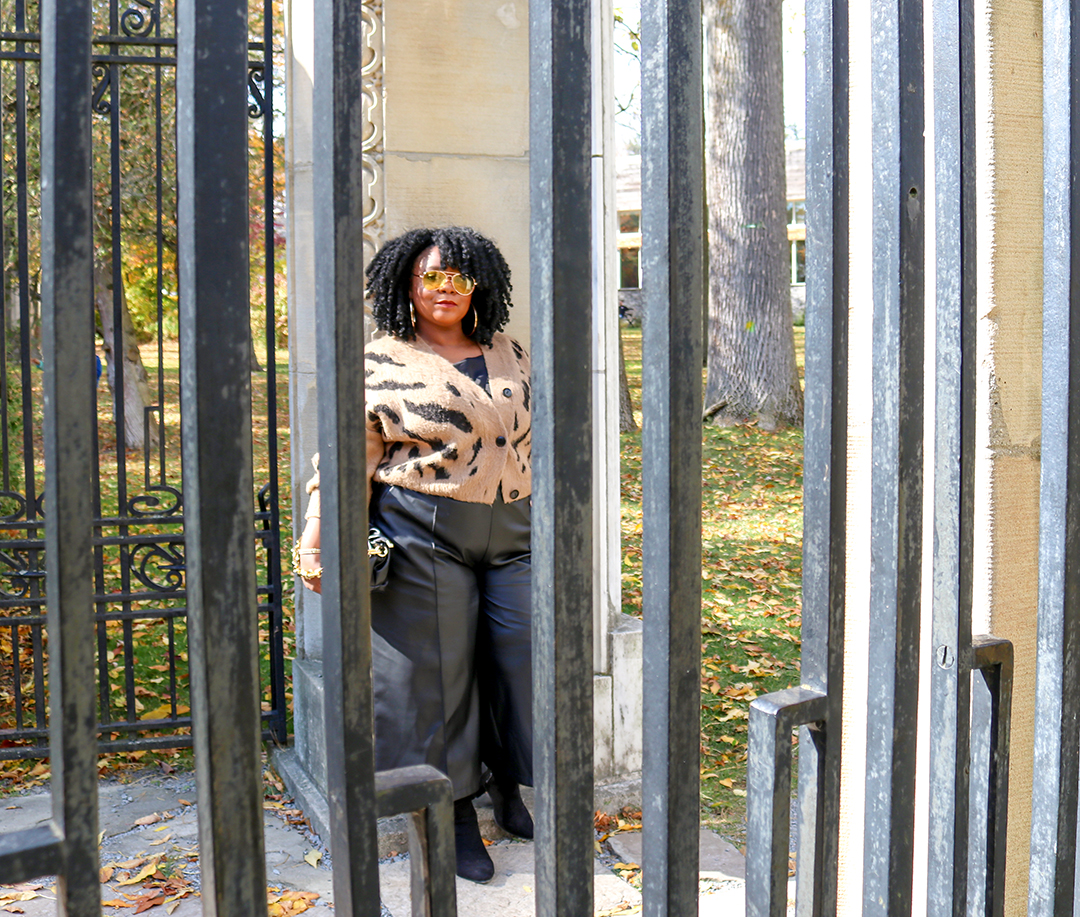 Ok, now for the cardi. So, this lil zebra print gem does not come in plus sizes. Leslie purchased this Topshop cardi in two sizes, medium and large. The cardigan is already rather oversized so she didn't need it in the large size so I thought let me at least try it on before she returns. To my pleasant surprise it fit so, I kindly took it off her hands. So, ladies let that be a lesson to you. Try things on. If they don't fit, no big deal…there is nothing wrong with you PERIOD!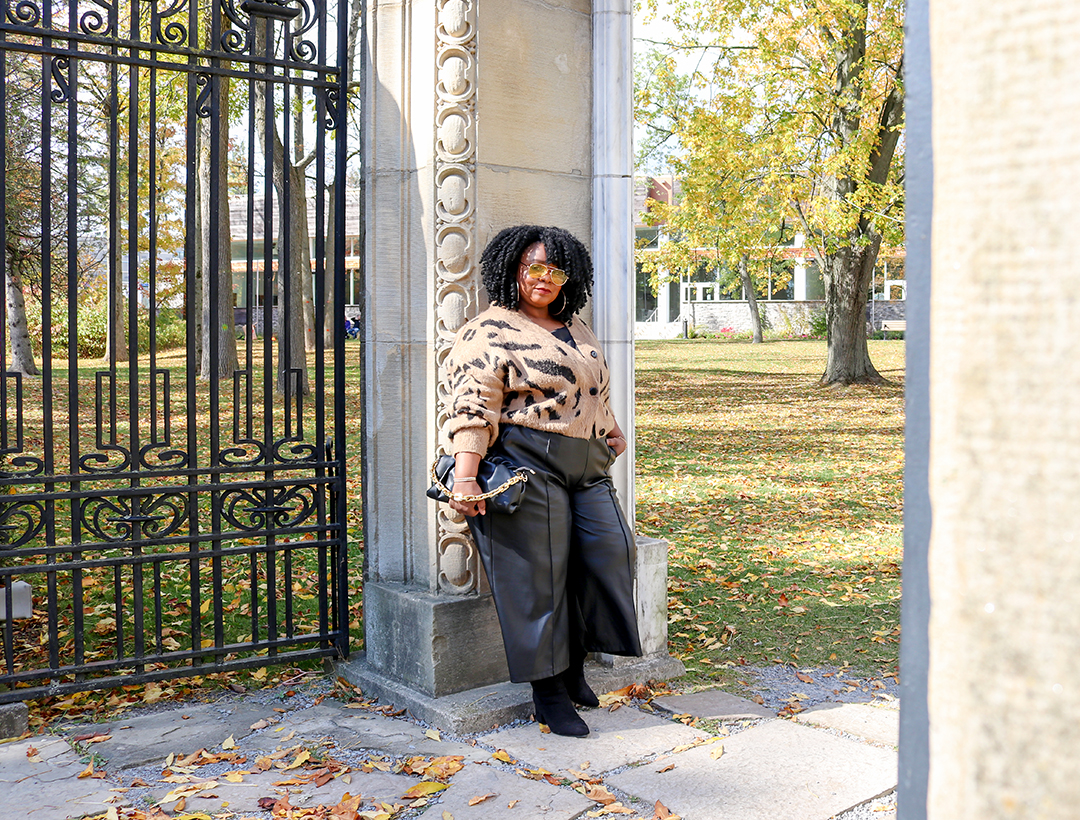 I completed my look with these wide calf from faux suede boots also from LB (they really came through for me!). Now finding wide calf boots has been the bane of my existence.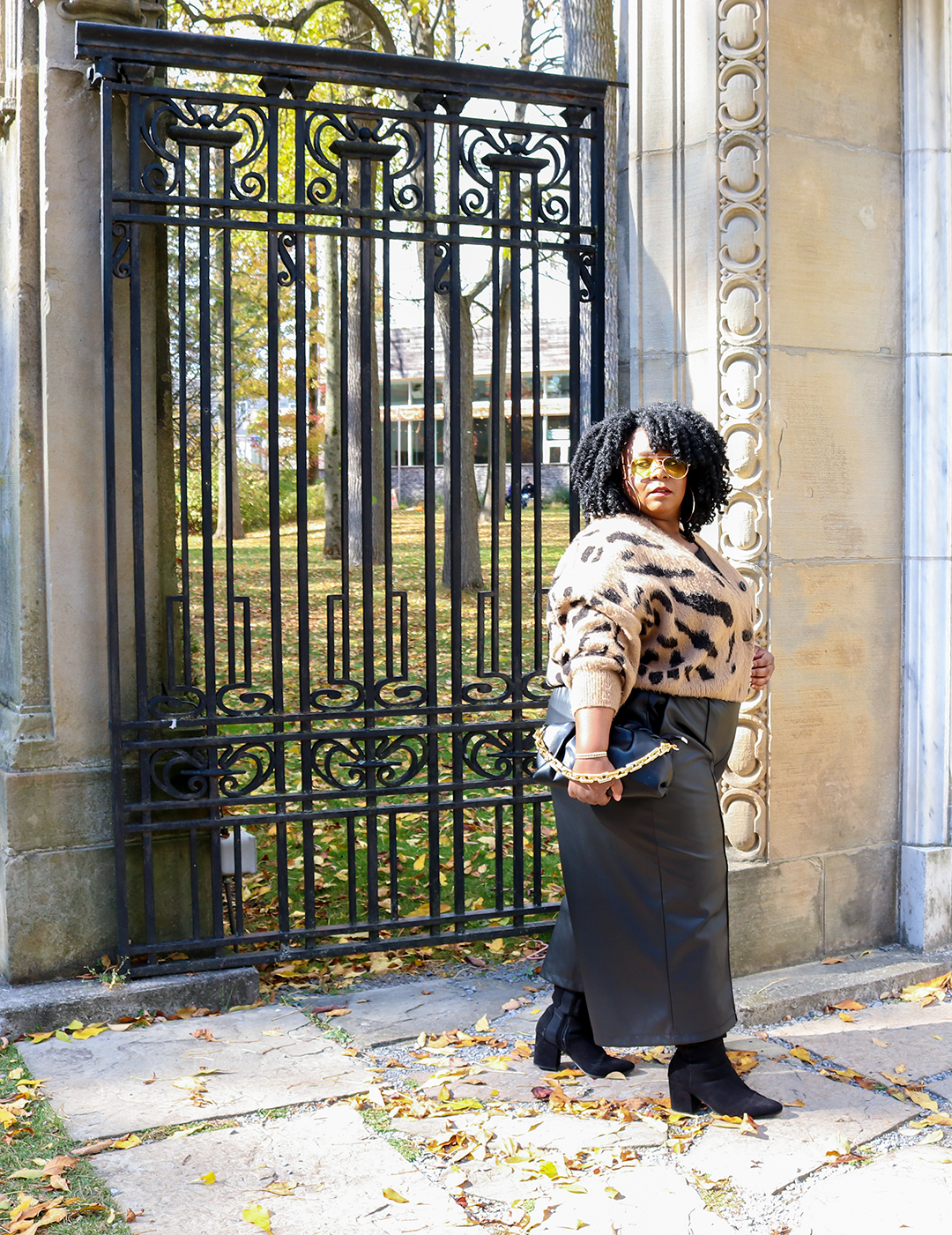 I would find the coolest of cool knee high boots and then have my hopes dashed because the zipper couldn't get past my strong calves. Thankfully things have changed and there are endless wide calf boots options out in the marketplace – AMEN! lol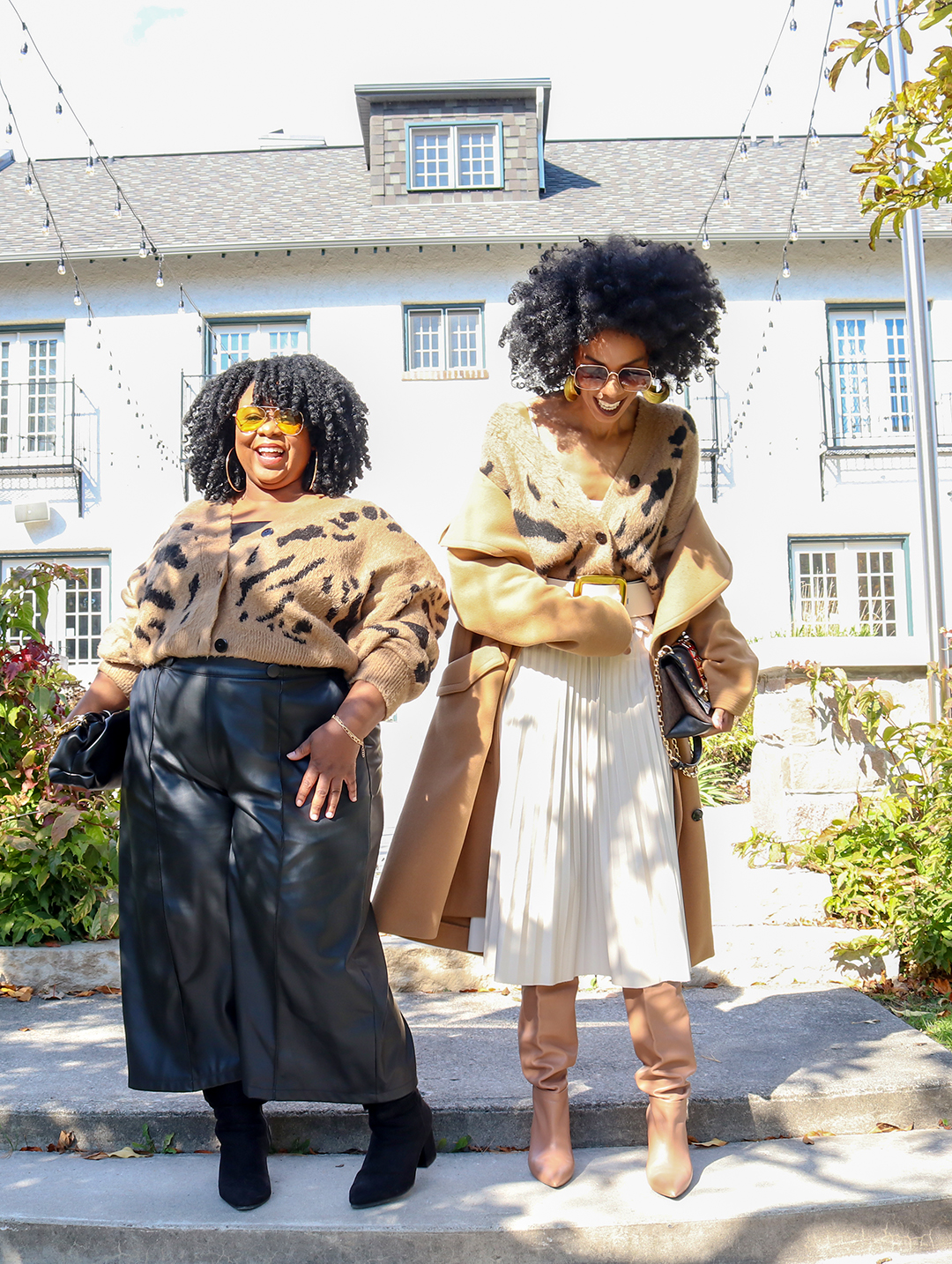 And that's the long & short of it!
Gail & Leslie xoxo
Photo credit: Roseline Bonheur