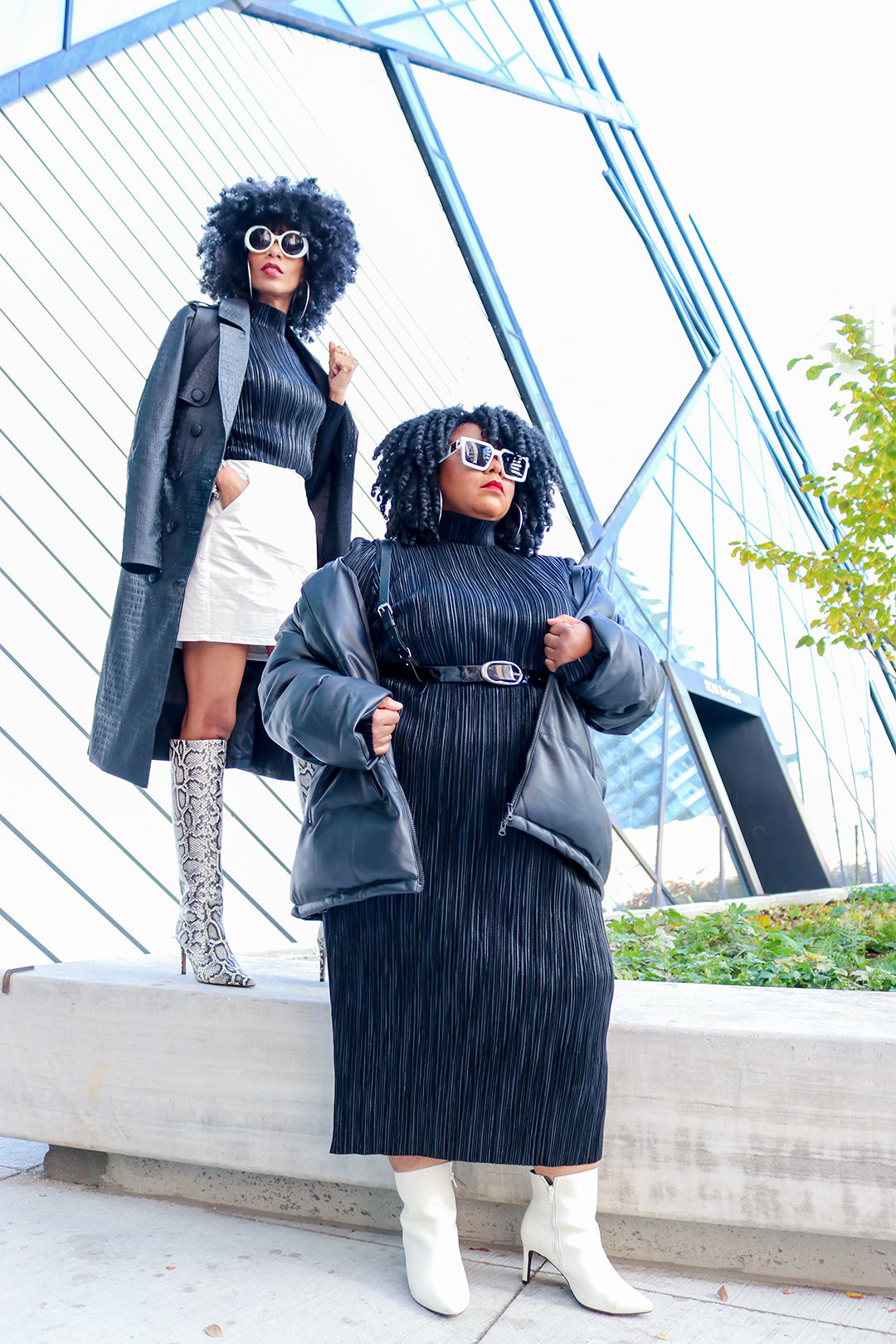 What can we say, Hilary MacMillan has done it again! Her Fall 2020 collection is beautiful, fashion forward as always and of course SIZE INCLUSIVE! Follow along with us as we show you how we've styled some of her latest designs.
Gail – All Black Everything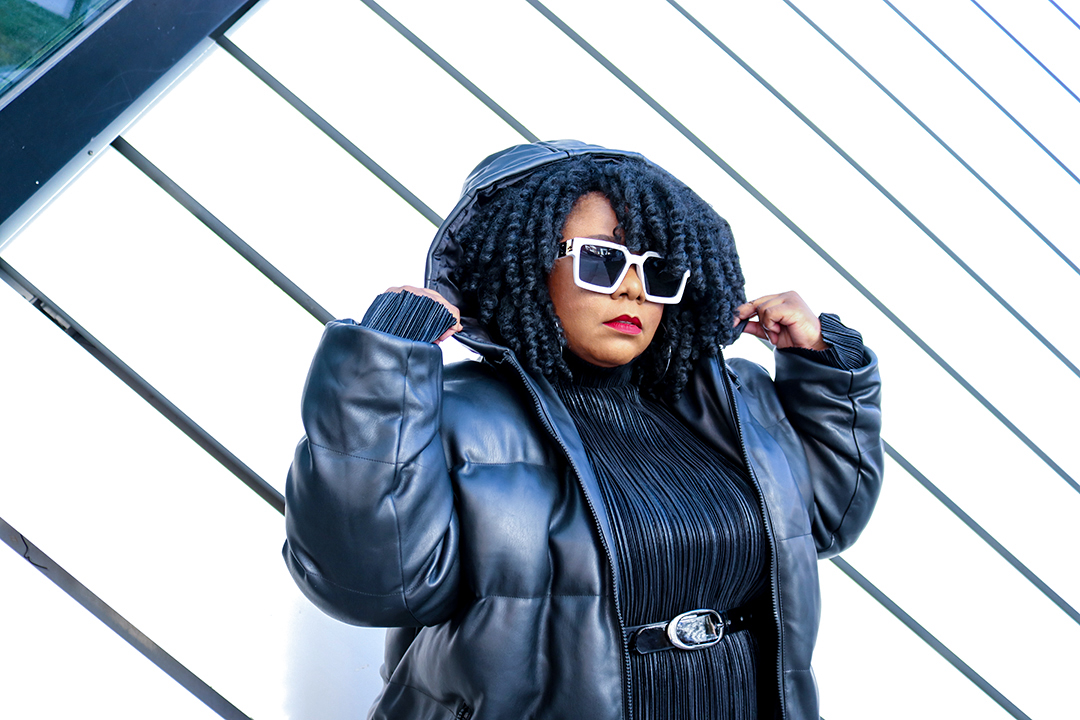 Faux Leather Puffer Coat: Hilary MacMillan // Pleated Dress: Hilary MacMillan // Harness: AliExpress // Booties: Addition Elle (old) similar here // Sunglasses: eBay
For my straight sizes mamas the dress and puffer coat are available in your size as well!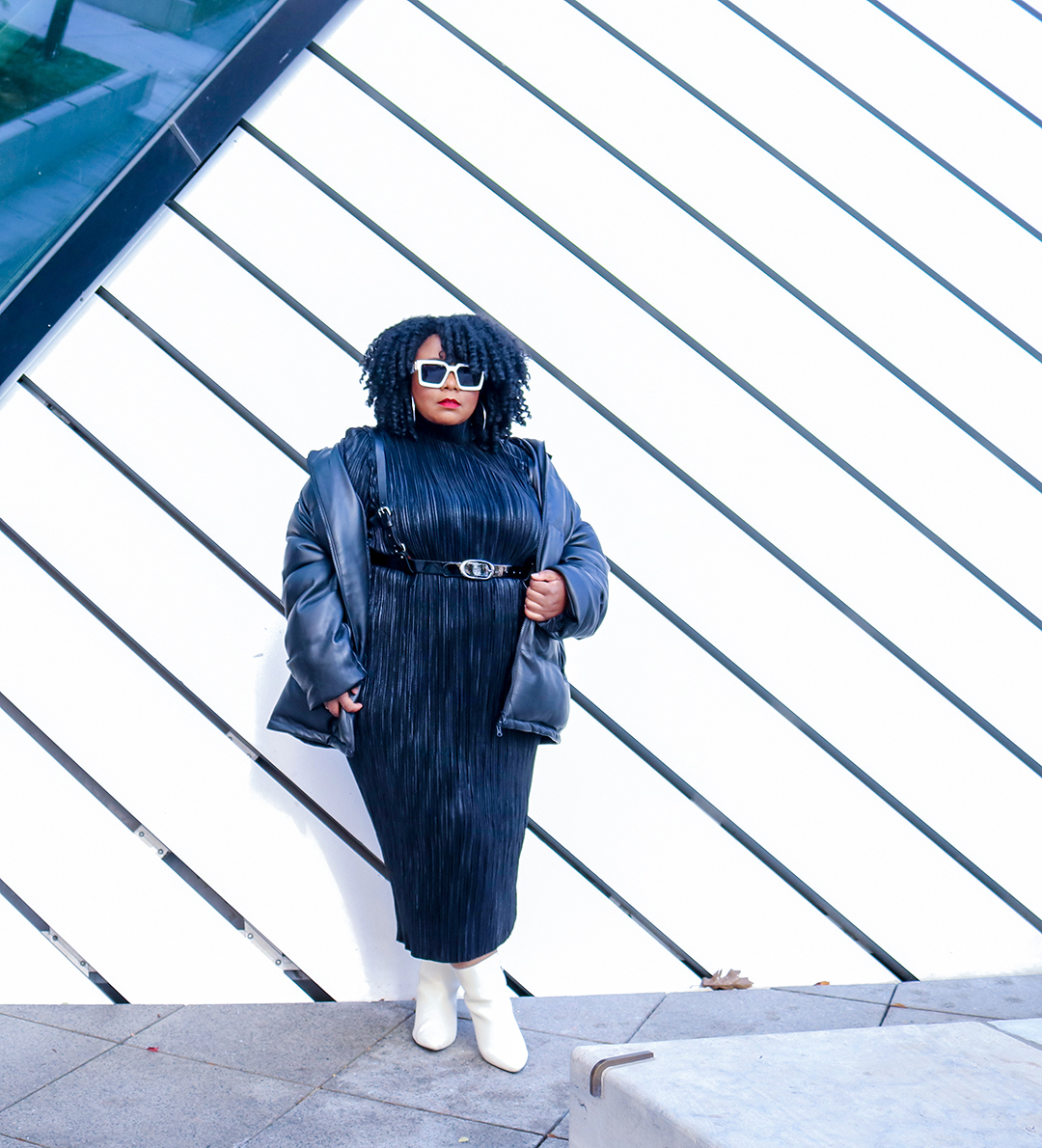 Once again, Hilary Macmillan as brought us another KILLER collection! I moment I locked eyes on this dress I just knew I had to showcase it. I got this black pleated dress in a 3X and I had to size down to a 2X. It is super comfortable and very stretchy. I really like this dress because it hugs all of my curves beautifully and like I said before it's so comfortable and so chic.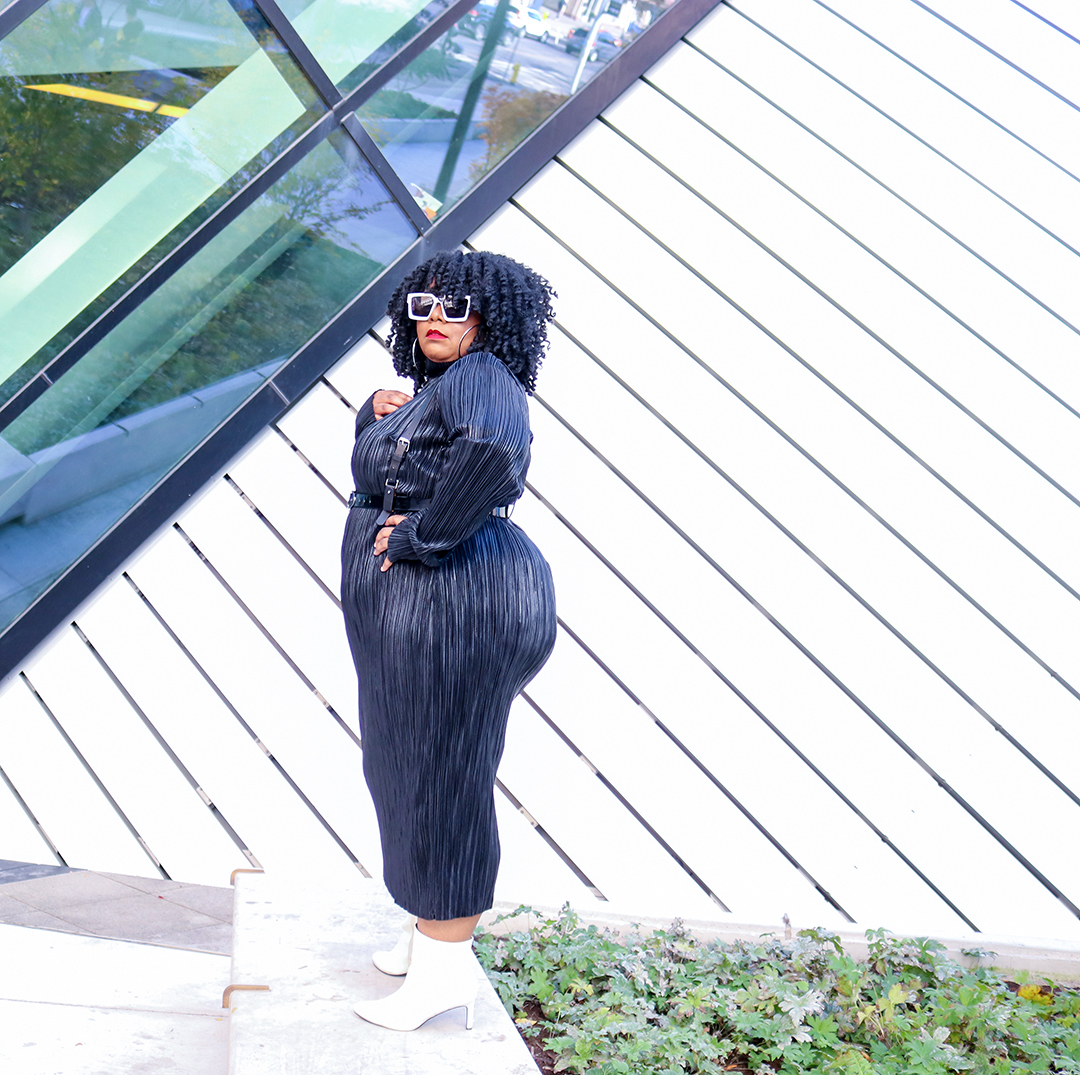 So, I wanted to add a little extra somethin somethin but adding this black harness. Now, I know some of you plus size glamazons may be thinking, "Nah chile, you know that harness ain't gonna fit me" but don't fret my pets I've got you covered. I got this particular harness via Aliexpress.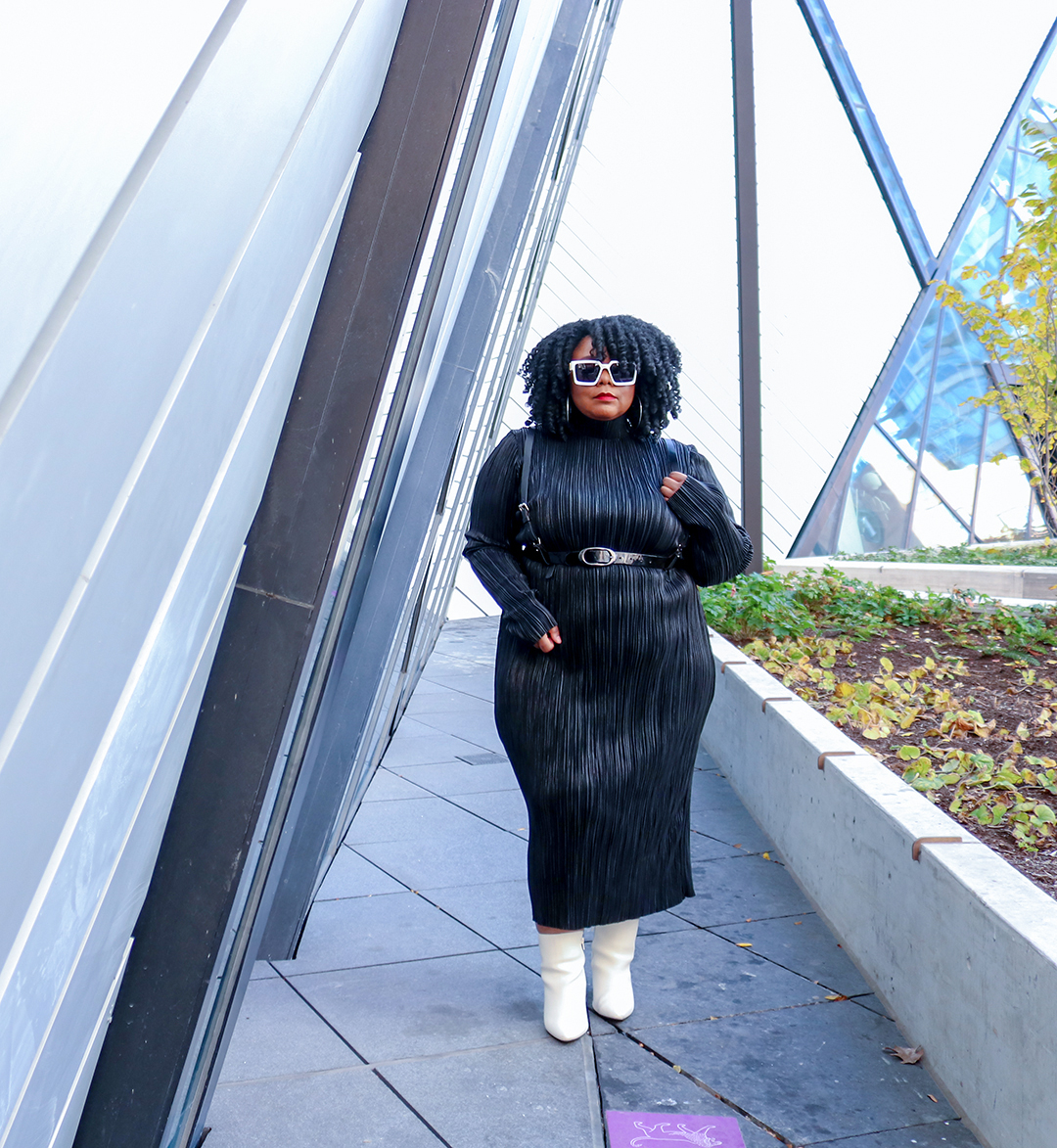 I made sure to order one where there were adjustable straps all up and through it. I knew the belt for the waist was not going to fit but all did was switch it out for a black belt I already add and voila, I had a harness perfect for me! Now, the whole harness situation is not your bag, that's all good. Just add a fun belt from your fave plus size retailer and you'll be good to go!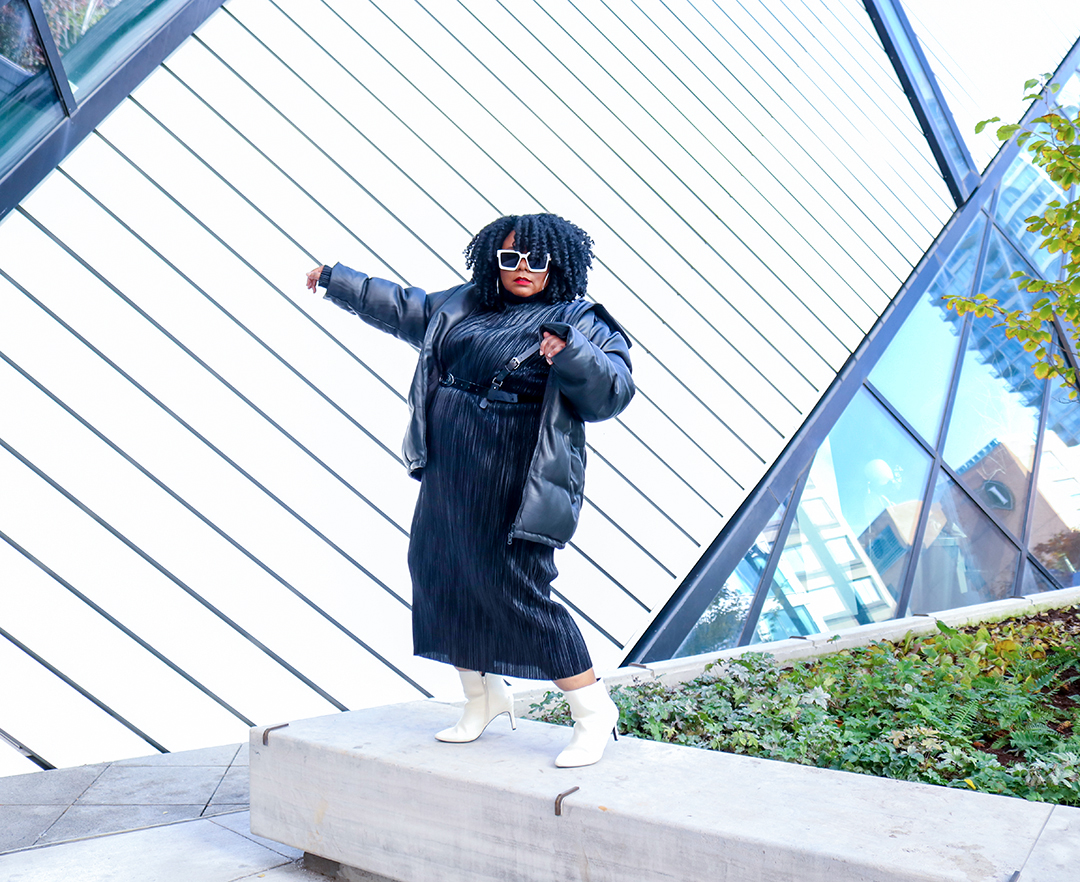 Next up is this faux leather puffer with hood- get into it ladies. This coat is incredibly warm and given our Canadian winters, this coat is exactly what we need. I'm wearing a size 3X so that I can wear thicker sweaters beneath it. I always like to size up in coats so that I can comfortably wear sweaters and cardigans beneath them.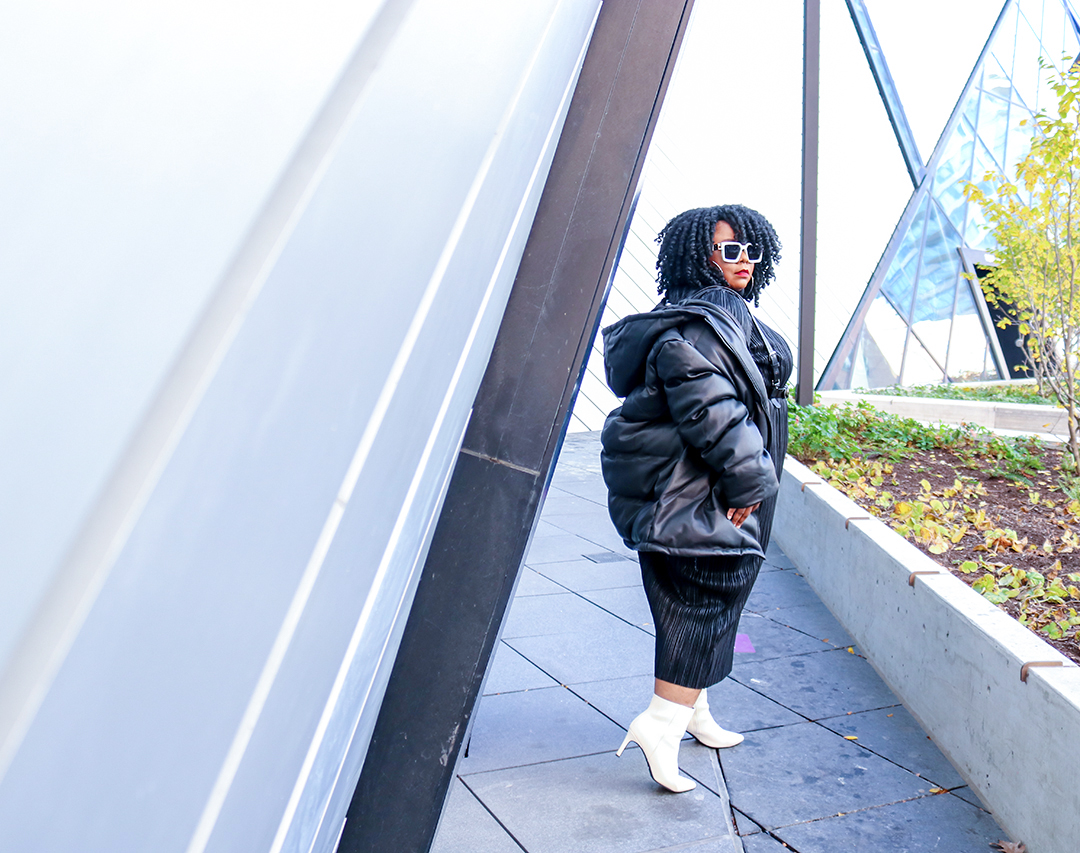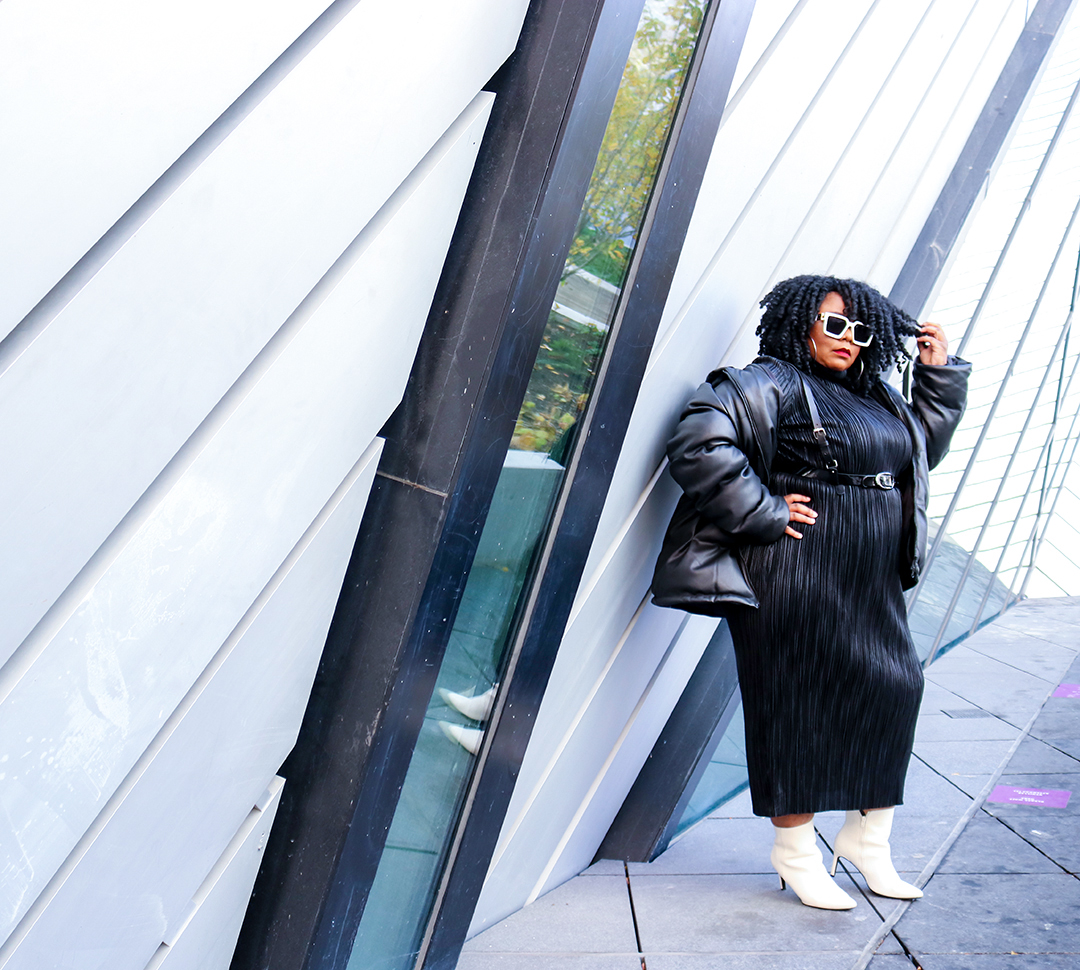 To complete my I added a few finishes touches in the form of these dope white frame sunglasses, large silver hoop earrings and these white booties.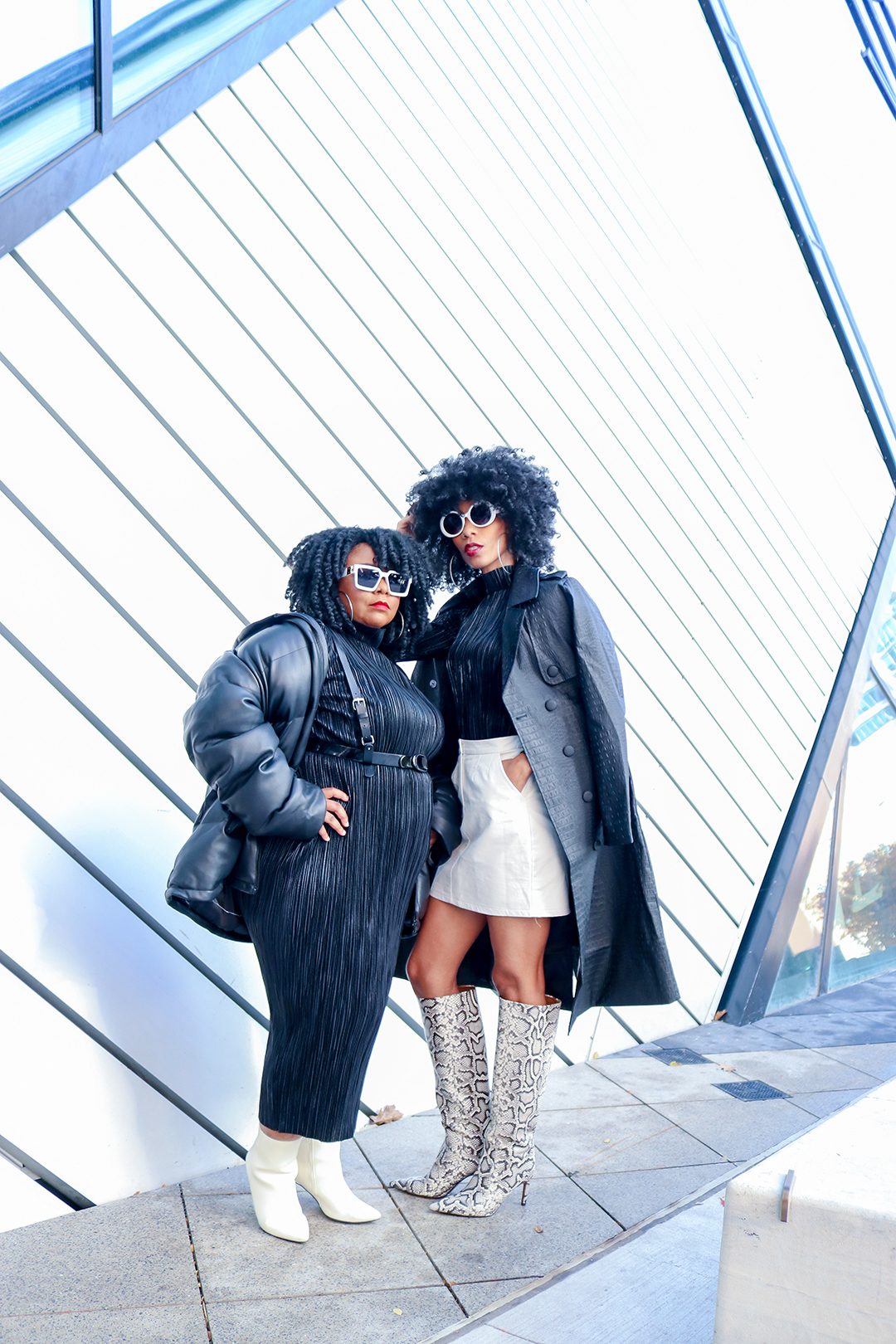 Leslie's Laying it Down Like…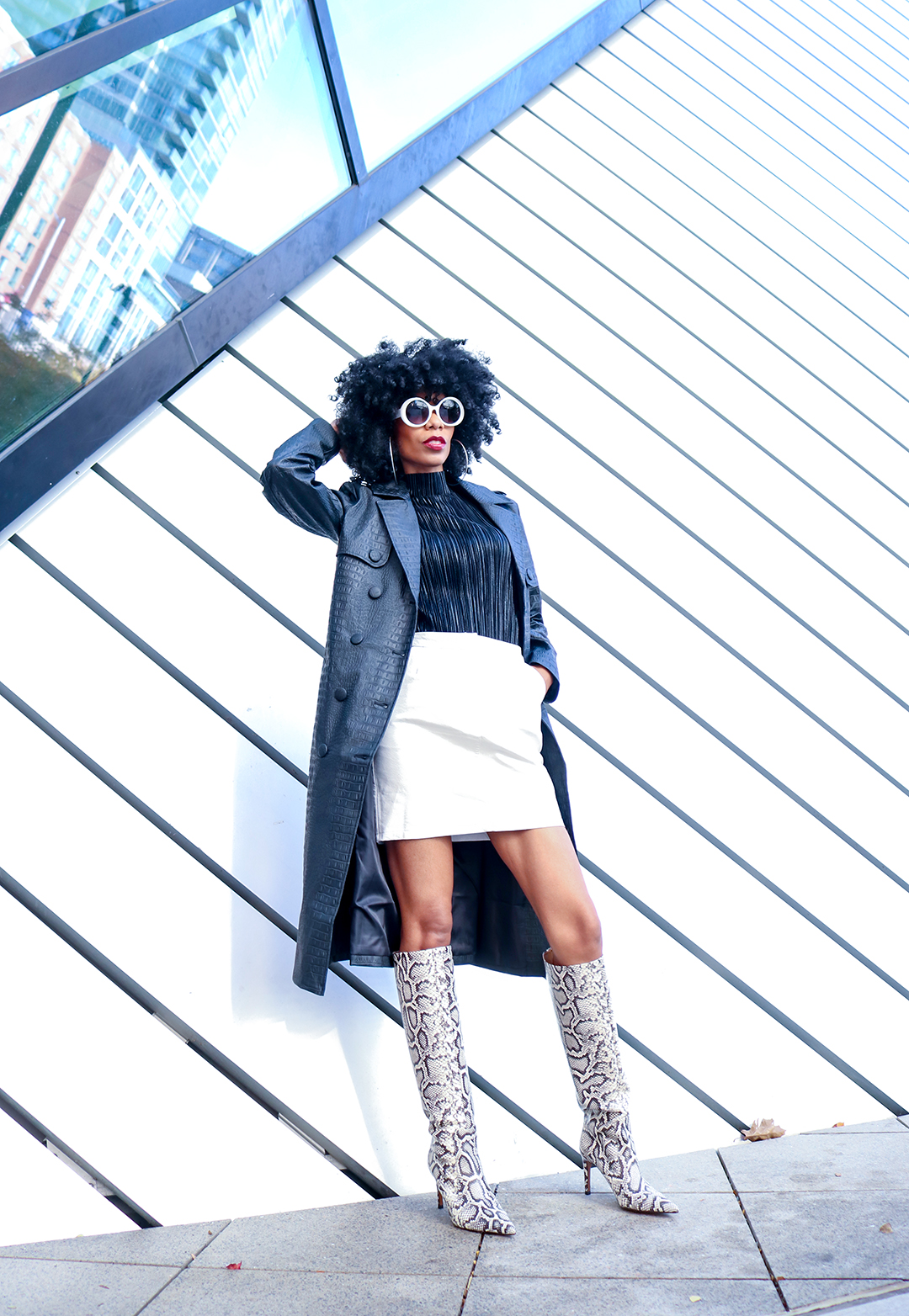 Coat: Hilary MacMillan // Top: Hilary MacMillan // Skirt: Hilary MacMillan (sold out, similar here, here) // Boot: Zara (old, similar here) //
For my plus size babes, Hilary MacMillan has got you covered as many of her looks come in all sizes including the look I'm rocking! Now here's a wide calf snake boot option for you.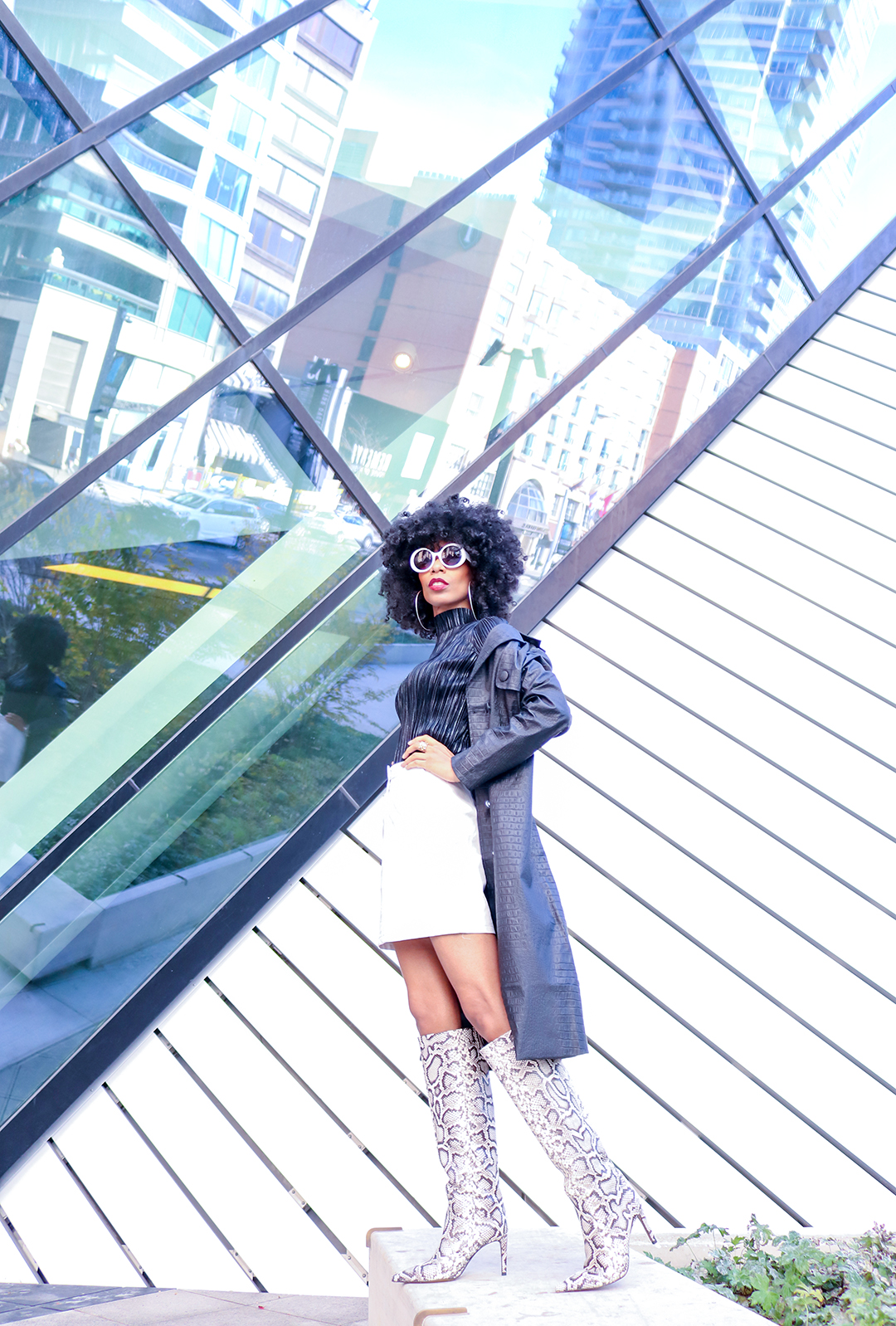 Black and white is my go to palette when I want to mix prints and/or textures with ease. Hilary MacMillan's latest collection has some amazing pieces that we've been salivating over. Known for her delicious trench coats, I knew I had to finally work my way into one, and this gorgeous croc print one is my trench coat dream come true! For those who prefer solid colour pieces, finding ones with texture can take that piece from average to top of the class!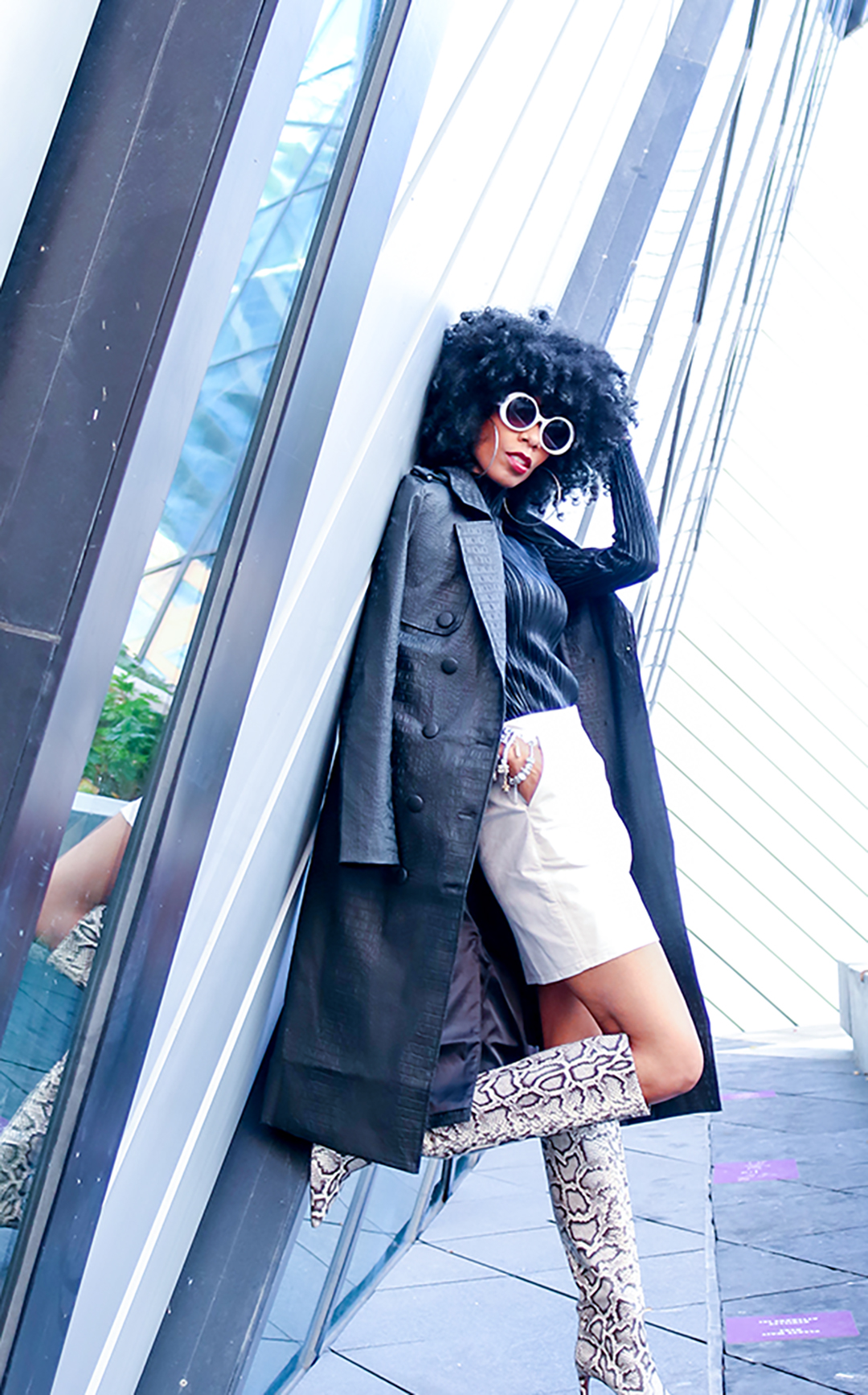 This turtleneck was next on my fashion hit list. I just love the pleated texture and the visual interest that is created when worn with the trench. If I'm wearing one colour I love when I can mix things up with texture therefore croc print + pleats = A++ to me!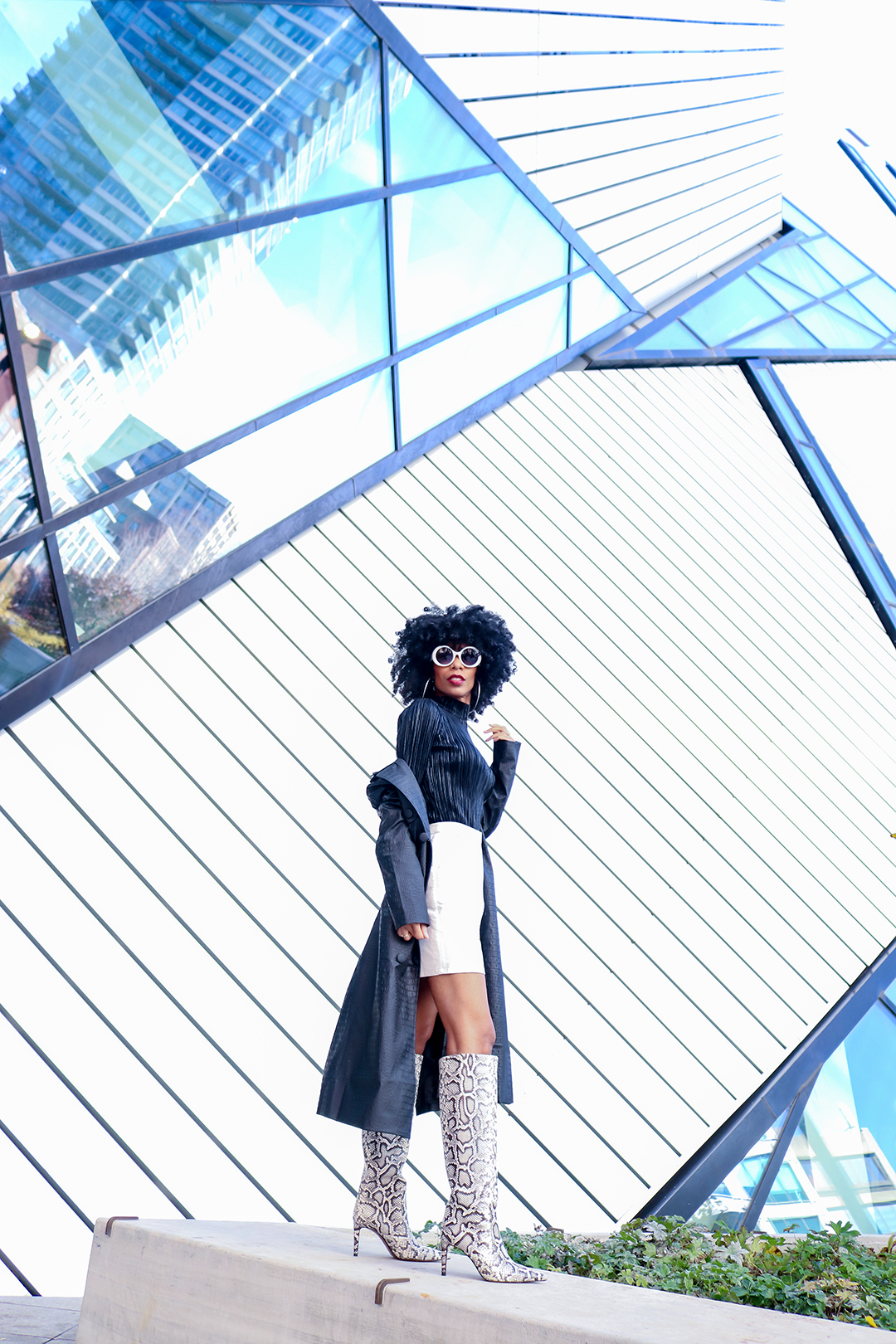 Pulling from my wardrobe, I just had to pair this trench and turtleneck combo with my fave white mini, snake print skirt. With its side pockets and short hemline, it is one of those pieces that I can comfortably dress up or dress down in any season.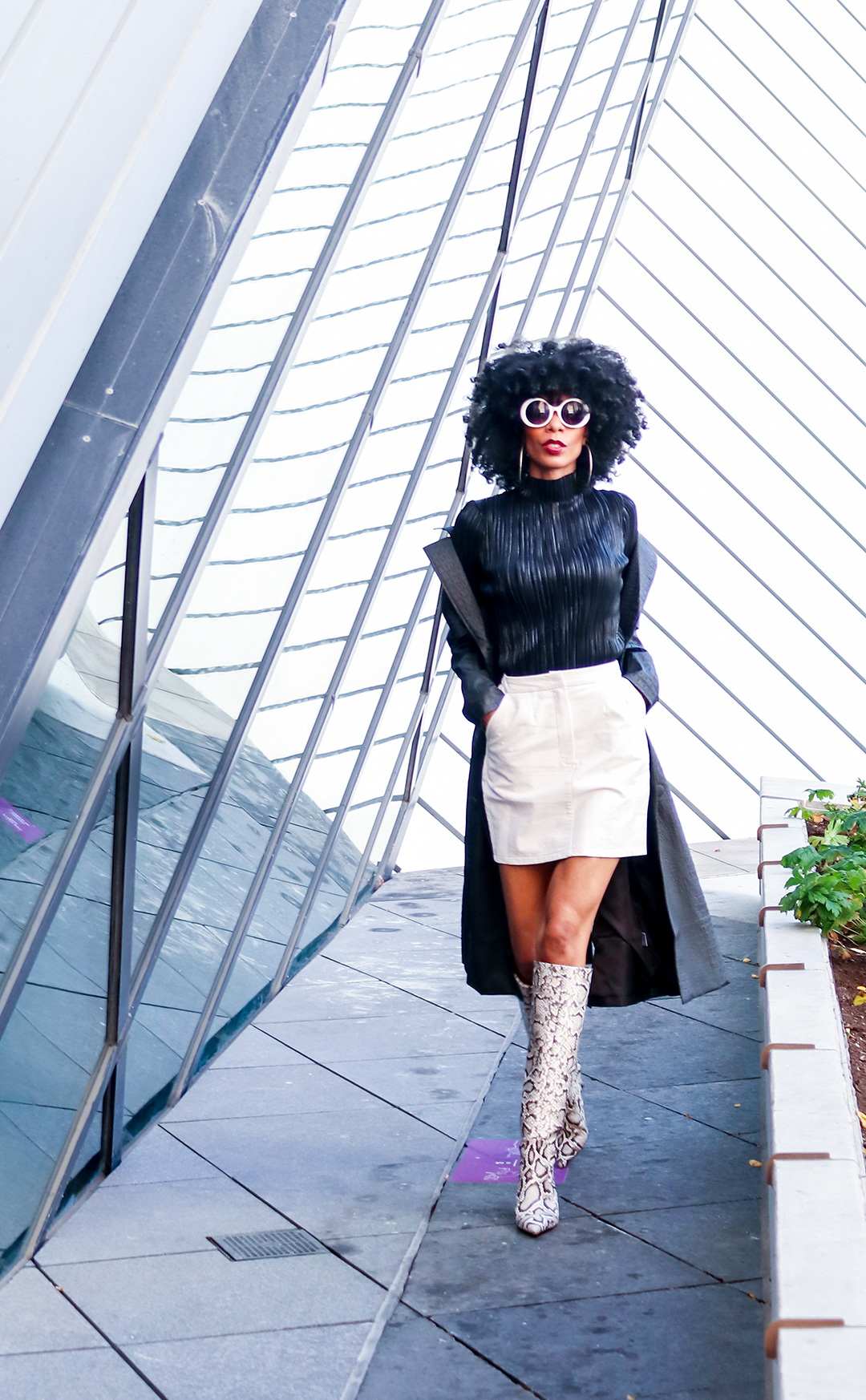 Now, you all know me and my proclivities, and I just could not resist adding a bit of print to this look. These snake print knee high boots have served me well. As the heel is not too high, I can wear them for hours without complaint. Worn with this look, it picks up both the black and white in an interesting way and of course, given the time of year, keeps me both stylish and warm. That's my kind of equation.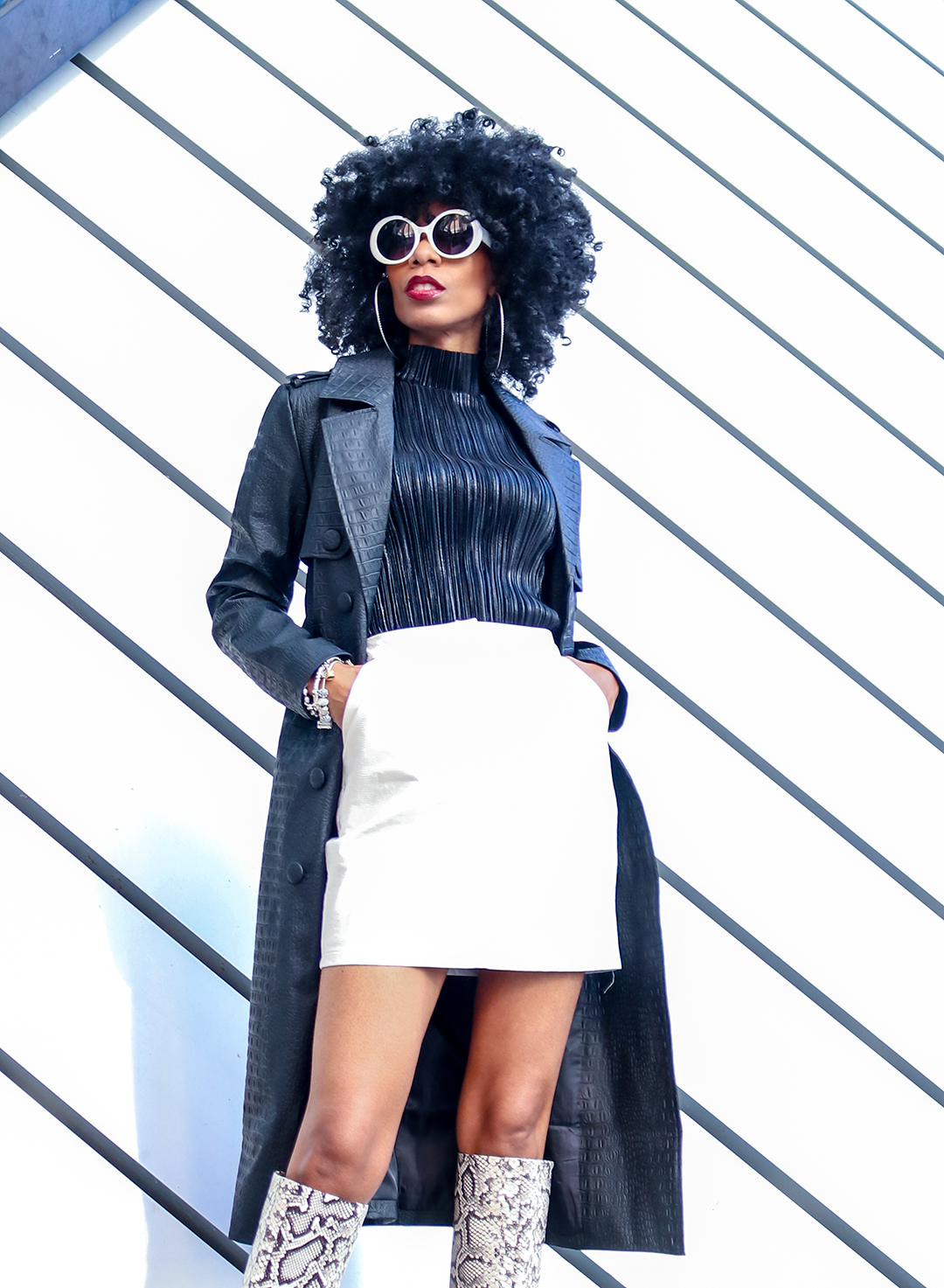 And with that, my black and white story is now complete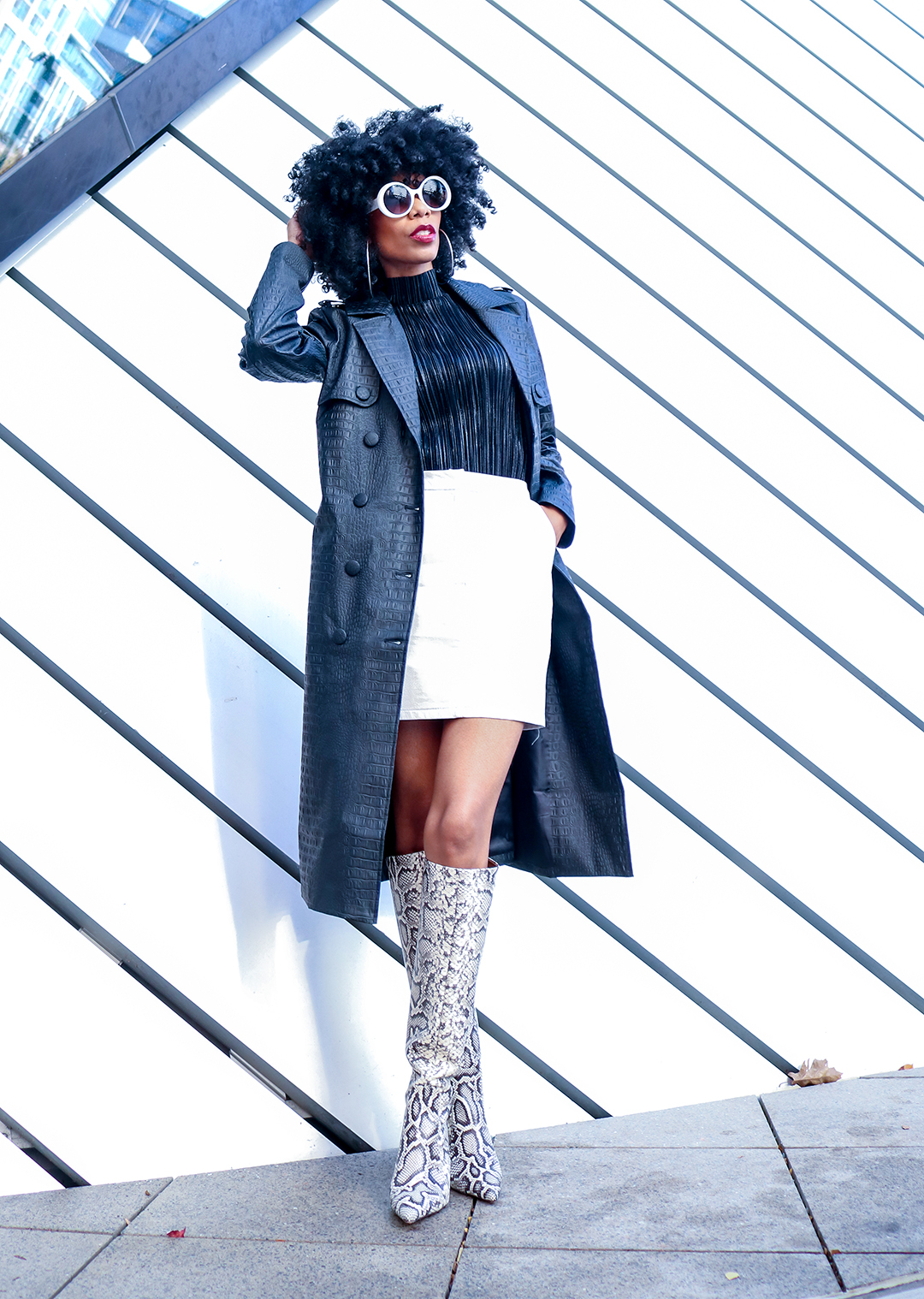 And that's the long & short of it!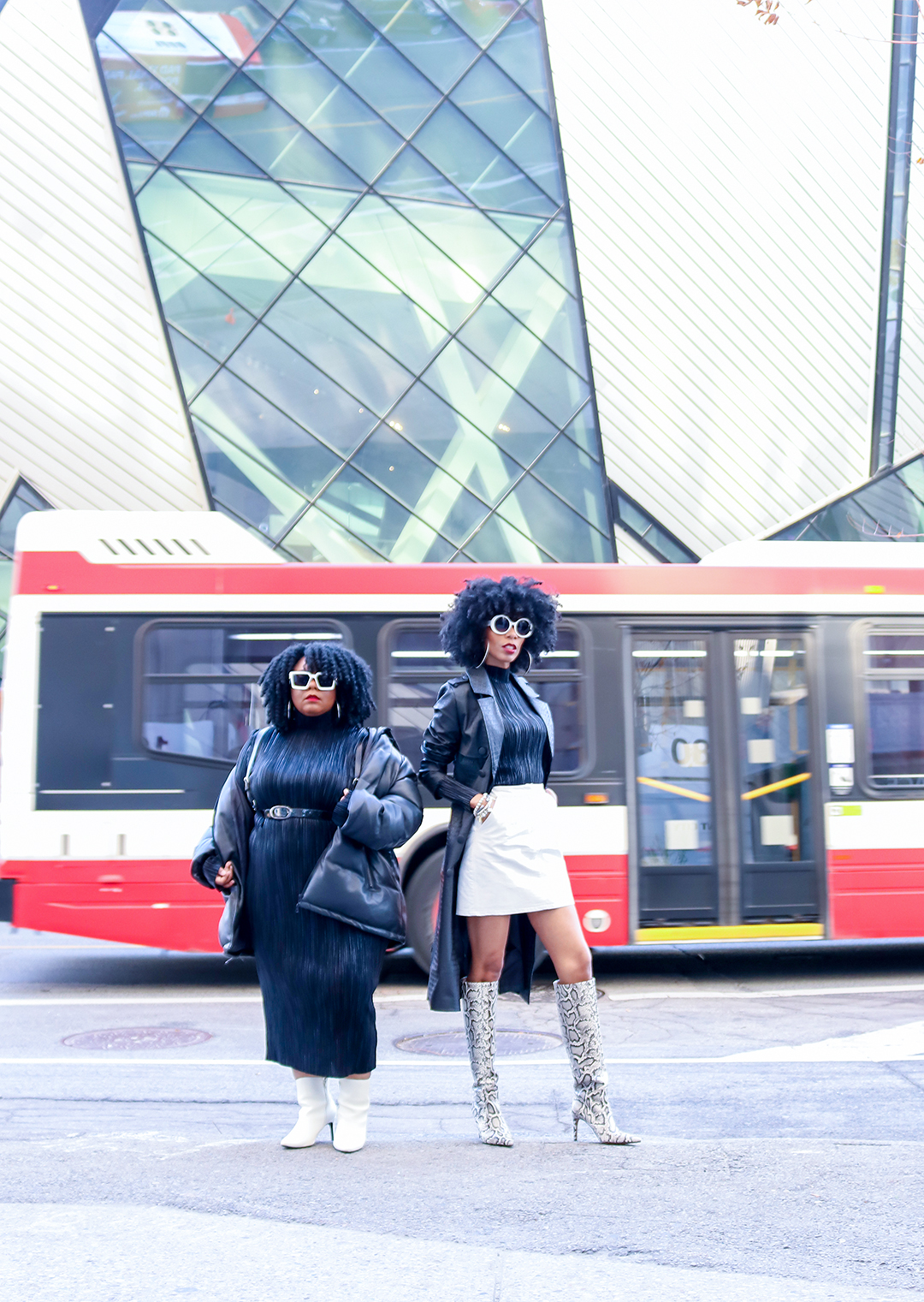 Gail & Leslie xoxo
Photo credit: Roseline Bonheur
.