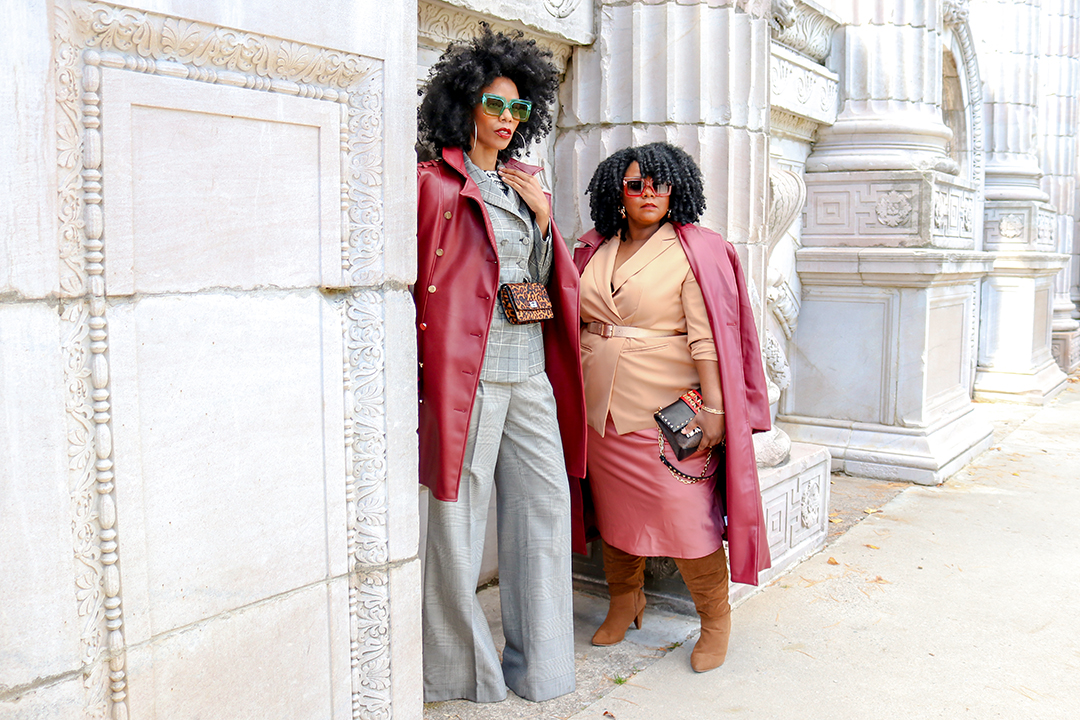 Are you trying to figure out what coat to rock this season? Thinking about straying away from the more traditional grays and blacks and trying something new? Well read on folks, because sometimes getting "marooned" is not bad at all!
Gail's Trench Coat Vibe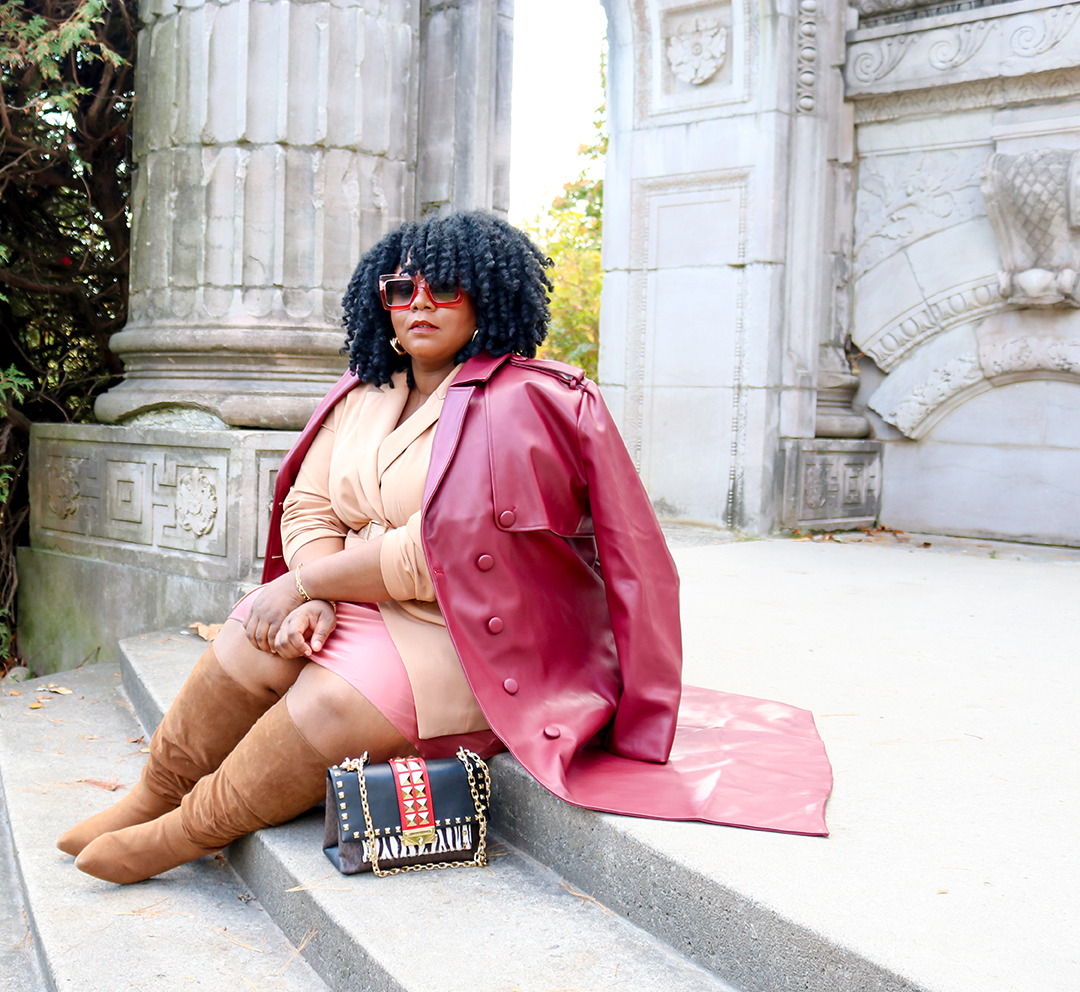 Coat: Hilary MacMillan // Blazer: ASOS Curve (old) similar here // Belt: Walmart (old) similar here // Skirt: Forever 21 Plus // Boots: Ashley Stewart (old) similar here // Handbag: Michael Kors (old) similar here // Sunnies: eBay
For my straight size sisters here are some options for you:
Coat: see Leslie's beautiful option // Blazer // Skirt // Belt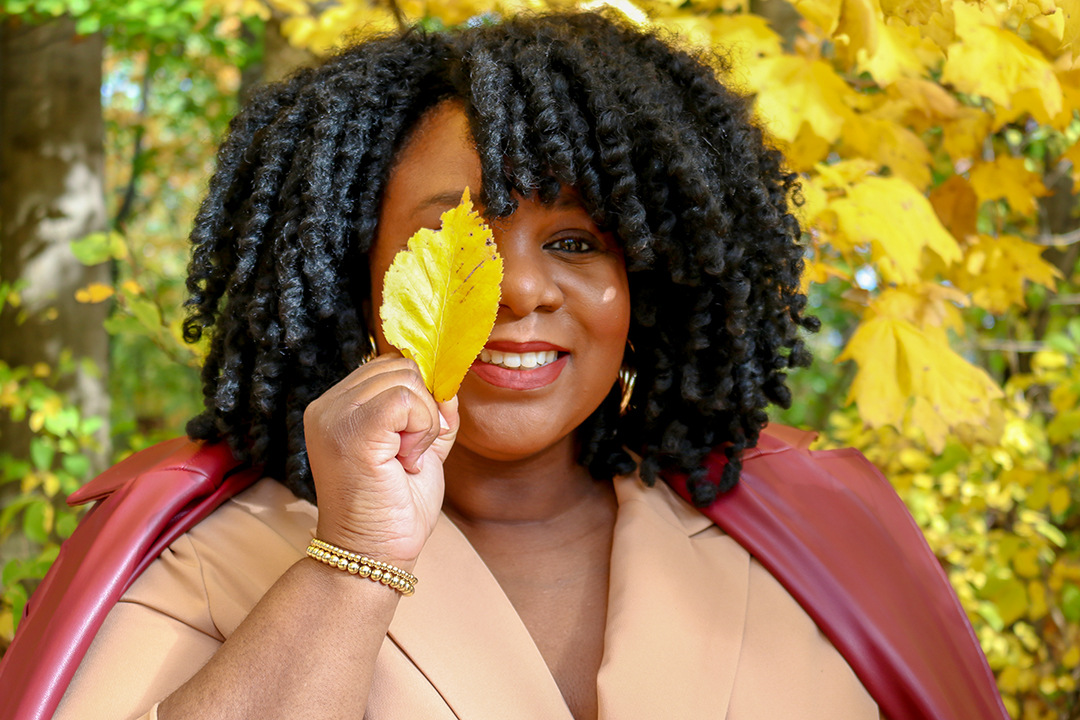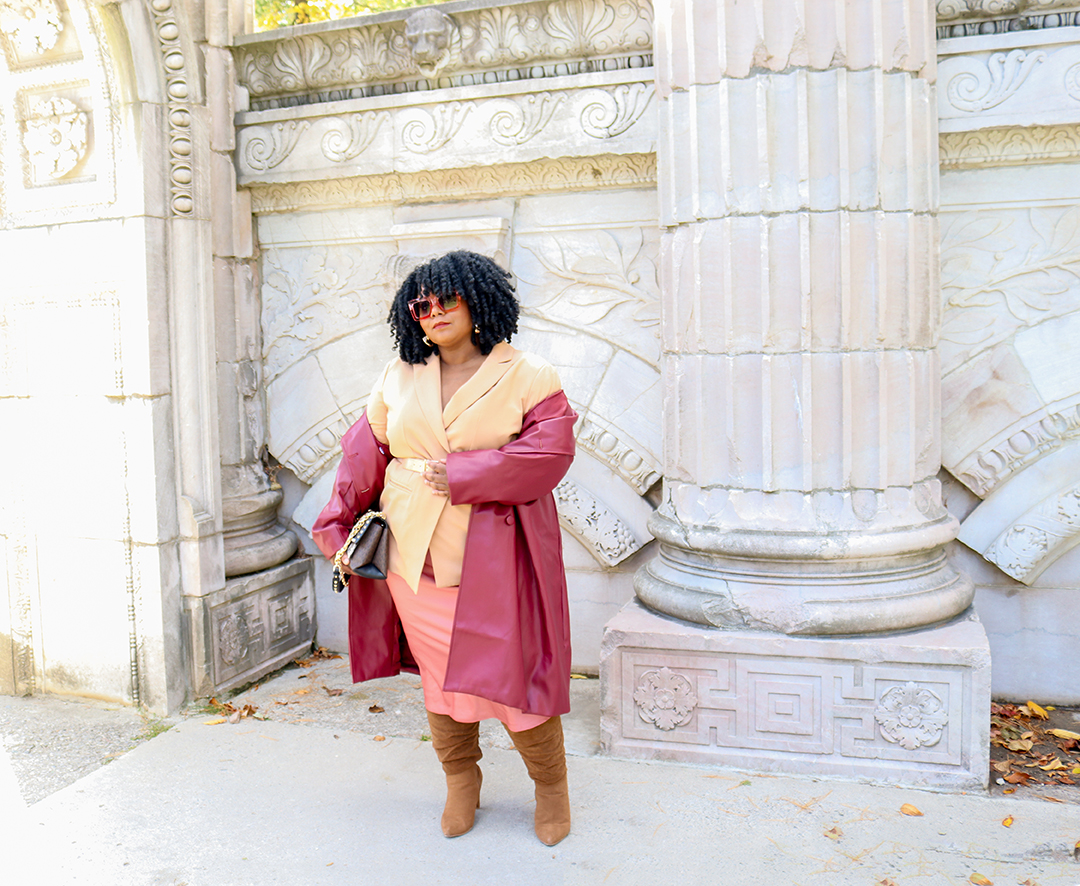 Faux leather weather is definitely upon us and I for one could be happier. I just love fall and getting to play dress in sweaters, nifty faux leather boots and all. I love investing in great transitional pieces like this faux leather trench from Hilary MacMillan which I got in a size 3X.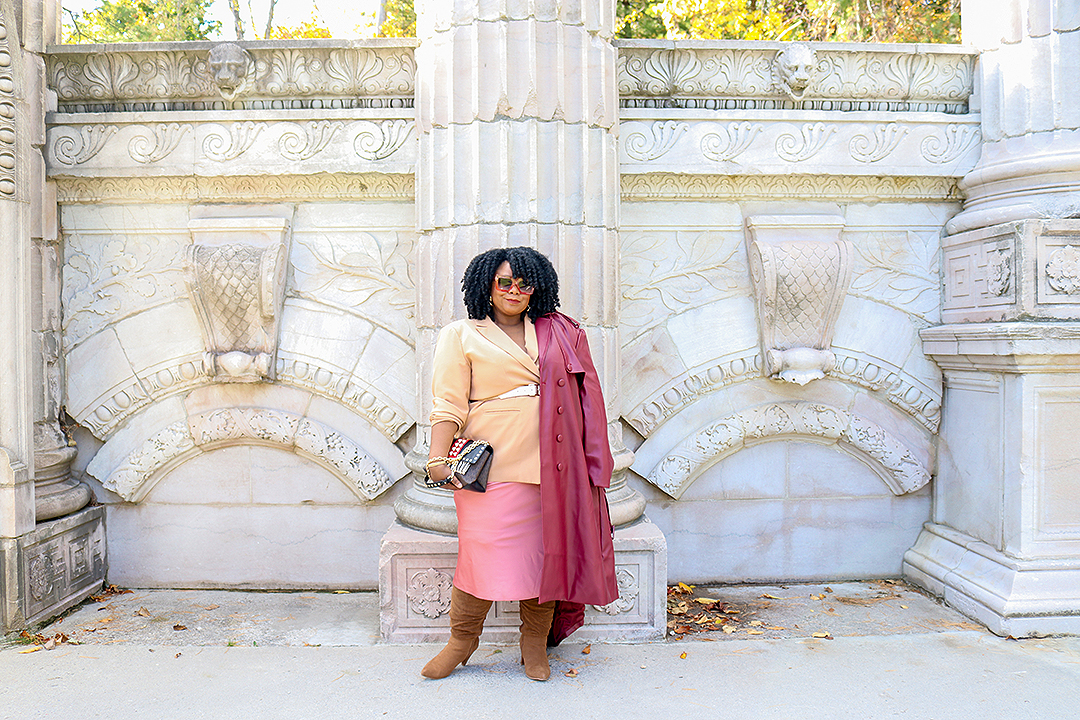 This coat is perfect in that its heavy enough to offer warmth on cool crisp days but not too heavy to get you over heated. The rich burgundy colour of the coat is another great plus to combat these dreary fall days.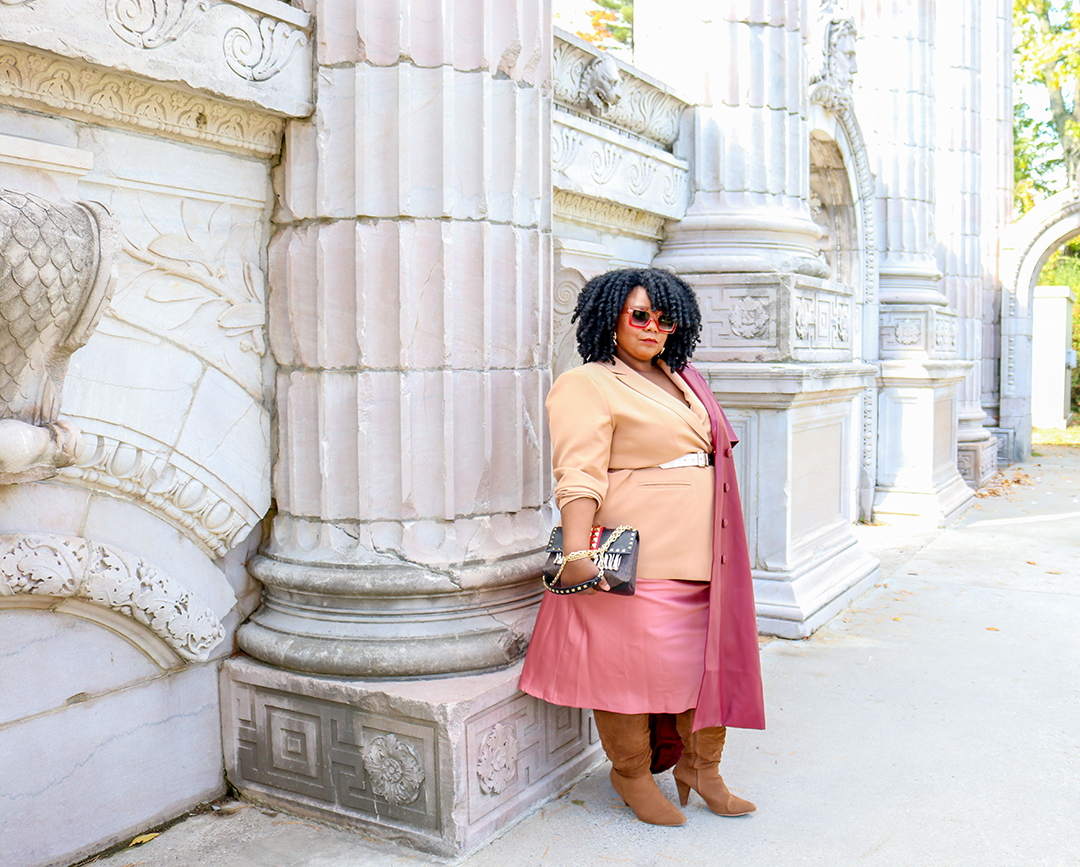 So, I decided to pair this rich burgundy coat with warm neutrals in the form of this tailored cafe au lait blazer. I've featured this jacket several times on the blog because its a gift that keeps on giving. I can dress it up our down easily. I just love when my clothing can do double duty.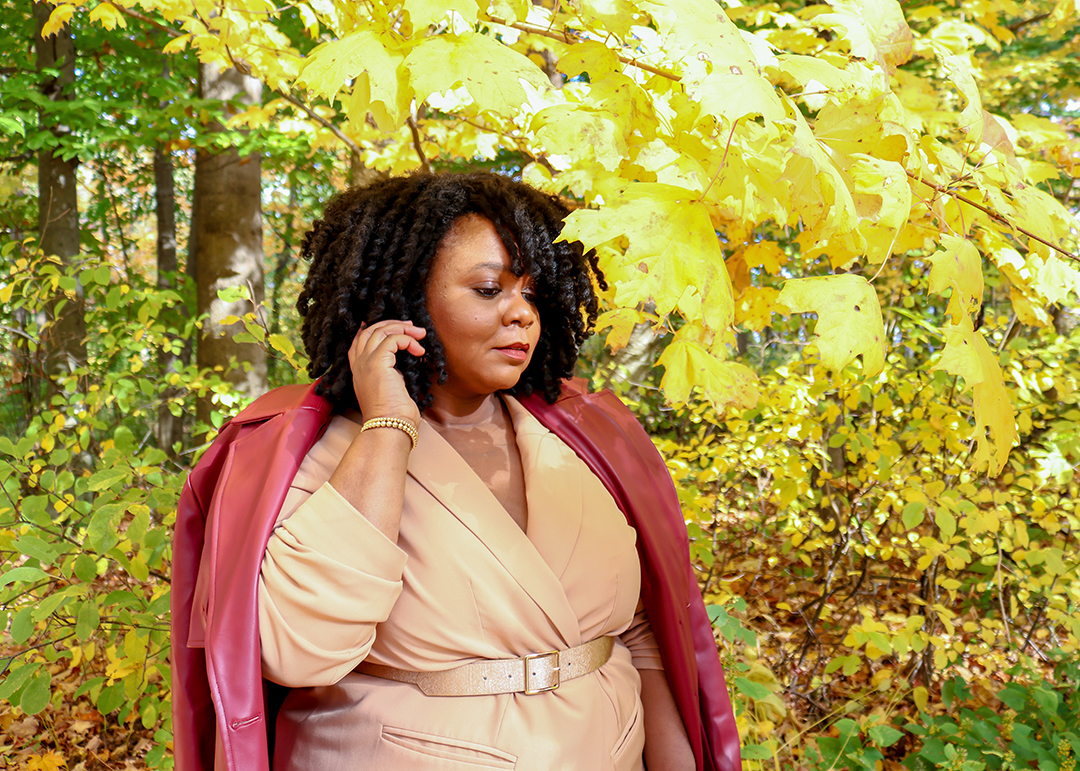 The new addition to my closet is this light pink satin skirt. This skirt is a dream – honestly its the fluttery hem for me. The skirt, which I purchased in a size 3X, is cut on the bias so it just skims my curves wonderfully.
I completed my look with faux cognac coloured suede boots, studded purse from Michael Kors and these kick ass sunnies.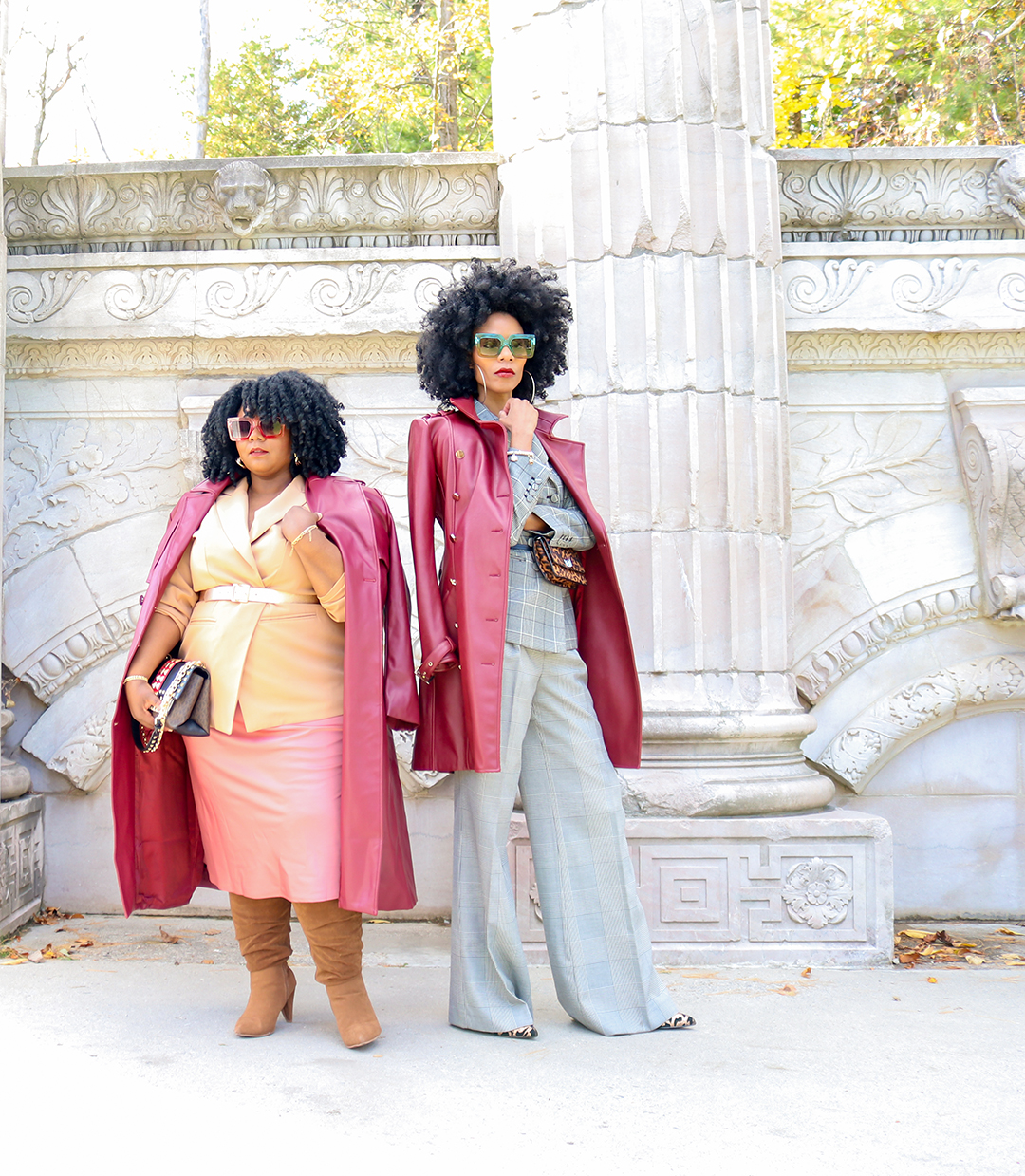 Leslie's Marinating in Maroon like…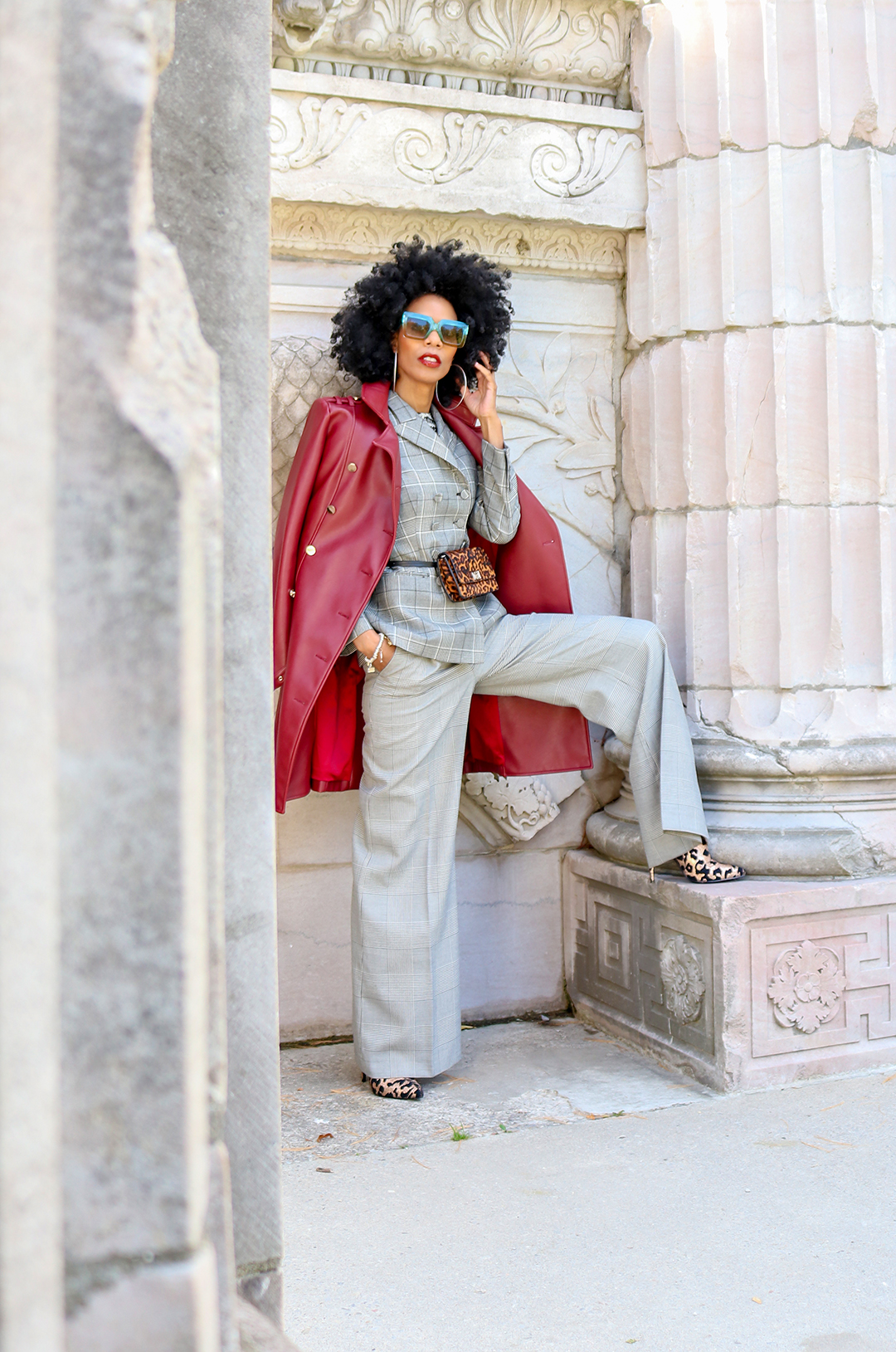 Coat: House of CB (old, similar here, here) // Blazer: Zara (old, similar here) // Trousers: Zara (old, similar here) // Booties: Shoe Dazzle (old, similar here) // Purse belt: Zara (old, similar here) // Top: Zara (really a dress, old, similar here, here) // Sunglasses: eBay //
For my plus size babes: Coat (same as Gail's see here) // Blazer // Trousers // Top //
I love the colour burgundy or maroon as I feel like they go with so many different colours in my wardrobe. From greens to purples, yellows, oranges and browns, it's a great colour to go with the coloursmost synonymous with fall.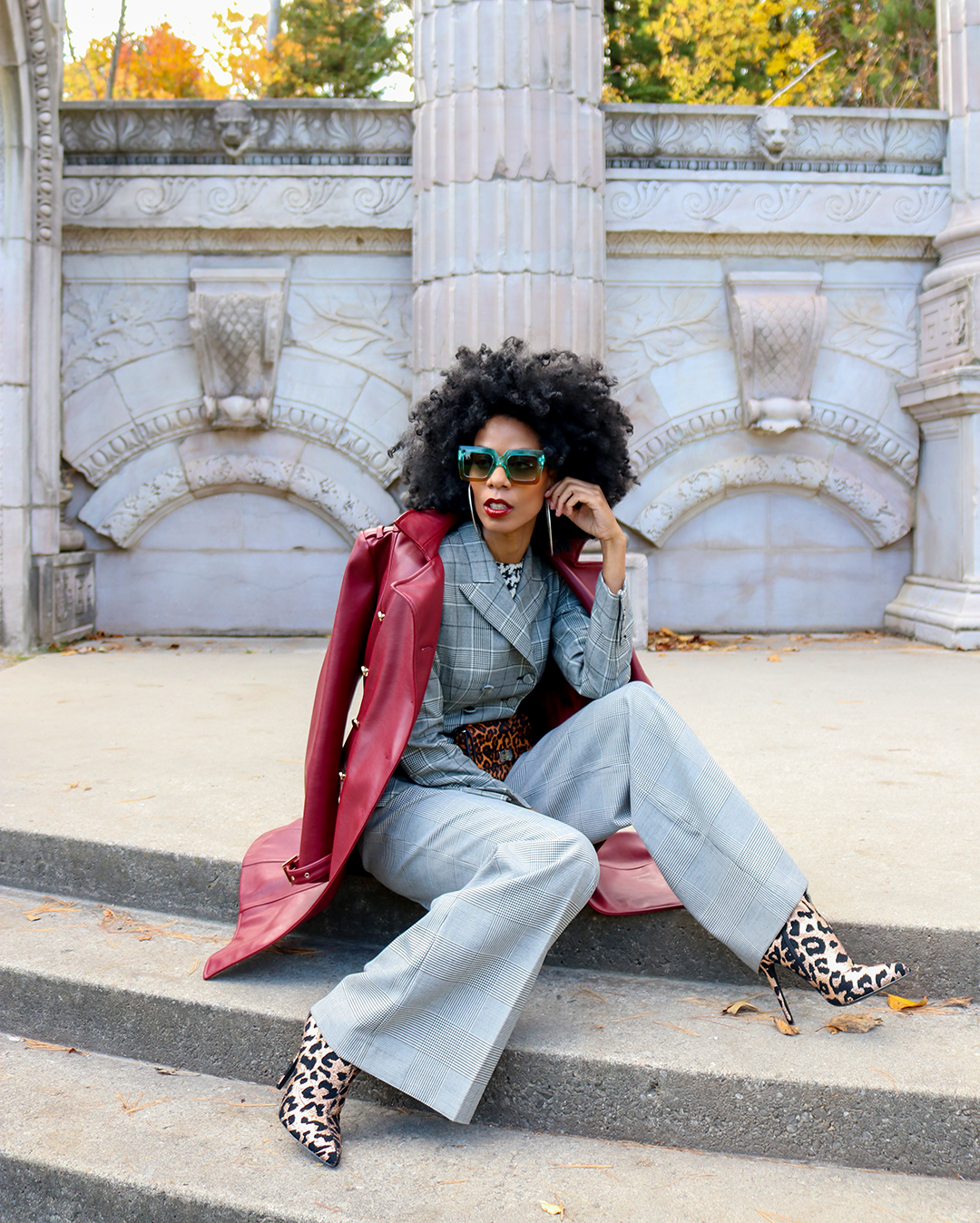 I wanted to pair this maroon faux leather trench coat with a fun mix of gray plaids and leopard prints. Plaids continue to be a huge trend and why not pull out your fave plaids and remix them. First lesson here is: your plaids don't have to match! In this instance I decided to take a plaid blazer in my wardrobe with a fine print and rock it with a lighter plaid trouser with a similar, but different print.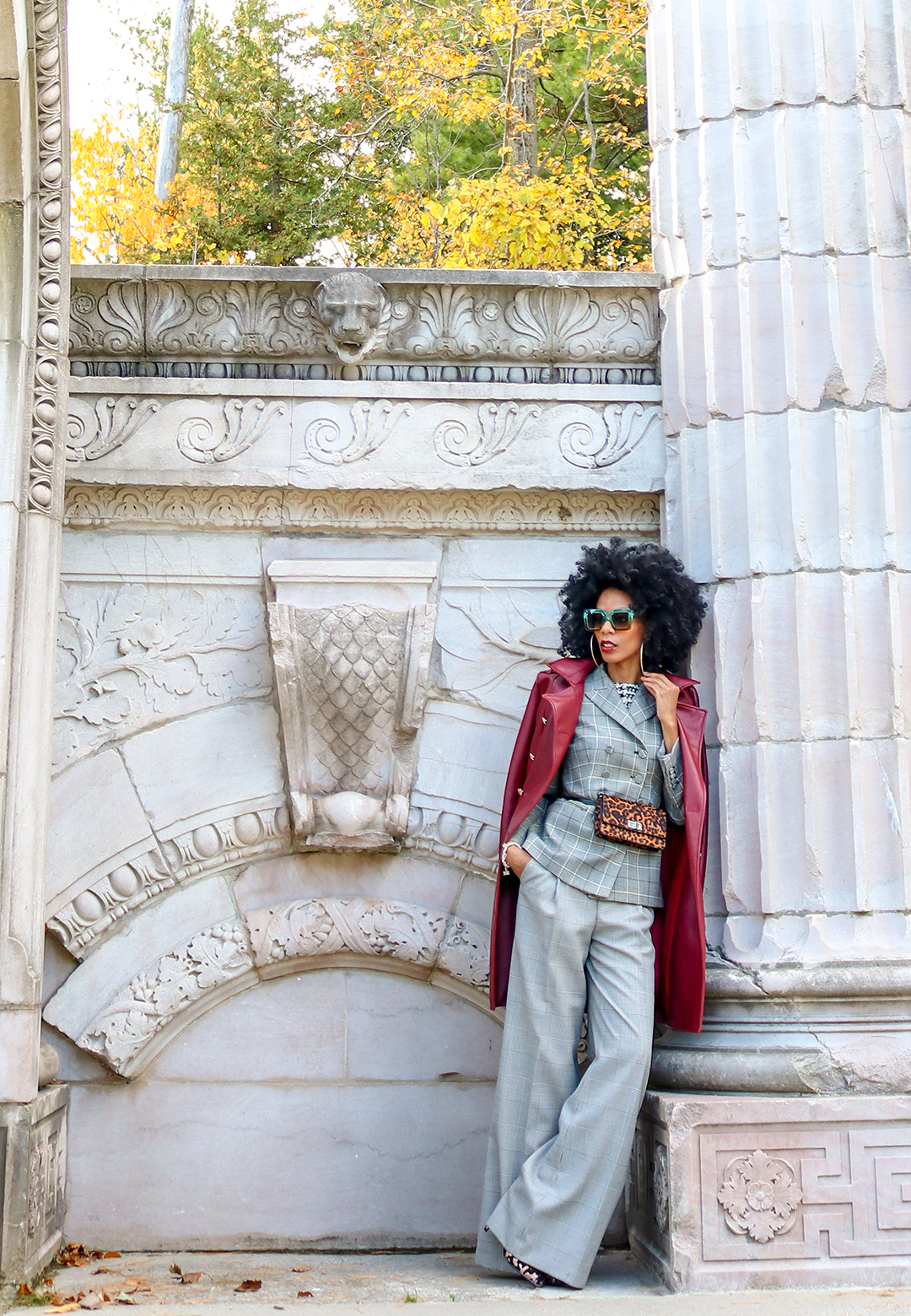 If you are feeling a little concerned about trying this for the first time, start by taking a bolder plaid print and mixing it with a more subtle plaid print in a similar colour. Then when you're more comfortable, dive into mixing plaid colours and prints that are more striking. Remember, fashion is supposed to be fun and can be a way of expressing how you feel! Stepping out of our comfort zone can sometimes be an integral and exciting part of that!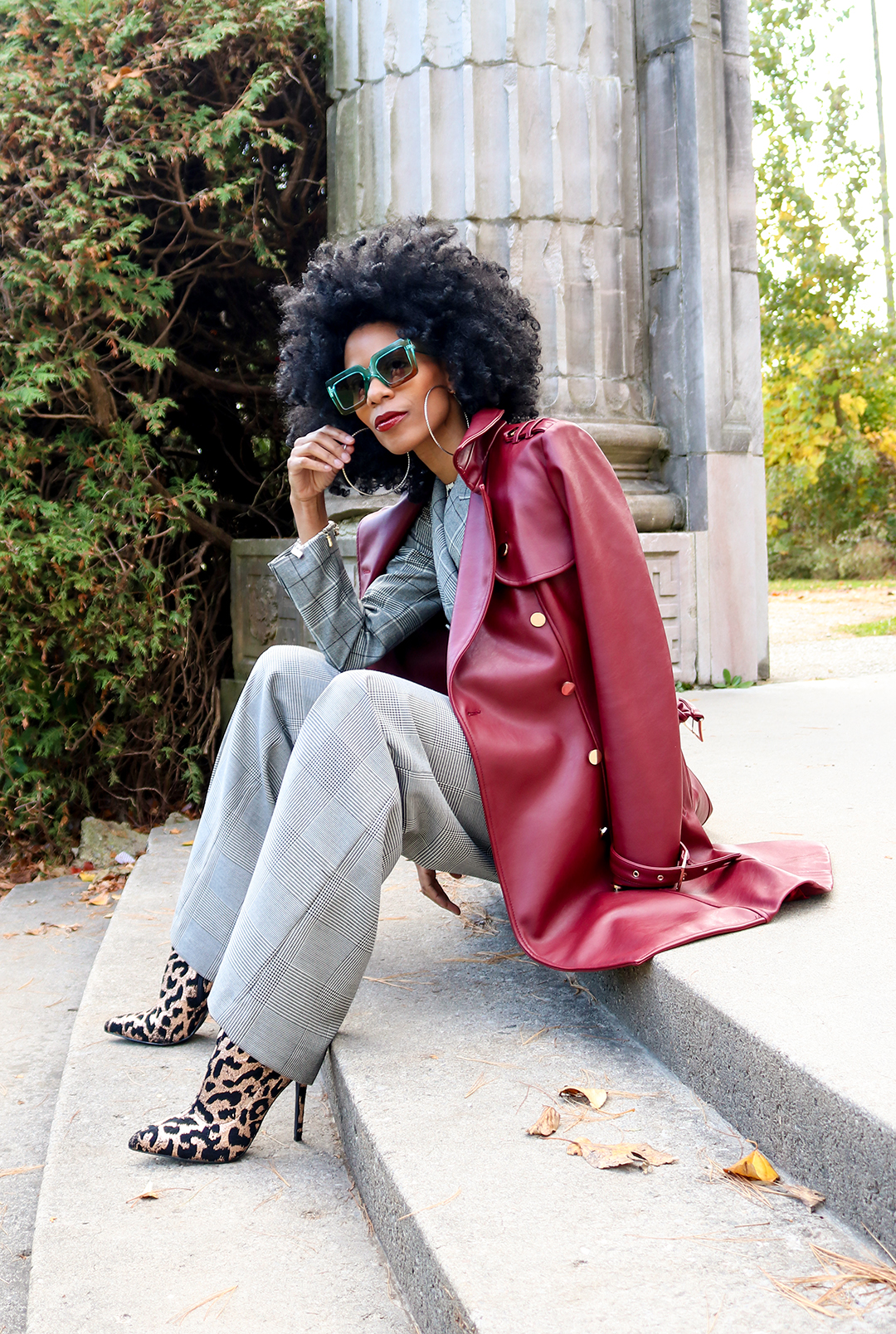 Continuing with the theme of mixing prints, I added leopard to the mix. We have always considered leopard to be a neutral. It really goes with almost anything. Here I put a touch of leopard in my look by wearing this belt bag and booties.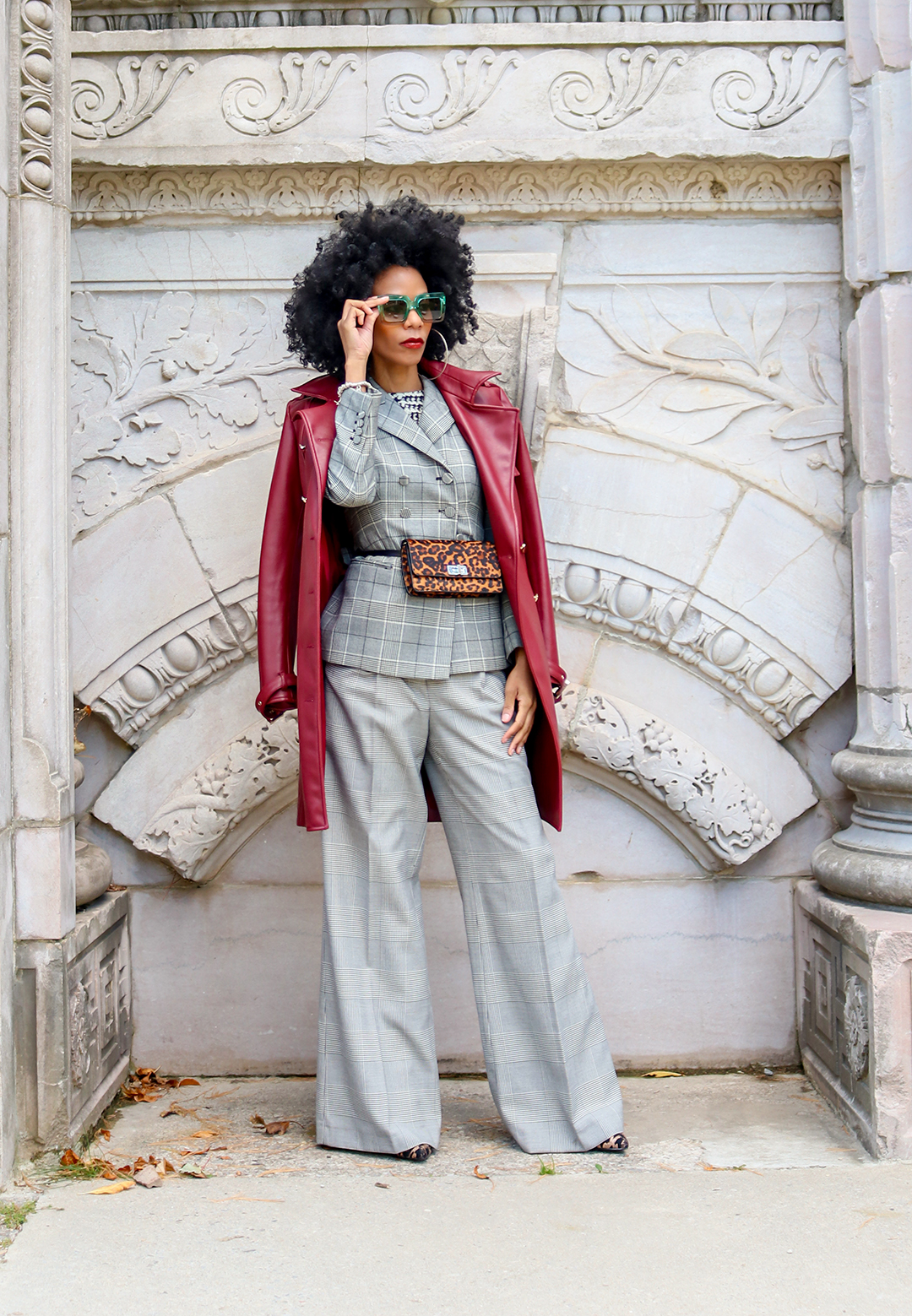 Now, because I just wanted to be extra, and I'm all about mixing my prints, I opted to wear a houndstooth top (which is really a dress) with the look. I kept it black and white so that it easily went with the colours in my plaid mix, but still added an extra punch of print.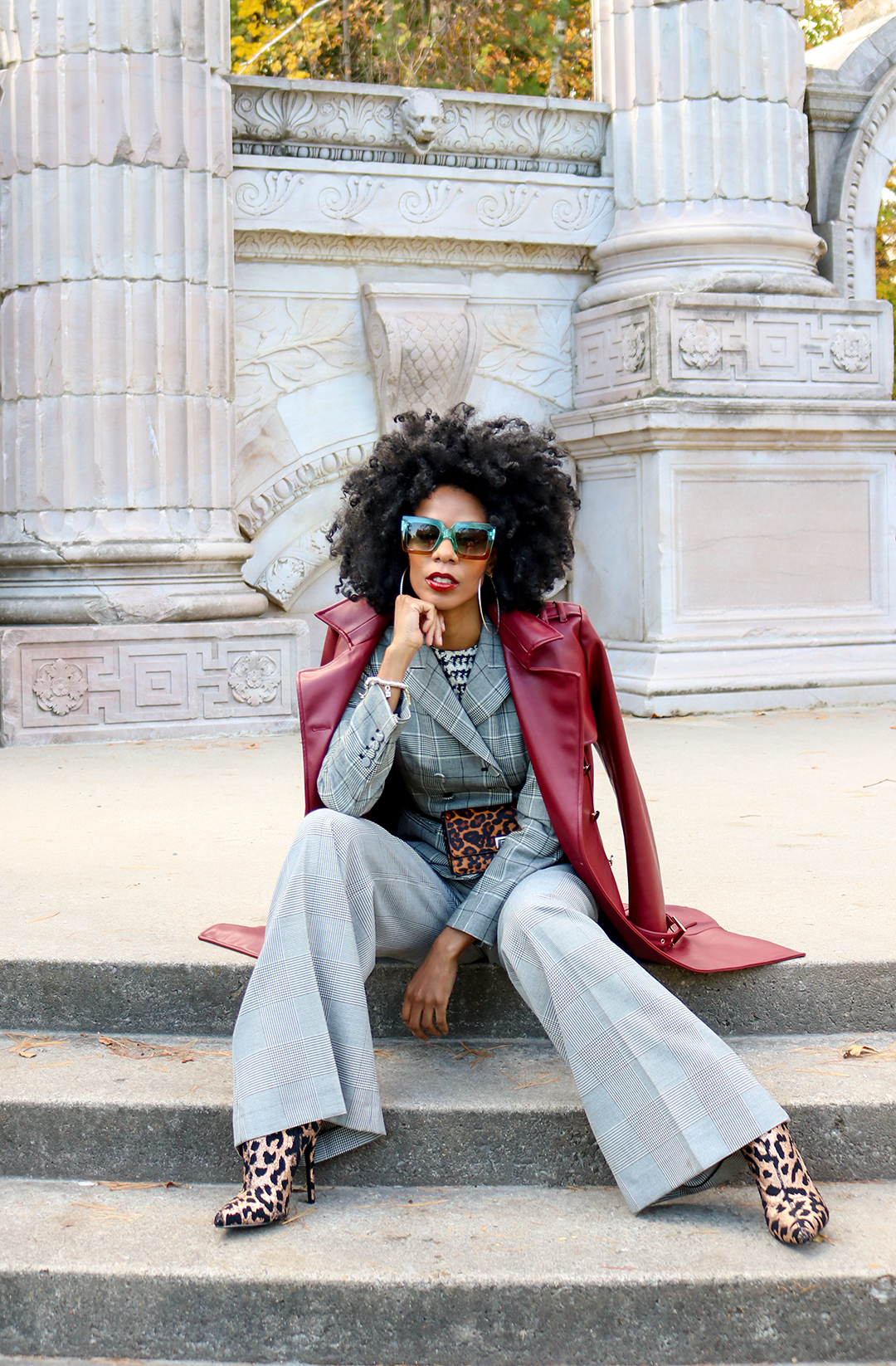 The trench coat was just the perfect topper for it all. It works for both work and play making it a great investment piece at this time when we may not necessarily be trying-to-try to buy too much beyond joggers and pajamas!LOL
All of this to say, if you're looking for a coat this season and were going to go with black because you think it goes with everything, consider switching it up and sliding into a maroon coat instead!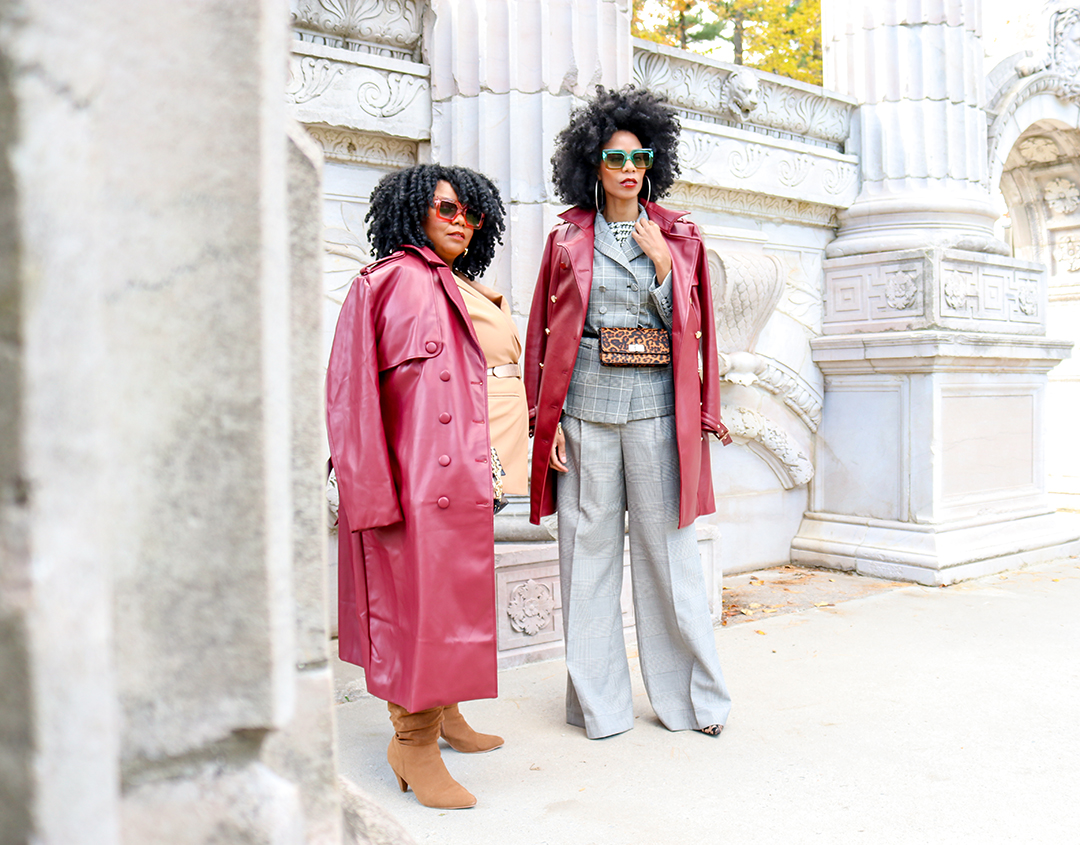 And that's the long & short of it!
Gail & Leslie xoxo
Photo credit: Roseline Bonheur