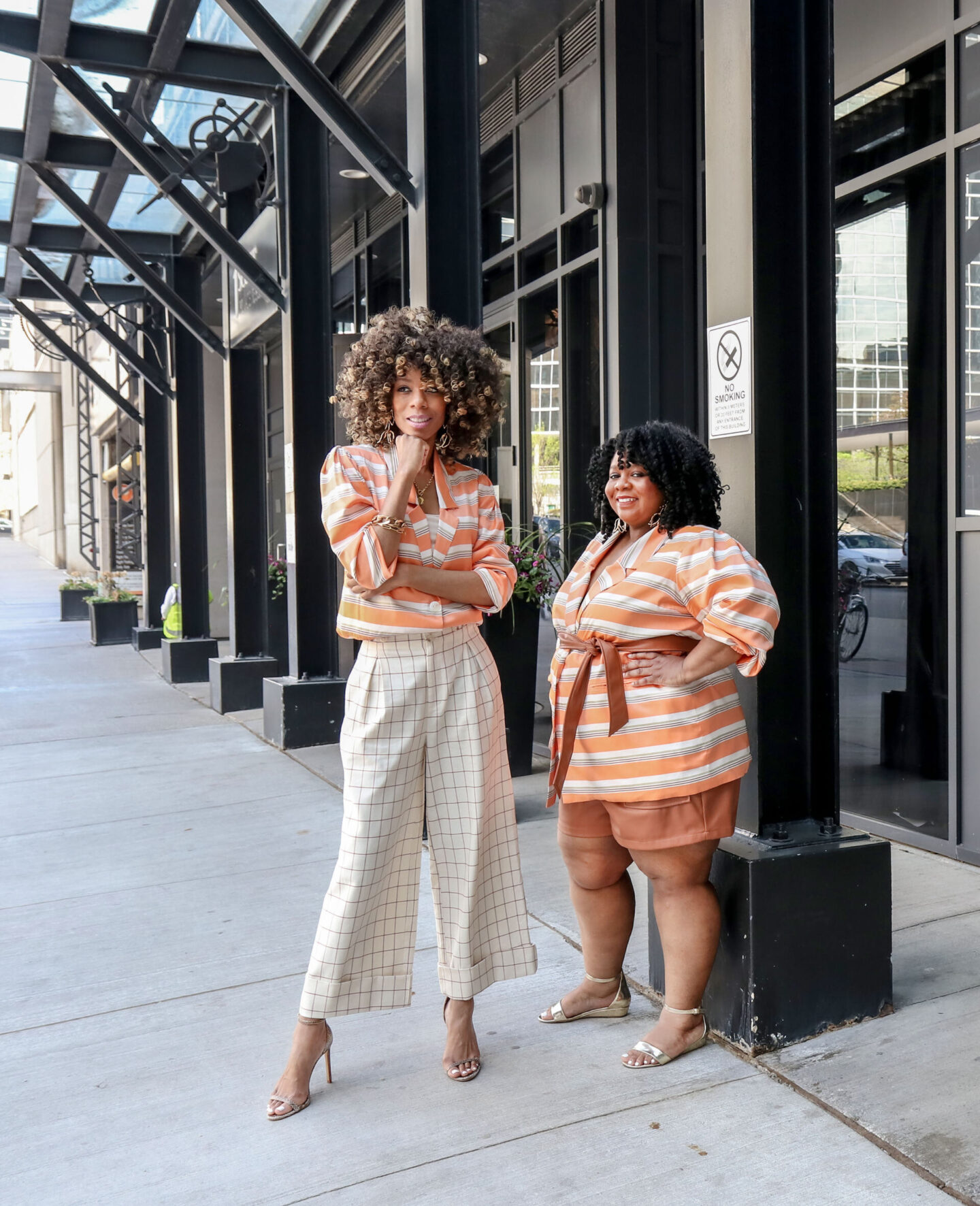 We are back with a little twinning action featuring a beautiful blazer by one of our fave designers Hilary MacMillan! We just love that she creates so many gorgeous size inclusive pieces, and that she has great updated classics that will last you for years to come! Check out how we each decided to werk this boss blazer!
Gail – Blazer Chic
Summer is finally here and I couldn't be more excited. Warm breezes, chilling with friends and family, enjoying a cocktail or three on rooftops and just generally having an amazing time. And of course while I'm having all of these fun experiences, I'll doing it all, stylishly!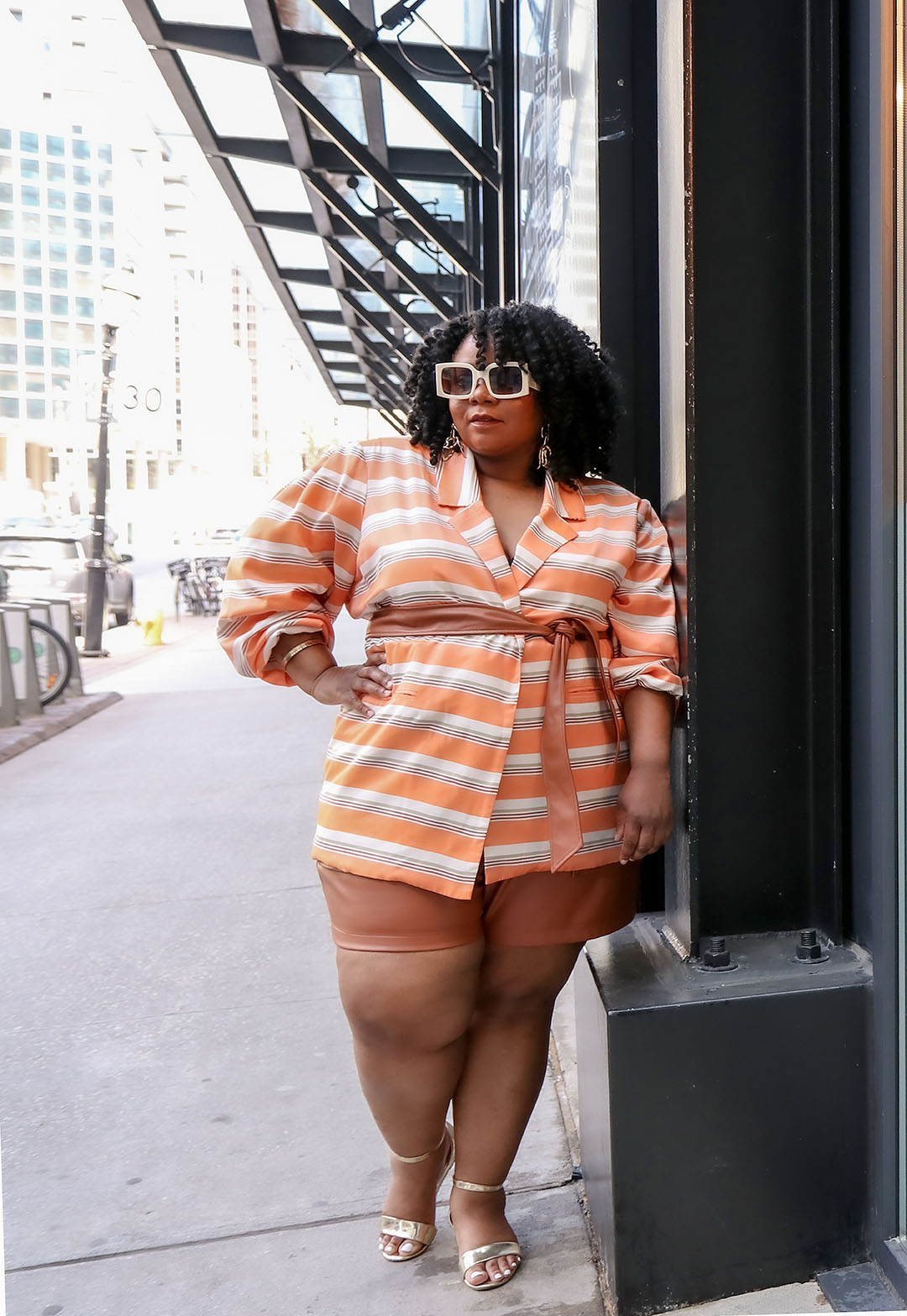 Blazer: Hilary MacMillan (available in straight and plus sizes) // Shorts: Just Fab (old) similar here or here // Sandals: JustFab (old) similar here // Sunnies: AliExpress // Earrings: Zara (sold out) similar here
For straight size fashionistas the blazer is also available in your size. Shorts option
This look is giving everything it needs to give! I just love that the fact that designers like Hilary MacMillan are making fun, fashion forward pieces for ALL SIZES! Size inclusive fashion lines are the name of the game now. This striped boyfriend blazer, which I'm wearing in a size 3X, is slight oversized with puff sleeve, giving it a slouchy feeling.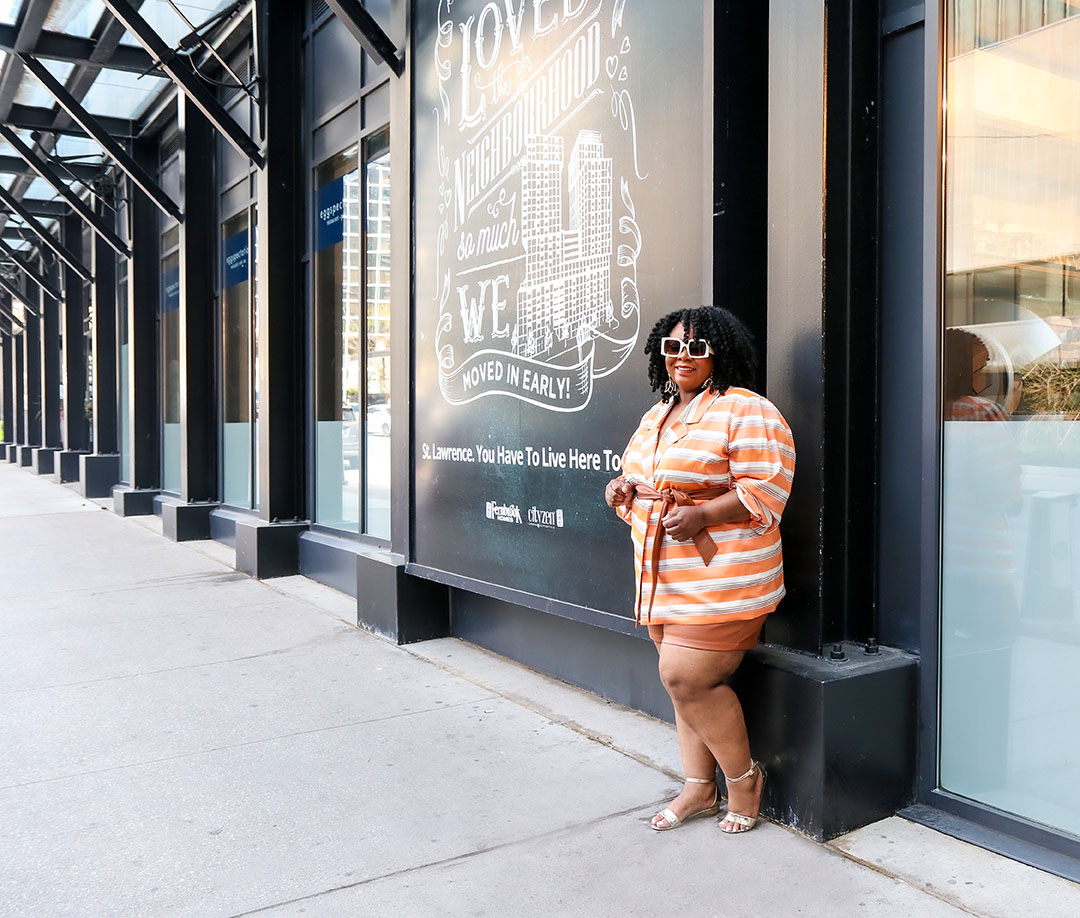 Now I had to add these this faux leather cognac coloured shorts to the mix. A boss blazer requires a boss article of clothing and these shorts definitely fit the bill. You could easily swap out these shorts for denim cut offs or even a faux leather skirt or pants. The possibilities are endless honestly.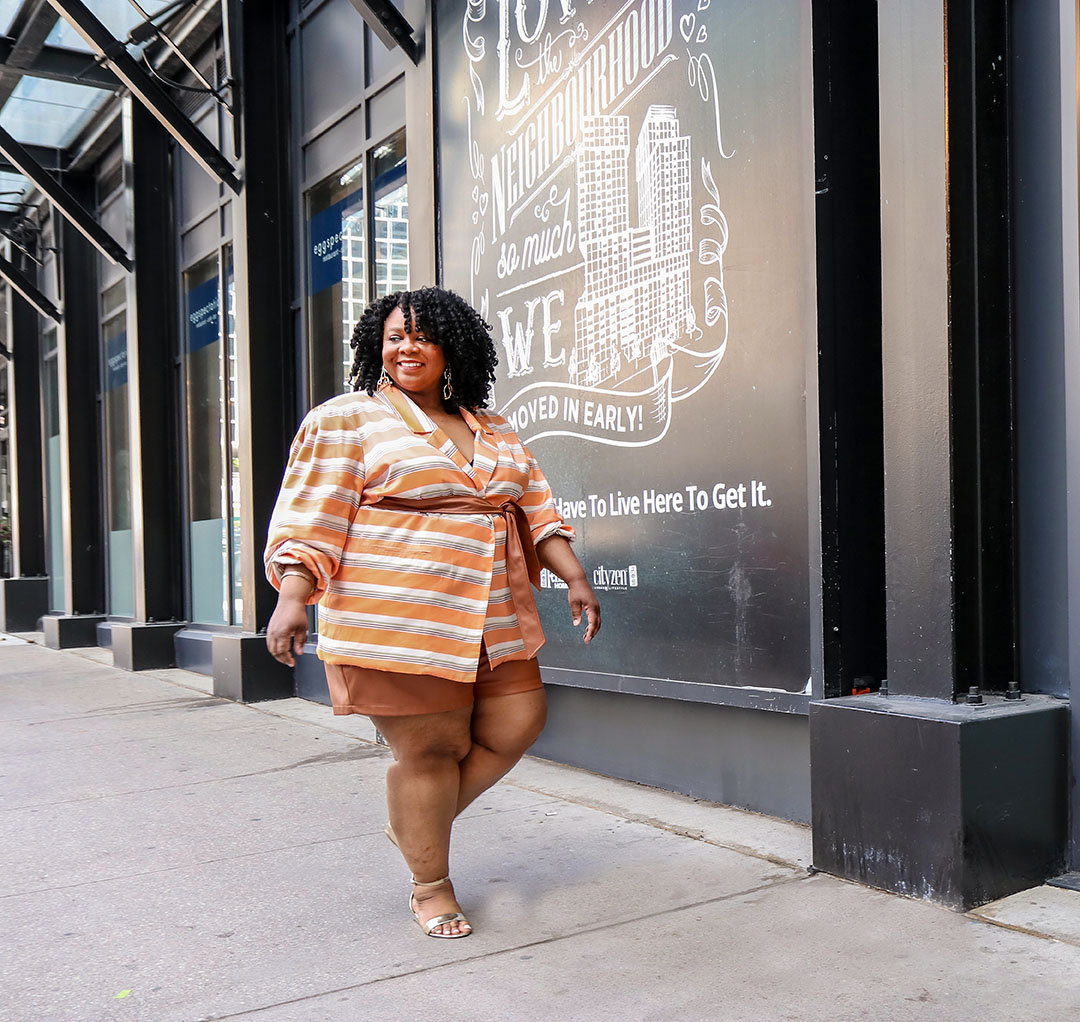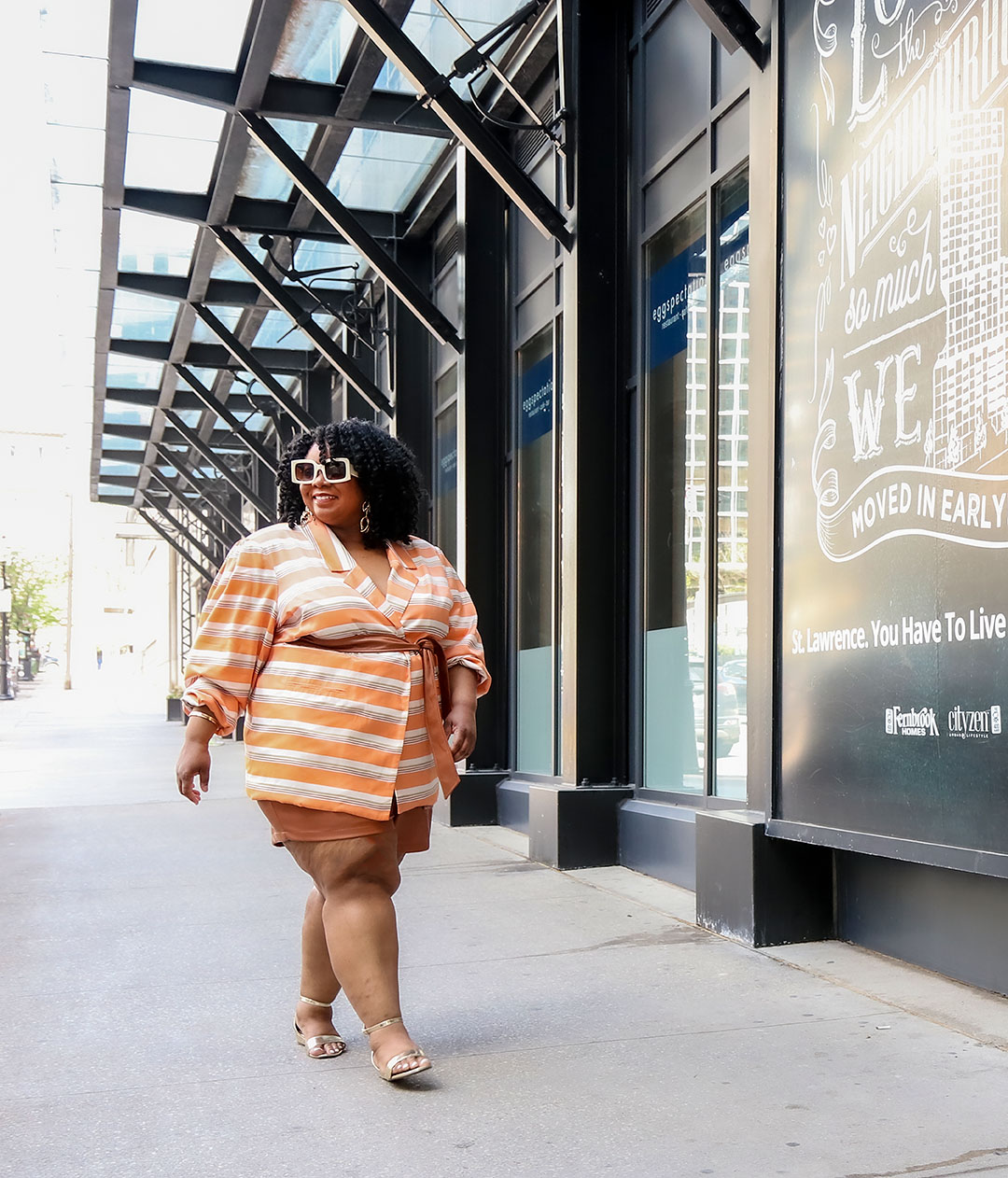 I added these shorts, that are close the body, to balance the oversize look of the blazer. I love playing with proportions by having one item that is forming fitting with a oversized piece.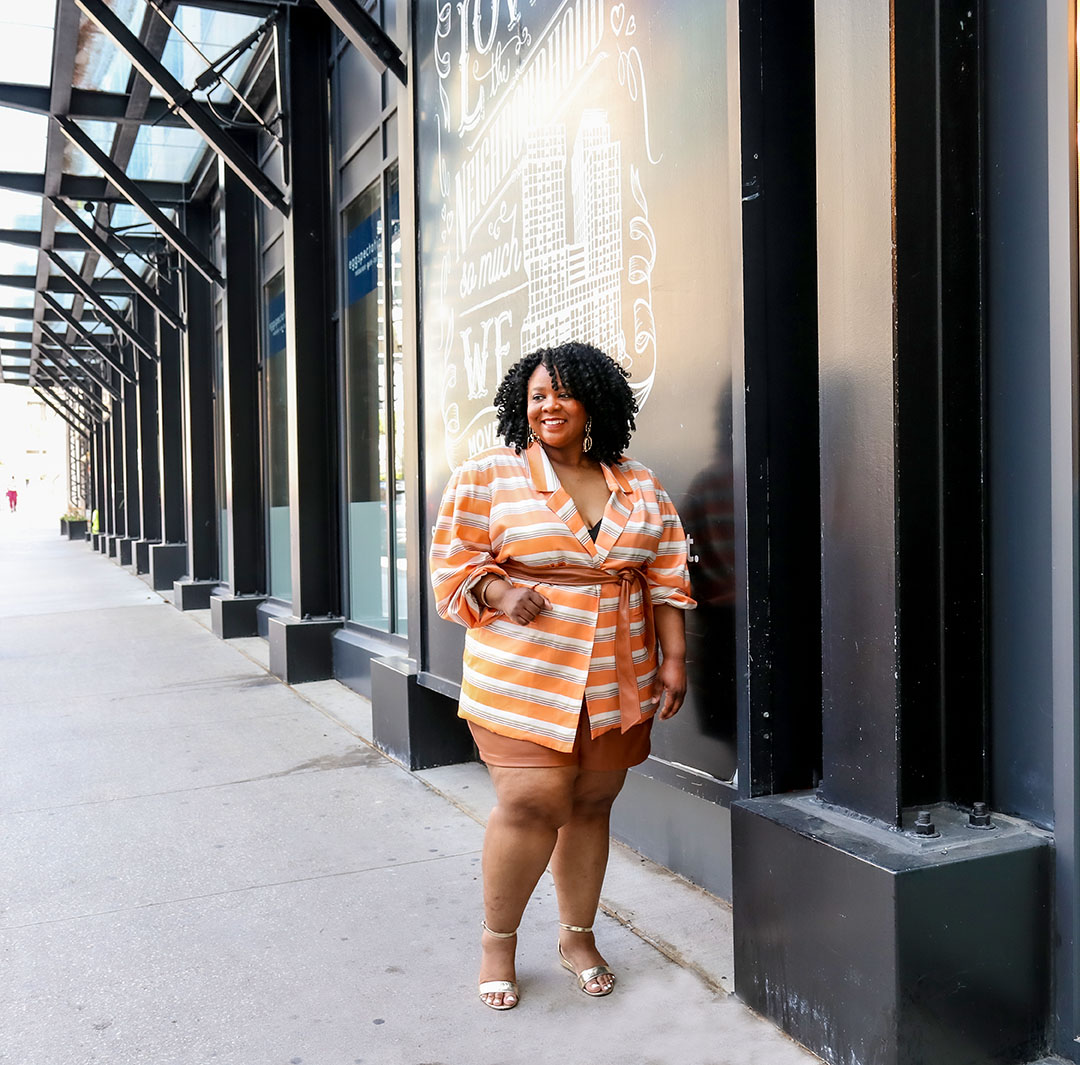 I completed my look with gold wedge sandals, fun over sized sunnies and dangly earrings from Zara.
Leslie's Blazer Bossness!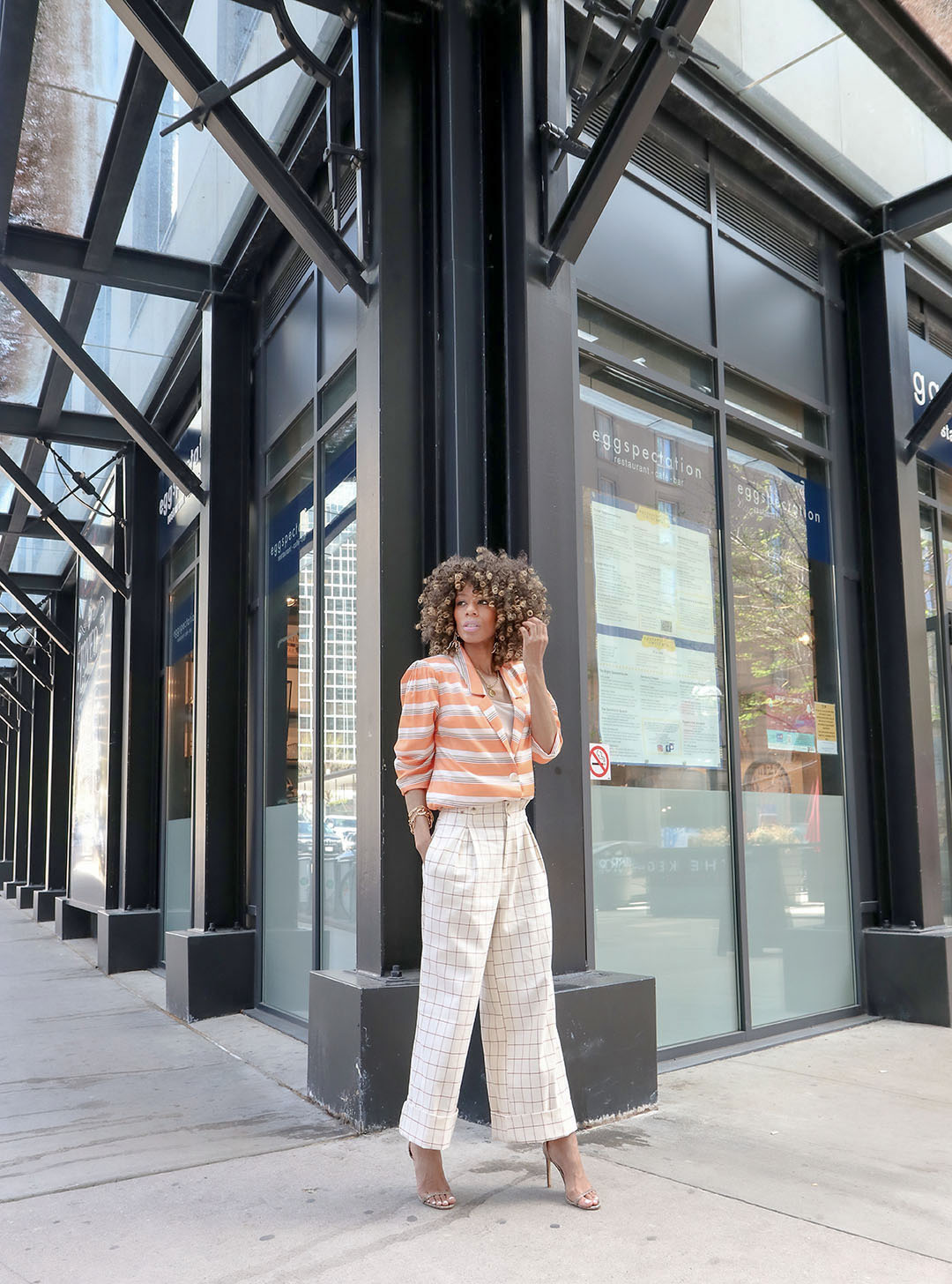 Blazer: Hilary MacMillan // Pants: Anthropologie // Shoes: Zara (old, similar here) //
For my plus size babes: Blazer: Size inclusive so you can use the link above // Pants //
Suits, blazers, by now, you know that's my bag! I'm obsessed and fully willing to accept that obsession! LOL This striped beauty from Hilary MacMillan is giving me summer vibes and I'm here for it!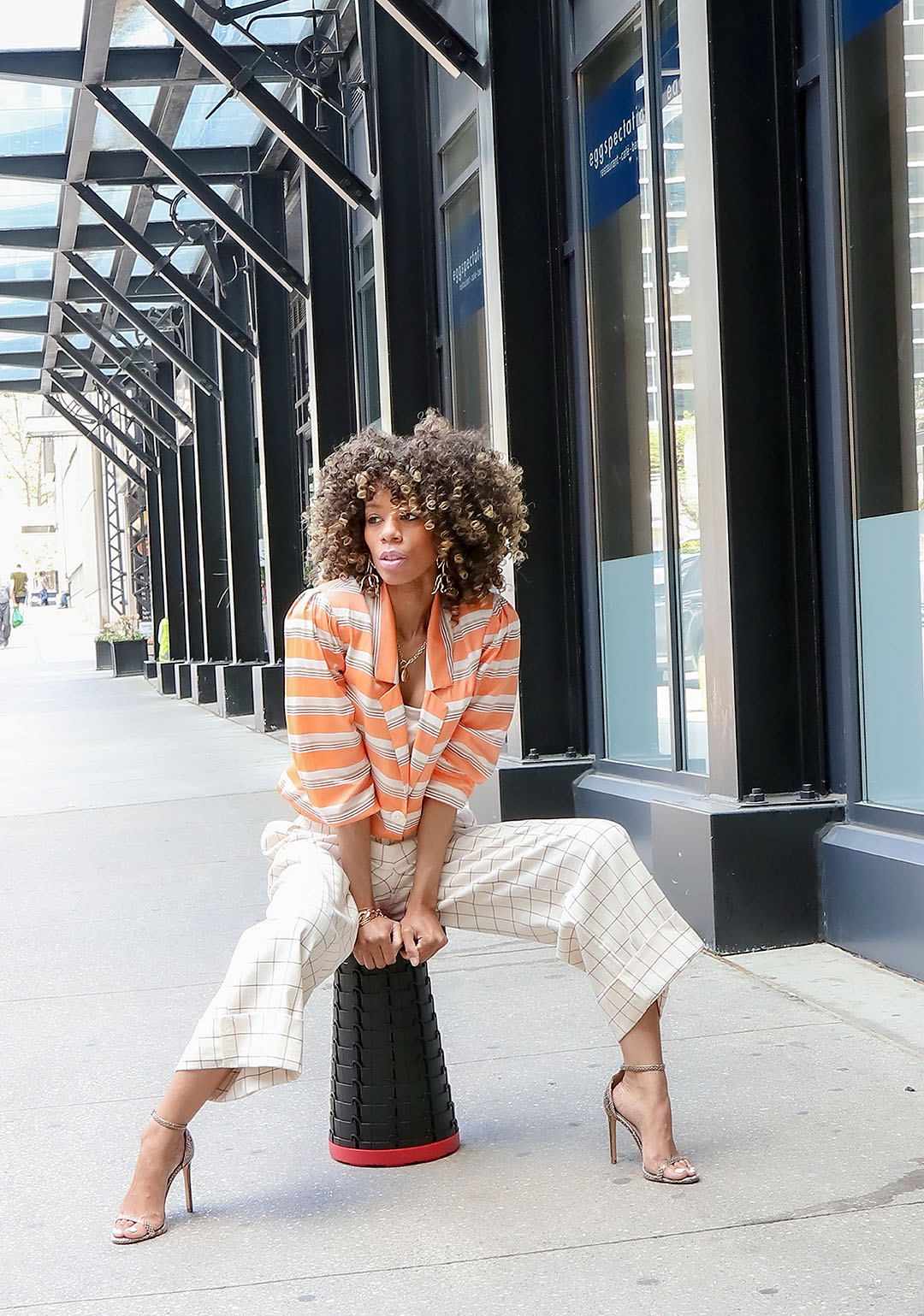 A good friend sent me a reel of a woman making her regular blazer look cropped and I decided to test this out for myself. I think it worked out. I really love extending the life of my wardrobe pieces and finding ways to rock them differently, so now this is another remix I can add to my repertoire!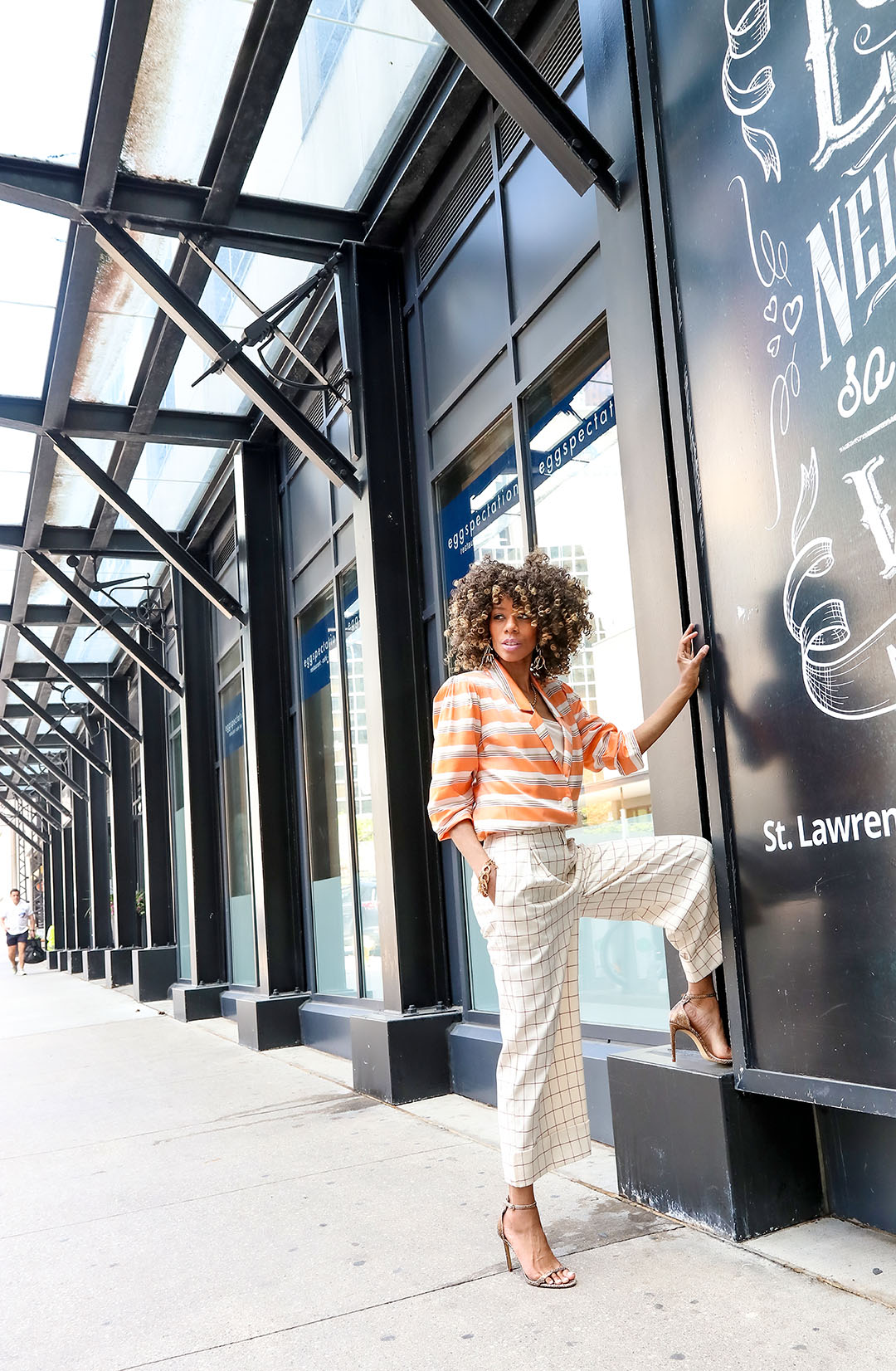 Also, I love that this blazer s very long as well (see Gail's look). I could rock it as a dress (with shorts underneath of course), or just with some cute jeans and sneakers and I'd be good to go!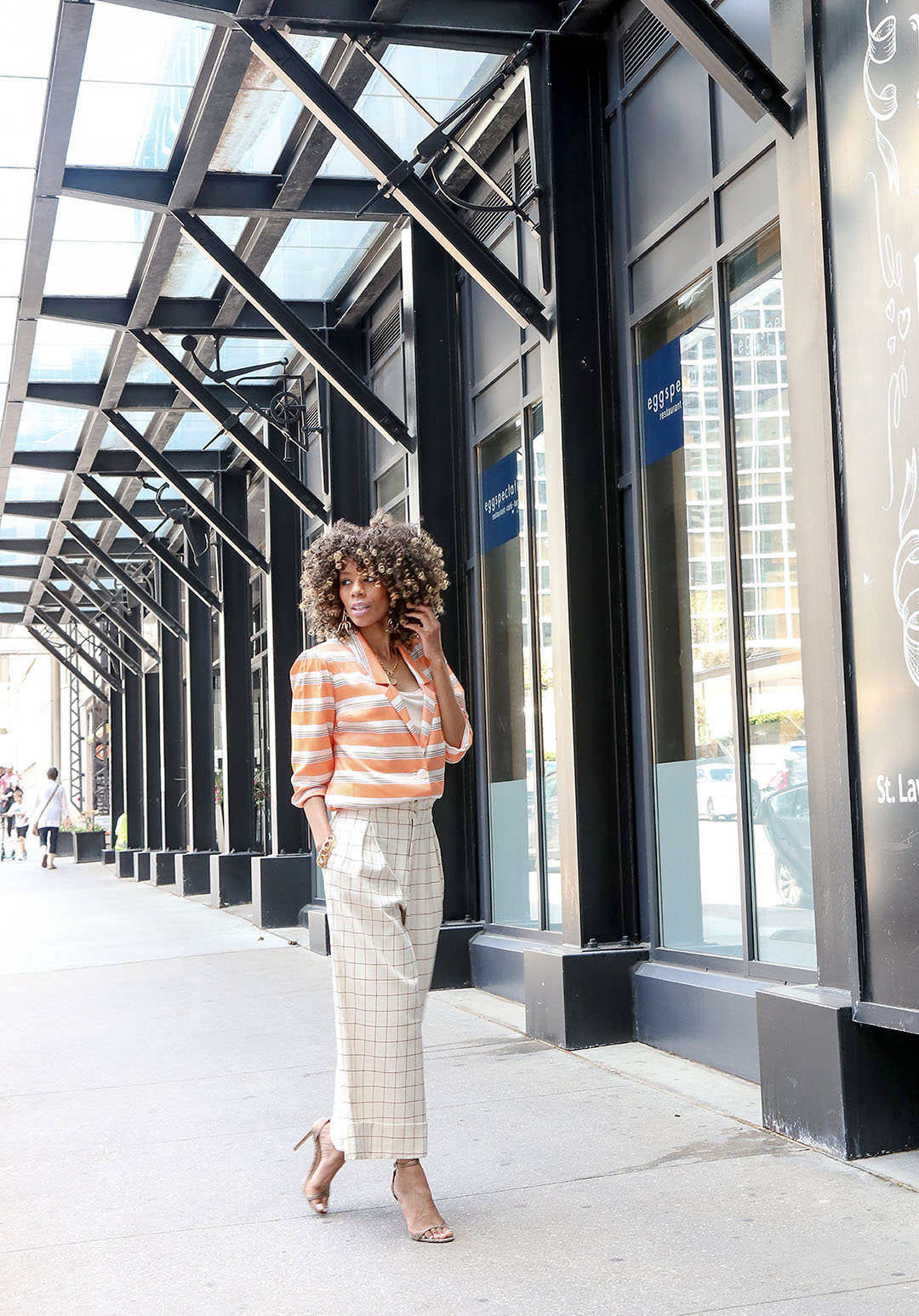 Of course, your girl loves a print on print mix, so I just had to slide into these awesome wide leg pants from Anthropologie. They are full length, but because I love to mix things up, I rolled up the hem to give it a cropped feel too!. As I've mentioned before, this pandemic has significantly affected my ability to wear heels, so crop pants make it easy to switch between my flats and heels as needed! LOL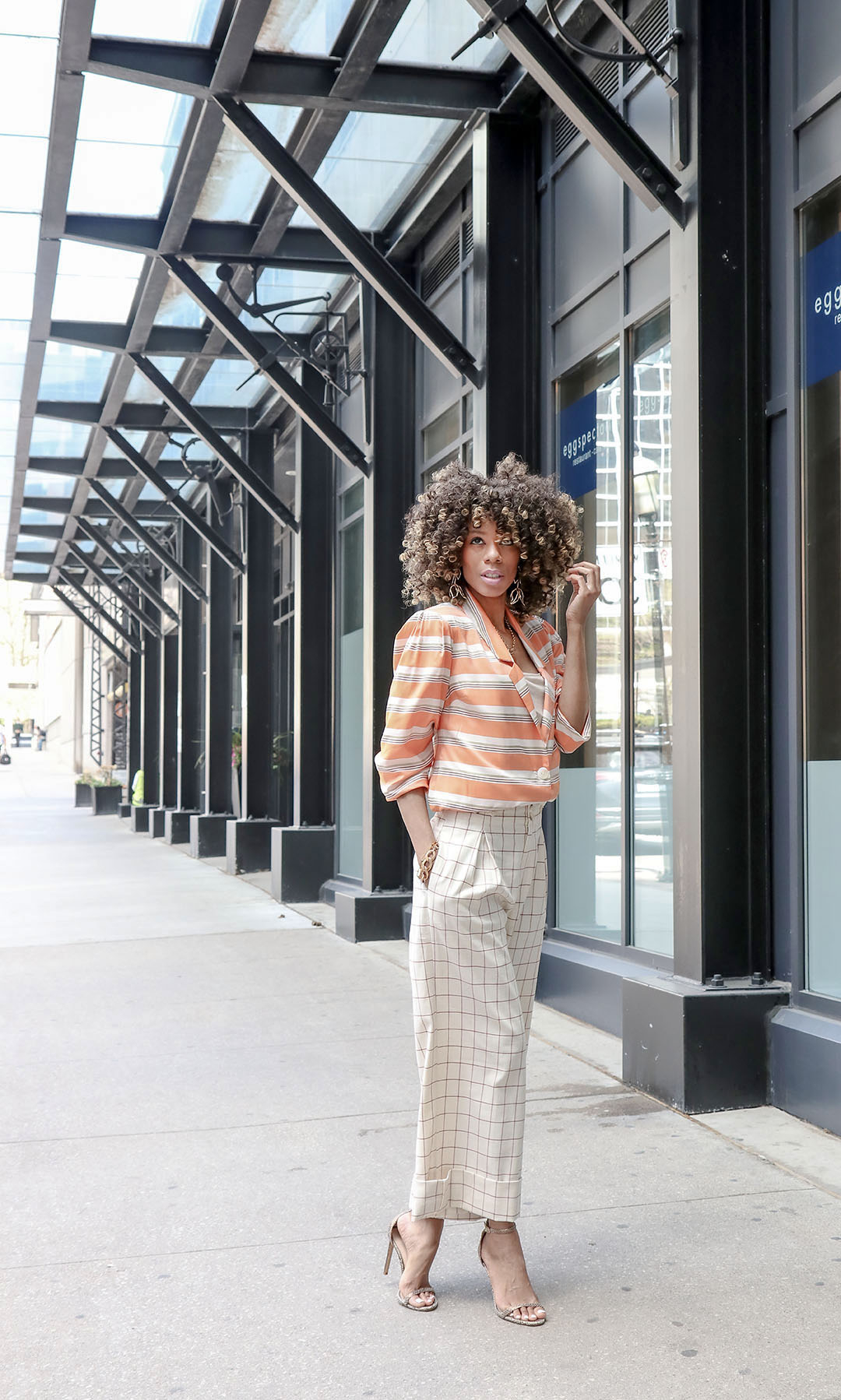 So, y'all, get outside and enjoy the weather while you can. And think about rocking that blazer, mixing those prints and playing with your clothing pieces to make new looks that truly reflect you!
And that's the long and short of it!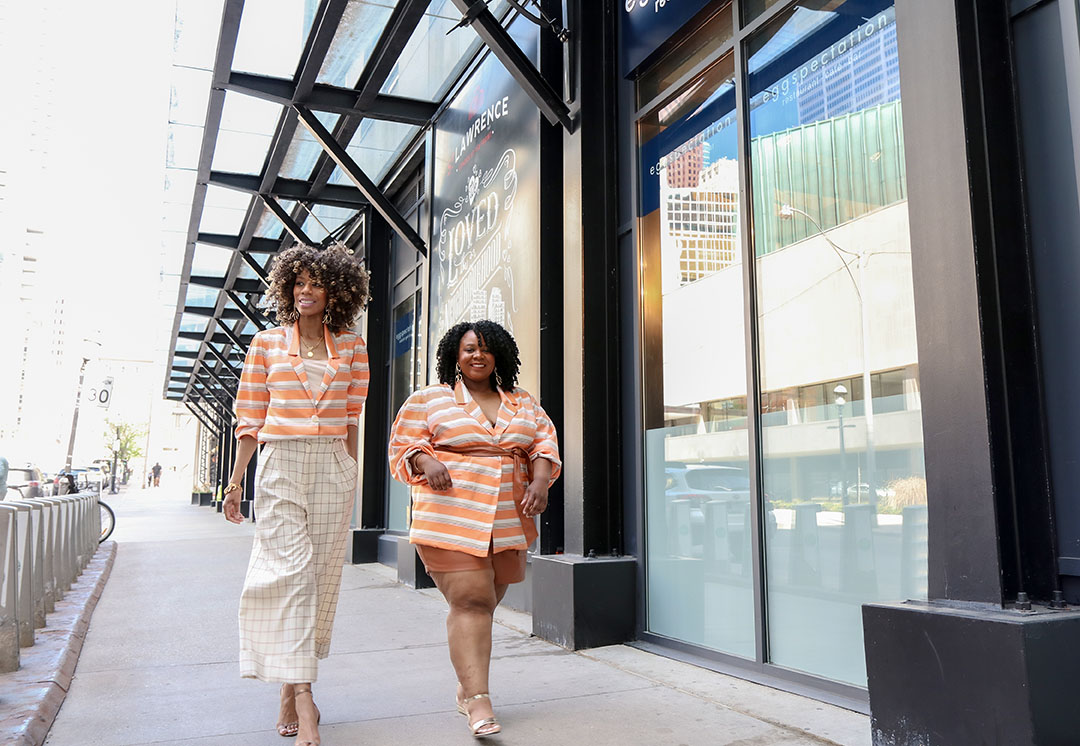 Gail & Leslie xoxo
Phot to credit: Roseline Bonheur