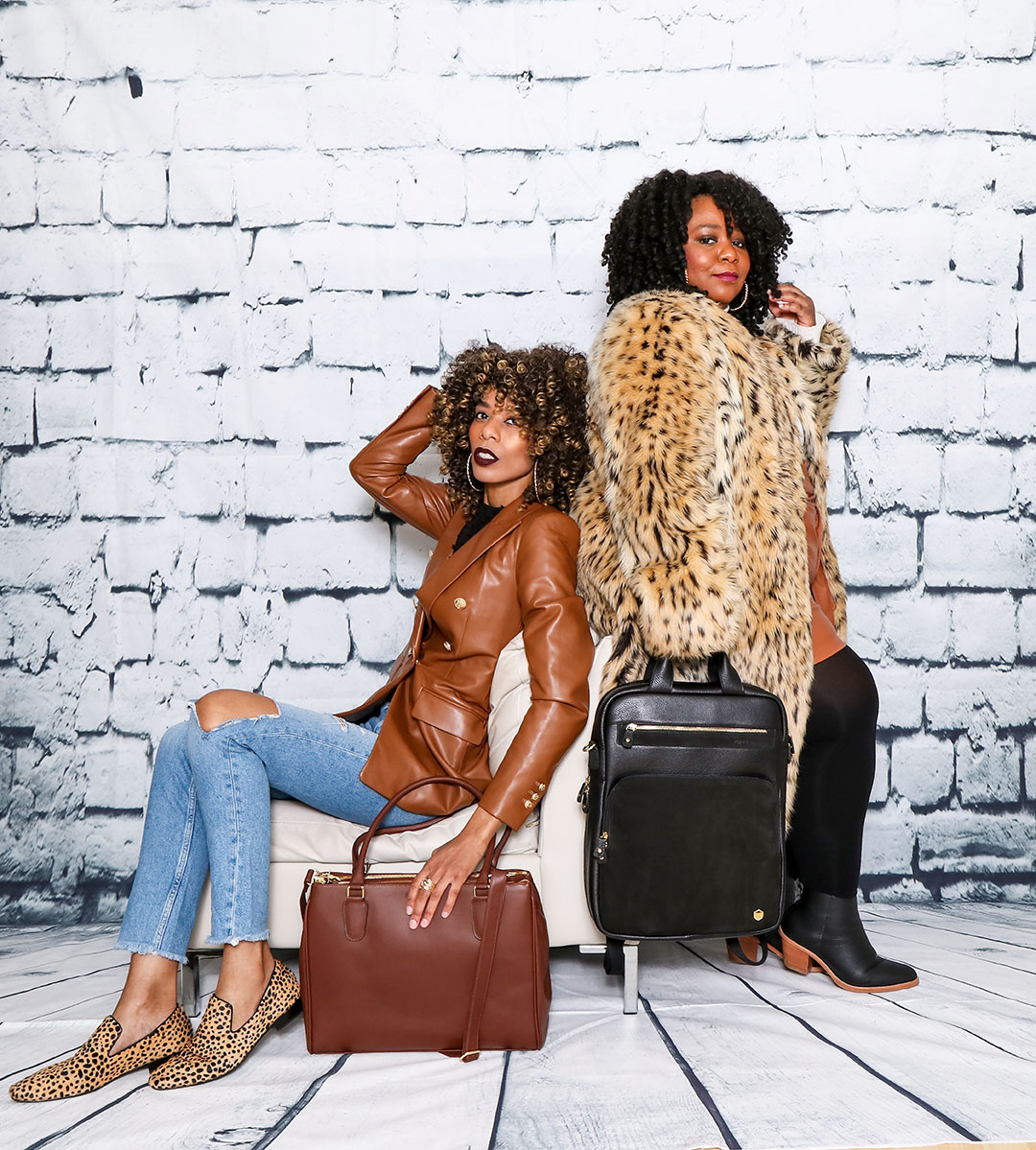 "We exist to re-think every step of the fashion industry to make it better – for our planet, for our people, and for our future". This is the modis operandi for Poppy Barley (PB); a footwear and small leather goods company that offers great design, quality craftsmanship and is all about sustainability.
Founded, owned and women led PB offers goods for both women and men. With women's sizes from 5 – 12 in narrow and wide widths as well as customization they are trying to make the shoe game accessible! Check out our must have pieces!
Leslie's PB Loves!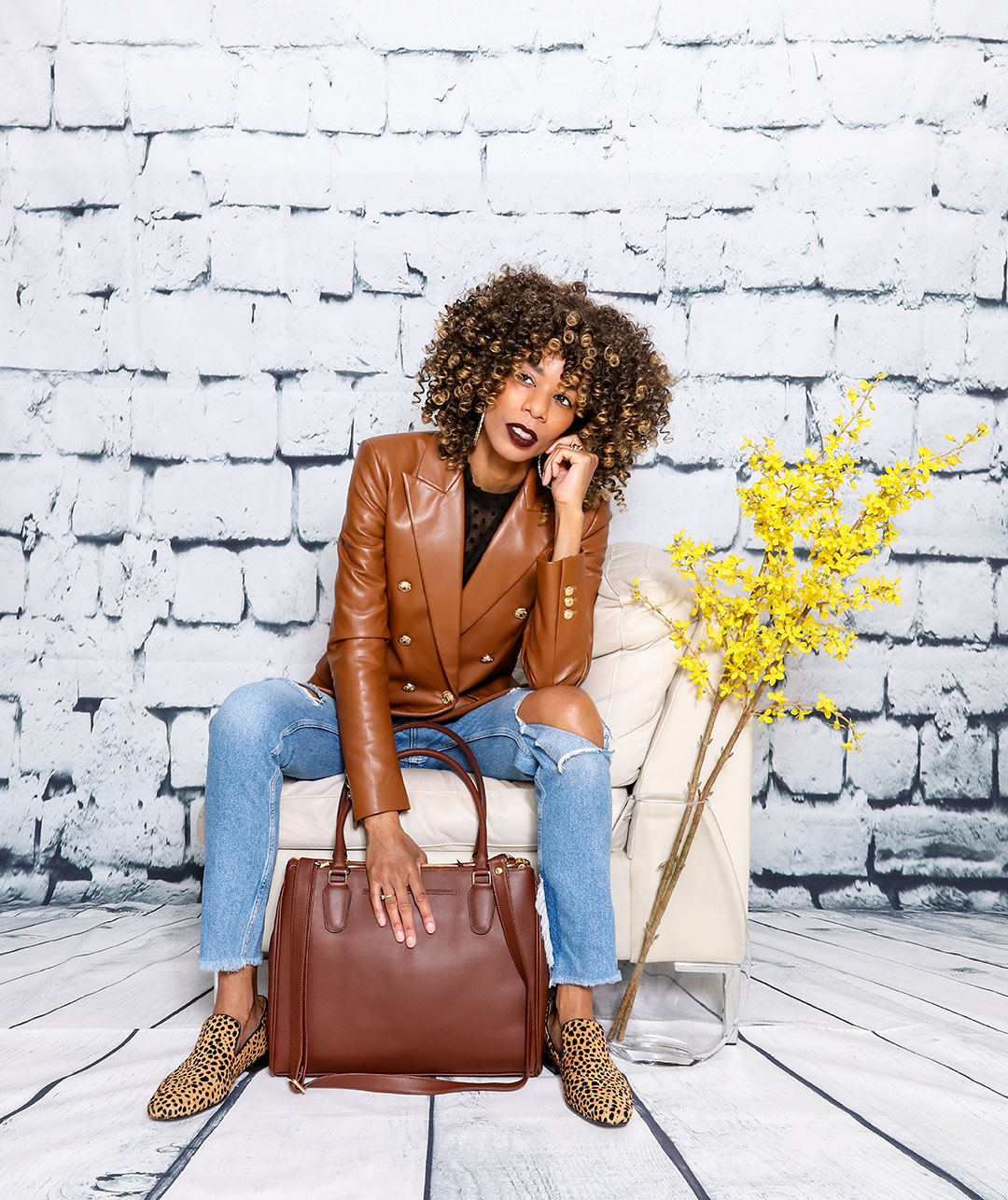 Loafers: Poppy Barley // Tote Bag: Poppy Barley // Blazer: Zara (old, similar here) // Blouse: Zara (old, similar here) // Jeans: Zara (old, similar here) //
For my plus size babes: Blazer // Blouse // Jeans //
I LOVE my heels don't get me wrong, but I have found a new love, and that is fabulous flats! Oh, and let us not forget the most important part – comfortable, fab flats!
My tootsies no longer have patience for a shoe that pinches or squeezes. That's why these Poppy Barley loafers are now one of my absolute faves! Just because a shoe is flat does NOT mean that they are comfortable. And sometimes, when a shoe is comfy, they are NOT cute! LOL Poppy Barley has meshed the comfort with the cute in these beautiful loafers and I cannot help but to sing their praises!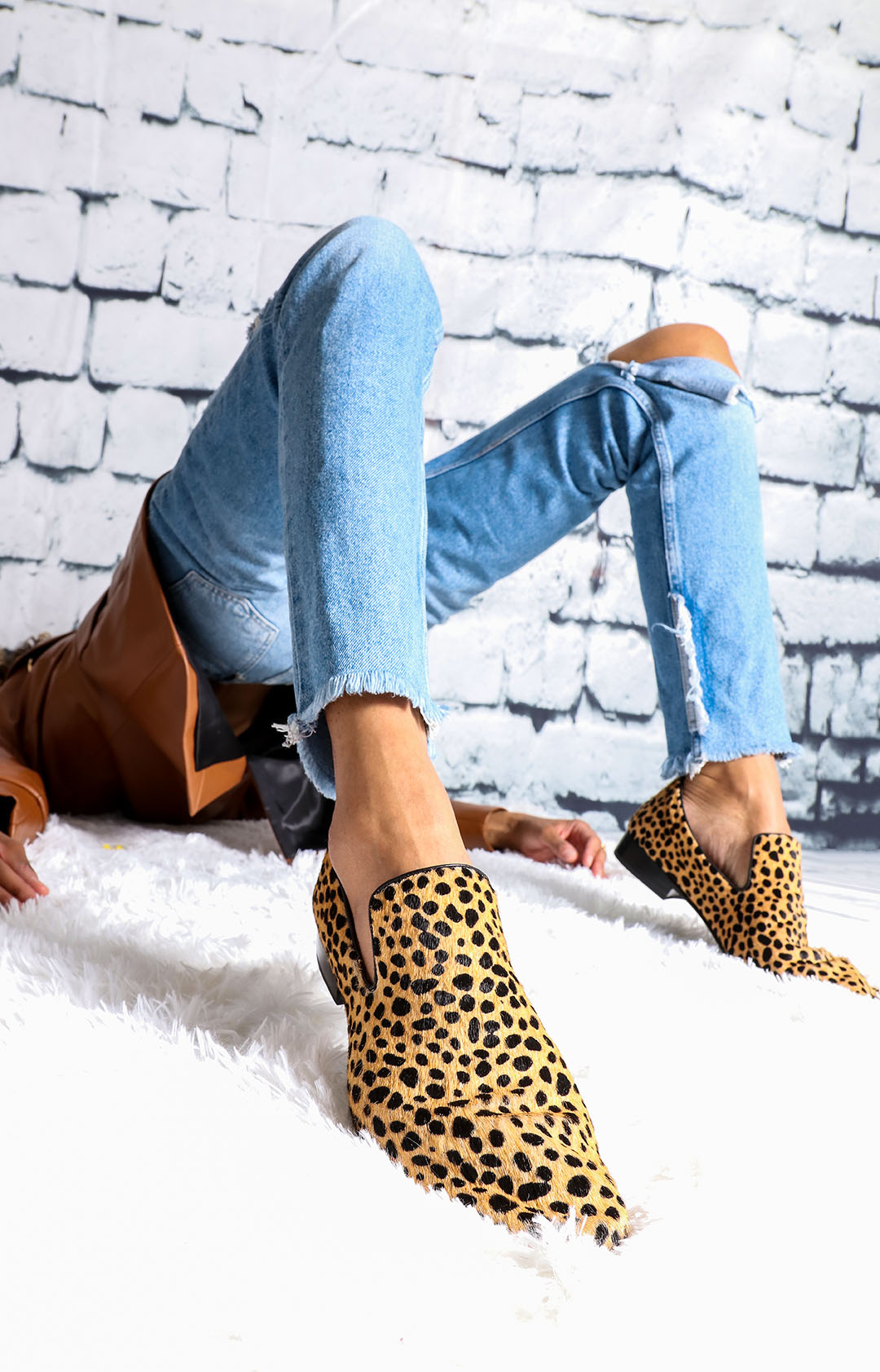 So, you know how sometimes you put on a pair of flats and the leather is super stiff and it can rub or feel like it's poking into your big toe? Or they don't move with you when you walk, like you have a piece of stiff wood attached to your feet? I'm a self-professed shoe junkie and I have tried on A LOT of shoes and I have suffered in my fair share. So you can believe me when I say that these loafers are ridiculously comfortable. I feel like I'm wearing slippers.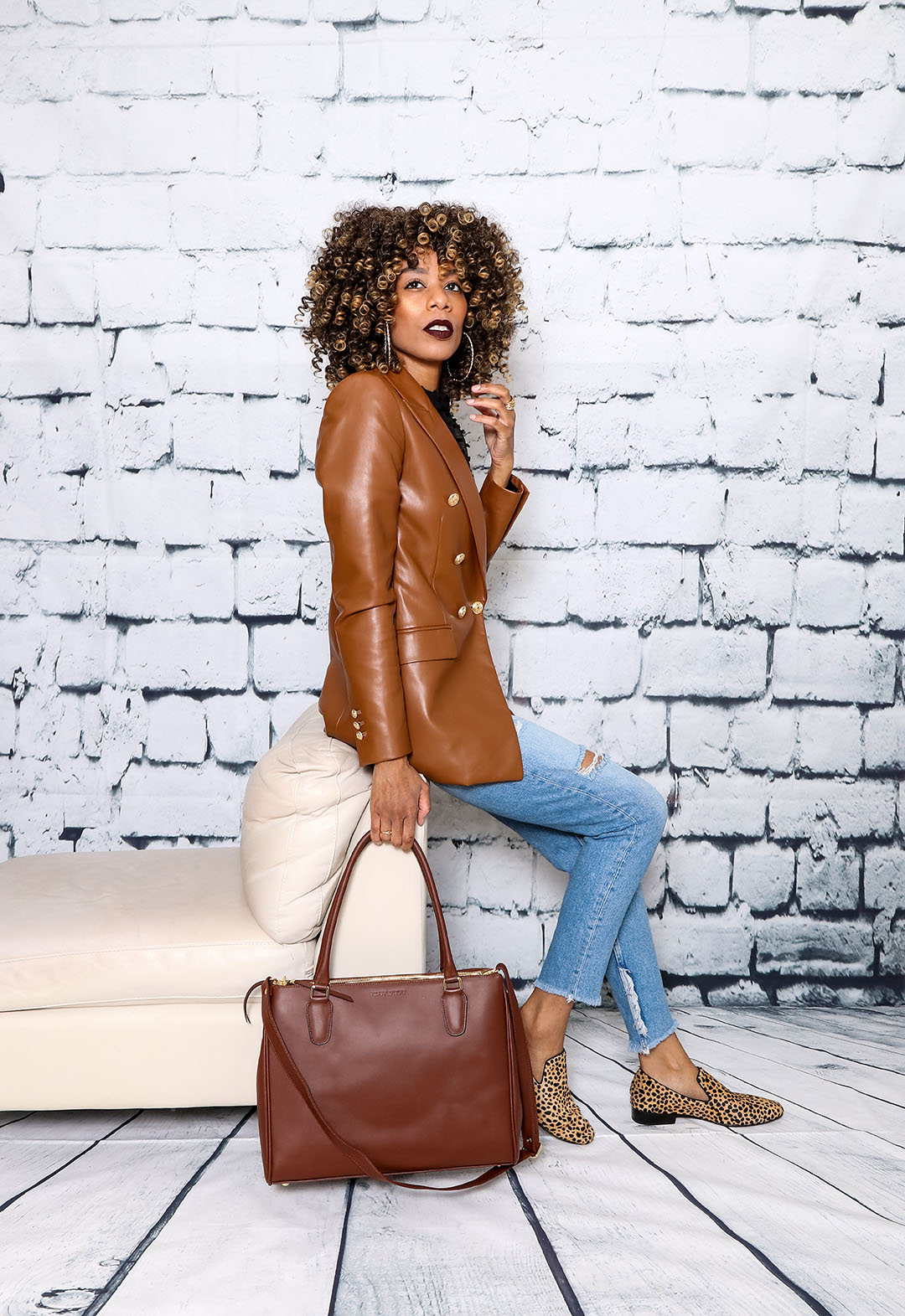 They have a ridiculous amount of flexibility in the sole allowing them to bend with my foot as I walk, and they do not rub any part of my foot. I'm typically a size US 9, and the PB size 9 fit perfectly. They don't slip off at the back when I walk as some flats tend to do. No need for me to add any insoles or other tools to keep them from slipping off as I walk – whoop-whoop!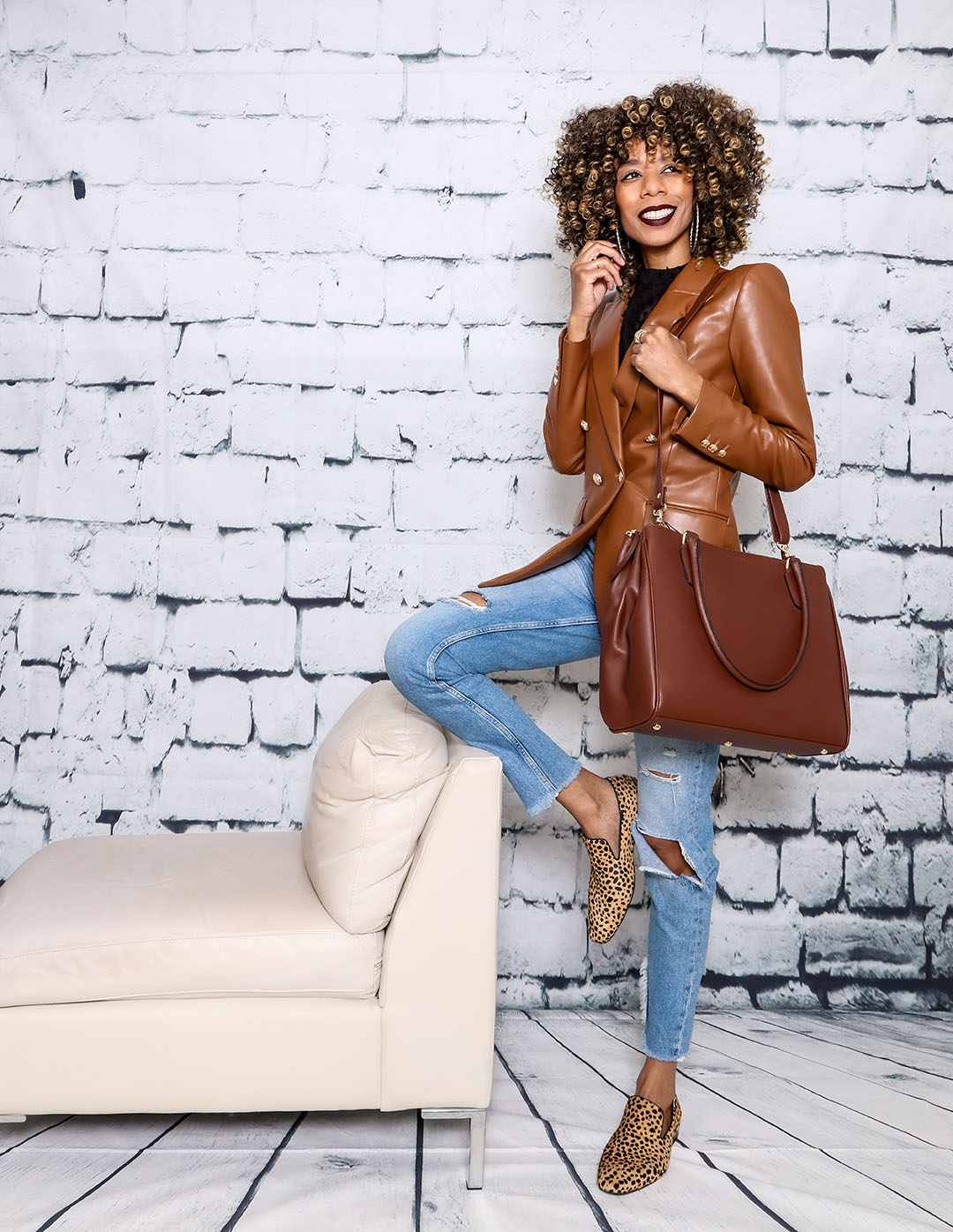 I am also about a great print, even in my shoes. I LOVE a cheetah print or leopard print. They go with just about everything! These shoes are a calf hair type of texture and look and feel amazing! But, we cannot just talk about the shoes folks because PB have some amazing bags that had me struggling to pick just one!
Something else you should know about me; I like big bags. I can fit all my necessities! Makes me feel like MacGyver (i.e. ready to take on any situation LOL). The Co-Worker Tote is just that: the ultimate companion to ensure you have all you need for success! This is the bag that would be my personal item on any trip, and would work amazingly well for any commute requiring that laptop and work paraphernalia.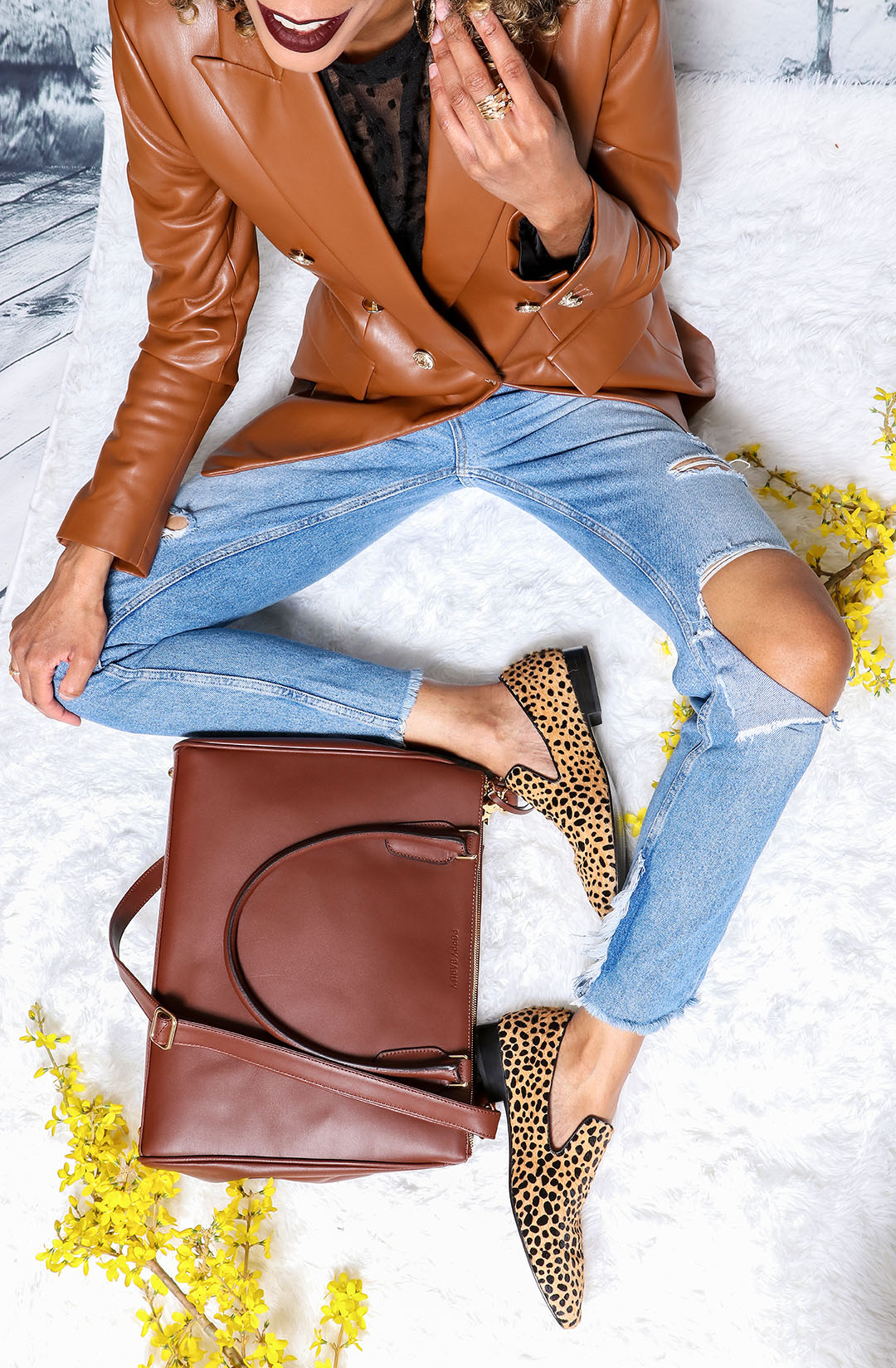 I love that I can carry the tote using either the shorter or longer strap and that it has multiple compartments which is essential for me! What can I say, I like to carry a lot of stuff!LOL And the colour is EVERYTHING! This delicious shade of brown is elegant and neutral enough to still go with everything without being the traditional "go with everything" colour – black.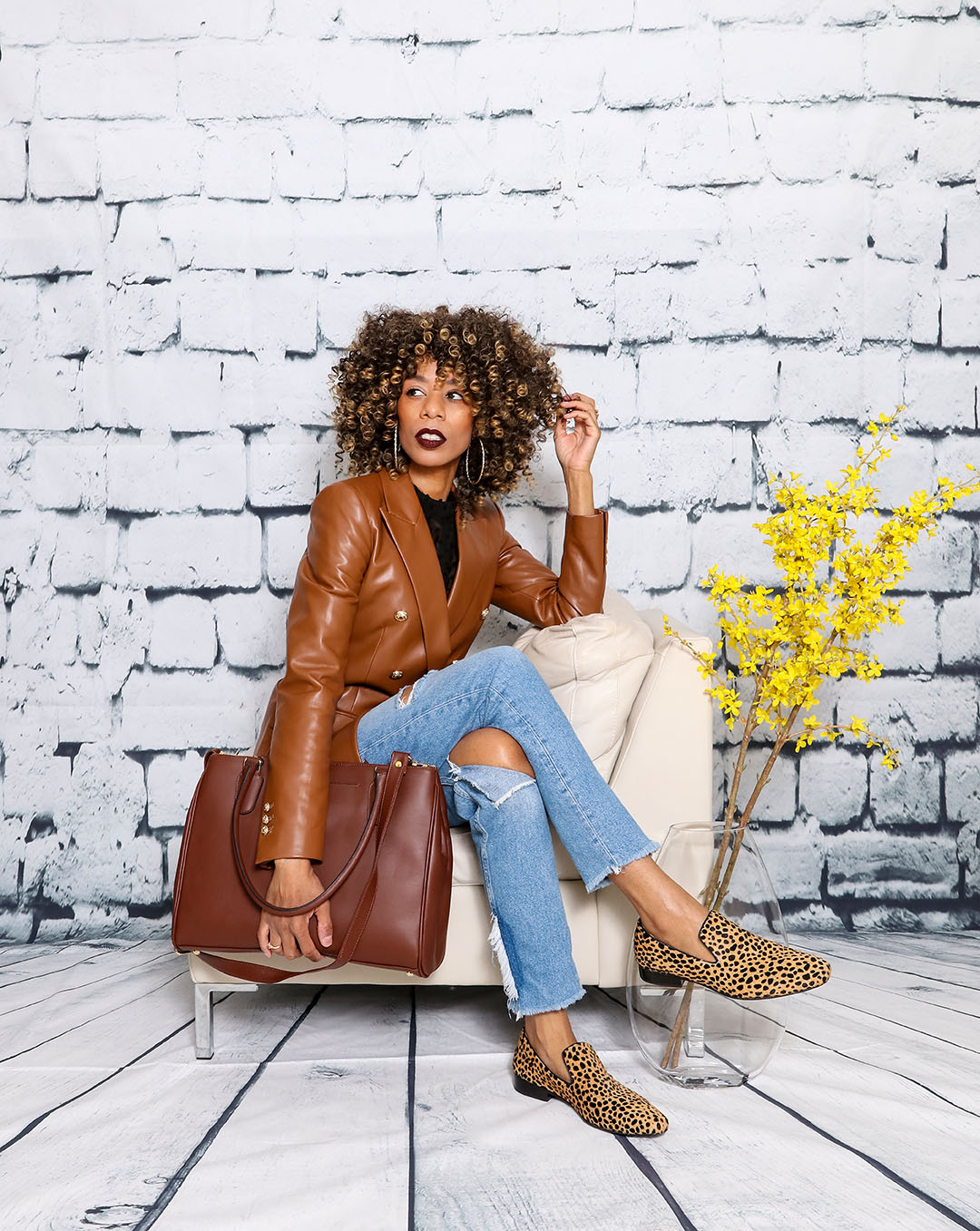 To sum things up, if you're looking for a new flat that you can rock on a daily instead off those sneakers, these loafers are it! And, if you're looking for a cute carry-all type of bag that combines elegance and utility, you need look no further than the Co-Worker Tote!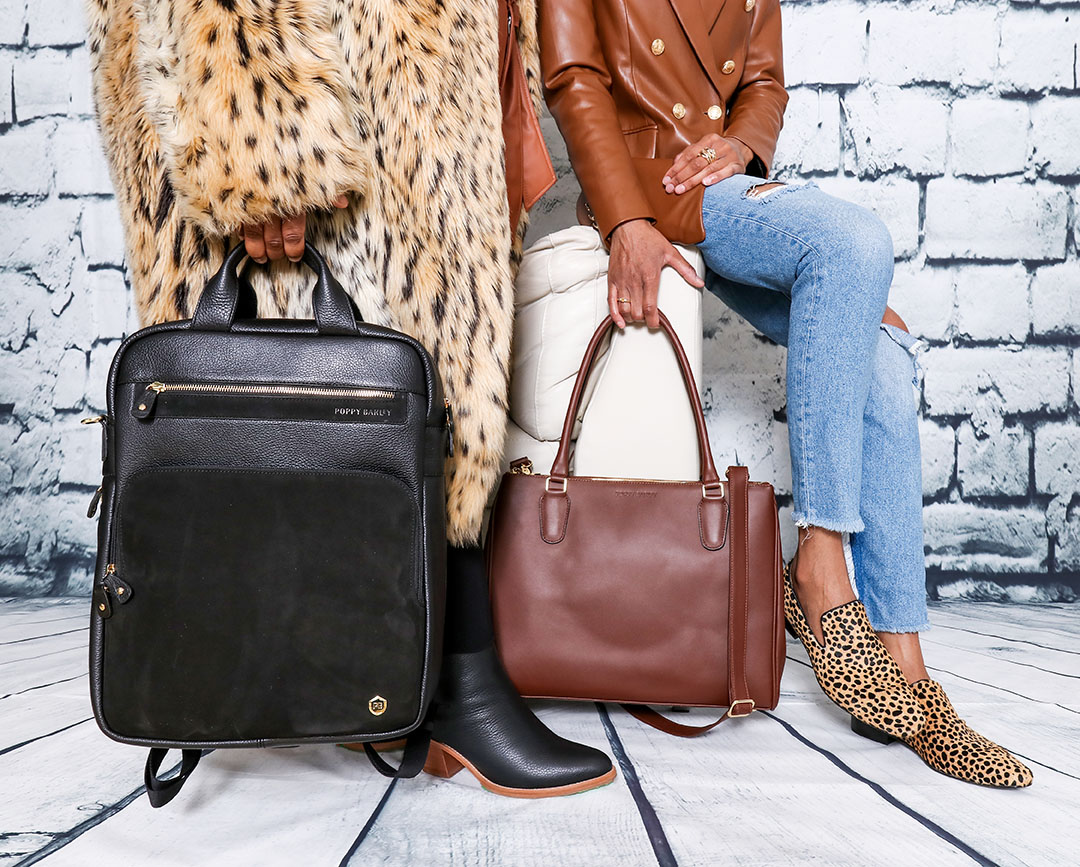 Gail – High Steppin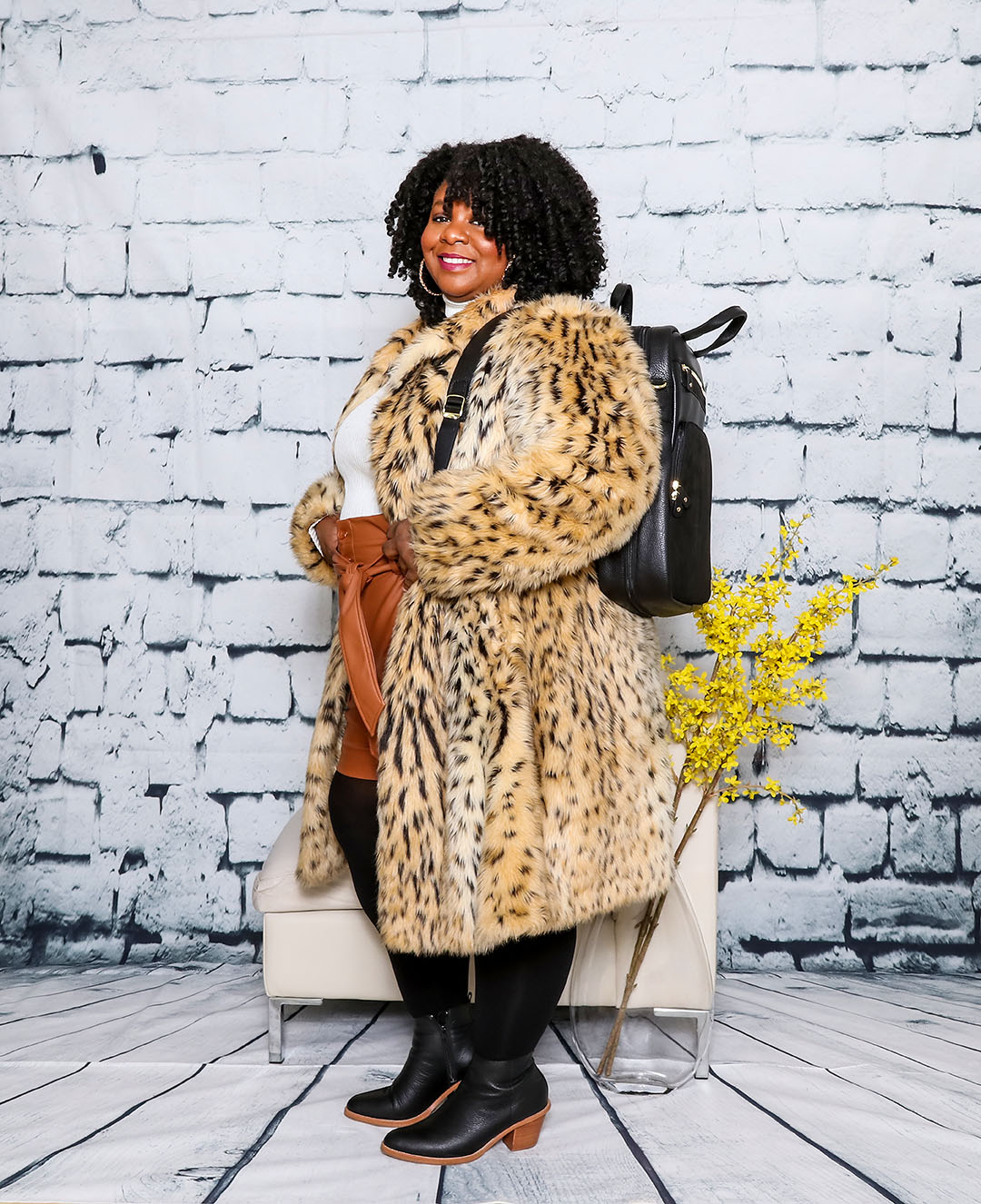 I have been jonesing for some black booties like these from Poppy Barley so I am thoroughly STOKED!
Booties: Extra Mile Booties by Poppy Barley // Backpack: Poppy Barley // Faux Fur Coat: The Shopping Channel (old) similar here // Bodysuit Turtleneck: Fashion Nova // Faux Leather Shorts: JustFab (old) similar here
For my straight size sistas here are the options for you: Coat // Faux Leather Shorts // Turtleneck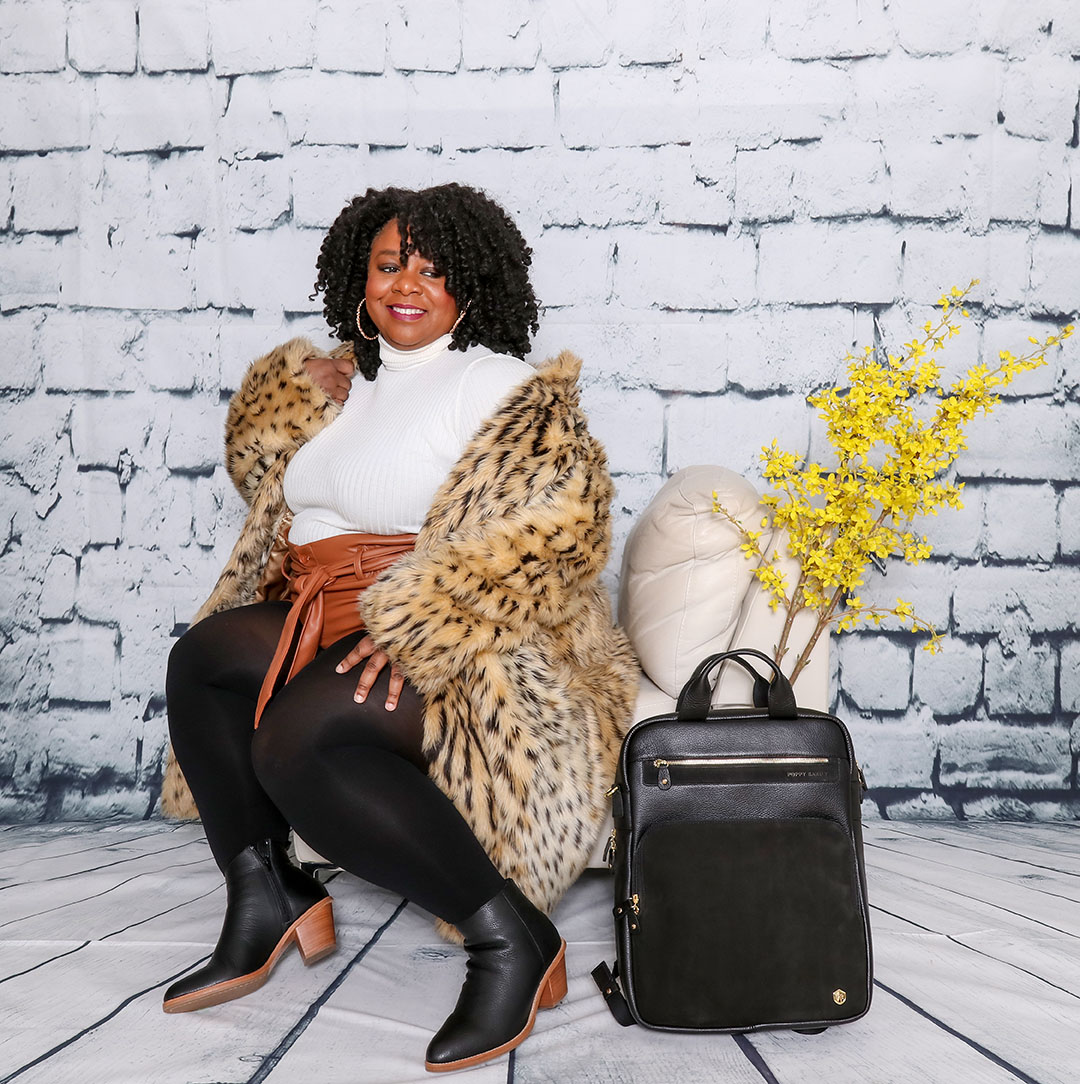 These booties from Poppy Barley are called the Extra Mile and they definitely live up to that name. They are super comfortable. Like Leslie's loafers, these booties come in narrow, medium and wide widths – so there is something for everyone. These booties also marry comfort and style and you know Leslie and I are about the STYLE!!!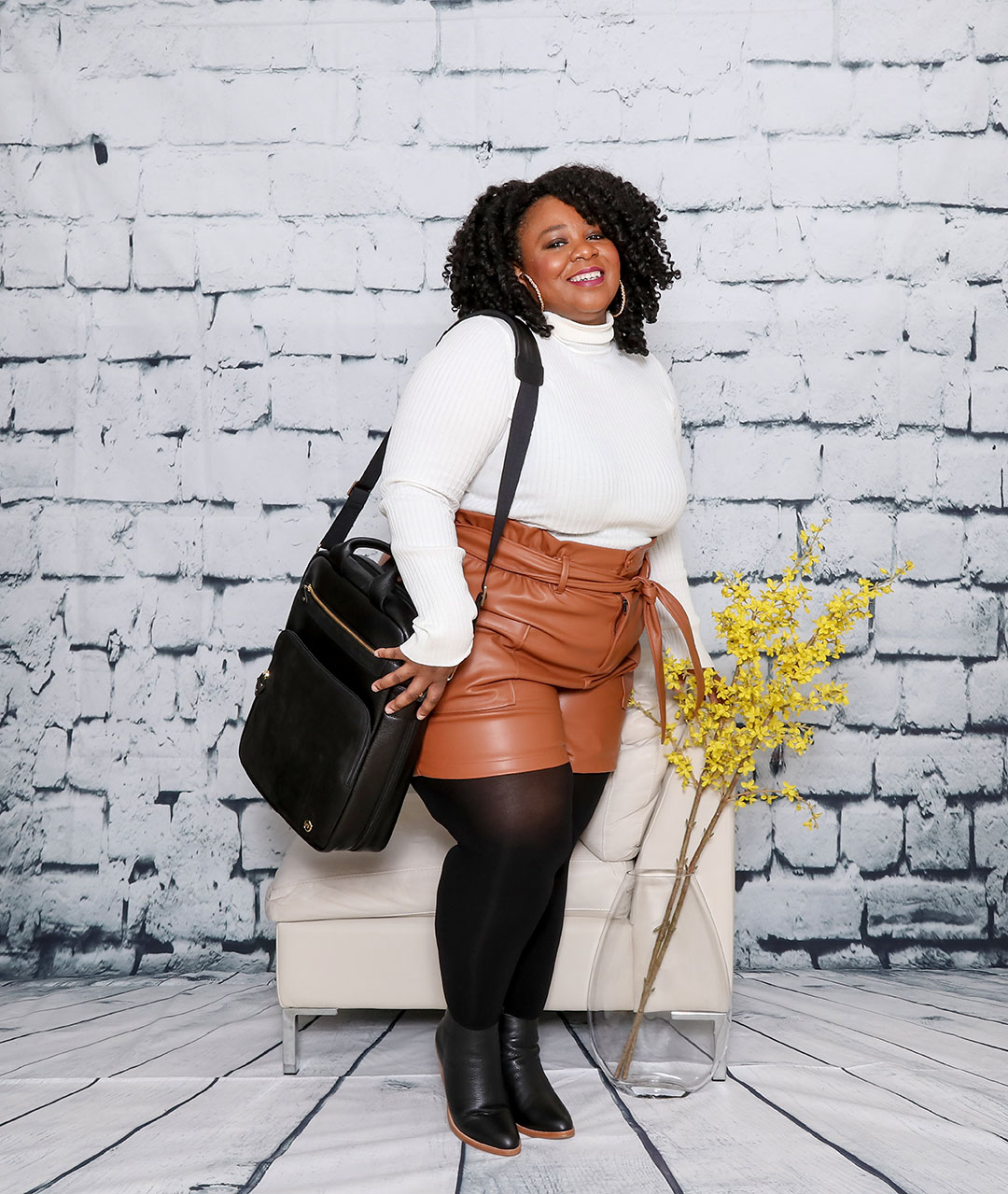 The boot features a memory foam insole and thick block heel so the Extra Mile Boot is marries comfort and style beautifully. So, of course I had to boss out with this faux leather shorts look and the boots! Now, some of you might be thinking, "Shorts, in Winter? Oh hell no!", and I see your point. But, shorts in winter with thick tights and a cute turtleneck you're good to go.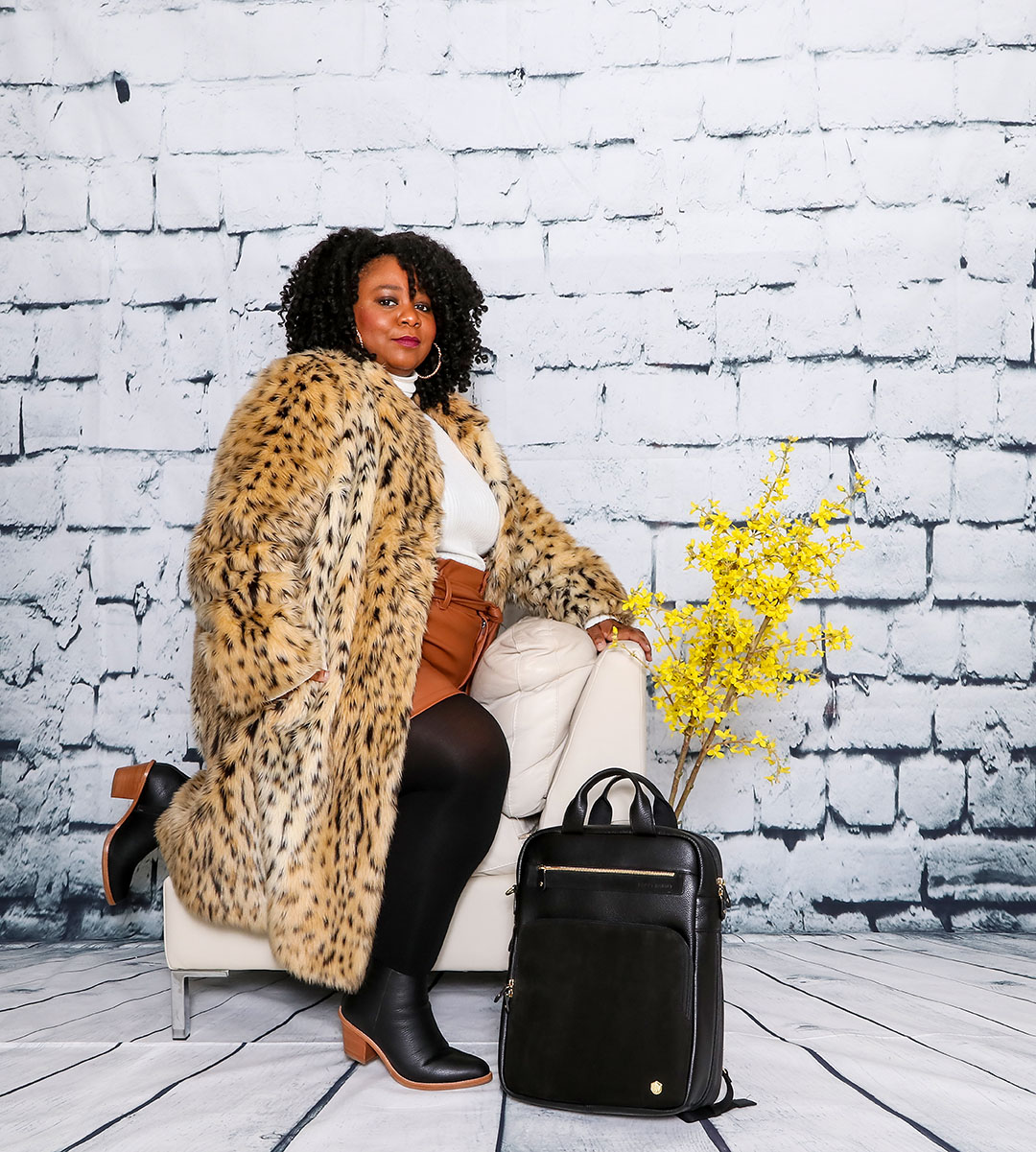 So, not only does Poppy Barley make incredibly stylish shoes and boots, they also make fabulous leather good accessories like this backpack.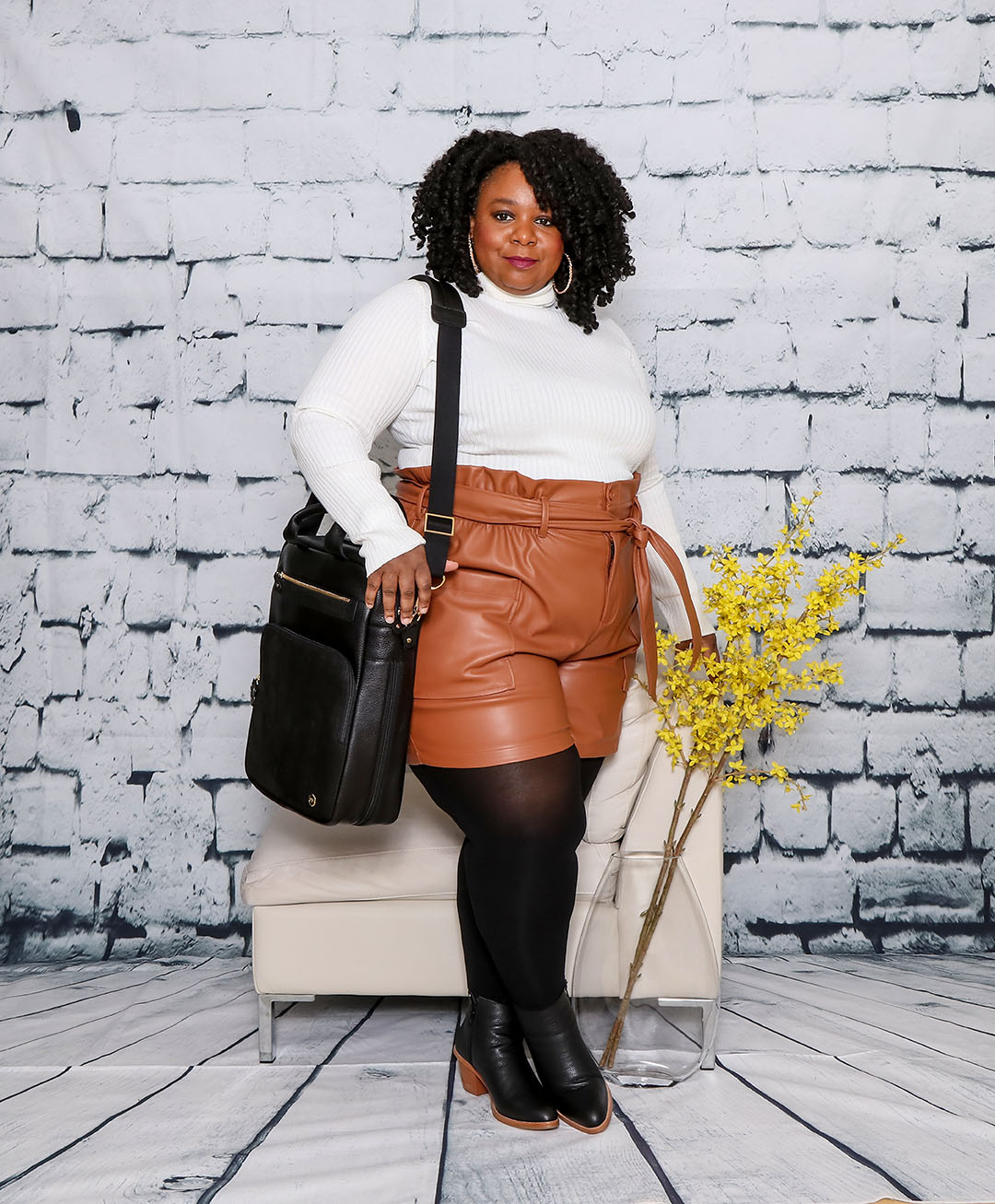 This particular backpack is convertible as well. You can wear it as a traditional backpack or over your shoulder like a tote. The backpack is a mixture of leather and nubuck and features all kinds of pockets for storing things away perfectly.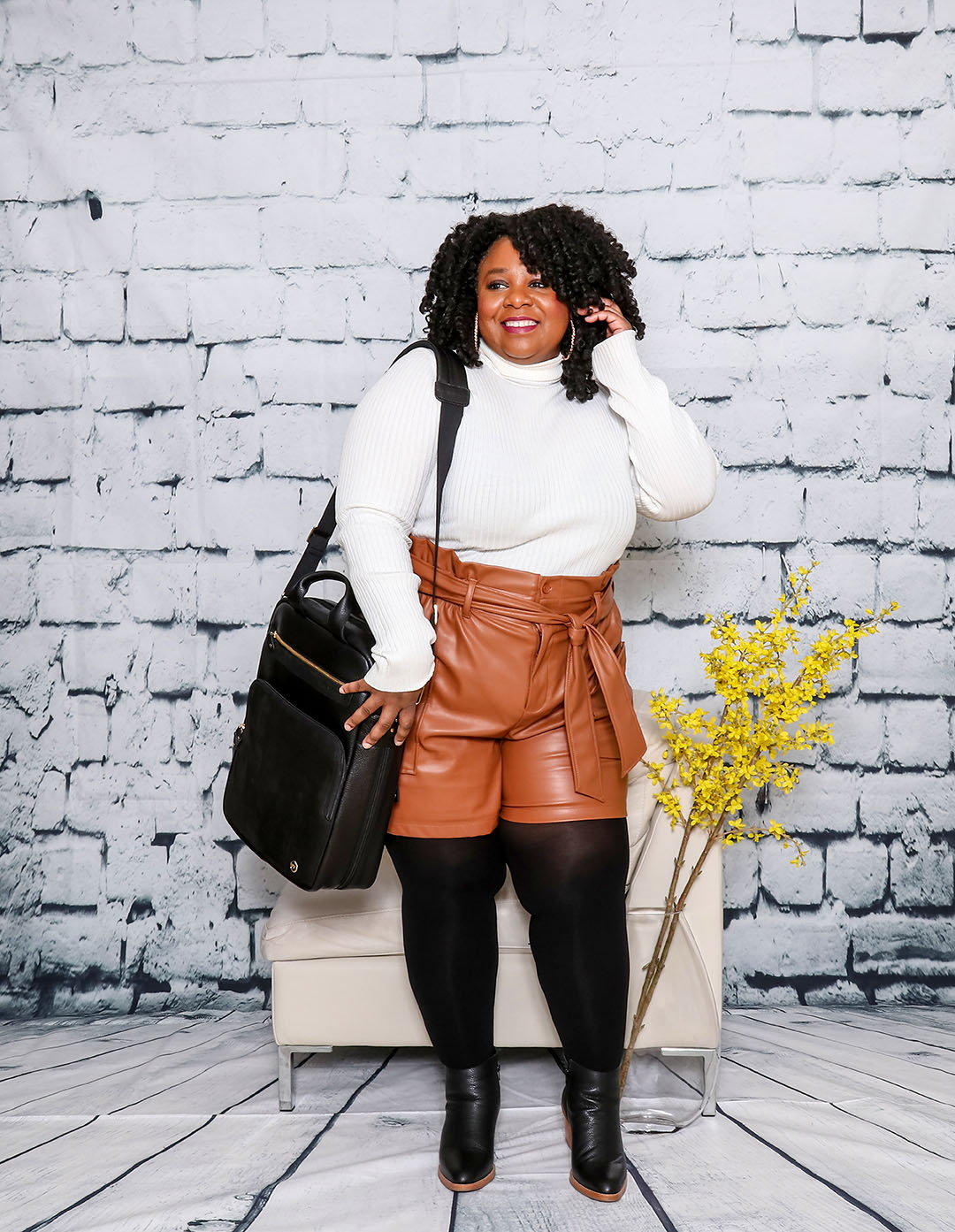 And that's the long & short of it!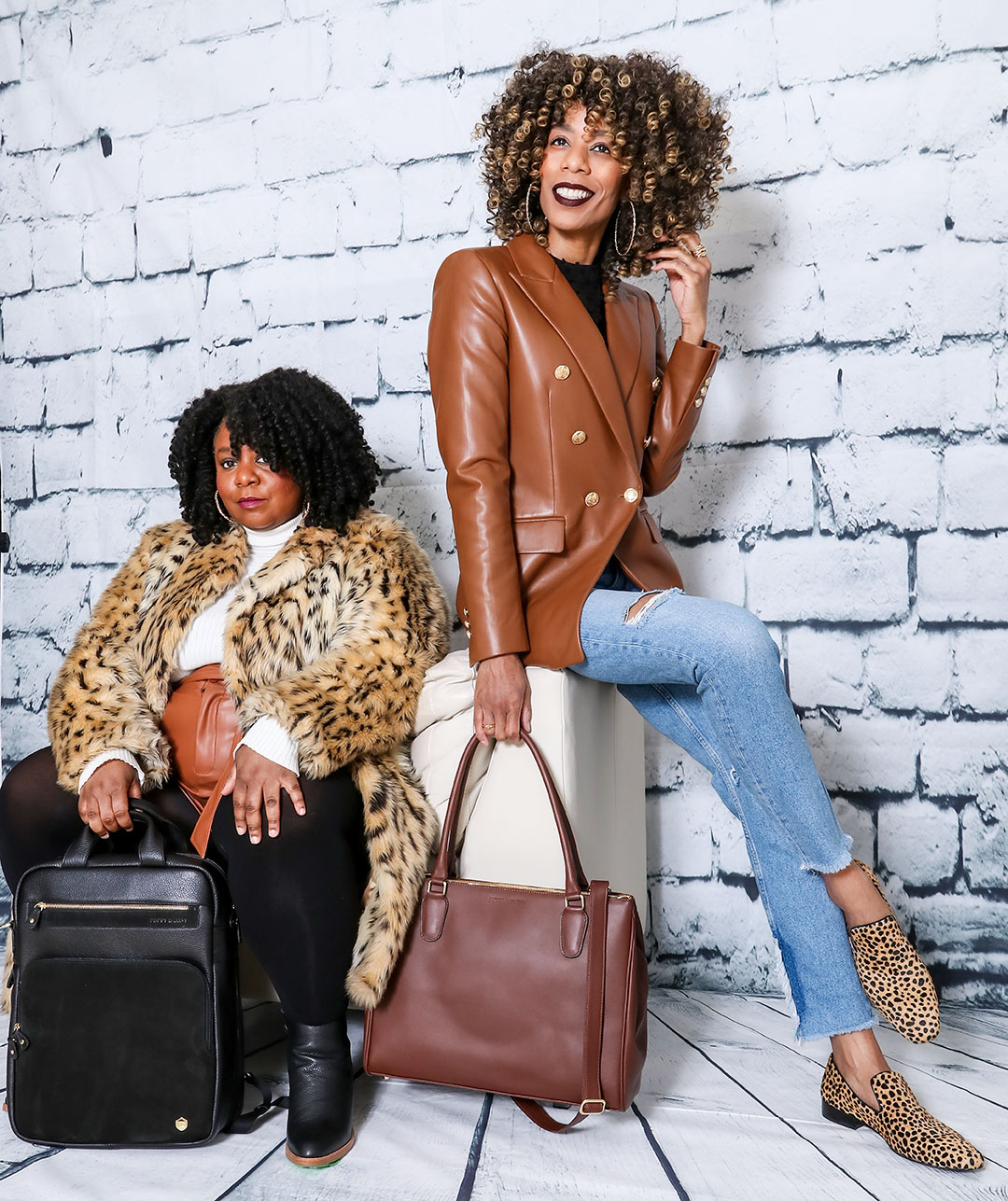 Gail & Leslie xoxo
Photo credit: Roseline Bonheur
While these items were gifted, the opinions expressed are our own.