Valentine's or Galentine's for us single ladies is fast approaching and we've been bitten by the love bug babes! We are tossing aside the loungewear to cozy up to some cute size-inclusive looks from ModCloth that have stolen our hearts!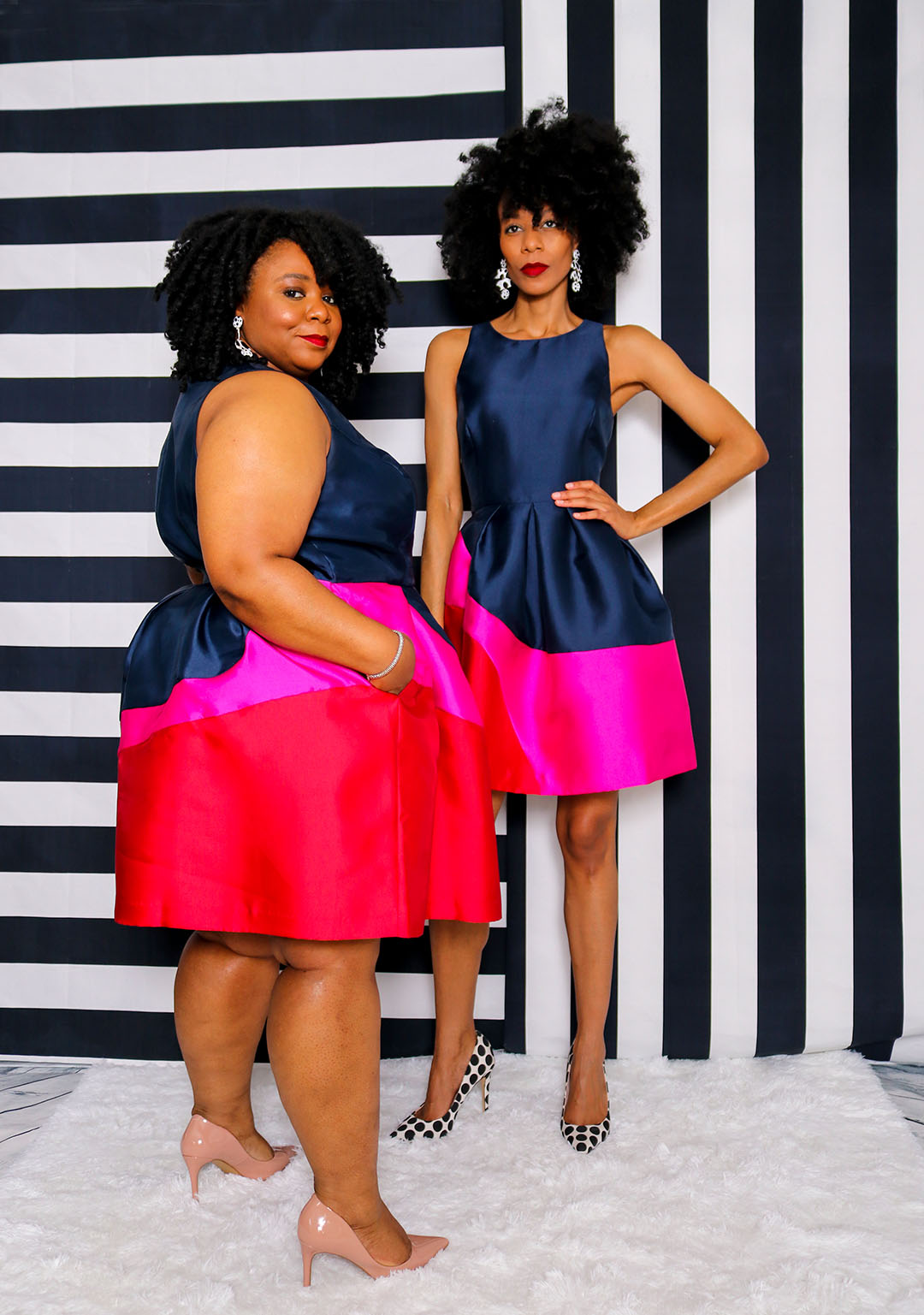 Gail – Trippin for ModCloth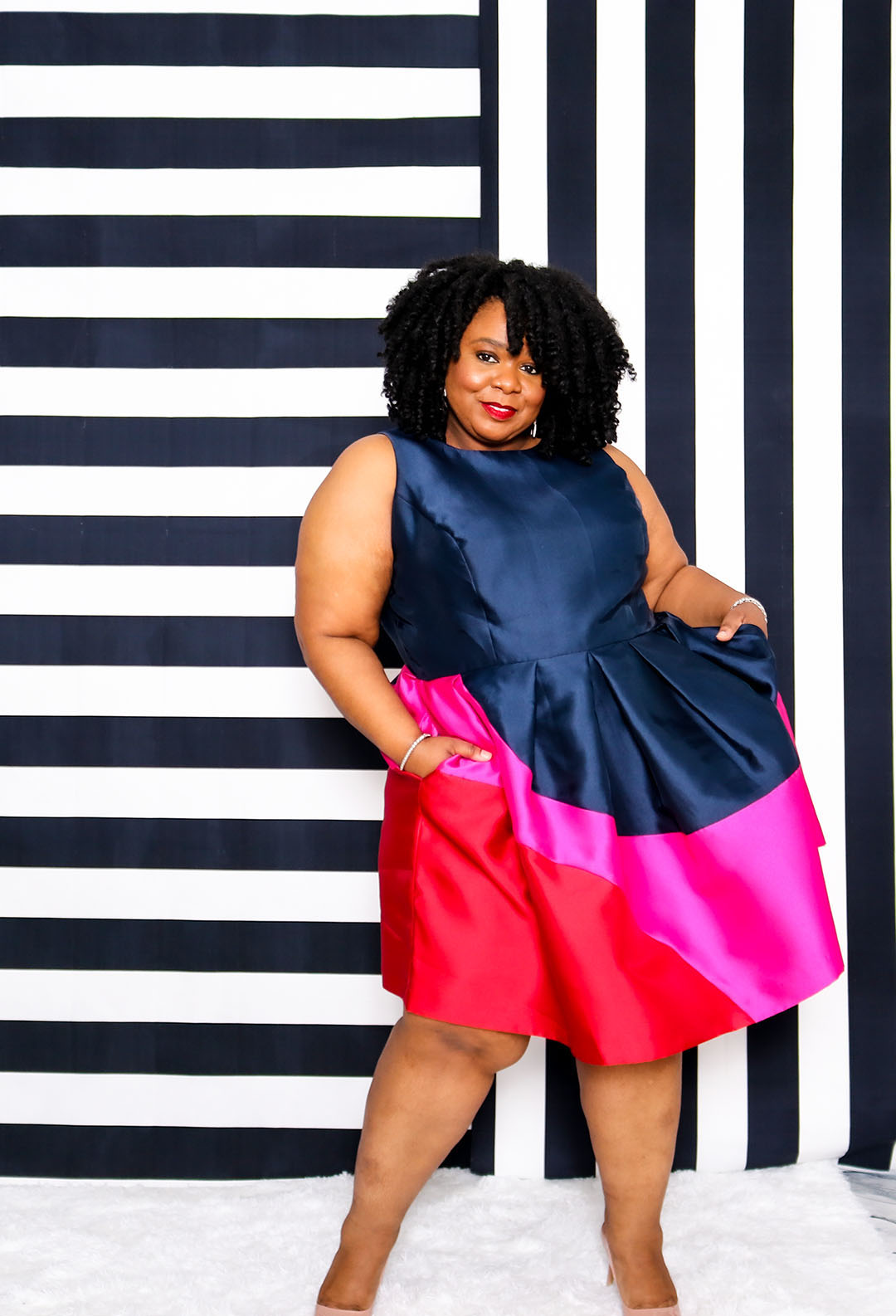 Dress: ModCloth // Earrings: ModCloth // Shoes: Steve Madden
What can I say? This dress is all about fun! The colours, the fit and flare style just screams fun, flirty and feminine all in time for Valentine's / Galentine's Day! And what's even more fabulous in that this dress works for plus sizes and straights! We just LOVE a fun size inclusive fashion brand like ModCloth!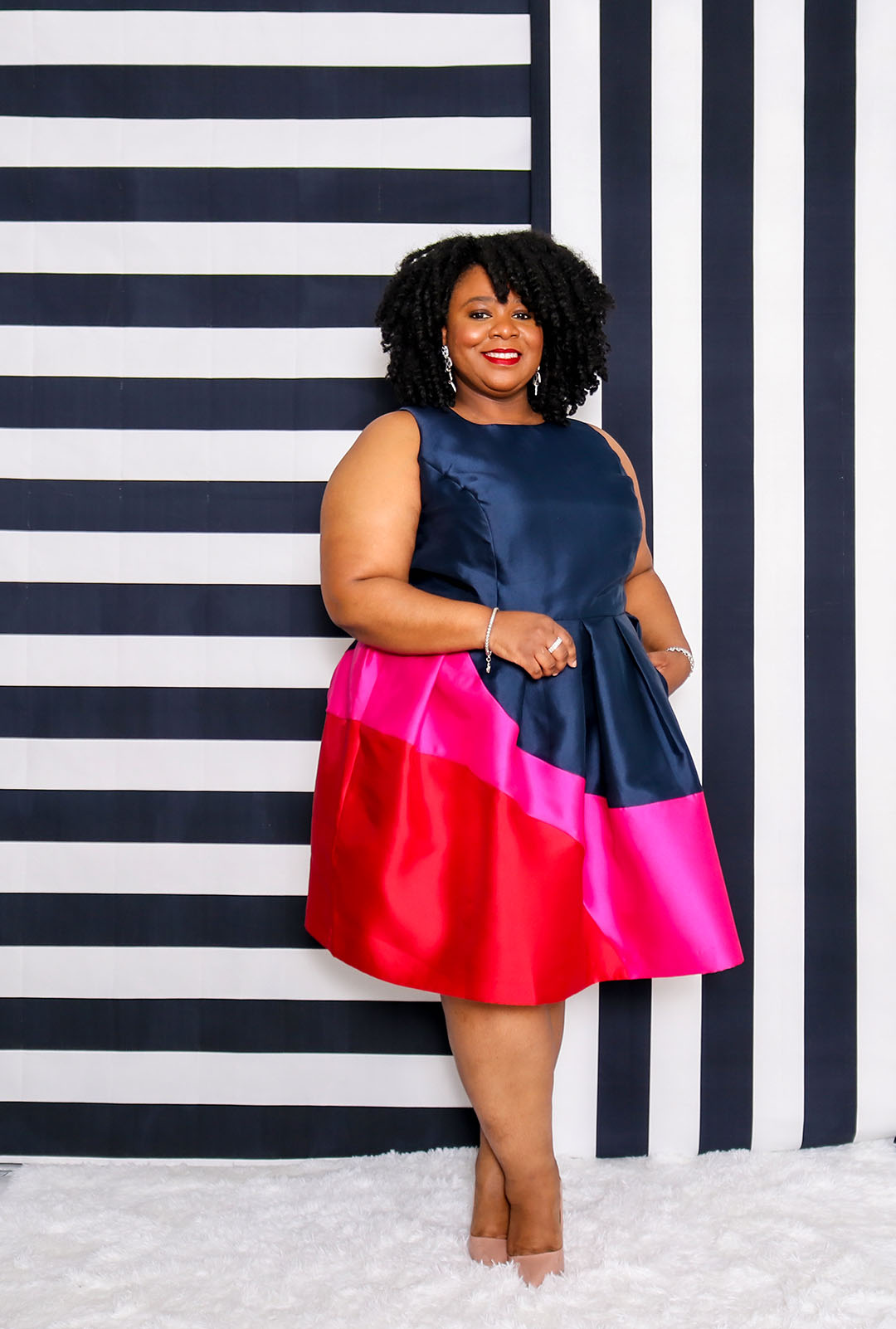 The dress features a high neck scoop neck with darts from the bust down to the waist to really cinch you in. There is no stretch to this fully lined dress so you'll really need to check the size guide to make sure you get your size but don't worry as I found the cut of this dress to be generous. I got this dress in a size 24.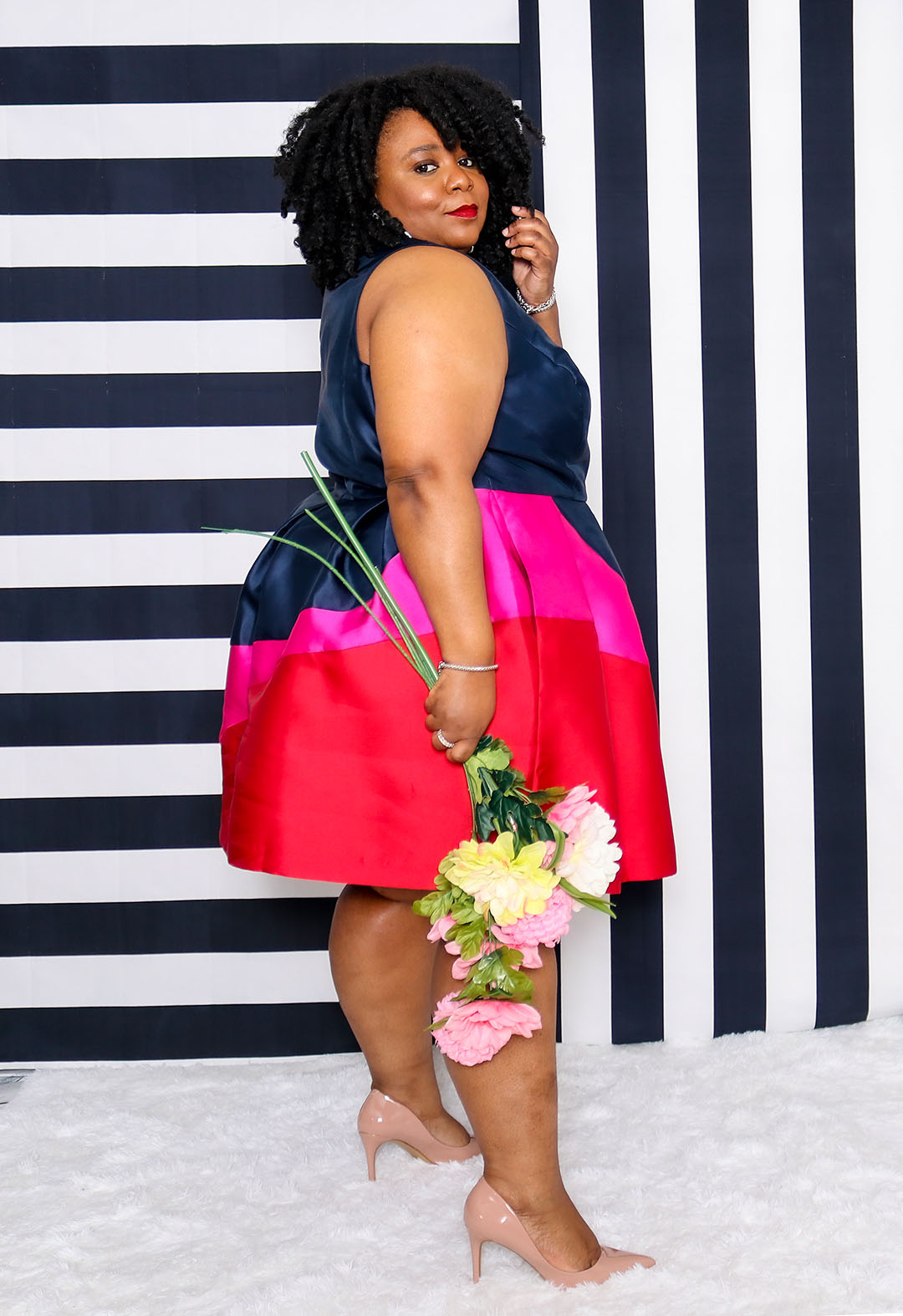 At the waist there are box pleats that really accentuate the fit and flare style. So, I not only love fun "twirliness" of this dress but I ADORE that it has pockets too!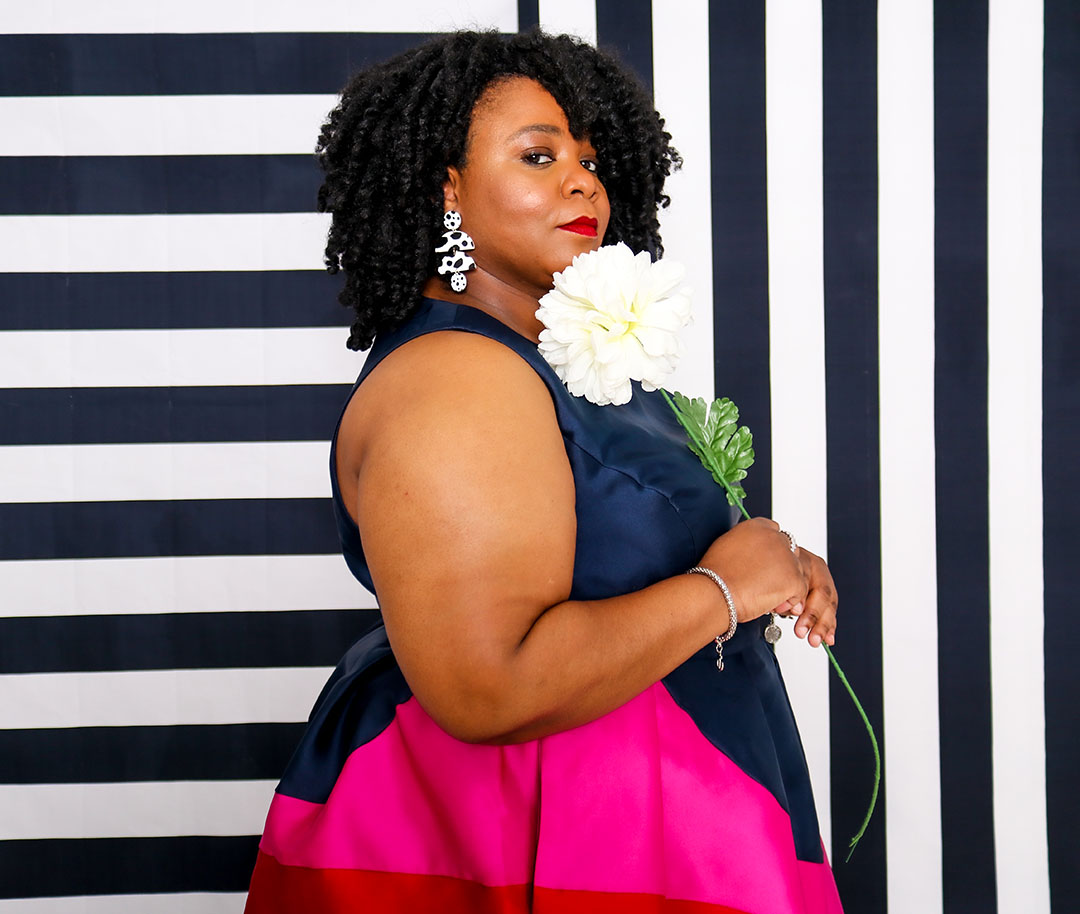 Oh and word about these cute as a button earrings. These black and white dalmation print earrings called " A Moment at the Met" are the cat's meow. I'm an accessory fiend so these cuties are right up my alley!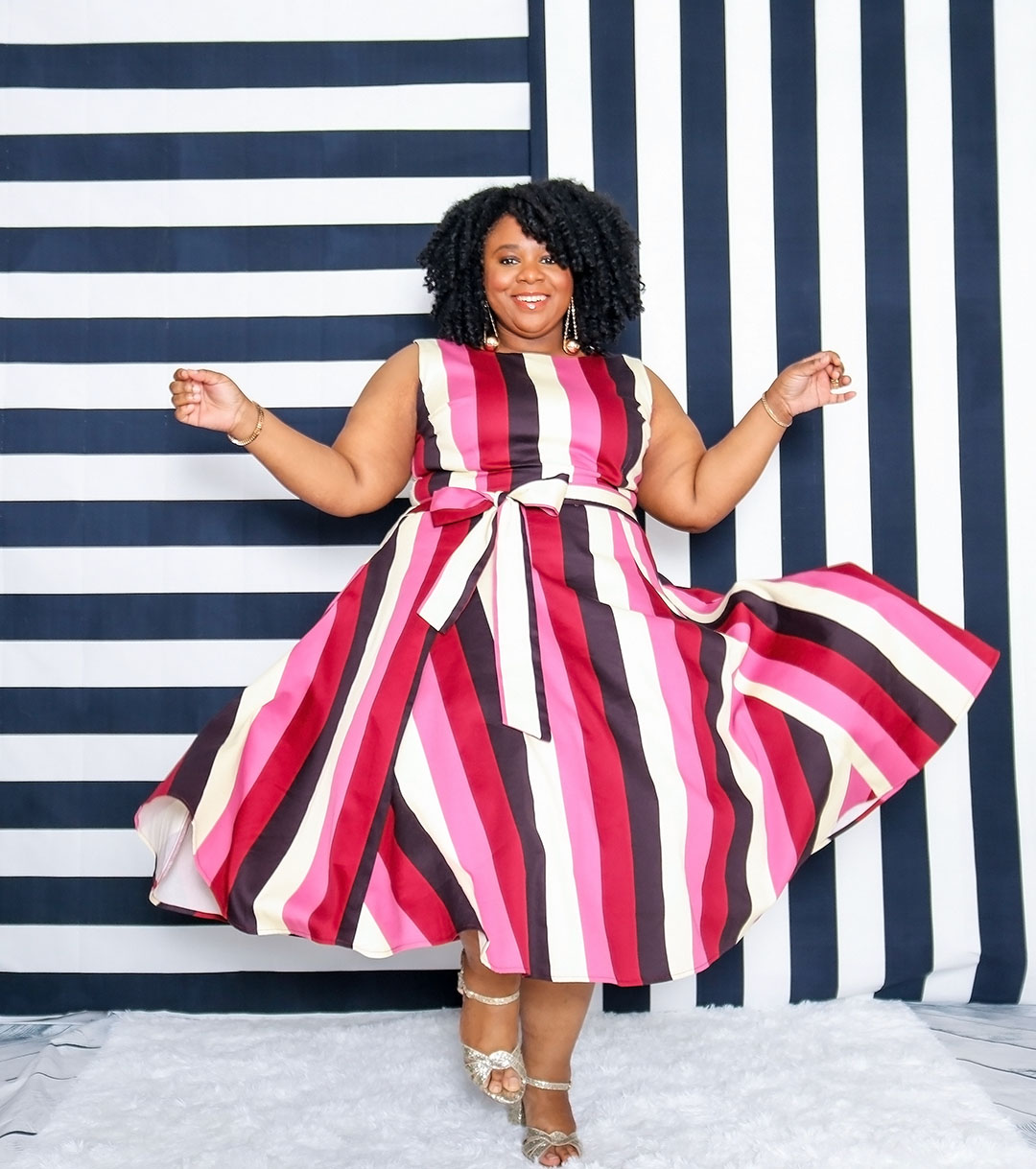 Dress: ModCloth (plus sizes sold out but here there is a top and skirt look in the same material) // Shoes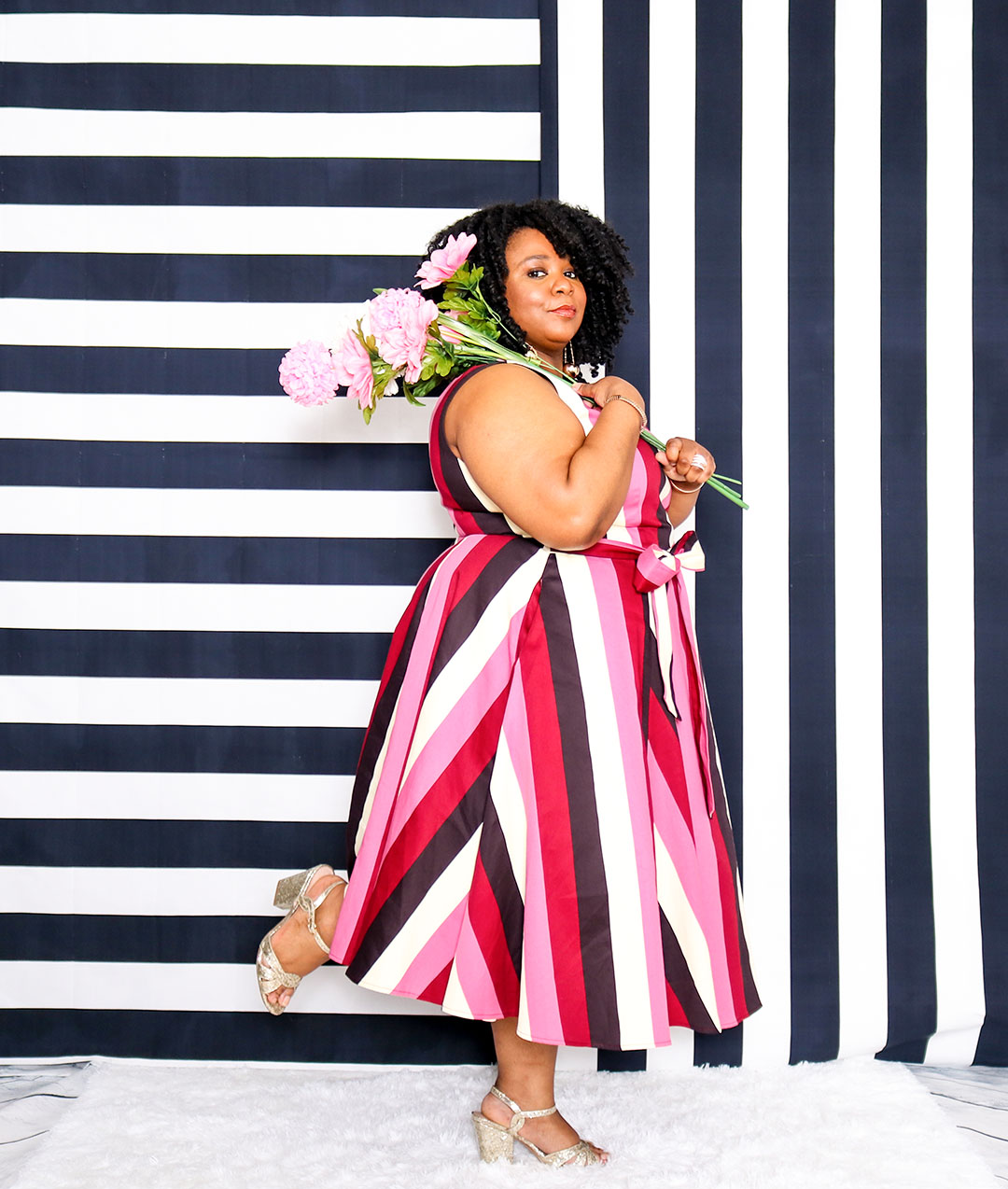 This striped vintage inspired confection dubbed the "Taken for a Spin Swing Dress" makes me think of cotton candy! Again, its got major "twirliness" going on! Oh and to maximize said twirliness, I added a tutu skirt underneath it.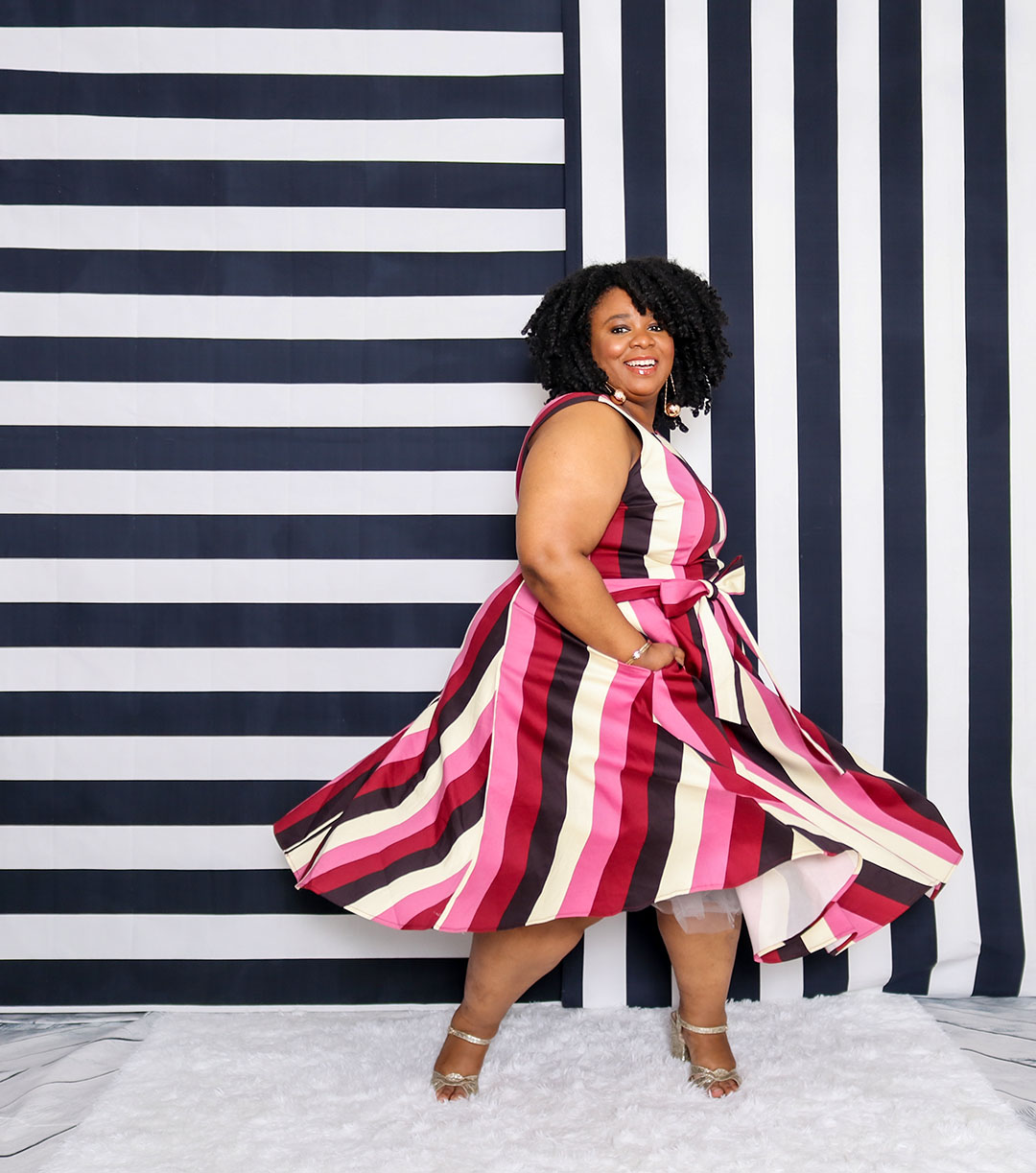 The dress features a high neck but a flirty v-neck style in the back, and a full midi length skirt. A mix of cotton and elastine, this dress has some stretch but not very much. I got my dress in a size UK 24 which is a size 20 and was good to go. Once again, pockets can be found on this little number. I don't think I'm over stating things when I say that pockets on a dress or skirt are uber important!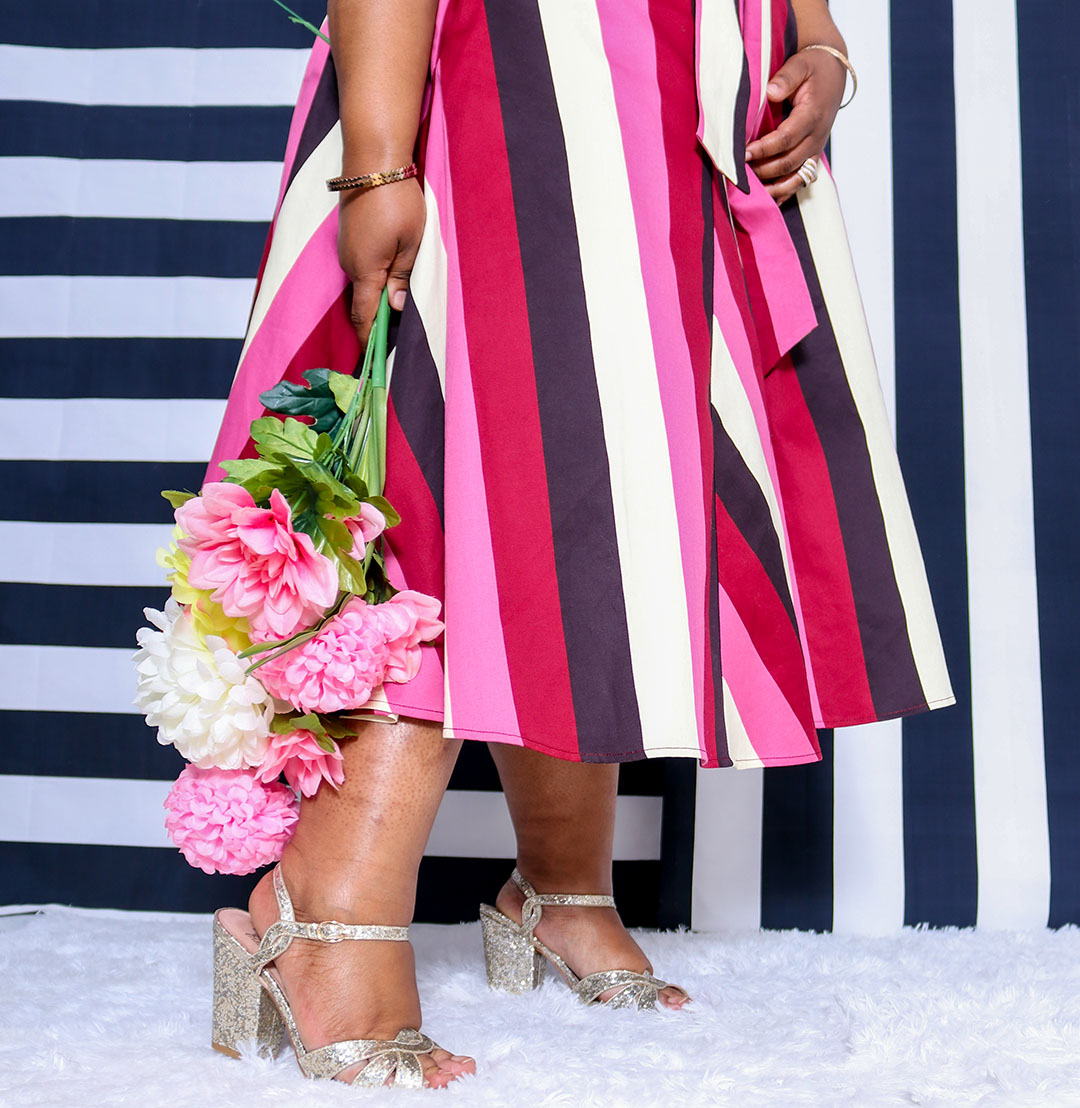 Now, let's get into this heeled sandals. Yes, I know heeled sandals in winter, I get it, it doesn't make any sense but you know what, I just went for it because why not? These sandals are called "Pardon My Glare Ankle Strap Heel" and I uber comfortable for my wide size 9 feet.
Leslie's Mod ModCloth Mood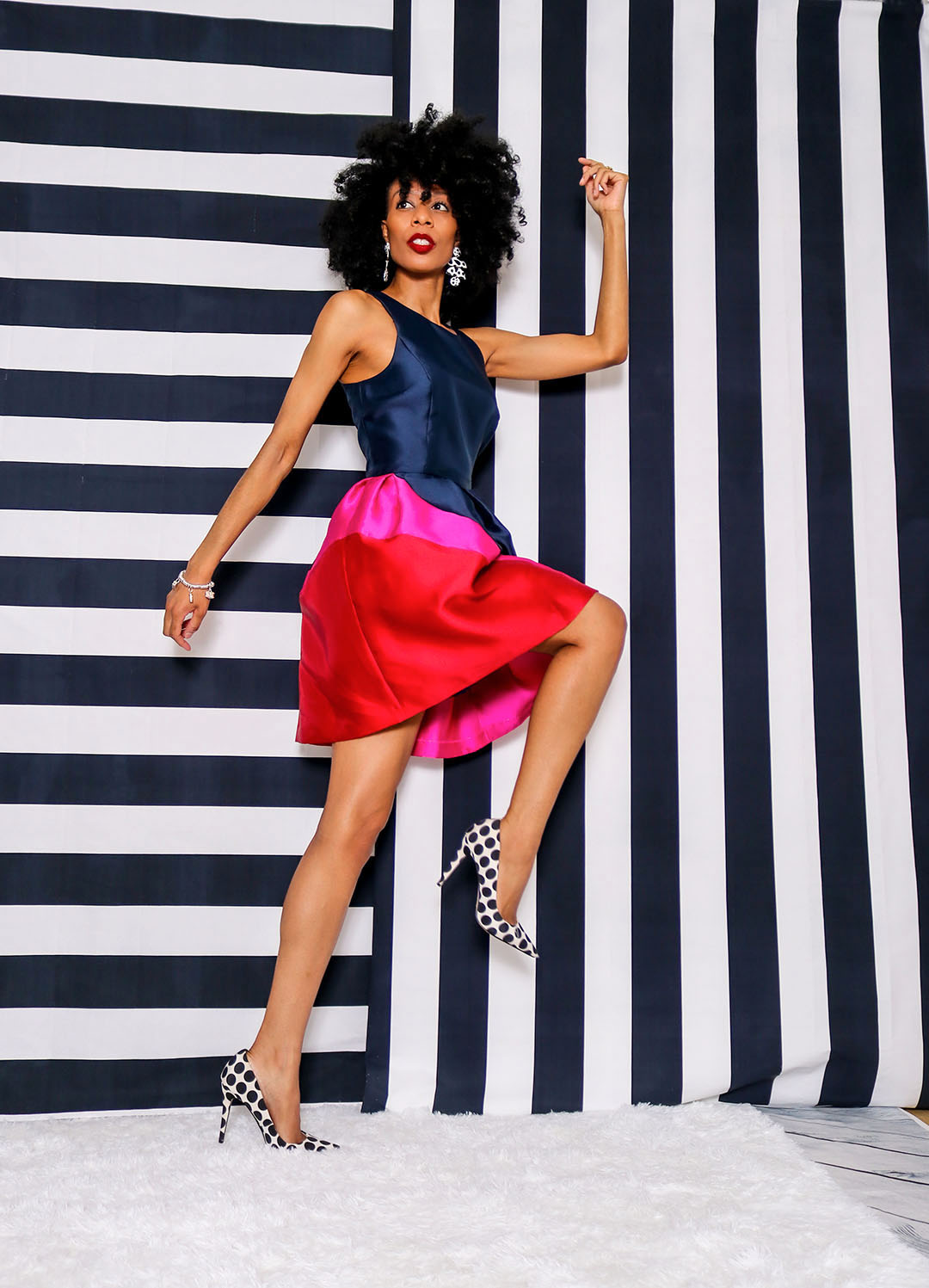 Dress: ModCloth // Earrings: ModCloth //Shoes: Aldo (old, similar here, here) //
For my gorgeous plus size babes, this exact dress is available in plus as well! Check out my beautiful sis styliln' and profilin'!
This dress entitled the "Eternal Love Extravaganza Dress" screams magnificently mod and I am here for it! It has a modern, yet vintage vibe with its silhouette and vibrant colours, and I just love how it shows off my gams!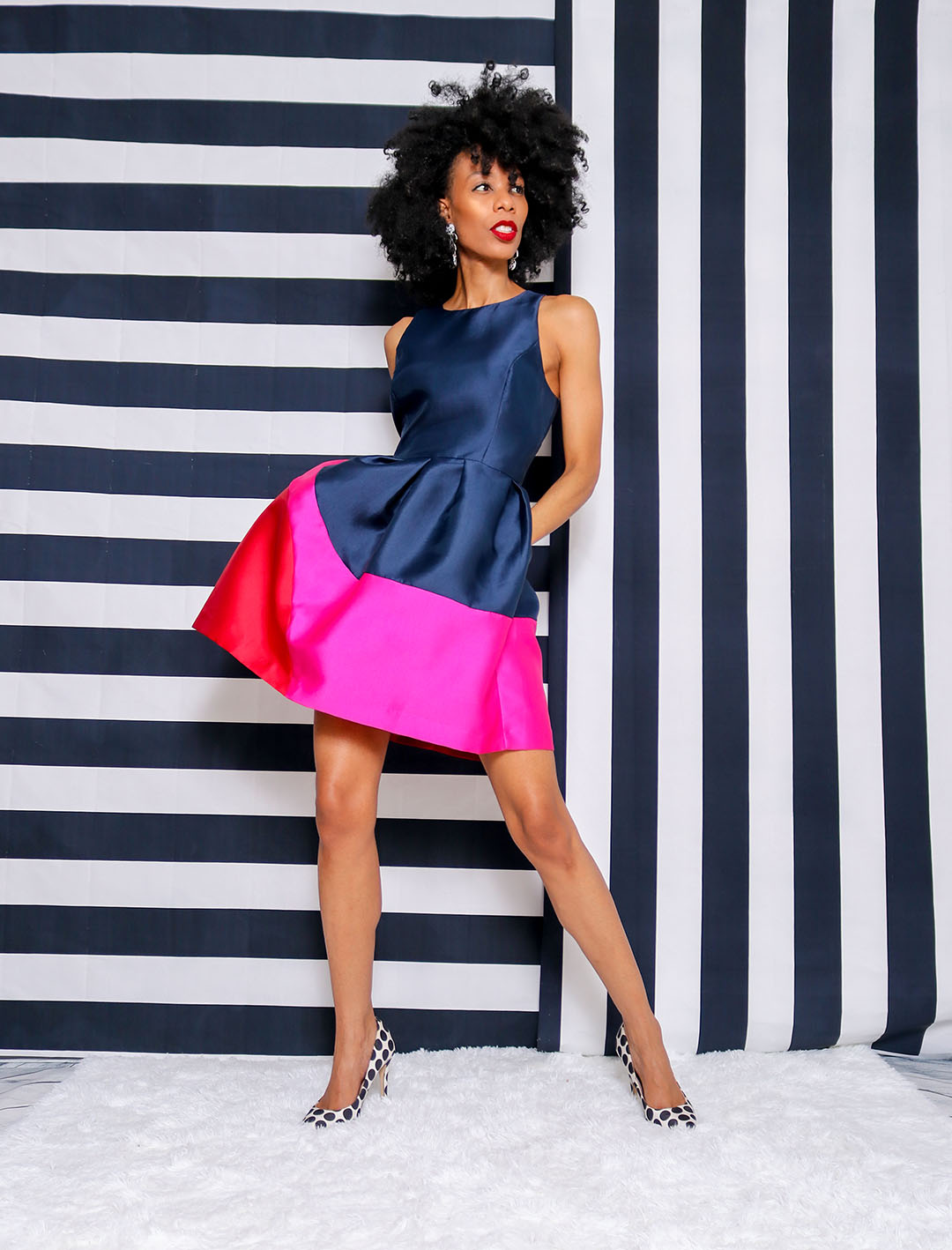 Available in size 0 – 24, this shiny satin taffeta dress with its colour block print is perfect for celebrating all things love! The best part being whether you wear it now or save it for later, the style is classic enough to wear season after season, yet vibrant enough to ensure that you stand out from the crowd! This dress also has pockets ladies and we know we love a pocket!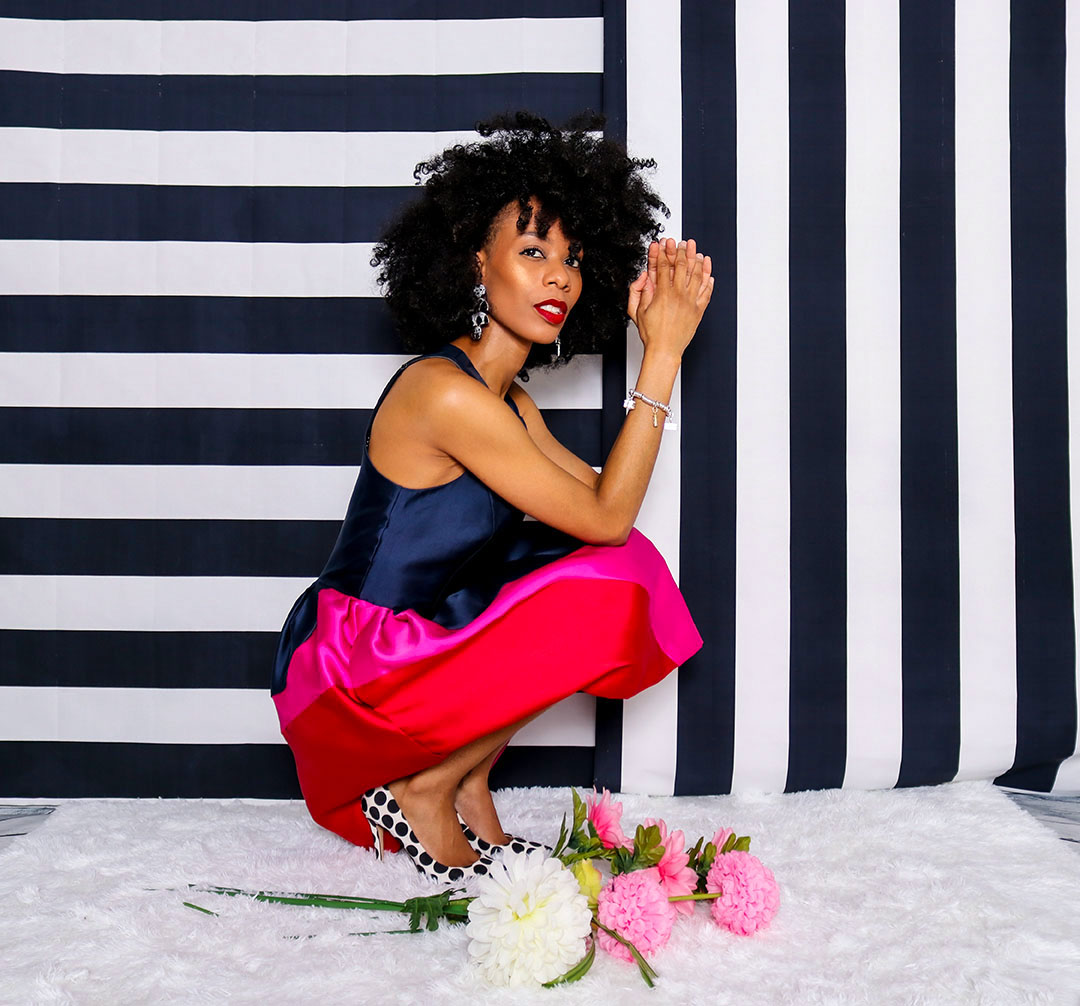 I also love that it's the type of piece that I can wear with different colours and styles of shoes (I see yellow shoes in the future of this dress for me), and I can throw on a cute coat or blazer in a white, print or vibrant colour and it will create a new, but just as fabulous look!That is versatility baby and I'm all about it!
Be sure to check the size guide closely as sizes differ from one style of dress to another.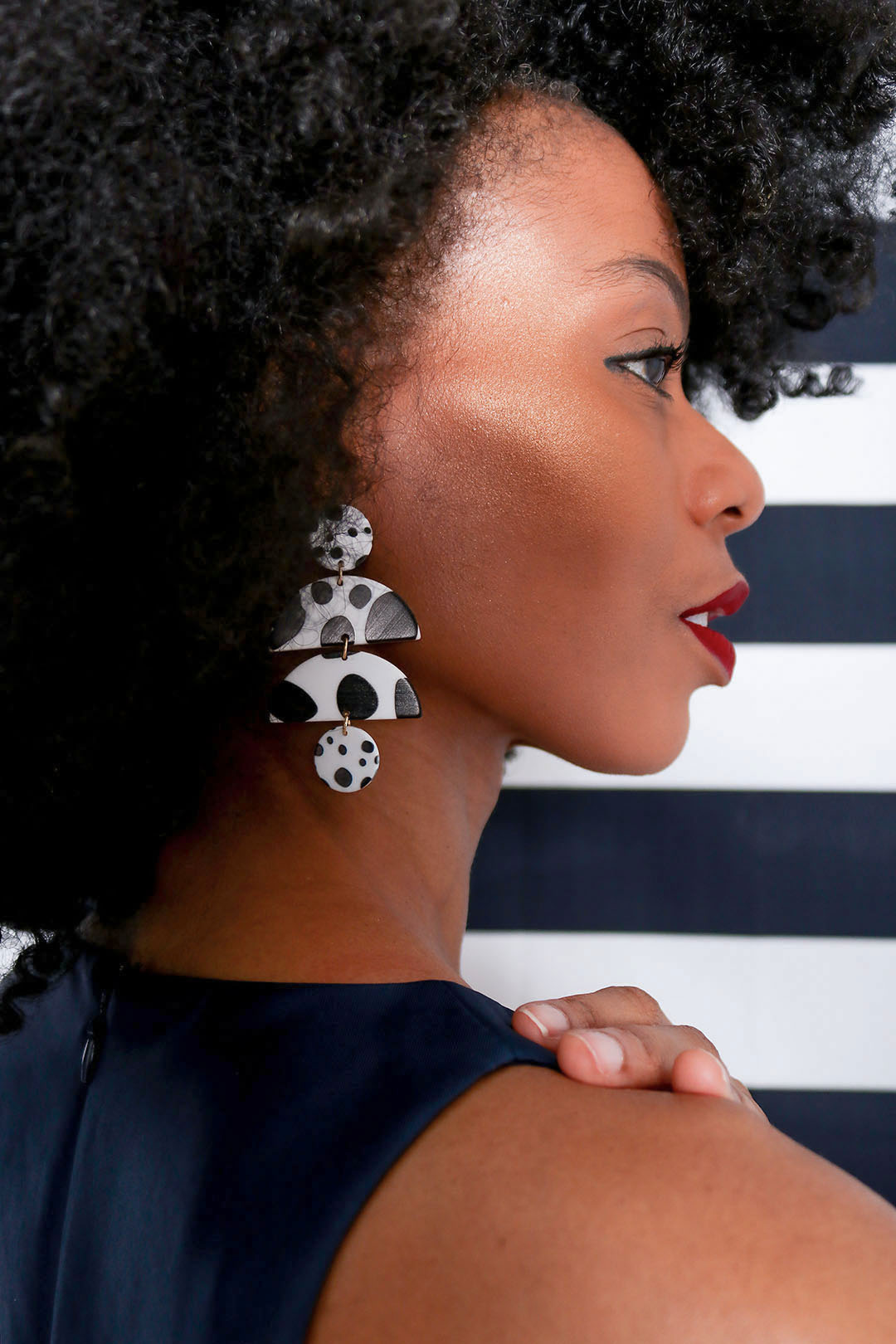 And check out these cute black and white earrings that are giving me life and adding even more playfulness to the look. I love black and white accessories and they go with just about everything – ding-ding-ding!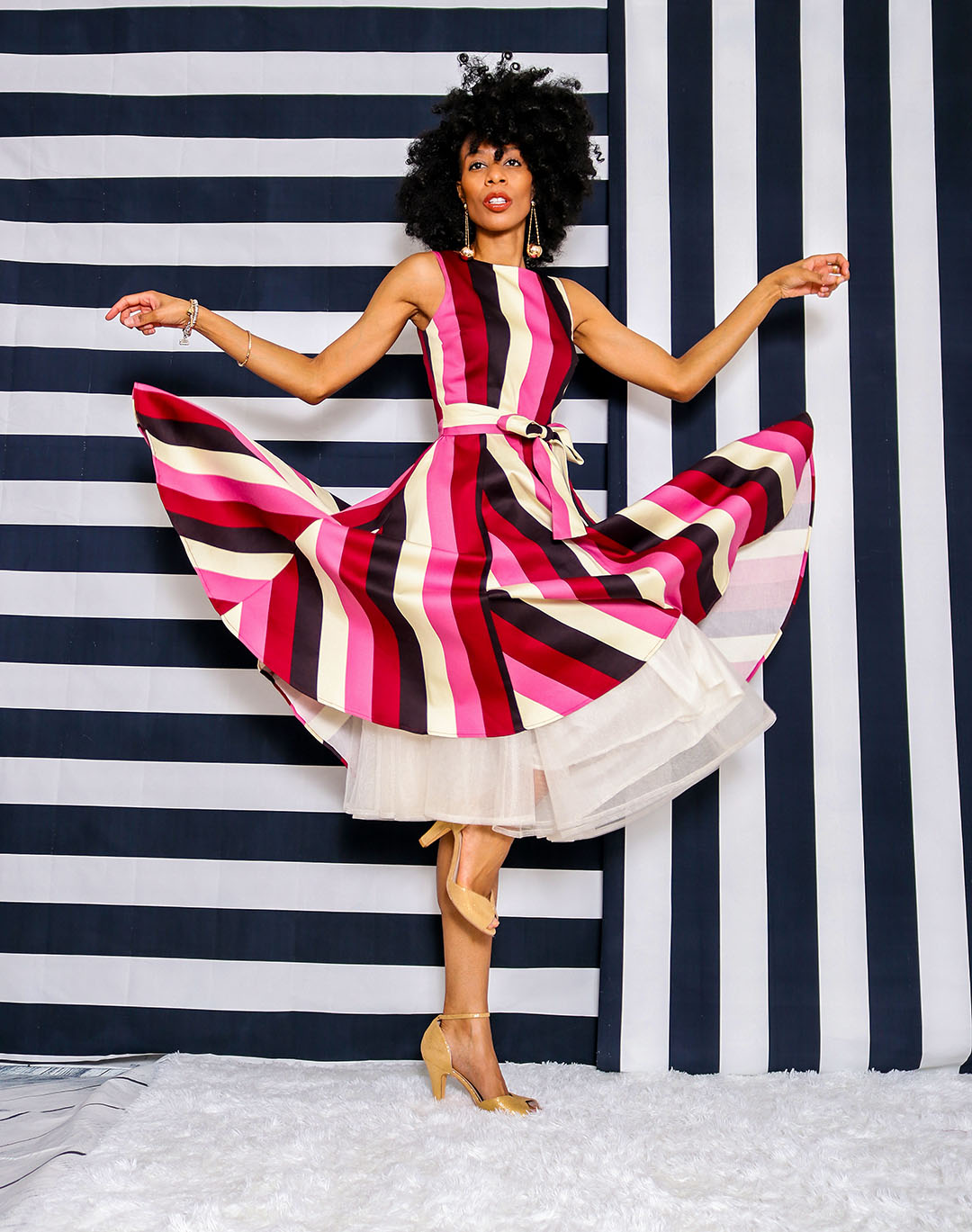 Dress: ModCloth // Shoes: ModCloth //
My beautiful curvy babes, this dress is available in size UK6 – UK 30! Check it out in the link above!
No one will be able to talk to you in this striped little number called the "Taken for a Spin Swing Dress" – how cute is that name! Colour and flare! This dress is super cute and wonderfully playful! All I wanted to do was spin around in it and do high kicks!lol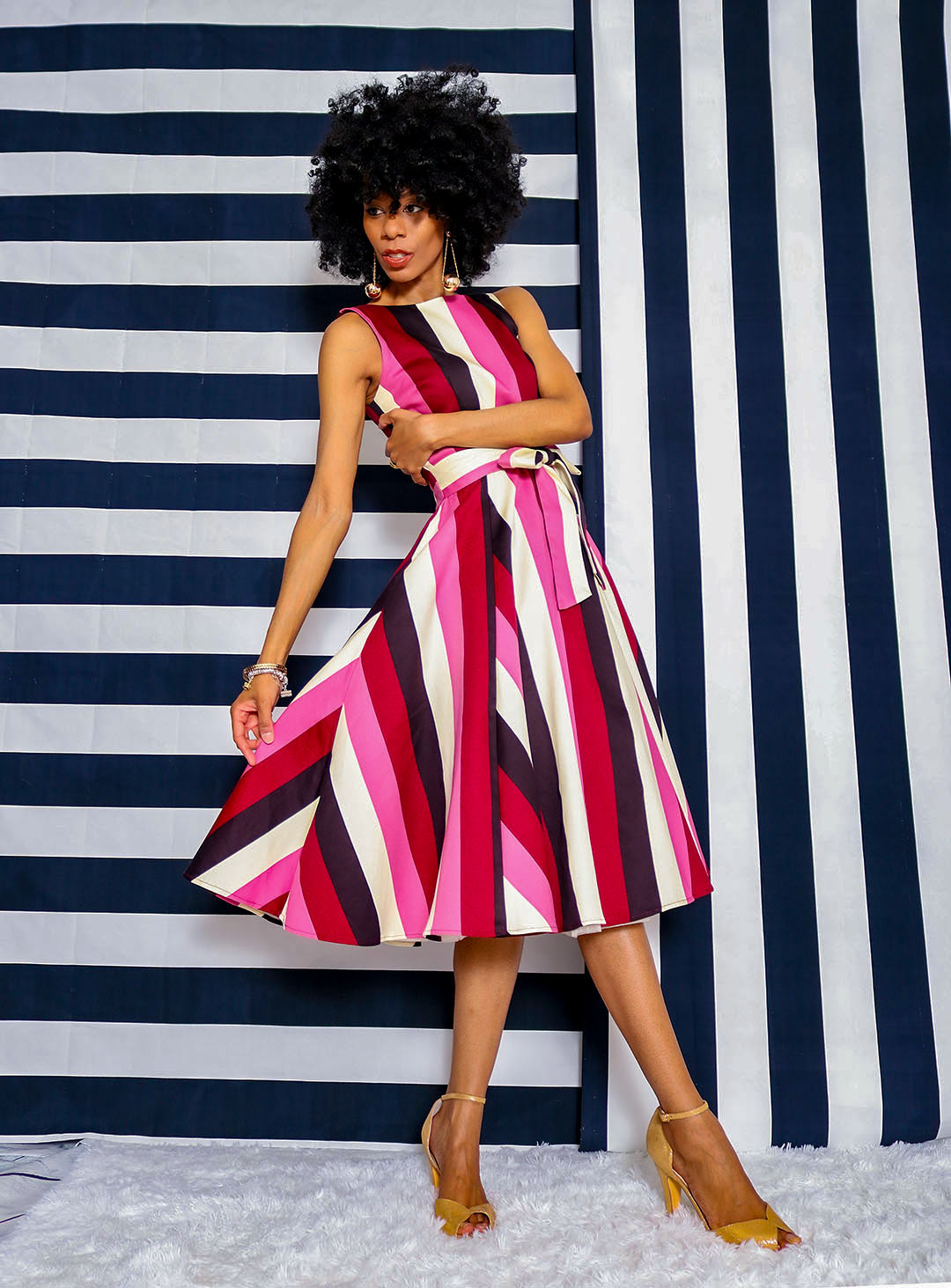 This dress is made of a cotton blend that offers a little stretch. That said, still be sure to check the size guide as sizes may differ from one dress style to the next.
For a slim girl like me with not too much hip or bust, this is a great piece. The fit and flare style creates that coveted hourglass shape, and the flared skirt hides all manner of evils (or should I say enhancements)! I added a tutu under my dress to give me a little extra volume on the bottom!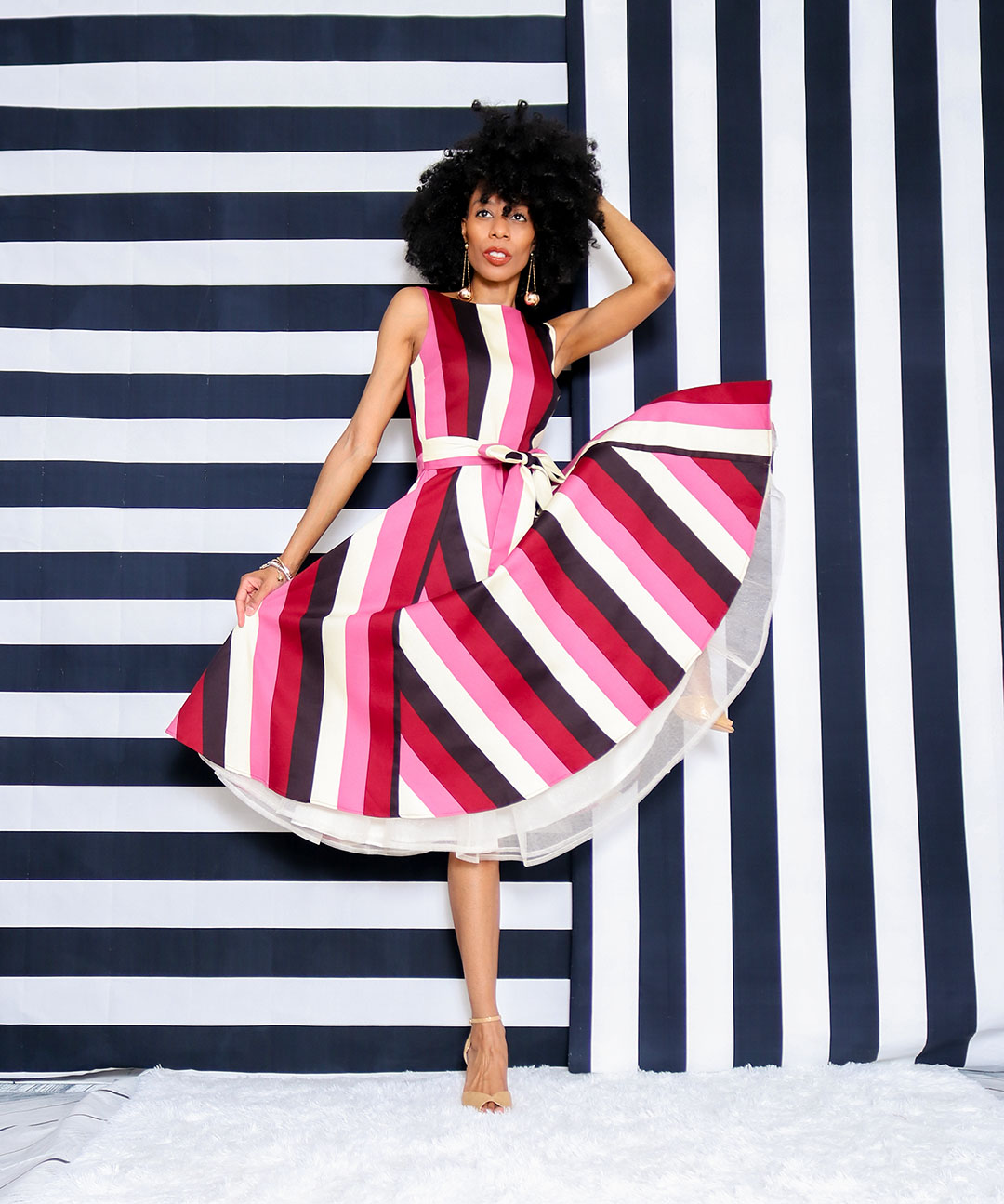 Other features of this dress I love: the v-neck detail at the back of the dress. I love this as it shows off a little skin and adds more visual interest to the look. I also love that the tie waist can either be tied at the back or front. I even tried hiding it under another belt to switch things up which worked perfectly as well. Just note. The belt is not detachable so if you wanted it removed, that might mean a trip to your tailor.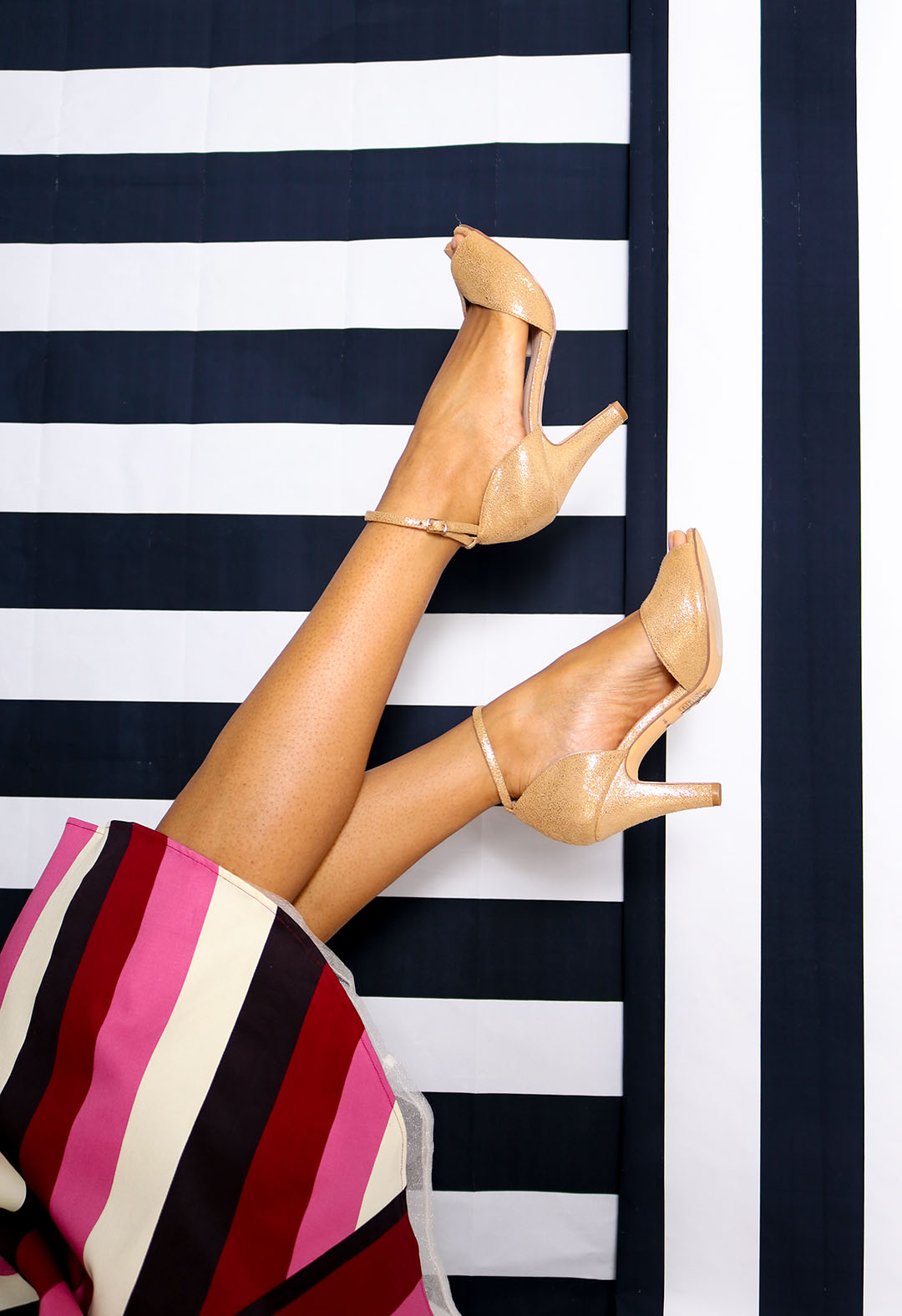 Let's talk shoes ladies!!! These shoes are super comfy as they have an ankle strap that holds your foot in place. I've found with the pandemic going on that I don't wear heels as often as I used to, so this here strap is helping me out!lol I also love the gold metallic effect and vintage style of the shoe. I can see myself wearing them with jeans and a t-shirt and cardi combo real easy! Yes, I stay being about that versatility!
This Galantines I'm ready to be bitten by the love bug or ready to celebrate with those who I already love! Either way, I'ma look good doing it!:-)
And that's the long & short of it!
Gail & Leslie xoxo
Although we were gifted the dresses, shoes and accessories the opinions expressed are our own.
There are affiliate links used in this post.
Photo credit: Roseline Bonheur