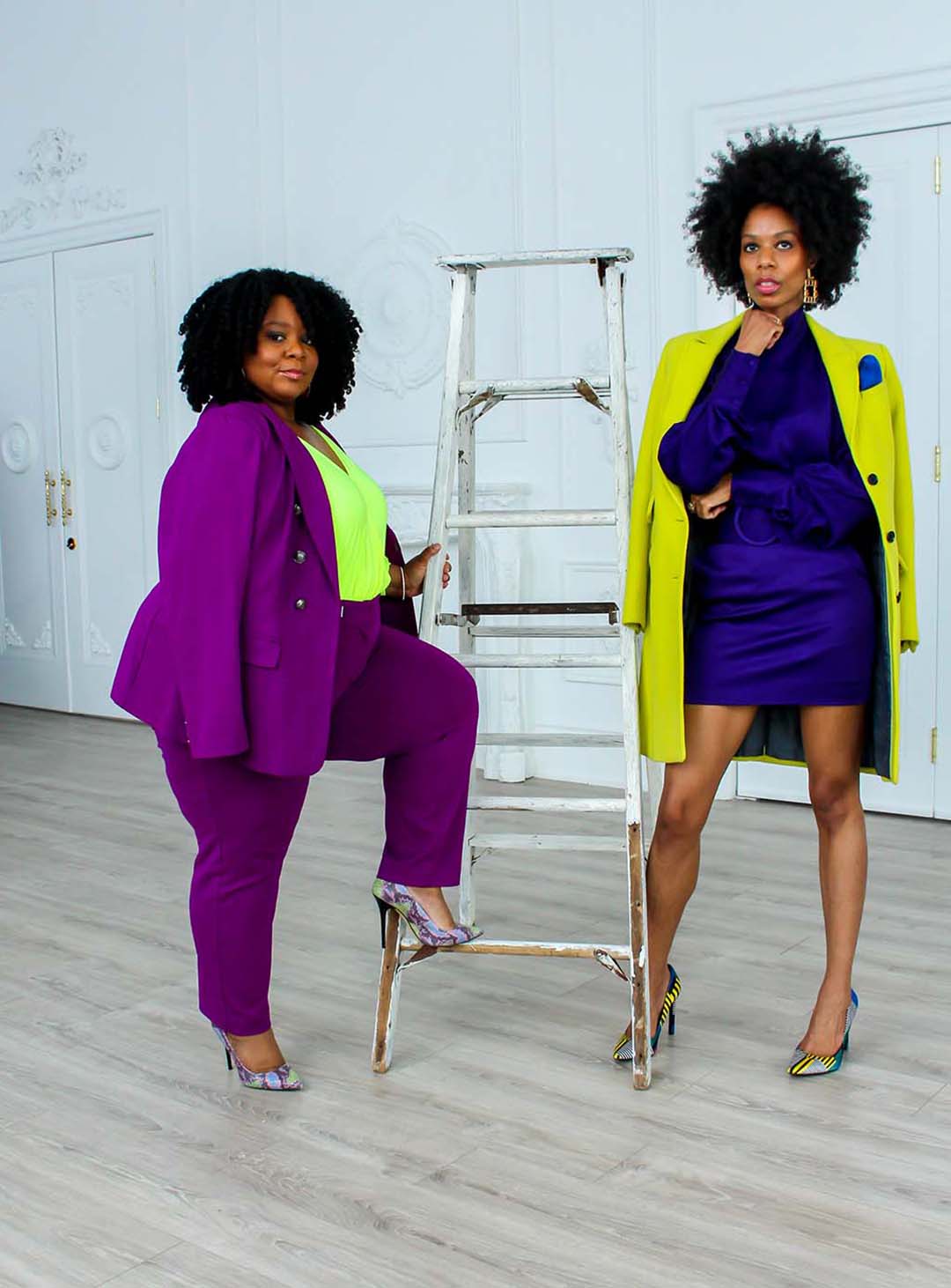 Spring is here and now is our real time to shine with colour, colour and more colour! And we absolutely love doing unexpected things with our colour combinations! For SS2019 neon colours are hot, Hot, HOT, and we decided to pair our fave neon with the colour purple! You will find no mild mannered mixes here!
Leslie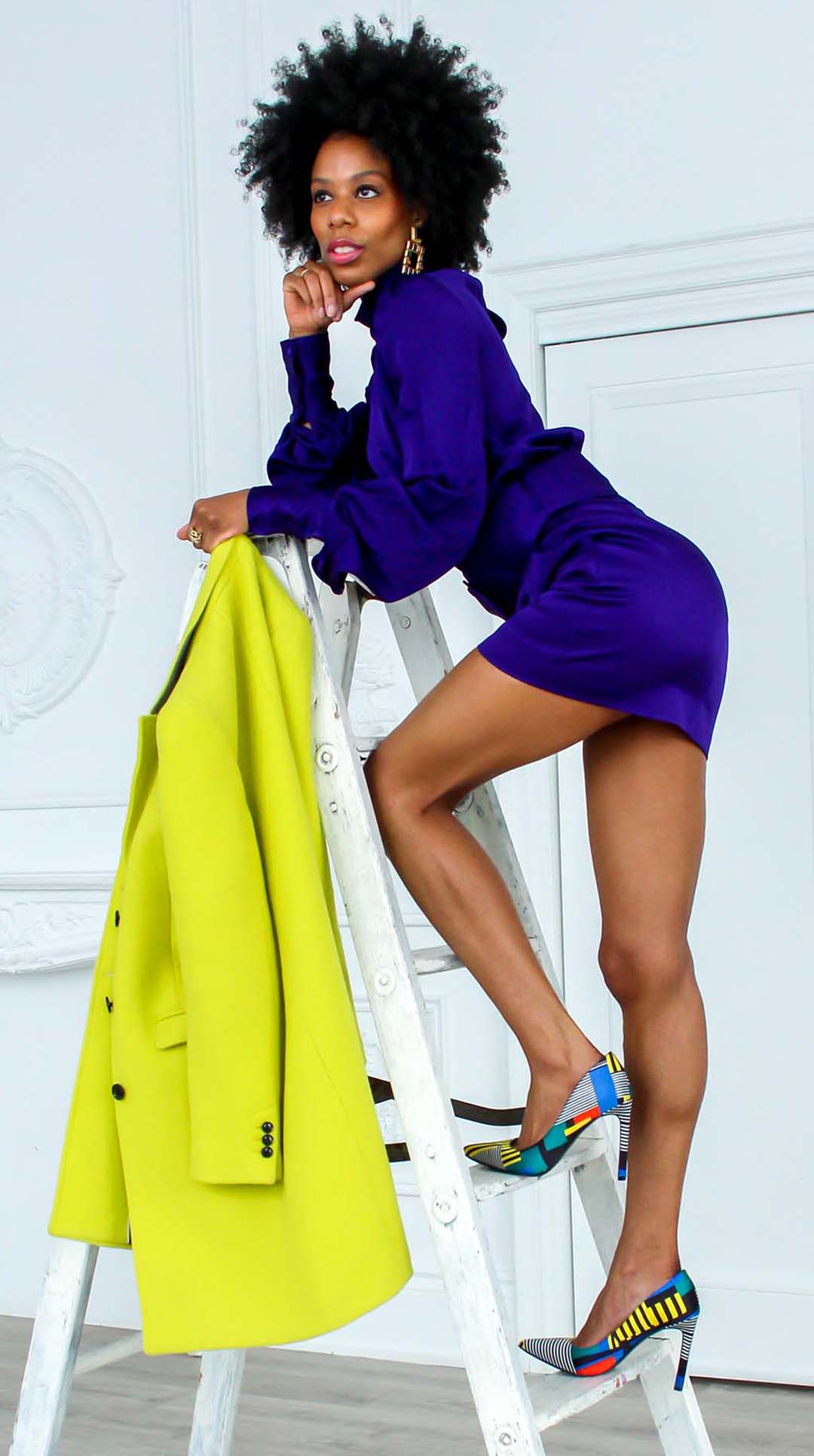 Now Miss Leslie decided to "shoulder" this magnificent neon green colour by rocking this stunning frock coat from Banana Republic. Not only does it keep the early spring chills at bay, but it also creates the perfect foil for this 2 piece killa purple blouse and skirt combo from Zara.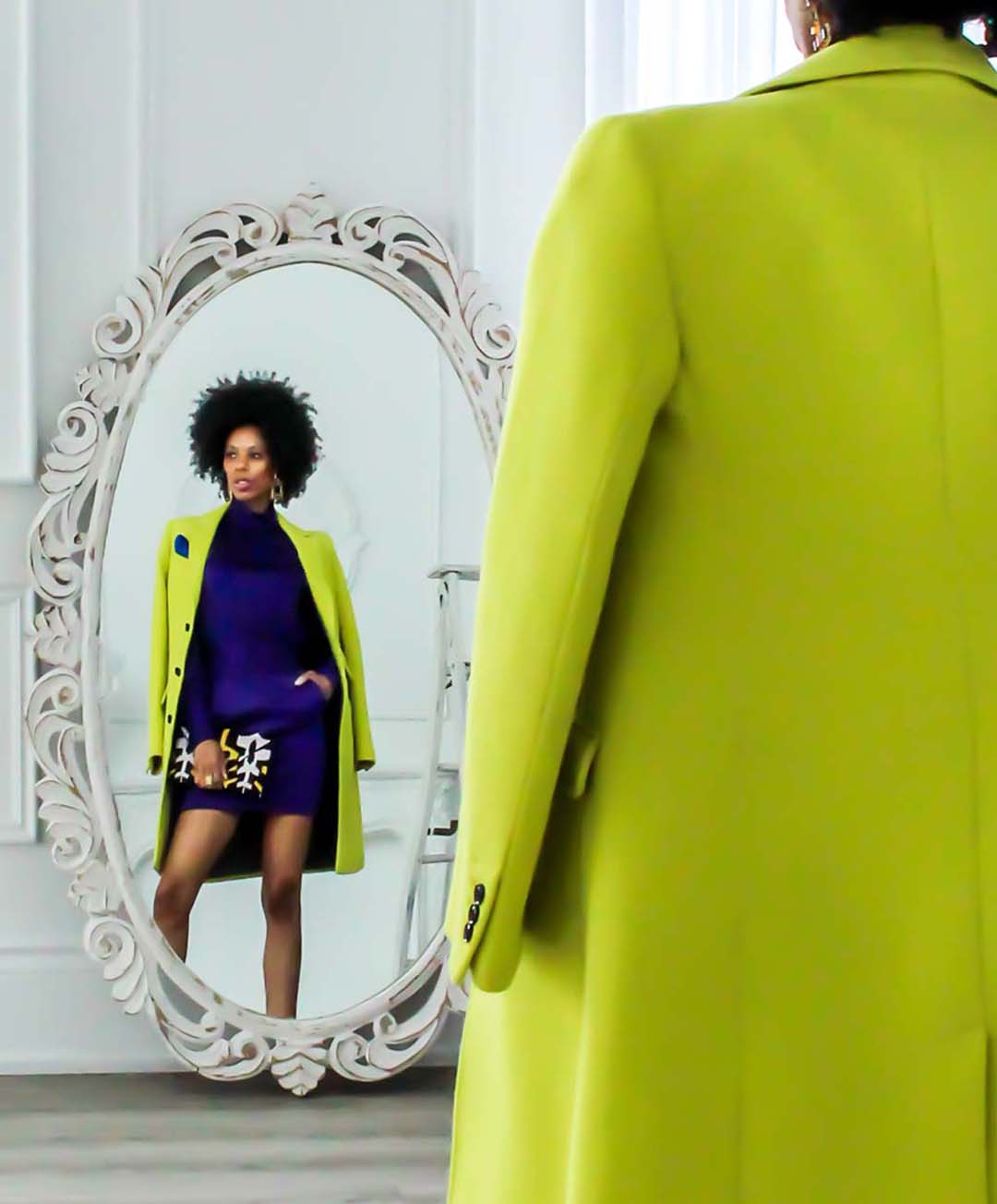 With a lovely satiny feel, both the blouse and skirt are super easy to wear and can also be easily rocked with many pieces in your wardrobe. Take the blouse and pair it with your fave jeans to dress them up a little. Or throw on a cute t-shirt to create a more casual look.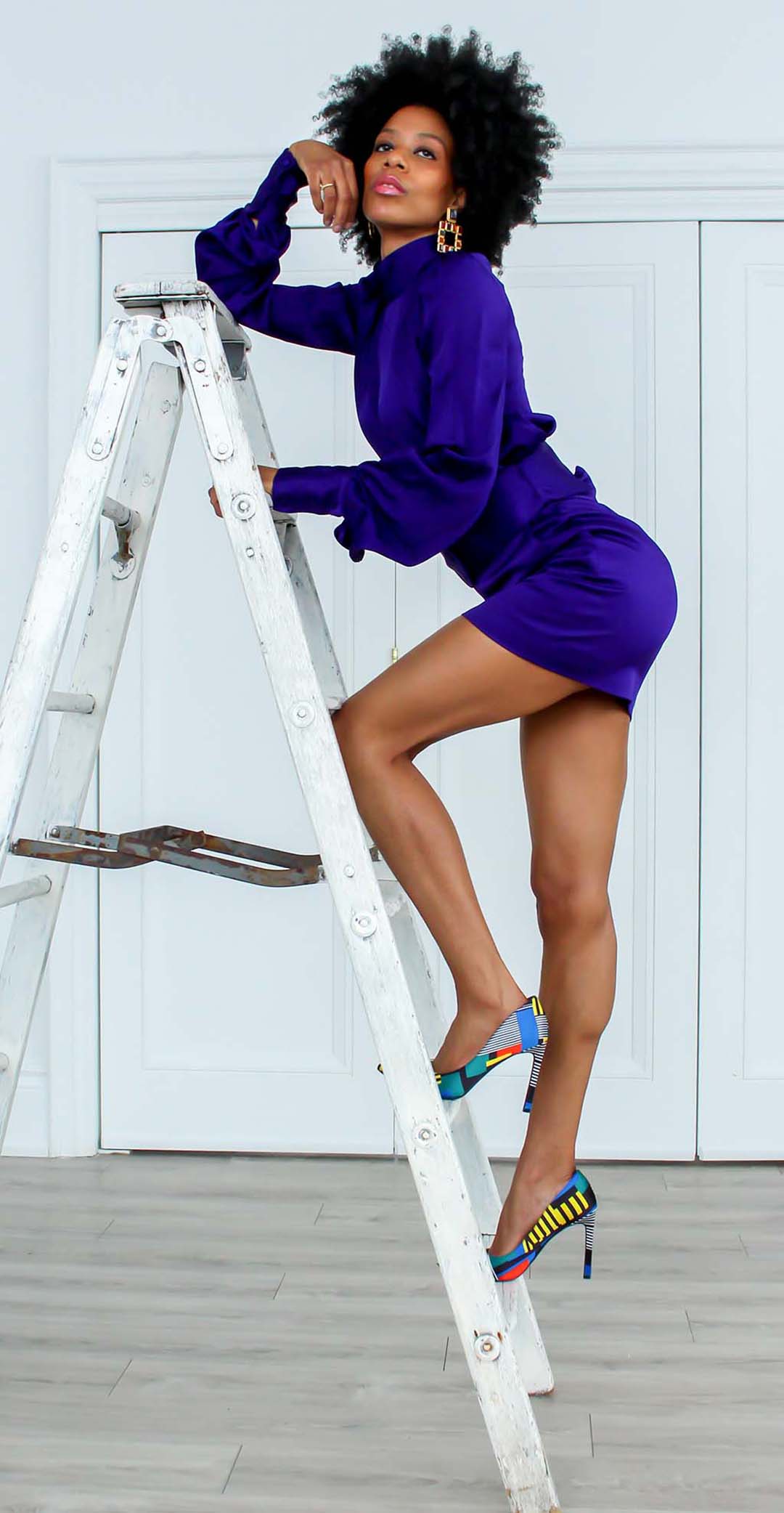 Slim girls take note, the fit of this skirt is great. No need to get extra holes added to belt or take anything in. I'm 5'9 in my stocking feet, and the mini of this mini skirt is just perfect, but my over 6ft ladies may want a little extra length depending on how mini you like your mini.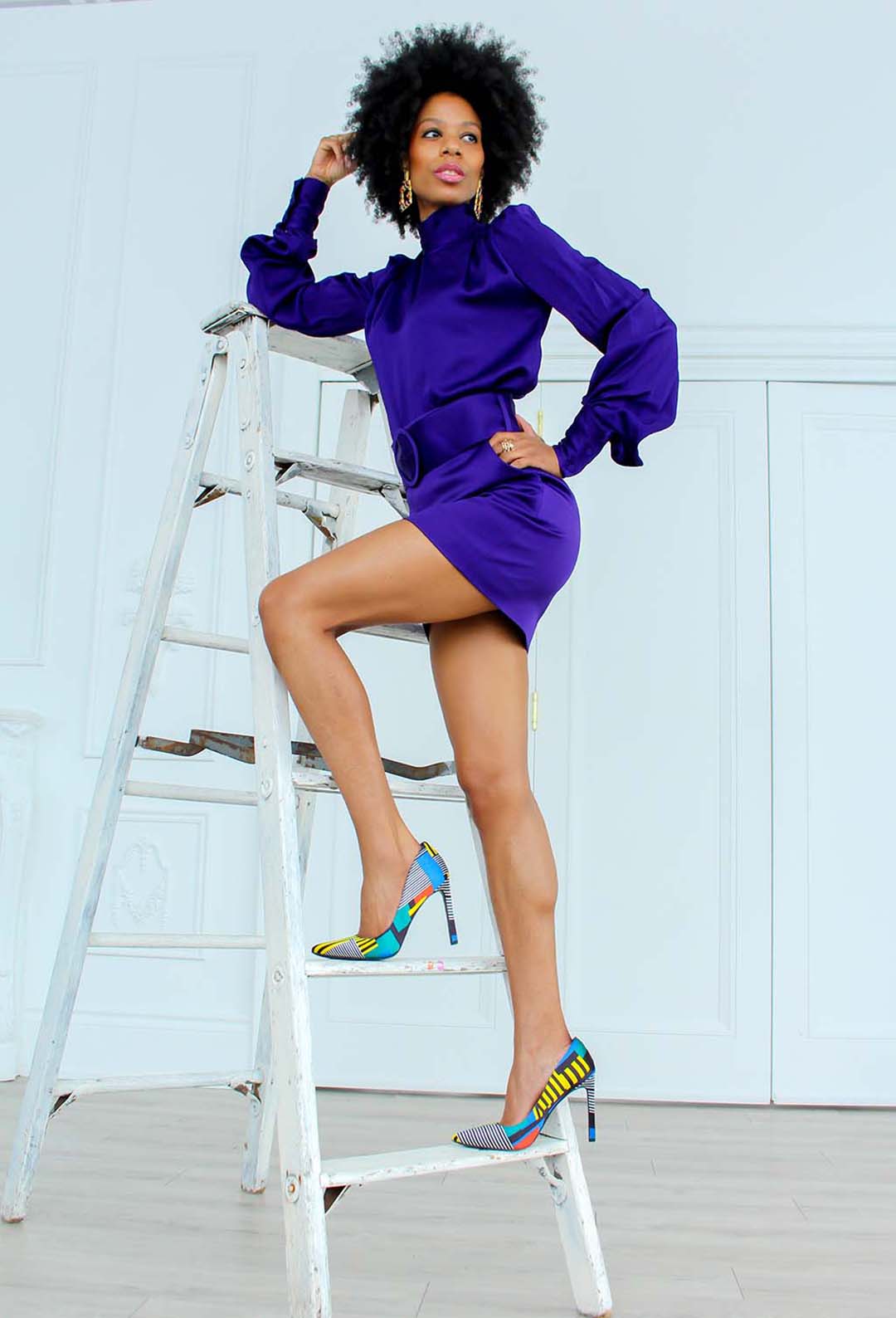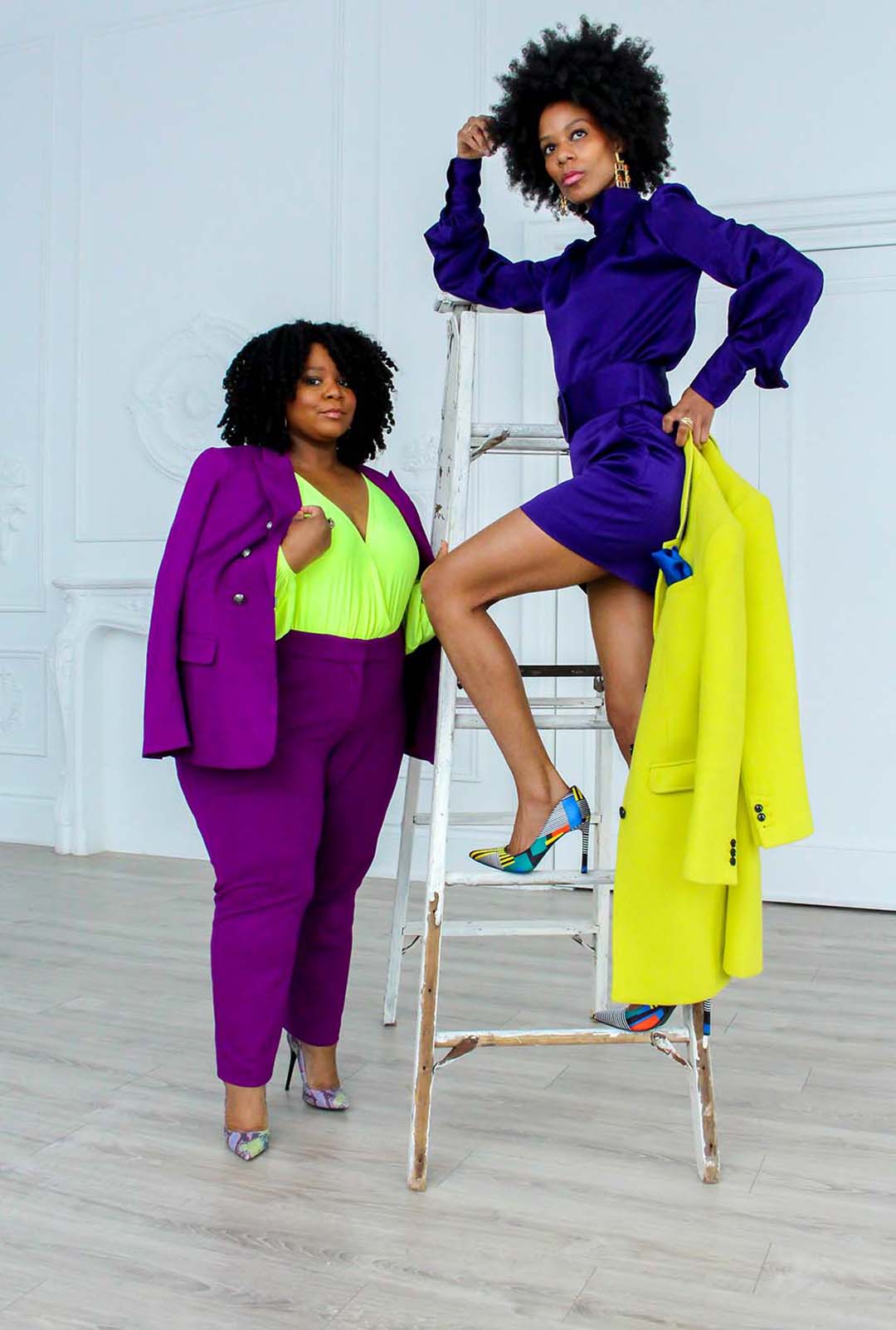 Add a cute purse and a fun shoe and we are ready to blaze into Spring!
Blouse: Zara sold out (similar here ) // Skirt: Zara sold out (similar here or here ) // Shoes: Nine West old (similar here or here ) // Coat: Banana Republic old (similar here or here )
Plus size beauties, here are options for you – Top // Skirt // Coat
Gail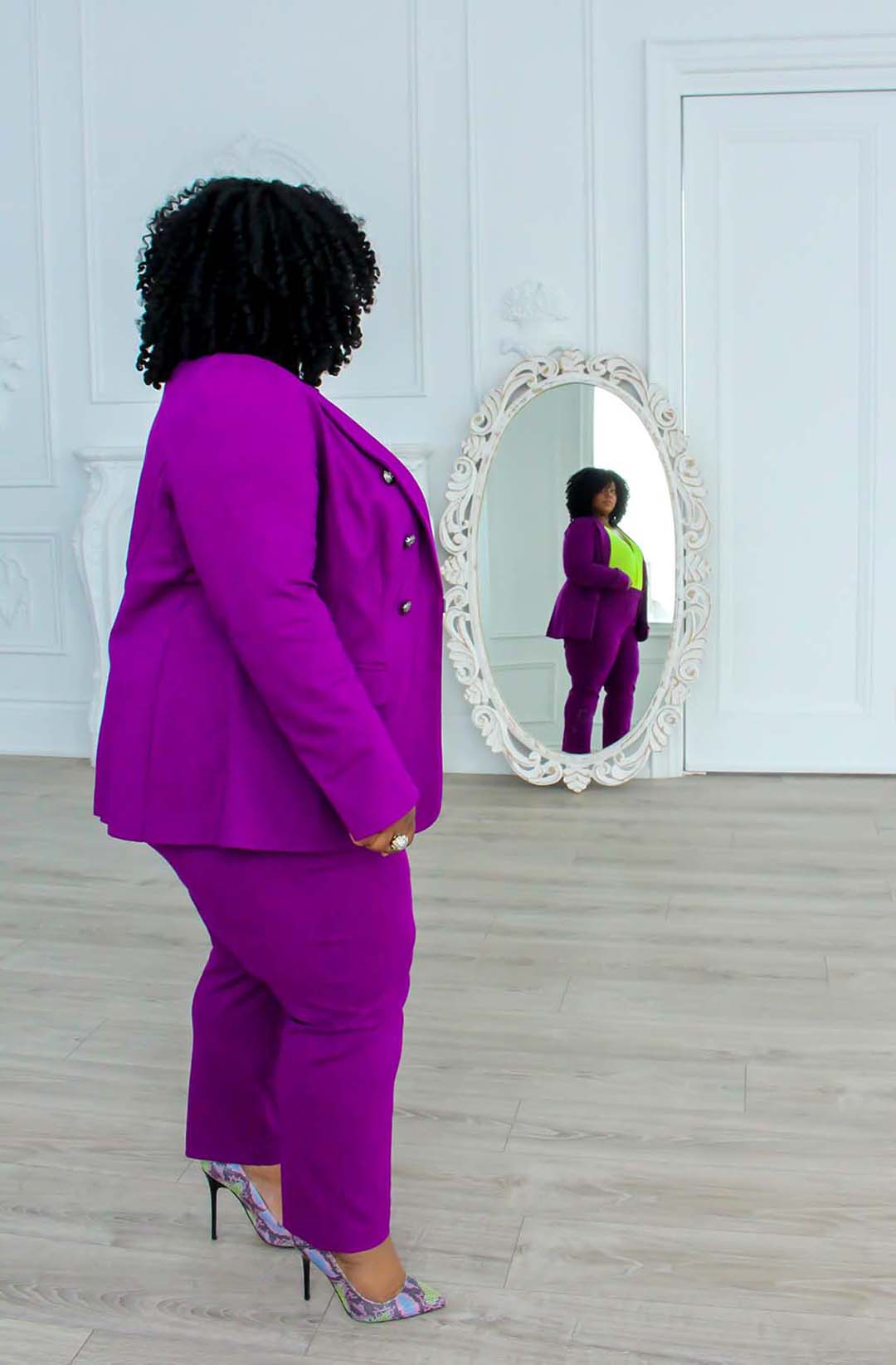 Purple is one of my favourite colours but I must admit when I saw this suit I wasn't really feelin it seeing it on the rack at Lane Bryant. I guess I was saddled with the idea that a suit should be in traditional colours of black, gray, navy or some variation of those colours in a plaid or pinstripe for the fall and lights colours like beige or light pint in the summer.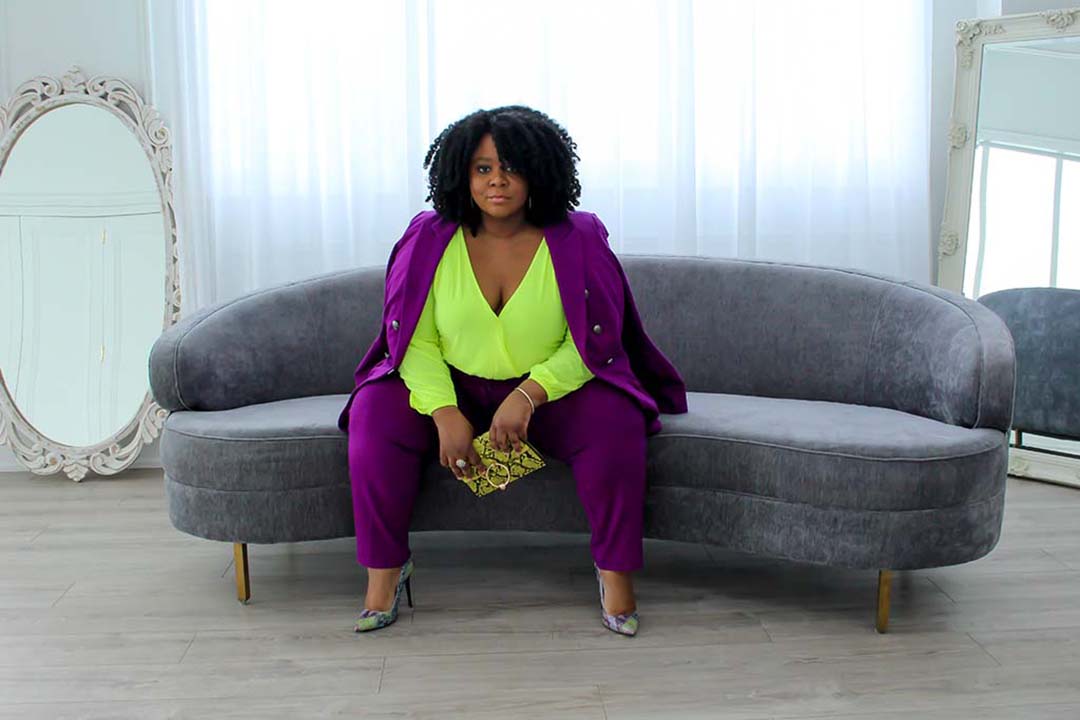 It was my sister Leslie who encouraged me to give this purple suit a try – and I'm glad I did! The deep purple colour had me feeling like royalty y'all…corporate royalty so of course this was a "necessary" purchase!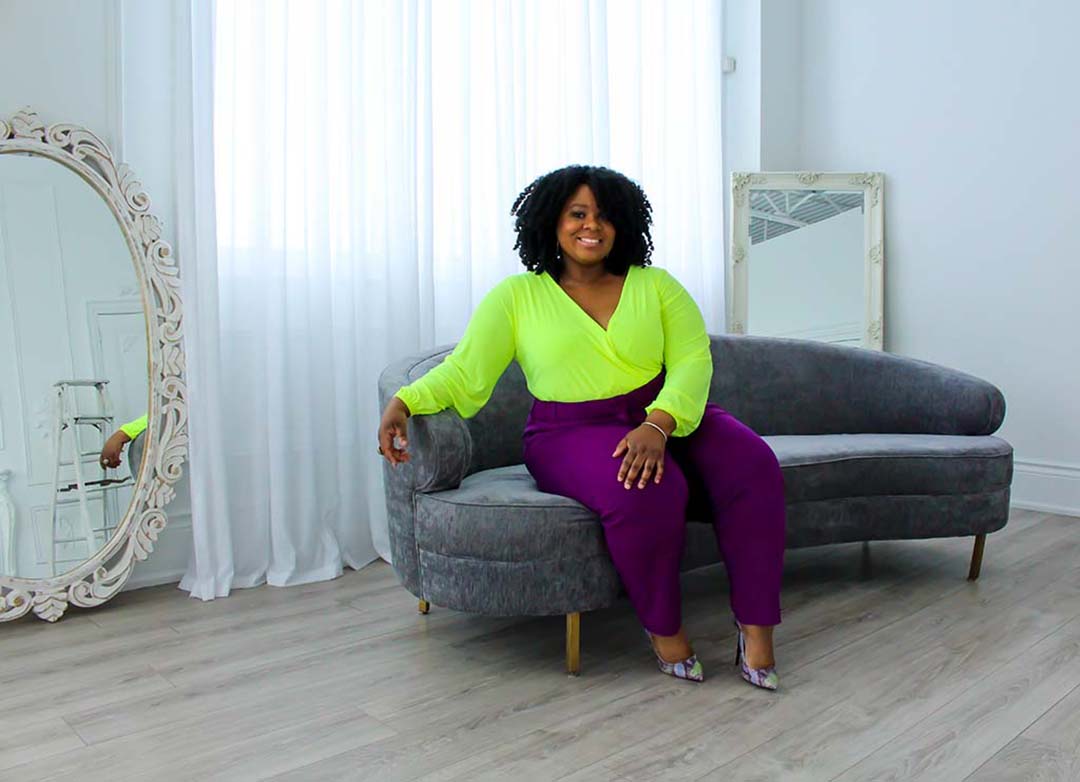 The suit is uber comfortable and is made of a ponte material. I especially love the cut of the pants because it fits my waist perfectly and there is ample room for my hips and booty.
I decided since I was going all in with an unconventional suit colour why not just really go for it even further by adding a bright pop of colour in the form of this neon green bodysuit from Pretty Little Thing.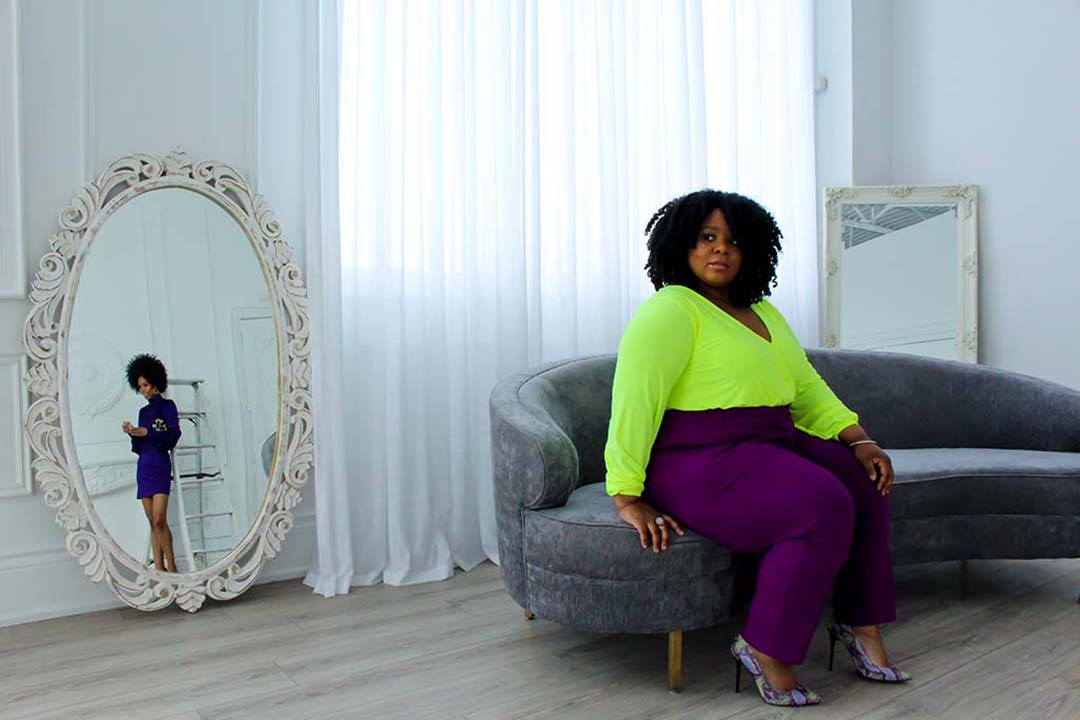 I completed the look with snake print pumps and voila, my unconventional suit look is complete
Blazer: Lane Bryant (sold out) // Pants: Lane Bryant // Bodysuit: Pretty Little Thing
For my tall sisters here is some purple options for you: Pants // Blazer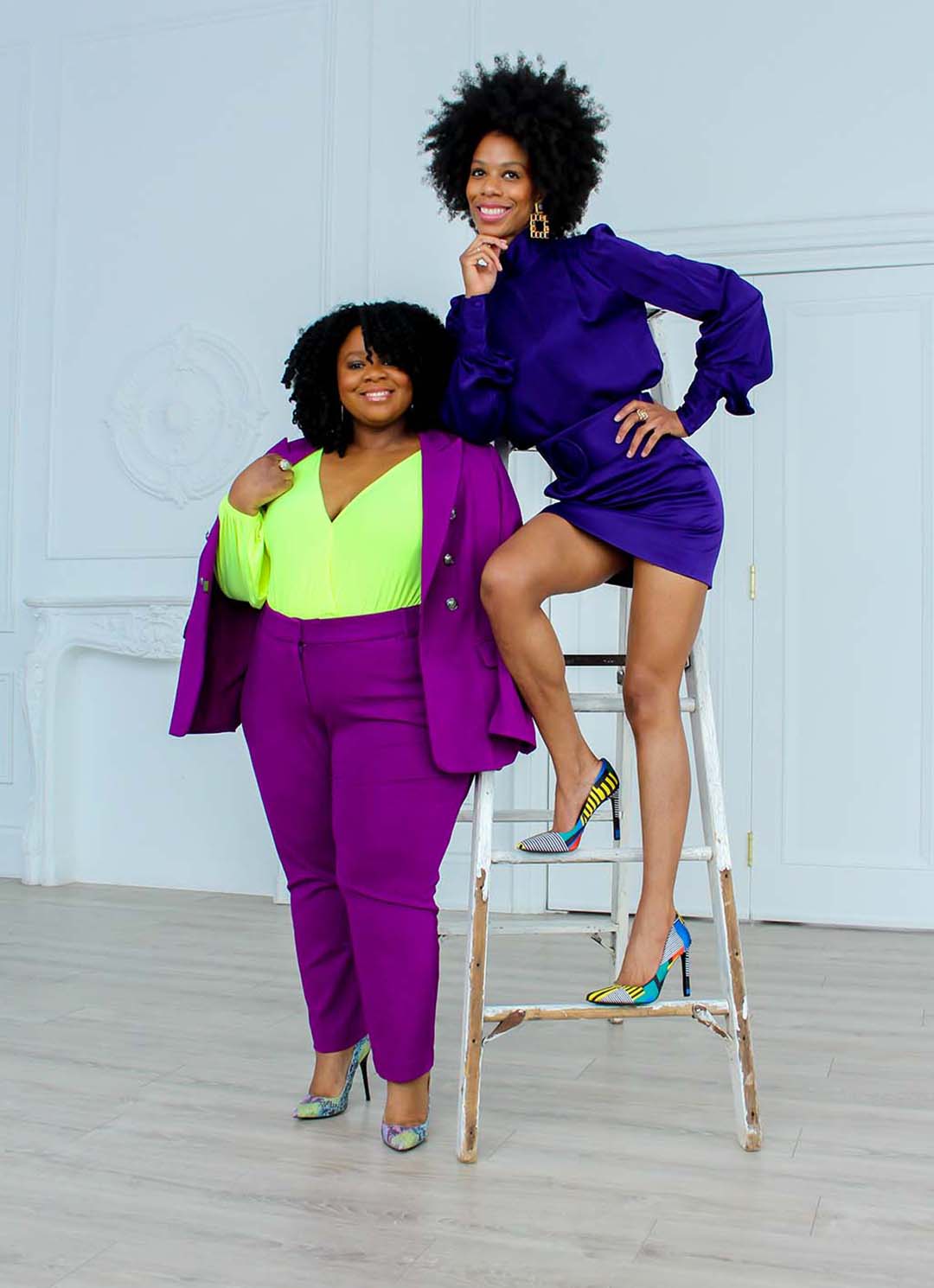 And that's the long and short of it,
Gail & Leslie xoxo
Photography credit: Roseline Bonheur